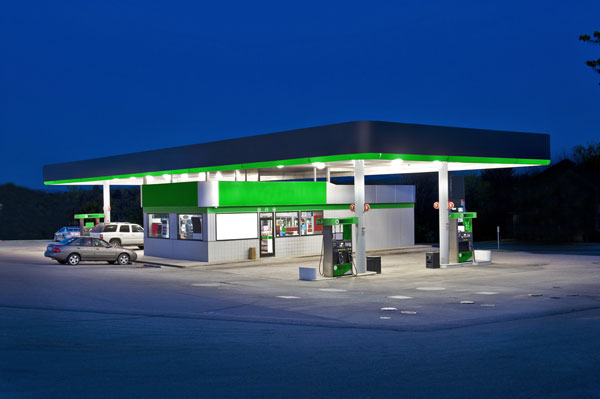 Are you keen to open a gas station but don't know where to begin? Then you're in luck because in this guide we'll lead you through all the essential steps required to turn your dream business project into a reality.
Conducting market research before opening a gas station
The first step in setting up a gas station is to carry out thorough research of the market.
The objective here is very simple: to assess the level of demand for your business and whether there is an opportunity for it to thrive in your chosen location.
To answer these questions properly, you need to:
Analyze the gas station industry:

is the market growing? Is the number of gas stations increasing or decreasing, and why? What are the most significant consumer trends? Has the market been impacted by changes in regulation over the last few years?

Analyze the demand in the area where you're located:

how many potential customers are there and which services are most popular?

Study the competition:

who are the competitors located nearby? What do they offer in addition to gas pumps? What are their opening hours? Are their service stations full or are customers few and far between?
To help you, read our guide on how to carry out market research for a new business.
Current market trends
Your market research must also take hot industry trends into account when opening a gas station.
Today's customers have more demands than ever before, as they expect a wide range of services.
Want to face your competitors by setting yourself apart from them? Then consider offering additional services such as:
Car washing
The sale of gas
Tire pressure checks
Sale of car accessories
The regulation
Before being able to fully open a gas station, you must comply with the regulations in force.
Rules will vary based on where you are thinking of opening your gas station, but as a minimum, you can expect to be subject to safety and environmental standards.
To find out more about safety regulations for the UK gas station industry, visit hse.gov.uk.
Joining a gas station chain
Now that your market research is complete, you should be in a position to choose the concept to open your gas station.
Would you like to become part of an oil company chain or start your own independent business?
The advantages of joining a chain are numerous, including:
Established brand awareness
Access to trained employees
Access to premium fuels
Major brands are expanding and are regularly looking for new gas stations to join their franchise. So why not consider joining them?
In exchange for paying royalties and an entrance fee, you'll be able to develop your business much more easily than you would start from scratch.
It's important to bear in mind, however, that you will have to pay a price in the loss of your autonomy - as joining a chain will mean distributing only the brand's fuels and following strict operational procedures to protect its brand.
If you wish to remain independent without having to start from square one, then taking over a gas station may be a good alternative. If you're interested in this option, you will need to keep a watchful eye on any news (local and online) of existing gas stations being listed for sale, as opportunities in this area are rare.
Where should you open a gas station?
The third step in opening a gas station is deciding where you'd like it to be situated.
This choice is crucial because it will determine the profitability of your business, and you won't be able to change it once you've invested money into building the station.
A good location should have the following characteristics when opening a gas station:
A strong motorway nearby
Good visibility and easy access for cars
A limited number of competitors nearby
There are several different options as to where you can build your gas station:
In the city. However, beware of higher rental rates
In rural areas, to take advantage of the lack of competition
Near national roads and highways, to take advantage of frequent traffic
The legal form of your gas station
Once the choice of location is made, you must decide the legal status of your future business.
Choosing your gas station's legal form is a vital step as it will impact:
How much your business is taxed
Your taxation at a personal level
Your responsibility for the company's debts in the event of bankruptcy
The choice will partly depend on various personal considerations, such as how much capital you want to invest and the number of partners within your business.
To help you make your choice when opening a gas station, you can find more detailed information on the different legal forms available to you on the gov.uk guide for UK business owners and SBA guide for those of you based in the US.
The staff and equipment needed to open a gas station
Once you have decided upon your legal status, it's time to look at the staffing and equipment requirements to get your gas station up and running efficiently.
Equipment needed
The initial investment required to open a gas station is high since you will need to:
Install fuel tanks and pumps
Construct and kit out the building used by the staff and management
Install a security system (with video surveillance)
Provide for the installation of related services, such as a car wash, grocery store, cafe, etc.
Before incurring expenses, consider asking for quotes from several suppliers so you can choose the ones that offer the best value for money.
Recruitment
Recruitment needs to open a gas station will depend on the size of your gas station and its opening hours. Since gas stations are open an average of at least 12 hours a day, it simply won't be possible for you to manage the place on your own.
It's important not to underestimate the level of administrative work required, either. Like any successful business manager, you'll have to busy yourself with the following tasks: accounting, payroll, inventory management, and staff timetables.
Creating a marketing plan to open your gas station
The next step, and a very important one at that, is creating a marketing strategy for your gas station.
What is the purpose of a marketing plan when opening a gas station? It's very simple, the marketing plan aims to identify, quantify, and prioritize the actions you should take to attract and retain customers.
You will thus focus on the market research previously carried out to identify which methods of communication are more likely to grab the attention of your target customers.
Several possibilities are available to you. You could for example:
Create a website that contains practical information about your station, including its opening hours, fuel rates, a map of how to get there
Focus on search engine optimization so that you can be easily found on the Internet (via Google Maps and other online directories).
Develop a loyalty card system
Pay for billboard and internet advertising
Develop partnerships with road transport companies, taxi companies, or driving schools within the area.
Writing the business plan for your gas station
Once you've developed your marketing plan, you'll need to consolidate all the information you've gathered so far into your gas station business plan.
This is undoubtedly the most difficult part of starting a business. Why? Because this step requires the utmost rigour and meticulousness.
You have to present your project in a structured and compelling way, as well as establishing financial forecasts covering your first three years of activity.
In a simplified way, a service station business plan consists of two parts:
A written part used to present the project and showcase its assets
A numerical part, which is the financial forecast, used to highlight the potential profitability of your company and the need for financing.
A business plan is therefore a crucial document, which must be precise, clear, and makes the reader want to support the project it describes.
If you've never made a business plan before and aren't sure how to go about it, an excellent solution is to use online business plan software like the one we offer.
There are several advantages to using specialized software:
You are guided through the writing process by detailed instructions and examples for each part of the plan.
You can be inspired by already written business plan templates
You can easily make your financial forecast by letting the software take care of crunching the numbers for you.
You get a professional document, formatted and ready to be sent to your bank or investors.
If you are interested in this type of solution, you can try our software for free by creating an account here.
Raising the capital required to open a gas station
Now armed with the business plan for your gas station, you will be able to start searching for financing.
A complete and well-structured business plan will be a major asset when convincing future financial partners to invest in your venture.
Start first with financial institutions and banks. Call up your own personal bank for starters - as a bank that knows you will have more confidence in you. These days, it's difficult to take out a loan to start up a business because the risk of failure is high and banks are increasingly choosing to err on the side of caution.
Another solution may be to look for equity investors, such as business angels or friends and family you feel comfortable entering into business with.
You can also explore alternative financing methods such as crowdfunding. Crowdfunding can be particularly effective as it enables you not only to raise funds for your project but also to introduce it to your wider community and create some hype around it.
If you have your sights set on opening up a gas station without any capital contribution, you can also look at state help for entrepreneurs. This can consist of government grants which are available in many kinds of forms - from cash awards to free equipment to help your gas station flourish.
If you are in the UK, to find out more about the support available, you can visit the gov.uk Business Finance Support Finder. In the US, the SBA works with various organisations to provide small businesses with grants. Check out their website to see if you meet the criteria to apply.
And that's that - you know how you can open a gas station. Please do not hesitate to contact us if you have any further questions or comments.
Also on The Business Plan Shop
Know someone who might be interested in setting up a gas station? Share this article with just one click!