Are you passionate about mechanics, and have long dreamed about becoming your own boss? If you're motivated and organised, opening an auto repair shop could be the perfect project for you.
In this practical guide, we'll tell you everything you need to know on how to start an auto repair shop.
1. Understanding the market structure and trends
Before diving straight into the ins and outs of how to start an auto repair shop, it's important to take some time to familiarise yourself with the market.
The auto repair shop market is competitive. Therefore, we advise you to carefully study the competitive dynamics within the area in which you'd like to set up your own auto repair shop, to ensure that the local market is not already saturated before doing so.
What type of auto repair shop should I open?
As listed by A Plus Auto Glass, there's a variety of different auto repair shops that you could open, including:
Auto repair service technicians
Considered potentially the most common of the lot, this service entails carrying out basic checks on oil fluid levels and electricals.
Choosing this model enhances your likelihood of welcoming regular customers, as it's recommended that drivers get their car serviced at least every 12 months or 10,000 - 12,000 miles.
Diagnostic technicians
Diagnostic technicians carry out skilled checks that underline any potential problems a vehicle might have.
Since these issues can't be identified on a vehicle's surface, running a diagnostic service requires a slightly higher level of skill.
Auto body repair clinic
This model centres around vehicles that have been involved in accidents or roadside crashes.
Going for this model when you start an auto repair shop means you'll likely welcome a lower volume of customers than the other models listed, but the revenue per sale is likely to be much higher.
Auto repair painters
This model involves repainting or adding cosmetic touches to vehicles.
Cars often need a fresh lick of paint, especially if they're being driven in highly polluted areas like big cities.
Expert auto glass repair
By opting for this model, you'll be specialising in windshield, window and car body repairs.
Although you'll need a high level of skill to carry out these tasks, the earning potential for this model would make it worth your while.
You're also likely to welcome a large number of customers who need small cracks in their windows or scratches across their car body fixed.
Within the framework of this model, your tasks will involve repairing and retouching cars to ensure that they look as good as new.
Now, decide which of the following categories your auto repair shop concept falls into:
Repair shops approved by manufacturers (usually specializing in that brand's vehicles)
Independent garages
Garages that are part of a franchise
Your choice as to the type of garage you'd like to open and whether or not it's linked to a franchise will have significant consequences for your company.
By joining a well-known brand or network, you can benefit from their brand recognition from the moment you start an auto repair shop and will likely attract customers more easily from the outset.
On the other hand, being tied to a franchise will restrict your level of autonomy in the management of your business as you will have to follow their operating procedures and use their suppliers.
An evolving sector
Although the auto repair market is not a sector that's dramatically impacted by economic developments (even during the 2008 crisis), it continues to undergo a significant number of changes - such as the retirement of many garage owners.
Taking over an existing auto repair business could therefore be a good opportunity. In this case, however, it's important to thoroughly analyze the real potential of the business that you're thinking about buying.
2. Carrying out market research for an auto repair shop
Market research is an essential step on the road to starting an auto repair shop.
It enables you to assess the potential commercial success of your venture before even launching it - reducing your risk of failure.
To conduct your market research accurately, you will have to:
Analyze the demand on the local market:
Who are your potential customers?
How many of them are there?
What triggers their purchase (breakdowns or a need for specialized equipment such as winter tires)?
Is their choice of auto repair shop dictated by proximity, brand or price?
Study the competition:
Who are your competitors and what exactly do they offer?
How can you set yourself apart from them?
Consider the choice of suppliers:
Where are you going to source your spare parts needed to start an auto repair shop?
What are the commercial terms offered by each supplier (price, choice, quality, payment terms, delivery options, etc.)?
Study the sector's standards and regulations:
What licenses are required to open an auto repair shop?
What safety standards need to be complied with?
Once you have answered all these questions then you need to summarise the answers into one final marketing plan.
This will form part of the editorial section of your business plan.
Our software helps you summarise your market research: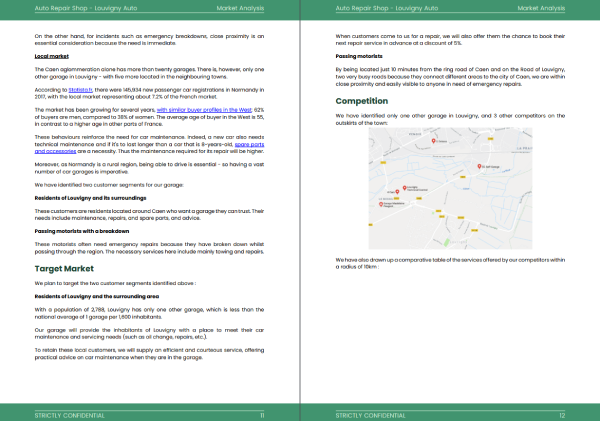 3. Picking the location for an auto repair shop
The location of your auto repair shop will have a massive impact on its level of success - as it will determine how many customers you welcome every day.
The most popular options when it comes to picking the location of an auto repair shop include industrial estates, allotments along the motorway and city centre spots.
The danger of choosing an isolated spot is that, unless you can provide a more extensive or valuable service than your local competitors, it's unlikely that customers will want to travel further to get to you.
If you can identify an area that's lacking an auto repair shop altogether, deciding to start an auto repair shop there could be a fantastic opportunity.
This is because there will likely be a high demand due to the number of car-owners keen to save money and time by trying your services instead of driving further out to another garage.
4. Choosing the legal form of your auto repair shop
Whether you're creating a company or setting up a sole proprietorship, there are several legal forms to choose from when opening an auto repair shop. So it's up to you to weigh up the advantages and disadvantages of each one before choosing which suits you best.
Choosing the right legal structure is a vital step as it will impact:
How much your auto-repair business is taxed
Your taxation at a personal level
Your responsibility for the company's debts in the event of bankruptcy
To help you make your choice, you can find more detailed information on the different legal forms available to you on the gov.uk guide for UK business owners and SBA guide for those of you based in the US.
5. How to start an auto repair shop: write a business plan
The next crucial step in starting an auto repair shop is drafting the auto repair shop business plan
Your business plan has two objectives: to allow you to verify that the potential profitability of your auto repair shop is real, and to help you convince financial partners to invest in your project.
What should an auto repair shop business plan contain?
The business plan of an auto repair shop consists of two parts:
A written part used to present the project and showcase its assets
A numerical part, also known as the financial forecast, used to highlight the potential profitability of your business, and the financing needed to launch the business
The business plan must therefore answer these questions:
What are the services offered?
Who are the shareholders and managers?
How many staff and what equipment is needed?
What is the expected financial performance in terms of profitability and cash flow?
Two key elements to highlight in your auto repair shop business plan:
Don't underestimate the investment required
Opening a car garage requires you to invest in specialized equipment, which will also have to be maintained and renewed regularly.
Your auto repair shop financial forecast must therefore show that you're making sufficient profit to keep up with maintenance and equipment renewal costs.
Differentiate yourself from the competition
Existing auto repair shops already have a well-established clientele. To stand out from the competition, you need to offer a service that can't be found elsewhere and for which your future customers will come, and, most importantly, keep coming back.
Your unique selling proposition will have to be clearly highlighted in your auto repair shop business plan to convince your financial partners of how effective you expect your strategy to be.
How to write the business plan of your auto repair shop
One handy way to create your garage business plan is to use our online business plan software.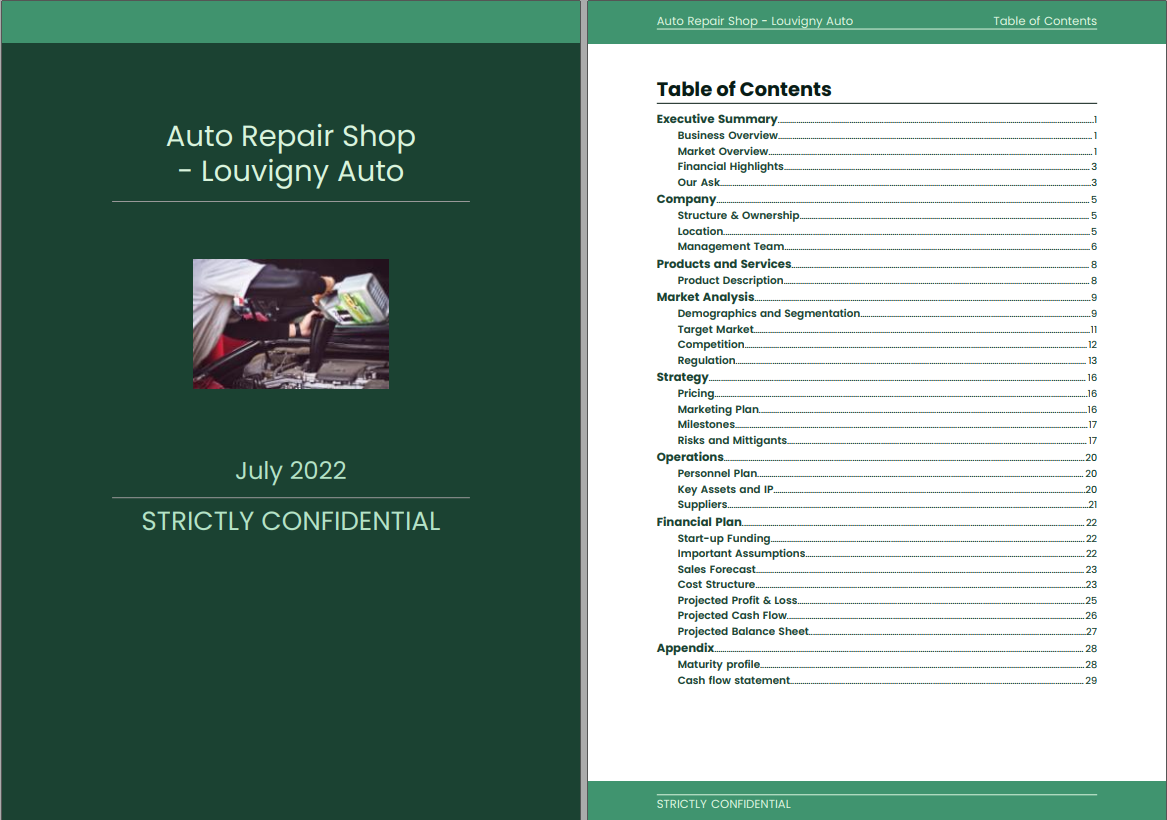 Using specialized software to draft up business plans has several advantages:
You are guided through the writing process by detailed instructions and examples for each part of the plan
You can look at already written business plan templates
You can easily create your financial forecast by letting the software take care of the calculations for you
You get a professional document, formatted and ready to be sent to your lenders or investors.
If you are interested in this type of solution, you can try our software for free by signing up to The Business Plan Shop today.
6. Securing funding to launch your auto repair shop
If you decide to start an auto repair shop , you'll need significant investment. But the good news is that there's several financing solutions at your disposal.
First of all, you must estimate the amount of money that you and your potential partners can personally devote to your business.
Even if the sum seems very modest in comparison to what you need to raise, it's important that you don't neglect equity contribution. It's highly regarded by institutional investors as they see it as tangible proof of your dedication to the venture.
You can also apply for a professional loan from a bank to finance part of the start-up costs, whether that involves buying a battery charger and jumper or kitting out the premises with a few vehicle lifts.
Remember to submit applications to different banks so that you can compare offers and pick whichever one works best for you.
Crowdfunding is another option. Crowdfunding allows you to collect donations or raise equity from family members or kind strangers who believe in your project.
You can even raise awareness of this initiative by awarding donors with 'counter-gifts', including a free MOT or discount on tyres.
Finally, also think about state aid for business creators and buyers. This may enable you to benefit from an low interest loan, for example.
7. One thing to bear in mind when opening an auto repair shop...
Although automotive technicians aren't legally obliged to have any specific qualifications, having credentials that you can demonstrate will go a long way in terms of helping you show your expertise in the area of car repair and gain the trust of new customers.
That's why we recommend taking a training course or two to ensure you're up-to-date on the best car repair practices. Such courses include an Auto Motive NVQ (available in level 1-3) in Vehicle Fitting Operations or Vehicle Body and Paint Operations.
There is also training available in Roadside Assistance and Recovery and Vehicle Maintenance and Repair (covering a wide range of vehicles including motorcycles, electric cars and lift trucks).
Polishing your skills in these areas will not only widen your overall car repair knowledge, but also help you confidently relay to customers that their car is in good hands.
We hope that this guide has helped you to better understand how to start an auto repair shop.
If you would like more information on any of the points mentioned above or anything else related to creating or taking over an auto repair shop, please do not hesitate to contact us.
Also on The Business Plan Shop
Know someone who might be interested in setting up an auto repair shop? Share this article with them with just one click!