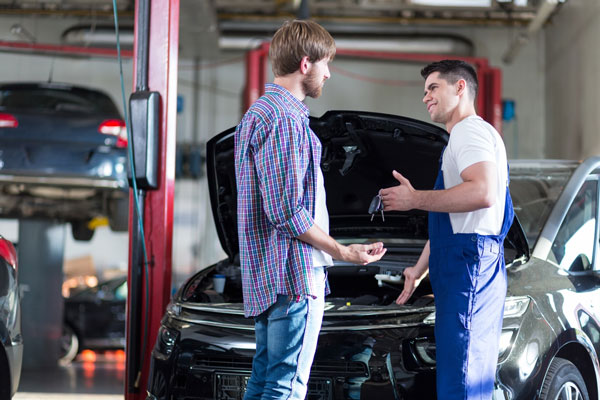 Are you passionate about mechanics, and have long dreamed about becoming your own boss? If you're motivated and organised, opening an auto repair shop could be the perfect project for you.
In this practical guide, we'll tell you everything you need to know on how to start an auto repair shop.
Understanding the market structure and trends
Before diving straight into the ins and outs of how to start an auto repair shop, it's important to take some time to familiarise yourself with the market.
A Competitive Market
The auto repair shop market is competitive. Therefore, we advise you to carefully study the competitive dynamics within the area in which you'd like to set up your own auto repair shop, to ensure that the local market is not already saturated before doing so.
Approved repair shop, independent garage, or part of a franchise
The auto repair shop market has three main types of garages:
repair shops approved by manufacturers, which usually specialize in that particular brand's vehicles
independent garages
garages which are part of a franchise
Your choice as to the type of garage you'd like to open and whether or not it's linked to a franchise will have significant consequences for your company.
By joining a well-known brand or network, you can benefit from their brand recognition and are likely to be attracting customers more easily from the outset. On the other hand, being tied to a brand or franchise will restrict your level of autonomy in the management of your business as you will have to follow their operating procedures and use their suppliers.
An evolving sector
Although the auto repair market is not a sector that's dramatically impacted by economic developments (even during the 2008 crisis), it continues to undergo a significant number of changes - such as the retirement of many garage owners.
Taking over an existing auto repair business could therefore be a good opportunity. In this case, however, it's important to thoroughly analyze the real potential of the business that you're thinking about buying.
How to start an auto repair shop
Now let's take a look at the main steps of how to start an auto repair shop.
The market research
Market research is an essential step in the preparation of your project.
It enables you to assess the potential commercial success of your venture before even launching it - thus reducing your risk of failure.
To conduct your market research accurately, you will have to:
Analyze the demand on the local market:

who are your potential customers? How many of them are there? What triggers their purchase (breakdowns or a need for specialized equipment such as winter tires, for example)? Is their choice of auto repair shop dictated by proximity, brand or price?

Study the competition:

who are your competitors, and what exactly do they offer? How can you set yourself apart from them?

Consider the choice of suppliers:

where are you going to source your spare parts, and what are the commercial terms offered by each supplier (price, choice, quality, payment terms, delivery options, minimum quantity per order, etc.)?

Study the sector's standards and regulations:

if being a good mechanic is important, you should not forget the administrative part. Good knowledge of the regulation, licences required, but also of the standards to be respected is necessary.
Choosing the legal form of your auto repair shop
Whether you're creating a company or setting up a sole proprietorship, there are several legal forms to choose from when opening an auto repair shop, so it's up to you to weigh up the advantages and disadvantages of each one before choosing which suits you best.
To help you make your choice, you can find more detailed information on the different legal forms available to you on the gov.uk guide for UK business owners and SBA guide for those of you based in the US.
How to start an auto repair shop: write a business plan
The next crucial step is the drafting of the business plan for your auto repair shop. Your business plan has two objectives: to allow you to verify that the potential profitability of your auto repair shop is real, and to help you convince financial partners to invest in your project.
What should an auto repair shop business plan contain?
In a simplified way, the business plan of an auto repair shop consists of two parts:
A written part used to present the project and showcase its assets
A numerical part, also known as the financial forecast, used to highlight the potential profitability of your business, and the financing needed to launch the business
The business plan must therefore answer these questions: what are the services offered? Who are the shareholders and managers? How many staff and what equipment is needed? What is the expected financial performance in terms of profitability and cash flow?
Two key elements to highlight in your auto repair shop business plan:
1. Don't underestimate the investment required
Opening a car garage requires to invest in specialized equipment, which will also have to be maintained and renewed regularly.
Your financial plan must therefore show that you're making sufficient profit to keep up with the costs of maintenance and equipment renewal.
2. Differentiate yourself from the competition
Existing auto repair shops already have a well-established clientele. To stand out from the competition, you need to offer a service that can't be found elsewhere and for which your future customers will come, and, most importantly, keep coming back.
Your unique selling proposition will have to be clearly highlighted in your auto repair shop business plan to convince your financial partners of how effective you expect your strategy to be.
How to write the business plan of your auto repair shop
One handy way to create your garage business plan is to use online business plan software.
Using specialized software to draft up business plans has several advantages:
You are guided through the writing process by detailed instructions and examples for each part of the plan
You can look at already written business plan templates
You can easily create your financial forecast by letting the software take care of the calculations for you
You get a professional document, formatted and ready to be sent to your lenders or investors.
If you are interested in this type of solution, you can try our software for free by creating your account here.
We hope that this guide has helped you to better understand how to start an auto repair shop. If you would like more information on any of the points mentioned above or anything else related to the creation or takeover of an auto repair shop, please do not hesitate to contact us.
Also on The Business Plan Shop
Know someone who might be interested in setting up an auto repair shop? Share this article with them with just one click!