Are you passionate about fixing cars and restoring them to their former glory? If so, you may have been dreaming about setting up your very own car garage for some time. Before fully taking the plunge, however, you'll need a tailor-made business plan.
To guide you through this process, we've written the guide below to offer our top tips for making your auto repair shop business plan a reality.
Why create a business plan for an auto repair shop?
The business plan of your auto repair shop first enables you to evaluate the amount of funding required to get your business up and running.
With a business plan, you can also verify whether it's likely your auto repair shop will be profitable - thus reducing your risk of flogging a dead horse.
A business plan will also be specifically requested by any bank or investor you decide to approach, so drafting one up is a mandatory step when it comes to securing financing.
In a simplified way, an auto repair shop business plan consists of two main parts:
A financial forecast that aims to highlight the expected profitability of the project and the need for initial financing.
A written part that presents, in detail, your project, the team, your business strategy, and your medium-term objectives.
What do you need to create your auto repair shop business plan?
Before writing your auto repair shop business plan and creating the financial forecast for your auto repair shop, you must first gather the data needed to create a comprehensive business plan.
You'll achieve this by...
Carrying out market research for your auto repair shop
Building your marketing plan
Evaluating the operational costs and investments involved in setting up your business
Conducting market research for an auto repair shop
This is the longest and, admittedly, most tedious step in creating an auto repair shop business plan, but once you've got the right method - there's no excuse for mistakes.
As you move through the market research, you'll develop an understanding of the needs of your target market, as well as the current state of the industry.
This enables you to then determine hot industry trends and identify where you should position yourself within the market to make your auto repair shop a success.
Should your auto repair shop provide in-depth expertise on electronics, for example, or should it focus instead on motorcycle repairs or the sale of spare parts?
You must also assess the area in which you want to place your auto repair shop. This will give you a better idea of the local market, including the needs of residents and what services competitors are already offering.
For more information check out our guide on starting an auto repair shop.
Developing the marketing plan for your auto repair shop
Once the market research is completed, the next step is setting out the marketing strategy for your auto repair shop's business plan.
This is an opportunity to identify how you'll get your name out on the market and stand out from your competitors.
There are many ways of promoting an auto repair shop, from setting up a website and social media network to paid newspaper advertising and handing out street flyers.
Taking the time to decide which marketing actions you want to go for will help you determine how much money you need to set aside for each one and how many customers you can expect, which you can then factor into your financial forecast later on.
Evaluating operational costs and investments
To keep an auto repair shop running smoothly, you need a team you can count on. Typically, the size of a small car garage team is around 3 to 4 employees. You'll need a receptionist to welcome customers and at least two employees with experience in car mechanics - with the salary of each staff member being allocated according to their qualifications.
Additionally, you'll need a lot of technical equipment to get an auto repair shop up and running. Repairing vehicles requires having the right tools, as well as a full stock of car parts to help you meet the diverse demands of each car owner.
To get an exact figure for the price of each item, you'll need to contact suppliers and ask them for quotes to integrate in your business plan for an auto repair shop. These quotes will then be integrated into the financial forecast.
What is the financial forecast for an auto repair shop?
Establishing the financial forecast is an integral step in the development of your auto repair shop's business plan.
It is composed of 4 main tables, highlighting different financial aspects of the company:
Projected profit and loss statement
Projected balance sheet
Projected cash flow statement
Initial financing plan
The projected P&L of your auto repair shop
This table, which starts with the turnover, allows you to evaluate the growth, evolution of the cost structure of your auto repair shop, and its expected profitability over the coming years.
The projected balance sheet of your auto repair shop
This table shows the value of the company's assets at a given time, and, in particular, the value of the assets (what the company owns) and liabilities (what the company owes to suppliers, lenders, etc).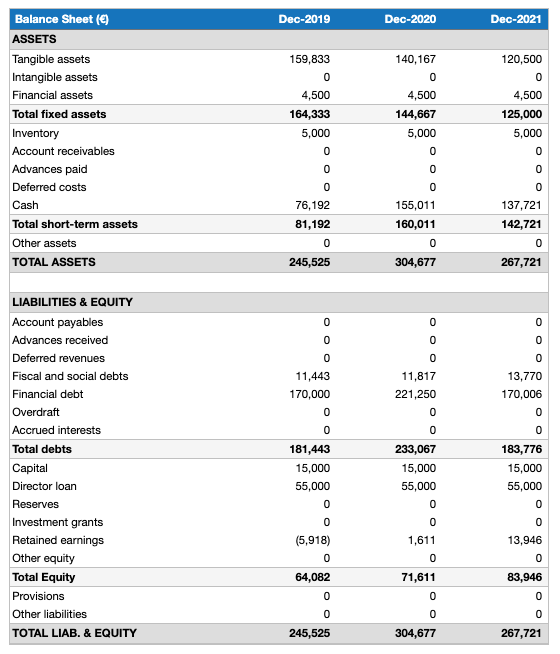 The projected cash flow statement
This table is essential in helping you keep an eye on the company's cash flow, particularly to ensure that the company generates enough cash to be able to repay its loans and regularly renew equipment.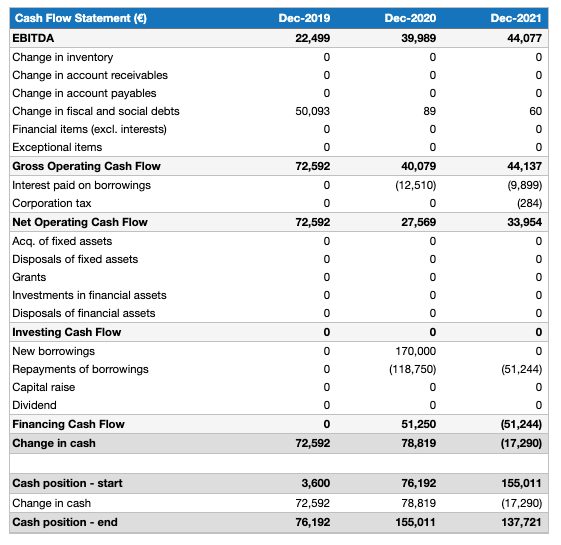 The initial financing plan
This table gives your bank or potential investor a quick overview of the resources needed to launch your auto repair shop and their costs - as well as the personal contribution you plan to make.
With the financial part done, let's now look at the written part of the business plan of your auto repair shop.
What does the written part of an auto repair shop business plan look like?
This part cannot be neglected. To be able to interpret your figures and judge the relevance of the assumptions used to build your forecast, it's necessary to have sufficient details about the project.
The editorial part of your business plan is made up of the following sections:
The executive summary
The executive summary for your auto repair shop's business plan is the equivalent of a cover letter for your auto repair shop business plan. The aim here is to introduce your business project to investors in as engaging and concise a way as possible, encouraging them to read on and learn more about your exciting venture.
Company
In this part, you place a spotlight on the business's partners and their roles, as well as the distribution of the company's capital and the location of the auto repair shop.
Products and services
This section explains the products and services offered by your auto repair shop.
Market research
It's within this section that you'll present the results of the market research we mentioned at the beginning of this article. The objective here is to demonstrate that there is indeed a viable business opportunity for a new garage in the area you've chosen.
Strategy
Here, you'll explain the marketing strategy you plan to action to attract and retain customers.
The operational part
From your employees to your relationship with suppliers, you'll detail the operational organisation of your business.
The financial plan
The financial plan puts your numbers into tables that you'll be able to present to potential investors so they get a better idea as to your expected profitability and how much funding you need.
What tool should I use to write my business plan?
We've established that to set up your auto repair shop, you need a business plan. What you may not know yet, however, is how you'd like to write it. There are three options available to you:
Write your business plan using Word or Excel
This solution has one major advantage: it's cheap.
Be wary, however, that you'll need to have an accounting background (or at least be very good with numbers) to write your plan in this way without making mistakes in the calculations.
Hiring a consultant to write your financial forecast
Hiring a chartered accountant or consultant to take care of the financial part of your business is a good way to avoid errors.
However, the fees are generally quite expensive: budget around £1.5k ($2.0k) for a complete business plan, more if you need to make changes after the initial version (which happens frequently after the initial meetings with lenders).
Using online business plan software for your auto repair shop's business plan
If you're not used to writing business plans, another good solution would be to use online business plan software.
There are several advantages to using specialized software:
You are guided through the writing process by detailed instructions and examples for each part of the plan.
You can be inspired by already written business plan templates
You can easily make your financial forecast by letting the software take care of the financial calculations for you.
You get a professional document, formatted and ready to be sent to your bank.
If you are interested in this type of solution, you can try our software for free by clicking here.
Business plan template of an auto repair shop.
Need a little inspiration? Then why not check out our auto repair shop business plan template.
It will give you a better understanding of how to frame your own business plan, as well as what investors are looking for.
That's it for this time, we hope this article has helped you better understand how to write an auto repair shop business plan. If you have any questions related to setting up your business, please do not hesitate to contact us.
Also on The Business Plan Shop:
Know someone who might be interested in this article? Share it with just one click!