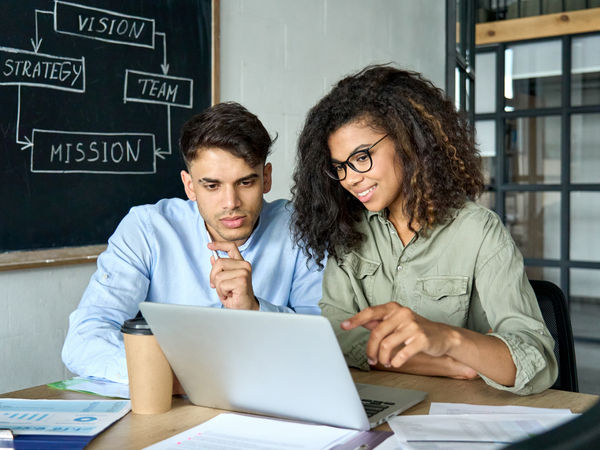 A business plan is an argumentative document that outlines the structure, functions, products/services, and strategic and financial goals of a company or a business idea. 
Business plans can be used in several decision-making processes in businesses. They are an important part of creating strategic, feasibility, operational, and expansion plans. 
External business plans are often aimed at convincing the reader to invest or lend money to a company, while internal business plans are made for the board members or the staff.
In this guide, we'll focus on what an internal business plan is and what it's not. We'll dig deep into why a business might need an internal business plan. This guide will also help you determine what tools you can use to create an effective internal business plan for your business.
So, let's get started!
What is an internal business plan?
Unlike the traditional business plan that is aimed at the company's external audiences, the internal business plan is made to be used within the company. 
Its main aim is to keep the team or the board in sync with the goals and strategy of the business. This ensures everyone is on the same page so that decisions can be taken in line with the company's strategy.
Just like a traditional business plan, an internal business plan also: explains how a project is being moved forward, details the risk and rewards associated with the action plan, and includes a financial forecast. 
A good internal business plan leans into uncovering weaknesses and competitive advantages for your business. Ensuring that employees are in sync with the goals of the business also encourages employee engagement.
What is the difference between an internal business plan and a business case?
While internal business plans and business cases might sound similar, they actually are not the same at all. 
A business case analyzes the merits of a single project or potential initiative, the business plan, on the other hand, covers the plan of action for your entire business over several years. 
Considering that the details mentioned in a business plan are based on a series of hypotheses and forecasts, they need to be reviewed periodically. For that, the business plan preparation should be an ongoing task in your business. 
On the other hand, the business case is usually a single one-off analysis aimed at making a go or no-go decision based on an estimated return on investment.
Why write an internal business plan?
By now, you've probably determined that an internal business plan can be thought of as a summary that aims to connect the employees with the vision and goals of the company. It includes valuable financial and strategic details about the business.
This means the document can be used to gain a quick and clear understanding of business operations, funding, and expected profitability. 
If the creation and communication of an internal business plan are carried out effectively, it can do wonders. Let's see some of the advantages of this document.
Get buy-in from the board and decision-makers
The internal business plan can be used to convince the board (and other decision makers) and get their buy-in on the next strategic move for the business. 
This may include an expansion plan, a restructuring, a refinancing, etc. The internal business plan can be considered an argumentative document since it is a powerful tool for convincing the board members to approve a plan of action. It does so by providing a clear and compelling vision for the organization's future.
In a well-crafted internal business plan, the need for action can be demonstrated. You can highlight the challenges facing the organization and how these problems can be addressed. The financial benefits of taking action can also be demonstrated by outlining the expected return on investment (ROI) of proposed initiatives. 
Finally, an internal business plan can help to build consensus and support for taking action by demonstrating how proposed initiatives align with the organization's overall mission and values.
Facilitate decision making
Business decisions are effective only when they align with the company's goals and objectives. Therefore, it is imperative that your heads of departments and delegates are well aware of the company strategy.
Considering that an internal business plan contains details about the short and long-term goals of the company, it can act as a framework for evaluating options and making informed choices. 
It also helps the leaders and decision-makers stay focused on what's most important for the business by outlining specific goals and the strategies needed to achieve them.
Align staff members on vision and direction of travel 
Internal communication is one of the most important aspects of modern-day businesses. Businesses need to be connected to employees at all times to ensure engagement and collaboration.
Internal business plans explain where the business is headed making sure everyone has a concrete idea about what is going on in the business.
How does an internal business plan differ from a traditional (external) business plan?
The traditional (external) business plan is mainly aimed at securing financing from investors or lenders. It may also be used to convince business partners or suppliers to do business with the company. 
On the other hand, the internal business plan aims to align the staff and board members with the goals and vision of the company.
As a result, internal business plans differ from traditional business plans in the following ways:
Less description: the employees of a business already have some level of familiarity with the business operations. Therefore, the description of company structure, products and services, operations, and market mentioned in an internal business plan can afford to be less detailed than in an external one.
Less financial information: internal business plans made accessible to the broader staff might contain less financial information than external plans, as the owners or board members might not be comfortable sharing confidential financial information with everyone. 
More strategic information: non-disclosure agreements are rare with investors, whereas staff and board members have an obligation in that regard. Therefore, the level of strategic disclosure might be much higher in an internal business plan than in an external one.
Different tone: while external business plan tend to be formal documents, the tone of internal ones might be less formal if they are meant to be shared only with the staff. 
How to write an internal business plan?
There are two possible formats for writing an internal business plan based on the intended audience and level of disclosure: 
For a simple internal business plan aimed at your staff, the recommended format is an executive summary (also called one-page business plan).
For a more detailed document aimed at getting buy-in from board members and decision-makers, the traditional business plan structure is recommended.
Steps involved in writing an internal business plan
The first step in writing an internal business plan is to identify the key goals and objectives that your company wants to achieve. These could include expanding into new markets, launching new products or services, or improving operational efficiency.
Secondly, conduct a thorough analysis of your target market and the competition to identify any trends, opportunities, or challenges that your company may face. Your internal business plan should be reviewed and updated regularly to ensure it remains relevant and aligned with your company's goals and objectives.
The standard template for the traditional business plan
Executive Summary - A brief summary of the business plan outlining key points and objectives.

Business Overview -  A description of the business model, products/services offered, and the industry you operate in.
Market Overview - A quick overview of your industry, market trends, and potential opportunities for growth.
Financial Highlights - A summary of the company's main financial metrics (revenue, profit, and cash flow) and expected performance over the next 3 years.
Our Ask - The specific request being made in the plan (for board members / when seeking approval only).

Company - Information about the legal structure of the company, ownership, and business registration details.

Structure & Ownership - Details about the organizational structure, including ownership and management team.
History - A brief summary of the company's past performance and key milestones.
Location - A description of the physical location of the business, including any relevant details about the surrounding area.
Management Team - An overview of the management team, including their experience and qualifications.

Products and Services - A detailed description of the products and/or services offered by the company.
Market Analysis - An in-depth analysis of the target market, including demographics, segmentation, and competition.

Demographics and Segmentation - Information about the potential customer segments.
Target Market - A description of the specific segments the company is targeting.
Competition - An analysis of the competitors in the market and how the company differentiates itself.
Barriers to Entry - An explanation of what prevents new competitors from entering the market.
Regulation - Any laws or regulations that may impact the company's operations or products.

Strategy - The company's overall strategy for achieving its objectives and goals.

Competitive Edge - The unique advantage the company has over its competitors.
Pricing - The company's pricing strategy for its products or services.
Marketing Plan - A detailed plan outlining how the company will reach its target market and promote its products/services.
Milestones - Key events or goals the company plans to achieve in the short- or long-term.
Risks and Mitigations -  An analysis of the potential risks to the business and how they will be managed.

Operations - A description of the day-to-day operations of the business, including production and logistics.

Personnel Plan - Details about the staffing needs of the business, including job roles and responsibilities.
Key Assets and IP - A description of the company's key assets and intellectual property.
Suppliers - A list of the company's suppliers and their role in the business.

Financial Plan - A detailed analysis of the company's financial projections, including a forecasted Profit & Loss statement, balance sheet and cash flow forecast.
Appendix -  Additional information that supports the business plan, such as market research, legal documents, or product specifications.
What tools can you use to write an internal business plan?
Usually, internal business plans are prepared in-house using either specialized software or spreadsheets and word processors. Let's look at both options.
Writing internal business plans with Word and Excel
Internal business plans can be prepared using "free" softwares like Word and Excel - though this is probably not the best approach. 
The first issue is that in order to create a financial forecast on Excel without making mistakes, the person preparing the forecast will need to be well versed in accounting and finance. This can work if you are a larger business with a dedicated CFO or FP&A team, but it's usually not a viable option for small businesses.
The second issue is that preparing an internal business plan requires intense collaboration with your team. For instance, the head of sales might be working on the sales forecast, while your head of HR has to ensure you have enough staff to serve customers. 
In this context, juggling between Excel and a word processor while coordinating multiple staff members can quickly become counterproductive. 
The third issue when you use Excel is that forecasts are hard to build, and there are no built-in scenarios analysis capabilities which makes it harder than it needs to be to come up with a concrete plan of action - as your team will have to iterate to agree on a plan (should we hire or outsource? What if sales are 5% higher? Etc.). 
Finally, Excel has no actual vs. forecast analysis capabilities, which make it hard to track if the plan is being delivered as expected and maintain the forecast up to date as time goes by.
That's why using Excel and Word to create business plans is fastly going out of fashion in favor of using specialized software.
Creating an internal business plan with an online tool
Creating an internal business plan is much more simple and effective when using an online software such as the one we offer at The Business Plan Shop. 
The biggest benefit is that you get professional guidance at every step of the plan preparation and:
Round-the-clock availability of online software.
Easy-to-use financial forecasting.
Ready-made business plan templates.
Easy financial analysis and KPI tracking.
Integration with major accounting software solutions.
Friendly support team.
No installation required.
Another major benefit is that, when you use software, you can easily convert your internal business plan into a business plan for a bank or investor. 
If you're interested in using this type of solution, you can try our software for free by signing up here. 
How to use your internal business plan effectively?
Once your perfect internal business plan is ready, the next step is to figure out how you can use it effectively and make the most out of it. 
Here are a few pointers:
Make sure to select the best communication channel and ensure that everyone from the target audience gets the internal business plan.
Monitor and measure business performance to evaluate the impact of delivering the business plan.
Make sure to translate key actions into actionable milestones. For instance, if you own a manufacturing company, you can mention how you will secure distribution agreements.
Make sure that the phasing of milestones is done after agreement with team leaders/staff.
Track actuals vs. forecasted financials, and perform regular reviews to track implementation progress. Regularly review financial performance and adjust accordingly.
The bottom line
An internal business plan can be a powerful tool for improving staff engagement. It can act as a tool to define the direction of the company and align the staff with the strategic and tactical goals of the company. 
It can also be used to convince the board to take action by providing a clear and compelling vision for the organization's future. 
We hope this guide helped you get a clearer picture of what an internal business plan is and how to create one for your organization. Don't hesitate to contact-us if you have any follow-up questions.
Also on The Business Plan Shop
Know someone who wants to create an internal business plan? Share this article with them!