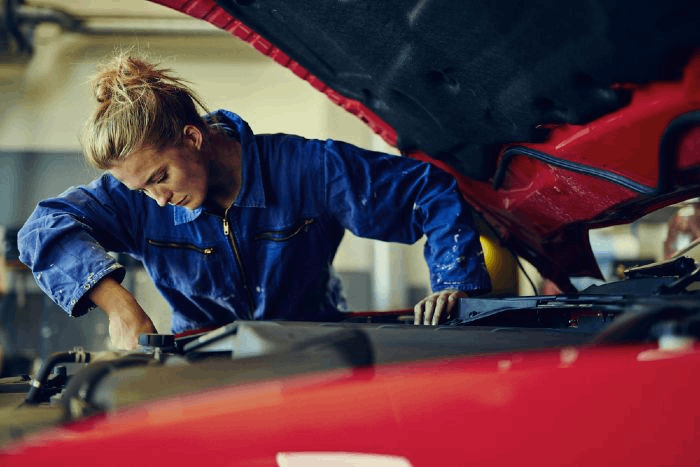 In many ways, taking over an auto repair shop is a lot less risky than starting from scratch. You can reap the benefits of having a tried and tested location, a team that's used to working together, and, above all, customers that have already been won over by your services.
It's important to remember, however, that taking over an auto repair shop is not without its own risks. To approach the project successfully, you need to tackle it with a carefully-devised plan.
To help you along the way, we've shared our top tips on how to take over an auto repair shop in this guide.
Study the area and your local competition
When taking over an auto repair shop, it goes without saying that its location is a major consideration - especially when assessing nearby competitors.
You must first check that the location is highly visible to members of the public and, above all, easily accessible from the main roads going in and out or the city or town in which you're based.
An auto repair shop must be visible from afar, so it would be worth investing some money in advertising boards so you can make passing motorists and nearby residents aware of its existence.
Picking an auto repair shop with an entrance that's easily accessible from the road it's on is ideal, because this will make it easier for motorists to stop at your auto repair shop instead of making a detour to go to another one.
When deciding on a location, you must also study the local market to verify whether it is commercially viable to take over the auto repair shop in question. You can evaluate this by scoping out its nearby competitors.
Don't panic if you have a few - it's a good sign because it means that demand is probably strong. Still, you need to find a way to set yourself apart from them. This is the only way you'll be able to capture enough of the market share to be profitable.
Whilst studying the competition, ask yourself:
How far from you are they located?
What is the reputation of each and are the customers satisfied with them?
Do they seem to be running smoothly with a busy workshop schedule?
What services do they specialise in? What is the difference between their services and the auto repair shop you are considering taking over?
How do their resources (including equipment, staff, and brand visibility) fair in comparison to yours?
Ensure that the premises and equipment are up to scratch to take over your auto repair shop
When taking over an auto repair shop, much of its existing equipment is included in the sale price. Before handing over the funds, however, you need to check that it's all still in good condition.
The world of car repair is rapidly changing and investments are often required to keep up with the times. So even if you're taking over an auto repair shop with top of the range mechanical tools, take time to double-check that they're all in good nick and that you're not missing any important devices.
Ask the owner for proof of purchase and invoices to verify when the equipment was purchased and, among other considerations, if there's any that need regularly replaced.
Check that the services offered meet your customers' needs
Taking over an auto repair shop also means taking over a loyal customer base.
You want to get to know your new customers so you can grant their car repair wishes to the best of your ability. Therefore, you need to check out:
Their profile: are they individuals or companies? Do they live locally or do they pass in and out of the city?
Their cars: what types of vehicles are they driving and what make is the most common?
What they come for: whether it's emergency repairs, spare parts, or MOTs, what services are the most common?
Ask yourself if the current clientele meets the profile of the one you had anticipated given the auto repair shop's location. If not, consider whether you should modify its services to expand or change the customer profile.
If the answer is yes, check that the services currently being offered successfully meet each customer's expectations. You can do this by getting out and chatting to a few customers, or reading up on online reviews.
Besides the customers, you'll also be taking over a whole team as well as an auto repair shop. Employee satisfaction is integral for the successful operation of an auto repair shop, so take some time to ensure that your employees are working happily and effectively as a team.
Also, assess the skillset that each staff member is bringing to the table - this will enable you to identify any staffing gaps and create a recruitment plan if necessary.
Check that the auto repair shop's suppliers are suitable
Taking over an auto repair shop also means checking out its current suppliers - to ensure the supply chain is operating in a way that aligns with your vision for the business.
The key questions to ask yourself are:
Is the auto repair shop affiliated with a manufacturer?
Who supplies tires and parts?
What are the commercial terms negotiated with them: price, payment terms, delivery frequency?
By breaking these details down, you'll get an overview of auto repair shop operations and are, thus, more likely to be able to spot opportunities to make changes to inventory and reduce costs to take over your auto repair shop.

After casting your eye over the auto repair shop's current supplier agreements, you'll be able to decide whether you want to renegotiate the terms - or change suppliers altogether if you think you can get a better deal elsewhere.
Examine the financial performance of the auto repair shop you want to take over
The next step in taking over an auto repair shop is to look at the historical financial performance of the business.
There are several elements to consider in this analysis, and we detail them below to help you see more clearly.
The sales' evolution over the last three years
When assessing the turnover of the auto repair shop you wish to take over, the first question you need to ask yourself is whether it has been increasing over the last three years (or at least been steady).
This will give you a better idea of how financially stable the company is. When assessing this figure, you must also evaluate:
How much each type of service (repair, maintenance, breakdown service, etc.) contributes to the total turnover figure.
The breakdown of the volume (how many working hours, parts needed, etc.) and value (price paid by the customer) for each service.
Evaluate the profitability of the auto repair shop
To check the profitability of the auto repair shop you wish to take over, start first with the cost of goods sold.
The repair or sale of parts make up an integral part of an auto repair shop business, so you need to assess the gross profit margin that arises from the cost of these goods and whether it's sufficient to keep the business up and running.
Then carry out a similar analysis for labour-heavy activities: is the price charged for services consistent with the hourly cost of staff and the time spent on each repair?
Now it's time to look at the company's overheads - are they under control? Changes in payroll must also be considered. You should factor in any staff members' salaries that may be increased regularly. As well as this, check that the existing salary matches up to what your potential competitors are paying their staff members.
Next, look at the EBITDA. Besides looking at how it has evolved over the last few years, the key thing here is to check that it's positive and how it compares to other companies in the sector.
How much cash is generated by the auto repair shop you plan to take over?
Analyzing the cash flow generated by the auto repair shop is the most important point because a business that isn't generating cash is not a viable business in the long term.
Here again, you must assess the evolution of cash flow to verify that it is positive and that the cash generated at an operational level is sufficient to maintain and regularly update the auto repair shop's equipment and meet its financial commitments, such as loan repayments.
This information should all be tied together in a financial forecast. If you're not sure how to best go about putting together a financial forecast, click here to be lead through the process, step by step.
Once you've analysed these elements, you should have enough information in front of you to determine whether to take over the auto repair shop or not. If you've decided to take the leap, the next step is drafting up a business plan.
Writing the business plan for the takeover of your auto repair shop
From having to assess the financials, to team operations, services offered and the commercial potential of its location - you know by now that taking over an auto repair shop is no easy task.
This is why creating a business plan is essential, as it allows you to verify that the potential profitability of your auto repair shop is real, and to help you convince financial partners to invest in your project.
But what exactly is a business plan?
In a simplified way, an auto repair shop takeover business plan consists of two main parts:
A written part used to present the project and showcase its strengths
A numerical part, also known as the financial forecast, used to highlight the potential profitability of your business, and the financing needed to launch the business
Writing a business plan can be tricky when you've never done it before. However, many solutions exist - including online business plan software like the one we offer.
Using specialized software to draft up business plans has several advantages:

You are guided in the drafting process by detailed instructions and examples for each part of the plan.
You can be inspired by already written business plan templates
You can easily make your financial forecast by letting the software do the calculations for you.
You get a professional document, formatted and ready to be sent to lenders or investors.
If you are interested in this type of solution, you can try our software for free by creating your account here.

Finding financing to complete the auto repair shop take over
Once your business plan is written, it's time to allocate funding to take over the auto repair shop.
The advantage of taking over a company rather than starting one from scratch is that the existing company already has a credit profile, making it easier for potential lenders to evaluate the borrowing capacity.
The type of financing you request will depend, in part, on the takeover structure you opt for (whether it's a buyout of the auto repair shop's shares, with or without a holding company, or the buyout of the business' assets).
As we conclude our guide, we hope we have provided you with enough useful information to help you realise your dream of taking over an auto repair shop.
If you have any thoughts or queries, please don't hesitate to get in touch with our team.
Also on The Business Plan Shop:
Think this article would be of interest to someone you know? Share it with just one click!