Have you hung up your backpack after several years travelling between different countries and hostels, meeting new faces, and immersing yourself in countless local cultures? If so, you might be ready to welcome the next generation of backpackers - by opening your own hostel.
To ensure its success, however, you'll need to create a business plan for a hostel to help you set out the vision for your business and identify its funding requirements.
And we're here to help you each step of the way. In this guide, we'll take you through the process of writing a business plan for a hostel - from what it should contain, to practical solutions you can use to draft it up.
Why create a business plan for your hostel?
For any entrepreneur, regardless of whether they're launching a restaurant, bakery, or clothes shop, writing a business plan is the very first step in starting a new company.
Not only does it enable you to check whether the business is likely to be profitable, but it also plays an essential role in presenting your business to potential lenders or investors in the hope they'll feel as excited about it as you are and provide funding to help get it off the ground.
A business plan consists of two main components:
A financial forecast that aims to highlight the expected profitability of the business and its need for initial financing
A written part that presents, in detail, your project, the team, your business strategy, and your medium-term objectives.
Before you dive headfirst into writing your business plan, you'll need to gather the information necessary to piece it together. Let's look at them in a bit more detail.
What information is needed to write a business plan for a hostel
Before writing a business plan for a hostel, you need to first familiarise yourself with the hostel market and verify whether there's enough room on the local market for you to open a hostel in your desired area.
This is known as the market research stage. By carrying out market analysis for a business plan, you'll obtain critical knowledge of the current demand for hostel accommodation, as well as the hostels that have already made their name on the market.
Thanks to this data, you'll then be able to determine which customer segment to target (whether it be young groups of friends or solo travellers) so that your hostel can take up its own space on the market.
The market research will also enable you to collect the information needed to estimate your turnover, as you'll get a better idea as to how you'll set your prices, as well as the average turnover of other hostels in the area.
After you're finished with the market research (but before you start writing your business plan) you'll also need to identify the equipment and staff that will be needed to operate your hostel.
You can do so by listing each item of expenditure (from furniture for the lounge, to bunk-beds and stocking the bar) and estimate their costs by contacting suppliers for quotes.
You'll also need to draw up a list of the staff needed to run the hostel on a day-to-day basis. Research the different roles and offer (within reason) a competitive salary for each one to ensure you stand out as a desirable alternative to other hostels hiring on the market.
The financial forecast of your hostel business plan
Once you've gathered all the data mentioned above, it's time to start writing your business plan.
Here are the four tables that make up the financial forecast of your hostel business plan:
The projected P&L statement
With this table, you can evaluate the expected growth and profitability of your hostel over its first three years of operation.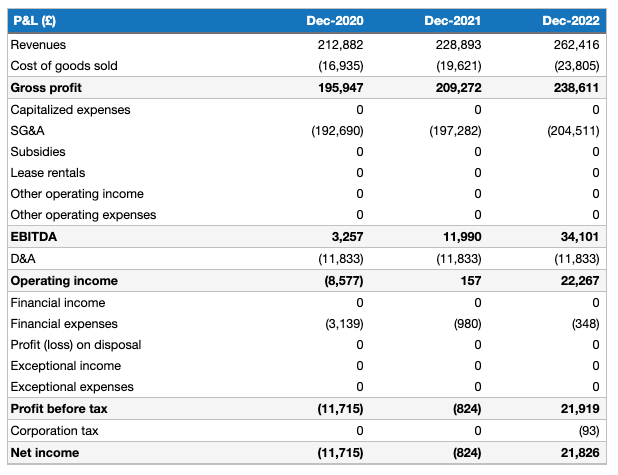 The projected balance sheet
The projected balance sheet is made up of two parts. It shows the assets, i.e. what your hostel owns (such as cash, stock, and equipment), and the liabilities, i.e. what your company owes to its creditors at the end of the year.
The projected cash flow statement
The cash flow statement enables you to observe the amount of cash consumed or generated by the company during a fiscal year.
With this table, you can verify whether the company has sufficient cash flow to meet its financial commitments (especially when it comes to loan repayments) and regularly renew its equipment.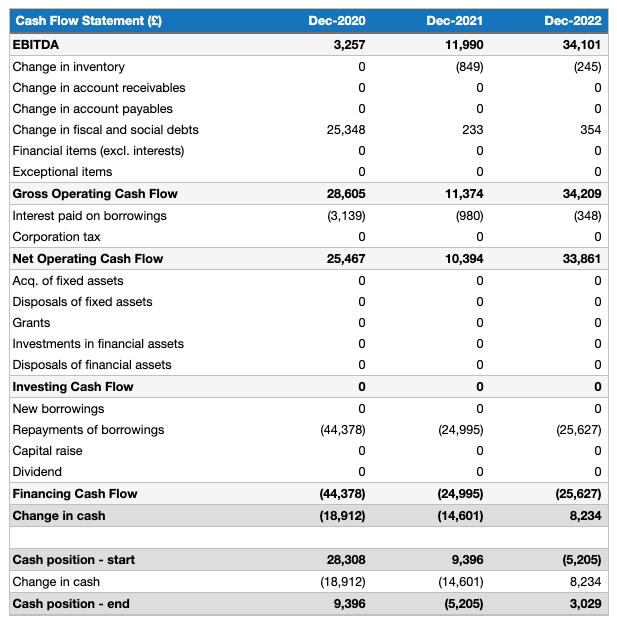 Start-up capital
The sources and uses table provides a clear vision of the start-up capital needed to launch your business and how it is financed (for example, via bank loans or money contributed by the partners).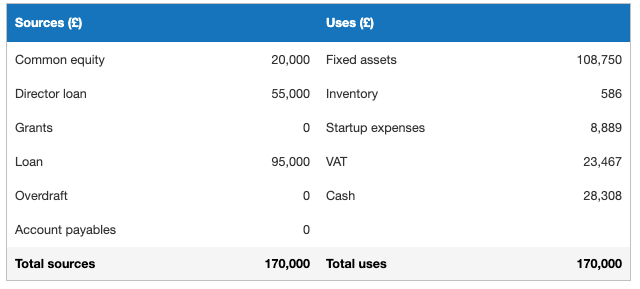 The written part of your business plan for a hostel
Once the financial forecast of your hostel has been created, it's time to tackle the editorial part.
This crucial part of the business plan enables you to present your business idea in detail. By putting the figures into context, the written part gives the potential investor reading the plan an understanding of your motivation for launching the business, your involvement in it, the strengths of your business model, and how you plan to manage its risks.
The editorial part of a hostel business plan is made up of the following sections:
The executive summary
The executive summary is the very first thing an investor will come across when reading your business plan.

Its purpose is to present your business by telling your story - who you are, where you're based, what product or service you're selling, and, most importantly, what you need from the reader to make it come to life.
The executive summary should make the reader want to find out more about the project, so make it as compelling and concise as possible
Company
In this section, you'll highlight the structure of your hostel by detailing its legal status, business partners, how capital will be distributed and the company's location.
Products and services
Here you will describe the type of accommodation offered in your hostel, counting the amount of dormitory and beds, as well as all the facilities you offer (toilets, a bar, laundry service, etc).
Market research
This part should not be neglected. You will present here the conclusions of your market research with the objective of convincing the potential investor reading your plan that there is indeed a business opportunity to be seized.
Strategy
In this part, you'll reveal three key plans:
Your sales strategy - the prices you'll set
Your marketing strategy - the actions you'll take to attract customers and build customer loyalty
Your risk management strategy - how you'll minimise the risks related to your business
Placing a spotlight on these will show potential investors that you've given your project a lot of thought and anticipated the risks involved in running the business over the long term.
Operations
This is where you will detail the day-to-day running of your hostel - from how many people will be needed to man the reception or the bar, to which suppliers you'll be using and how often.
The financial plan
Your calculations and assumptions will be illustrated in the financial plan section where you will find the tables we touched upon earlier.
What solutions are available to create a hostel business plan?
Using Word or Excel to create your business plan for a hostel
While this solution is the least expensive, it's the most tedious and time-consuming. Unless you have impeccable office skills and prior accounting knowledge, miscalculations will be likely - so we advise you to browse the other options below before making up your mind.
Hiring a consultant to write your financial forecast
Hiring a chartered accountant or consultant to take care of the financial part of your business is a good way to avoid errors.
However, the fees are generally quite expensive: budget around £1.5k ($2.0k) for a complete business plan, more if you need to make changes after the initial version (which happens frequently after the initial meetings with lenders).
We also advise choosing someone with previous experience in the hostel field, so they can provide advice specifically tailored to your industry.
Using online business plan software
You also have the possibility to use online business plan software to draft up your hostel business plan.
There are several advantages to using specialised software:
You are guided through the writing process by detailed instructions and examples for each part of the plan
You can easily make your financial forecast by letting the software take care of the calculations for you
You can be inspired by already written business plan templates
You get a professional document, formatted and ready to be sent to your bank.
If you are interested in this type of solution, you can try our software for free here.
That's it for this time, we hope this article has helped you better understand how to write a business plan for a hostel. If you have any questions related to launching your business, please don't hesitate to get in touch with our team.
Also on The Business Plan Shop
Know someone else who might be interested in this article? Share it with just one click!