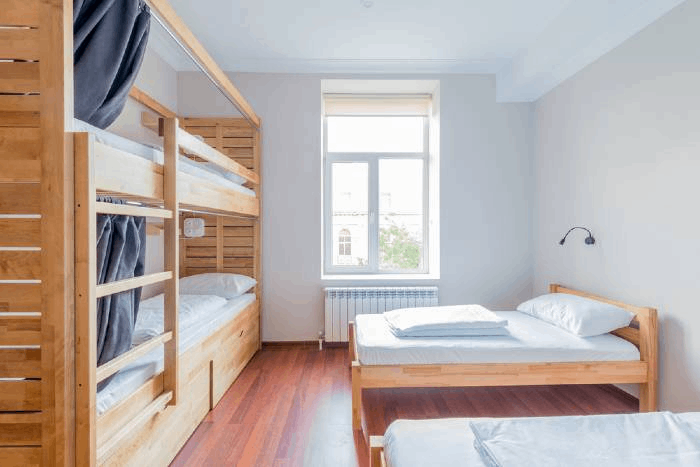 So you've decided to open a hostel. It's exciting, but before launching, you need to get a realistic idea of how profitable your business will be.
From calculating your estimated turnover to adding up the investments and operation costs, creating a financial forecast for a hostel gives you the opportunity to see what your first three years of operation will look like - and how much they'll set you back.
If the thought of putting together a financial forecast for a hostel feels overwhelming, don't worry - the guide below sets out the exact procedure to follow to create as realistic and clear a financial forecast as possible.
Whether you're starting up or are already operating a hostel, these tips are essential for the development of your business.
1. Why make a financial forecast for a hostel?
A financial forecast makes you look at your business in detail - from income, to operating costs and investments, to evaluate its expected profitability and identify any gaps where you'll need funding.
If you're setting up a brand new hostel company, the financial forecast should be created with the first three years of operation in mind. If you own a hostel that's already up and running, we advise that you update it at least once a year.
Before crunching the numbers, however, you need to gather all the data necessary to create your financial forecast.
2. What information is needed to draw up a financial forecast?
If you're setting up a business from scratch, market research is an essential step in enabling you to gain a deeper understanding of the dynamics of the area in which your business is based, as well as providing the information needed to estimate your turnover.
You'll then focus on the criteria that determine your target market:
Who stays in hostels?
What is the average budget of a hostel customer?
How many times per year do customers stay in hostels and what is the average length of stay?
Are there any rival travel accommodation businesses in the area?
Answering these questions will give you the ability to assess the level of demand in your area and choose the best location for your hostel.
If you're new to the hostel business, it may be an idea to get in touch with managers of other hostels in the area to get an insider's perspective on the seasonality and types of customers you can expect to welcome, as well as the average turnover and occupancy rate of other hostels.
Finding out more about your potential customers via market research will help you then conjure up a robust marketing plan to reel them in, enabling you to get your hostel's name out there amongst the local community.
The financial forecast for a hostel should also include a marketing budget so that you can rely not only on word of mouth but also on effective communication strategies such as setting up a website or paying for a billboard ad.
You will also need staff to welcome guests and entertain guests, as well as and providing a room turnover service.
To accurately assess how much money you'll need to put aside for recruiting staff, ask yourself:
Based on its daily hours of operation, how people will be needed to supervise the reception desk?
Will you need staff to man the bar?
Will you be doing the cleaning and maintenance yourself?
What type of people are you looking for and how much are you willing to pay?
Finally, you'll need to list your operating costs and estimate them by requesting quotes from suppliers.
3. The sales forecast for a hostel
When creating the financial forecast for a hostel, the very first thing you should do is set out a sales forecast.
Add up your total number of dormitories and beds, using the information obtained during your market research to estimate each dormitory's occupancy rate.
It's up to you to find the right pricing strategy to maximize your occupancy rate and income per bed in both peak and off-peak periods.
4. The overhead costs required to set up your hostel
Overheads are both the staff and operational requirements needed to keep the hostel running on a day-to-day basis.
To calculate your overheads accurately, you'll need to consider the following costs:
rent
upkeep and maintenance of the premises
marketing budget
employees and their salaries
A little advice - even if it means overestimating your costs, it's better to take a conservative approach here, as it will prevent you from ending up with a cashflow problem from being too optimistic.
Your suppliers and their quotes are your allies in quantifying each expense accurately.
5. What investments are needed for a hostel?
A hostel requires considerable investment when it opens, and it's vital that you ensure they're all included within your budget estimate.
This includes, for example, the deposit for your premises, as well as the furniture you'll need for the dormitories, toilet facilities, and bar/lounge area.
The total amount will, of course, depend on the size of your hostel and where it's based. Also, keep in mind that the hostel must comply with the health and safety regulations imposed on all public spaces (including concerning fire safety and disabled access). If after an assessment the premises isn't up to standard, you may need to set aside some money for renovation work.
You also want your visitors to leave with fond memories of your hostel, so ensure you provide them with all the credentials (from USB sockets near the bed, to secure lockers and a laundry room) of an enjoyable and blissful stay.
6. Tables that define the financial forecast for a hostel
At this stage, you now have all the information needed to set up the tables that summarise your financial forecast.
These tables will not only help you to get a clear vision of your forecast, but they will also be essential in helping you present your project to a bank to obtain financing.
The profit & loss statement
This profit and loss statement allows you to observe the growth and profitability expected for your hostel over its first three years of operation.
The projected balance sheet
This table gives you a vision of the company's assets - in other words, what it owns and what it owes to its creditors from year to year.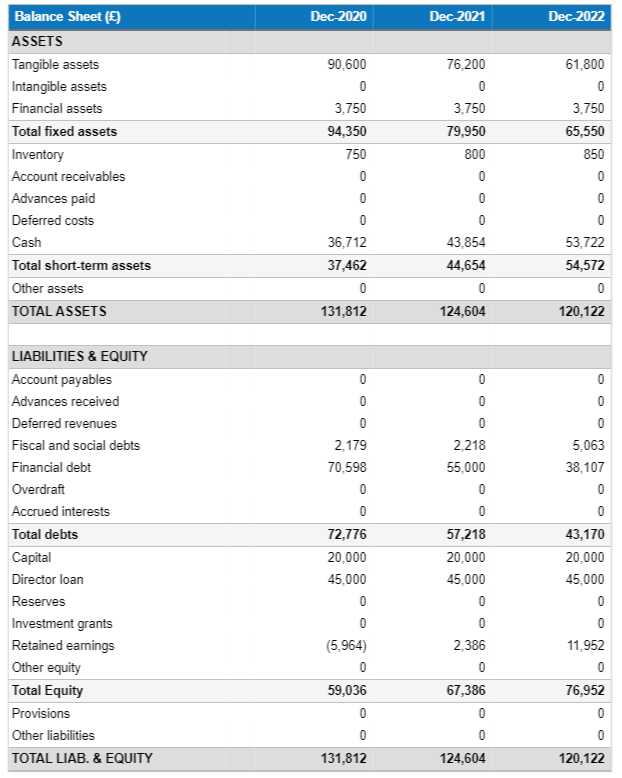 The projected cash flow statement
The projected cash flow statement shows you the breakdown of the hostel's cash flow, and allows you to assess whether the hostel will have sufficient cash flow to repay its loans and finance the development of the business as time goes on.
7. Which tool should you use to create a financial forecast?
As you can see, your hostel budget is an integral part of your project, so you need to make sure it's as accurate as possible.
This technical step, however, can be complicated, which is why we're presenting you with a range of solutions that will help you along the way.
Using a spreadsheet
Using a spreadsheet program such as Excel or Google Sheets is a very inexpensive way of creating a financial forecast, which makes this solution appealing at first glance.
However, without any knowledge of accounting and financial modeling, it's easy to make mistakes with a spreadsheet program - so it's a solution better suited to those with accounting experience.
Calling in a chartered accountant or consultant
Accountants and consultants are professionals when it comes to creating financial forecasts, so you can rest assured that you'll be in good hands.
Make sure, however, you choose a professional with experience in the hostel sector, so they can undertake as accurate an analysis as possible when it comes to the figures - especially the assumptions made around occupancy rate and income per bed.
The only disadvantage of this solution is its cost. We estimate that for a simple financial forecast over 3 years (including a balance sheet, income statement, and cash flow statement) calling on professional help will set you back around £700 or $1,000 (excluding VAT).
If you'd like to enlist a professional business plan writer to put together the editorial part and forecast, this is likely to cost around £1,500 or $2,000.

Using online software
The final solution available to you is to use online budgeting software.
This offers you the following advantages:
You can easily make your financial projections, letting the software take care of the calculations
You have access to complete financial forecast templates
You get a complete financial forecast ready to be sent to your bank
If you are interested in this type of solution, you can try our forecasting software for free by signing up here.
8. Be inspired by our financial forecast template
Whether you are just starting out or already have your own business, we have created a business plan template of a hostel to help you identify the main costs and understand the approach to take to estimate its turnover.
The business plan is the essential document for seeing your business idea through to the end. It contains both the financial forecast and a written part that presents, in detail, your project, the team, your business strategy, and your medium-term objectives. You'll show this document to potential investors in the hopes they'll financially support your venture - so needs to be impeccable and convincing.
If you're not sure where to start, our business plan template for a hostel will help you along the way. You can download it in Word or PDF format, or by loading it directly into our software to adapt it to your project.
We hope that this article helped you to see more clearly what needs to be done to create the financial forecast for a hostel. Don't hesitate to contact us if you have any questions!
Also on The Business Plan Shop
Think this article could be of interest to someone you know? Share it with just one click!