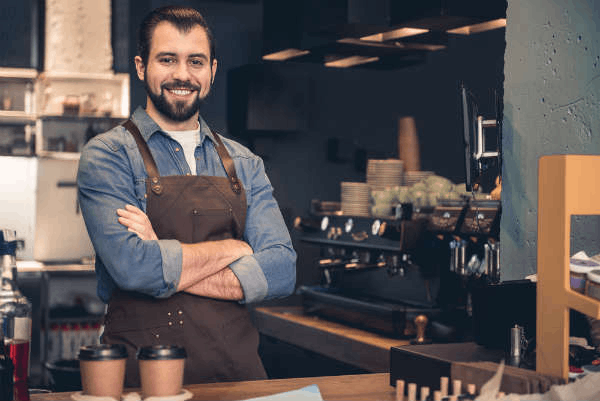 Whether you own a coffee shop or are planning on starting a new coffee shop, your main objective will be the same: to enhance its profitability.
The world of profit margins is a tricky one to navigate, but the good news is that there are several actions you can take to improve your profitability.
To help you along the way, we've created this guide to share our top tips on optimizing coffee shop profitability.
1. Control your costs to enhance coffee shop profitability
While it mightn't seem like much initially, saving a few ten or a hundred quid once a month can make all the difference to your coffee shop by the end of the year.
First off, think about your suppliers. Have you managed to agree on reasonable payment terms with them, or do you think you can buy cheaper coffee beans and snacks for the same quality elsewhere? Take time to research other suppliers so you can compare prices and re-negotiate your payment terms where necessary to enhance your coffee shop's profitability.
You might also need to purchase new equipment, such as a coffee machine. With brand new coffee machines setting many coffee shop owners back anything between £2,000 - £4,000, we recommend that you consider buying second-hand. This will allow you to purchase a machine that is still in excellent condition (at just a year or two old) and for half the price of a new one.
Re-evaluating your overhead costs is also very important. Overheads are your company's administrative, commercial, and payroll expenses. They are essential for your coffee shop's profitability.
Controlling these cost items is therefore very important when it comes to boosting coffee shop profitability. The most effective way to do this is by listing all your expenses, in order of cost, to identify those that seem unnecessary and could be reduced.
For example, you might consider changing your energy supplier to lower the bill or renegotiating the fees of your accountant.
2. Keep an eye on your coffee shop's stock
A key consideration for anyone operating a business that sells food is waste management. To improve coffee shop profitability, it's imperative that you implement a system whereby you're purchasing and disposing of ingredients in as economical a way as possible.
To do so, consider any days in the week where you experience a lull in customers - do you, for example, throw away more unsold pastries on a Tuesday than you would on a Thursday?
Also, look at your recipes. If you serve soup or sandwiches, for example, can you reduce the number of ingredients used so you can buy larger quantities of key ingredients like bread and cheese at a lower price?
3. Play around with your products and prices
Our next tip in improving coffee shop profitability is to review your menu to ensure that you're selling the right products at prices that make sense.
Start by taking stock of the current profitability of your products: what is the price of a coffee or a fresh orange juice? Is the margin generated sufficient, and if not, is it possible to slash unprofitable products from the menu altogether?
Look at the possibility of increasing the price of certain products to improve the margin and optimise your coffee shop's profitability. An extra 10 or 20 pence for a cup of coffee won't make much of a difference to your customers, but if it sells in high quantities it will bring a considerable gain for your business over the course of a year.
You might also want to consider adding high-quality products to your menus, such as organic and fair trade coffees or exotic teas, or a coffee and pastry deal, to convince your customers to spend a little extra cash when grabbing their daily coffee.
4. Develop a strong marketing plan to attract and retain customers
Like any business, your coffee shop is bound to experience periods of high and low demand.
To attract customers on quieter days, you can come up with promotional offers. From student discounts to lunch deals, two-for-one coffee deals and free pastry or brownie samples, it's up to you to pick the actions that seem most relevant to your customers.
Take time to test out a few different actions so you can find the ones that are most effective when trying to enhance the profitability of your coffe shop.
Setting up social media profiles on platforms such as Twitter and Instagram are also great ways to not only advertise your products and weekly deals but also create a community for local coffee lovers and build a rapport with your customers.
5. Create a financial forecast to track coffee shop profitability
Whether you're just starting up or looking to improve the profitability of an already operating coffee shop, creating a financial forecast for your business is imperative.
The financial forecast will enable you to assess the impact of the actions reviewed in this article, as well as taking into account all your costs and expected revenues to ensure the future profitability of your coffee shop.
Objectives of your coffee shop's financial forecast
When trying to enhance your coffee shop's profitability, you need to think about different objectives. The first objective and major benefit of a coffee shop financial forecast are that it forces you to look at your business in detail - from income to operating costs and investments, to evaluate its expected profitability and identify any gaps where funding is needed.
The second aim of a financial forecast is that it enables you to verify, on paper, whether the business is likely to be profitable. The forecast can then easily be adapted to increase the business's chances of profitability.
The last (but certainly not least) aim of a financial forecast is to ensure that the business has enough cash to operate effectively. This means making sure you'll be able to meet obligations, including repaying bank loans and paying staff salaries.
It's clear then that creating a financial forecast for a coffee shop is crucial, albeit pretty technical. If you don't have a strong accounting background and would like assistance breaking down the numbers, there are powerful online solutions that enable you to develop a reliable financial forecast - such as the online forecasting software we offer at The Business Plan Shop.
If you opt for The Business Plan Shop's forecasting software, all you need to do is follow our simple instructions and fill in the 4 tables set out for you. The calculations are also done automatically, avoiding any potential errors. In just a few clicks, you'll obtain a full financial forecast consisting of a provisional income statement, provisional cash flow statement, provisional balance sheet and a break-even point calculation table.
If you are interested in this type of solution, you can try our forecasting software for free by signing up here.

So, is opening a coffee shop profitable? We hope that with our advice on how to enhance coffee shop profitability, you'll find that the answer is yes.
Don't hesitate to contact us if you would like to share another tip for optimising coffee shop profitability, or if you have any questions regarding the financial forecast of a coffee shop.
Also on The Business Plan Shop
Is someone you know planning to open a coffee shop and might be interested in this article? Share it with just one click!