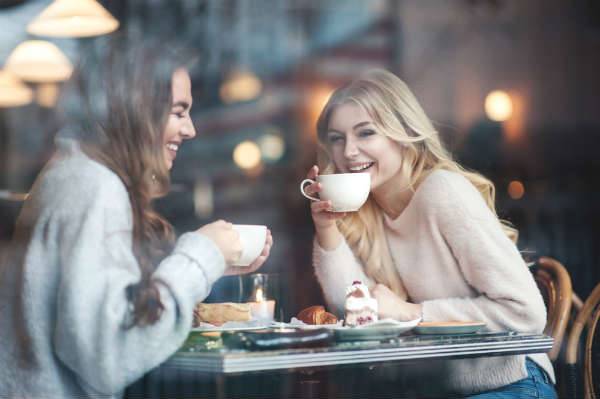 Are you drawn to the world of cosy coffee shops and carefully curated coffee blends? If you have a passion for coffee and a head for business, you may have decided to start your own coffee shop.
Before purchasing coffee beans and hiring a barista, however, it's important to think carefully about your business plan - because the success of your venture depends on it.
If you're not sure how to go about drafting up a business plan, then you've come to the right place. Simply read our guide below to make your coffee shop business plan come to life.
Why a coffee shop business plan is essential
As you're probably aware, the number one objective of a business plan is to ensure the financial viability of your venture. First and foremost, you need to make sure that your coffee shop will be profitable.
A coffee shop business plan also enables you to examine your business in detail, evaluate the amount of funding needed to get it up and running, and assess its expected profitability.

A coffee shop business plan will also be specifically requested by any bank or investor you decide to approach, so drafting one up is a mandatory step when it comes to securing financing.

Finally, a coffee shop business plan serves as a roadmap for your coffee shop's first three years of operation. As your coffee shop moves through its first stages of operation, you can use the business plan to track whether it's flourishing as it should, by comparing the figures estimated in your initial forecasts.
What information should a coffee shop business plan contain?
Conducting market research for your coffee shop is an essential prerequisite for the creation of your business plan.
It will not only enable you to understand the dynamics of the market you've chosen to enter (whether you're opening an independent coffee roaster or joining an already established chain like Pret a Manger) but also help you understand the expectations of your customers to ensure your offering the type of food and coffee they're looking for.
Writing a coffee shop business plan also enables you to keep track of the staff and equipment requirements of launching and operating a coffee shop, as well as how much each investment will cost.
It's also within your coffee shop business plan that you'll add up the costs associated with the stock, insurance, legal and accountancy fees, as well as your utility bills and rent.
To obtain the best rates and ensure you estimate these expenses as accurately as possible, get in touch with several professionals and ask them for quotes.
The financial forecast of a coffee shop business plan
Let's now look at the financial part of your coffee business plan. The financial forecast is composed of four tables, all of which have a specific function that we delve into below.
The projected profit and loss account
With this table, you'll have an overview of the expected turnover, growth, and profitability for your coffee shop over the first 3 to 5 years of activity. This essential chart helps you identify potential opportunities to reduce costs and enables you to ensure the profitability of your coffee shop.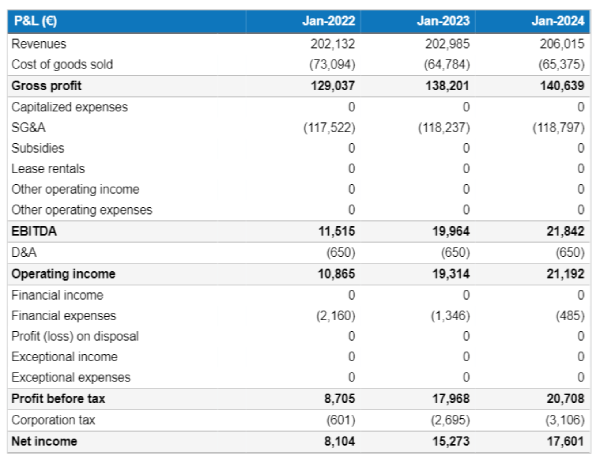 The projected balance sheet
The projected balance sheet shows the value of the company's assets at a given time, and, in particular, the value of the assets (what the company owns) and liabilities (what the company owes to suppliers, lenders, etc)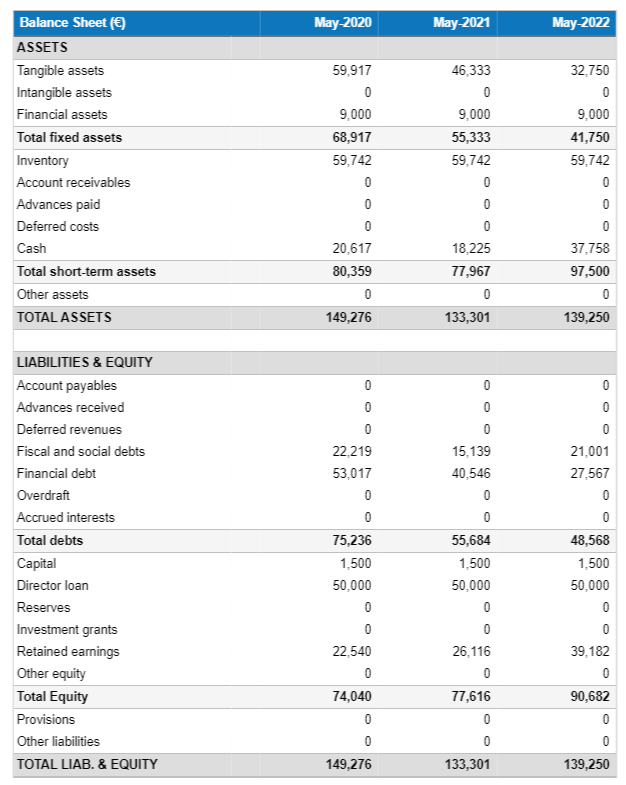 The projected cash flow statement
With the help of a projected cash flow statement, you will see how much cash is generated in your coffee shop business plan, where it comes from, and how it is used, whether it's to repay its loans or purchase new coffee beans.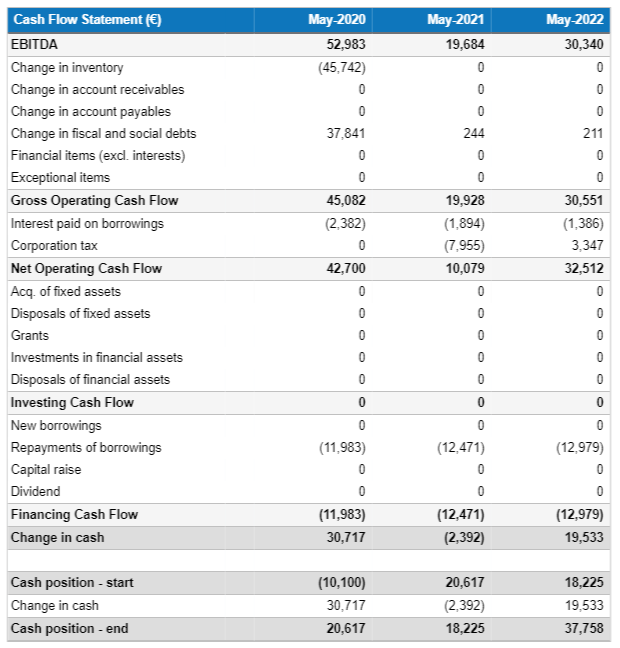 You'll also be able to see if you have enough cash to fulfil these obligations, or even if you might soon have enough cash to expand your business by opening more coffee outlets.
The start-up capital
This section of your coffee shop's financial forecast gives your bank or investor a quick overview of the resources needed to launch your business and their costs - as well as ways in which they'll be financed, including via equity contribution, shareholder loans, and bank loans.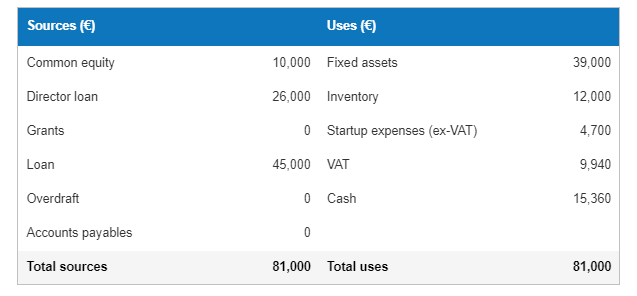 What does the editorial part of a coffee shop business plan look like?
Once the financial forecast of your coffee shop has been set up, you have the opportunity to put these figures and estimations into context by delving into the written part of your coffee shop business plan.
The editorial section of your coffee shop business plan is just as important as the financial forecast because it presents each aspect of the business in detail and proves to investors that you've thought carefully about the risks associated with it.
It's broken down into 7 sections, which we have summarised below:
The executive summary
Think of this section as the equivalent of a cover letter for your coffee shop business plan. The aim here is to introduce your project to investors in as engaging and concise a manner as possible, encouraging them to read on and learn more about your exciting venture.
Company description
In this part, you place a spotlight on the business's partners and their roles, as well as the distribution of the company's capital and the location of your coffee shop.
The products and services offered by your coffee shop
This section explains the products being sold by your coffee shop.
Market research
It's within this section of the coffee shop business plan that you'll present the results of the market research we mentioned at the beginning of this article. The objective here is to demonstrate that there is indeed a viable business opportunity for your coffee shop to flourish.
Your business strategy
In this part, you'll reveal three key plans:
Your sales strategy - the prices you'll set
Your marketing strategy - the actions you'll take to attract customers and build customer loyalty
Your risk management strategy - how you'll minimise the risks related to your business
Operations
From your employees to your relationship with suppliers, you'll detail the operational organisation of your business.
The financial plan of your coffee shop
The financial plan of your coffee shop business plan puts your numbers into tables that you'll be able to present to potential investors so they get a better idea as to your coffee shop's expected profitability and how much funding you need.

Our advice for creating a realistic coffee shop business plan
The business plan for your coffee shop will be your pillar throughout the preparation and launch of your business. It's an essential document that must not only anticipate all the questions that a potential investor might ask you during your meeting, but it must also enable you to know the strengths of your business (as well as the risks associated with it) inside out.
We've listed several key areas of consideration below for you to pay special attention to when creating your coffee shop business plan:
The fluctuation of stock prices: the cost of ingredients and coffee beans change all the time, so it's important to monitor their prices and to anticipate any price fluctuations that are likely to have a considerable impact on your profit margin.
Seasonality: every business is at the mercy of unpredictable risks and the rhythm of the neighbourhood in which it's based, which is slightly easier to anticipate. Depending on your location and your concept, you'll naturally experience a heavier influx of customers in either the summer or winter, or during certain days of the week - make sure your coffee shop business plan takes the impact seasonality has on your coffee shop into account so you can implement actions to keep your profitability up all year round.
Recruitment issues: in the hospitality business, the task of recruiting qualified and motivated members of staff can be particularly tricky, due to its high turnover rate. When creating your recruitment plan, take time to detail the exact skills and level of expertise you're looking for in each member of staff.
Knowledge of the field: the launch of a coffee shop should be based on excellent knowledge of the coffee shop market and its customers. So don't just do a quick survey of the competition and the area, take the time to conduct thorough market research on industry trends and consumer habits.
Double-check your information! Conducting market research means referring to several resources to inform yourself of sales figures within the coffee shop market and emerging trends, as well as coffee prices. You can turn to a wide range of professional bodies for this information, including the Office for National Statistics (UK), Eurostat (EU), or the Census Bureau (US), and the resources listed on UKHospitality. Whichever sources you use for data, double-check to ensure they can be trusted.
What tool should I use to write my coffee shop business plan?
There are several tools available to help you write your coffee shop business plan. To ensure you pick the solution that best suits you, we've reviewed the pros and cons for each below.
Write your business plan using Excel and Word
This solution has one major advantage: it's cheap.
Be wary, however, that you'll need to have an accounting background (or at least be very good with numbers) to write your plan in this way without making mistakes in the calculations.
Hire a consultant to develop your business plan
Hiring a chartered accountant or consultant to take care of the financial part of your coffee shop business plan is a good way to avoid errors.
However, the fees are generally quite expensive: budget around £1.5k ($2.0k) for a complete business plan, plus more if you need to make changes after the initial version (which happens frequently after the initial meetings with lenders).
If you decide to hire a consultant or accountant, remember to check what's included in the service - are they developing a complete business plan or just doing the financial forecast? And are you willing to pay extra for them to make changes, if necessary?
Use online business plan software
If you're not used to writing business plans, another good solution would be to use online business plan software.
There are several advantages to using specialized software:
You are guided through the writing process by detailed instructions and examples for each part of the plan.
You can be inspired by already written business plan templates
You can easily make your financial forecast by letting the software take care of the financial calculations for you.
You get a professional document, formatted and ready to be sent to your bank.
If you are interested in this type of solution, you can try our software for free by clicking here.
That's it for now, we hope this article has helped you better understand how to write a coffee shop business plan. If you have any questions related to setting up your business, please do not hesitate to contact us.
Also on The Business Plan Shop
Know someone who's planning to open a coffee shop and might be interested in this article? Share it with just one click!