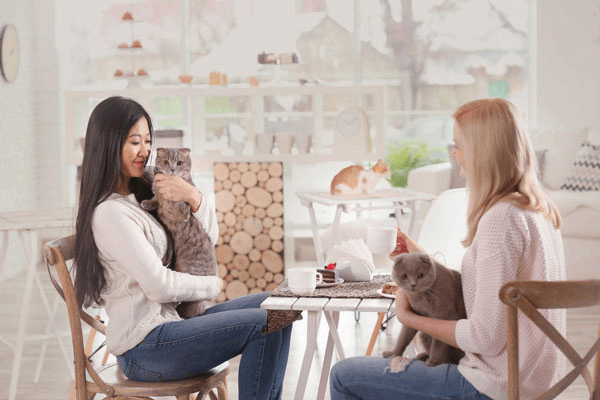 While it's easy enough for budding restauranteurs or fashion fiends to find online resources divulging valuable information on how to set up a restaurant or clothes shop, for anyone keen to start up their own cat cafe, well, this task is a little trickier.
At The Business Plan Shop, we support entrepreneurs who think outside the box, which is why we've written a guide on how to start a cat cafe to help lead cat-loving cafe owners-to-be through the dark.
From carrying out market research to choosing your legal form and securing funding for your business, read on for our top tips on how to start a cat cafe and guarantee its success!
The origins of the cat cafe concept
A cat cafe, quite simply, is a cafe where customers can go to drink coffee or tea, whilst being surrounded by cats that can be pet or feed.
Although the concept derives from South Korea, it has flourished in Japan. Japan is so heavily populated that the houses are extremely small, making it complicated for many residents to own pets. This led to the creation of cat cafes - as they provide a place for cat lovers to experience the pleasure of cat company without the responsibility of permanently looking after their own.
In the UK, the concept has really picked up - with eight cat cafes listed in 2016, and another 10 expected to open by the end of 2017. But having a trendy concept will not be enough alone to ensure a business' success, so it's important to be organised and plan out every aspect of your cat cafe carefully.
Starting a cat café: a commercially attractive concept
Starting a cat cafe, when done properly, can guarantee a huge level of success.
The first advantage of this concept is that the customer base is very specific from that of a traditional cafe - enabling you to set yourself apart from competitors by aiming a unique concept at a very targeted audience.
This natural distinction means you should be able to avoid head-on competition with other cafes located near your own when starting up your cat café.
Another commercial advantage is that cat cafes have the potential to achieve higher profitability than traditional cafes, thanks to their ability to attract larger groups of customers for a longer average visiting time.
Popular for kids birthday parties, family outings and special celebrations with friends, cat cafes are more susceptible to welcoming big groups of cat enthusiasts - meaning a large number of snacks and drinks consumed, too.
But kids aren't the only target customers. Starting a cat café is also likely to attract individuals (as is often the case in Japan) who came to spend a chilled out afternoon or even bring their laptops to work.
Whether they attract families, children or people with a free afternoon, the lucrativeness of starting a cat cafe lies in the fact that thanks to the presence of the cats themselves, the average visit typically lasts longer than the amount of time someone might spend in a traditional cafe, thus resulting in more cash spent on drinks.
The length of stay, however, can come as a double-edged sword to cat cafe owners if people stay long periods of time without buying another drink. To mitigate this risk, many Japanese cat cafes charge an entry fee. It's up to you to see if this idea is feasible after your market research.
Although the advantages listed above can make starting a cat cafe seem like an excellent investment on paper, you still need to be sure that there's a local demand for it. The UK is a nation of cat lovers, with nearly 11 million cats kept as pets. But in other countries where dogs dominate as pet favourites, like Germany, for example, the cat cafe concept mightn't resonate as well with members of the public.
The trick is to target the right customers and define your concept well. And above all, make sure that there is a demand for this type of place at the local level, by conducting market research in the area where you plan to set up your business.
Intricacies related to operating a business with animals
As you can imagine, the logistics of starting a cat cafe are slightly more complicated than starting a coffee shop.
Insure your cats, and protect yourself from potential accidents
First of all, you'll need to protect your feline protégés by insuring them when you start up your cat café.
Getting pet insurance has been pretty common for a while now, so there's an abundance of policies to pick from, with the prices depending on the guarantees provided. Since cats are the creme de la creme of your business model, we advise picking quality insurance protection for them.
The price of the insurance also fluctuates according to the age and breed of each cat. For this reason, we recommend picking young and healthy companions - although don't discriminate too much.
You'll also need to protect your cat cafe from the risks associated with their presence, including accidents involving customers or possible damage that could be done to their equipment. For this, you'll want to be covered by professional liability insurance when starting a cat café - protecting you in the event of damage caused to customers, the cats themselves and if any of the cats escape.
The rules and regulations of starting a cat cafe
Starting a cat cafe filled with cats means you'll have to adhere to the rules outlined in the Animal Welfare Regulations. This will include being visited by an inspector to check that your space is suitable for the reception of animals, as well as purchasing a specific license. To find out more, you can access the Animal Welfare Regulations here.
If you decide you'd like to serve food, there are several requirements you'll need to satisfy around health and safety. Before starting your cat cafe, you'll have to register the premises with your local authority's environmental health service at least 28 days before you start trading.
It's important to note that this process doesn't cost any money. It simply involves allowing a local official to visit your premises (although you won't be warned when) to check out the space you'll be using to prepare food and ensure it's safe and hygienic.
After each inspection, you'll receive a Food Hygiene Rating which, depending on your location, you may need to display in public view. To register for a visit from your local authority, check out the UK Government website.
Writing the business plan to start your cat cafe
Now we've come to the stage within our guide on how to start a cat cafe where we must tackle the business plan.
The business plan is made up of two major components:
A financial forecast that aims to highlight the expected profitability of the business and the initial financing requirement.
A written part that presents, in detail, your project, the team, your business strategy, and your medium-term objectives.
The business plan is the document with which you will try to secure financing from your bank or potential investors, so you need to make it impeccable.
If you are not used to writing business plans, a good solution would be to use online business plan software.
There are several advantages to using specialized software:
You are guided through the writing process by detailed instructions and examples for each part of the plan.
You can be inspired by already written business plan templates
You can easily make your financial forecast by letting the software take care of the financial aspects for you.
You get a professional document, formatted and ready to be sent to your bank.
If you are interested in this type of solution, you can try our software for free by signing up here.
Securing funding for a cat cafe
As we've seen above, the investment needed to start a cat cafe will be significant. Luckily for you, however, several funding solutions exist. These include:
Trying to obtain a loan from a bank or credit institution, but be aware that obtaining a loan for business start-up is not always easy.
Approaching private investors: your family and friends or angel investors
Launching a crowdfunding campaign, which is also a good way to get people talking about you.
Seeking state aid for business creators: in the form of a grant or low-interest loan.
Now you know everything there is to know about how to start a cat cafe. We hope you found this article useful. If you have any questions or queries at all please do not hesitate to contact our team.
Also on The Business Plan Shop