Do you consider yourself a coffee connoisseur and love the community vibe that a coffee shop creates? If so, you might be keen to start a coffee shop.
But what's the best way to go about starting a coffee shop? It'll be a challenge - but certainly not impossible. Especially if you are methodical in your approach.
If you're not sure where to begin, you've come to the right place. In this guide, you'll discover everything you need to know about how to start a coffee shop.
From carrying out market research to securing funding for your business, read on for our top tips to propel your coffee shop business to success!
1. Carry out market research to start a coffee shop
The first step in opening or taking over an existing coffee shop is to conduct market research to verify that there's sufficient demand in the area in which you'd like to start a coffee shop.
To do this, you will need to:
Analyse the evolution of the coffee shop sector:
Including growth, current and future trends, and competitive intensity
Study the needs and expectations of consumers:
Who visits coffee shops and when? How often?
What is the average budget for a coffee shop customer?
What are their expectations in terms of products (coffee, tea, pastries, etc.) and services (free wifi, sitting in or take away, etc.)?
Check out your local competitors:
How many are there?
Where are they located?
What type of drinks, food and services do they offer and at what price?
Do they seem to be doing well or are any struggling?
Honing in on the coffee shop market
According to the ICO (International Coffee Organisation), an estimated 169.34 million bags of coffee were consumed in 2019/20, in comparison to 150.3 million in 2014. It's clear, therefore, that the demand for coffee is increasing.
It's no surprise then that the UK coffee shop market is flourishing, with a value of £10.1 billion recorded by Allegra World Coffee Portal in 2019.
Coffee shops are considered an essential part of the UK high street fabric. An estimated 25,483 coffee outlets are dotted across the nation.
A growing curiosity amongst eco-conscious consumers to know about the origins of the coffee they're drinking is one trend currently driving the market.
In fact, a 2020 survey conducted by Allegra found that nearly 75% of coffee consumers want their coffee shops to be more transparent about where they source their coffee to ensure it's in keeping with environmentally friendly and socially conscious practices.
Another trend to watch out for when starting up a coffee shop is the rise in demand for quality coffee. London alone has seen a 700% rise in independent coffee outlets (from 50 in 2010 to over 400 in 2020) as consumers crave high-quality coffee in a unique and laid-back setting.
This rise in independents is compounded with an increase in multinational coffee chains, such as Starbucks and Costa.
With a 57% rise in the number of these outlets in the last 10 years (adding up to 2,195 franchises), we can see a less dramatic, albeit, steady demand for coffee chains.
Whether it's independent coffee roasters or chains, the coffee shop boom has not discriminated - giving entrepreneurs free rein as to what area they fancy specialising in.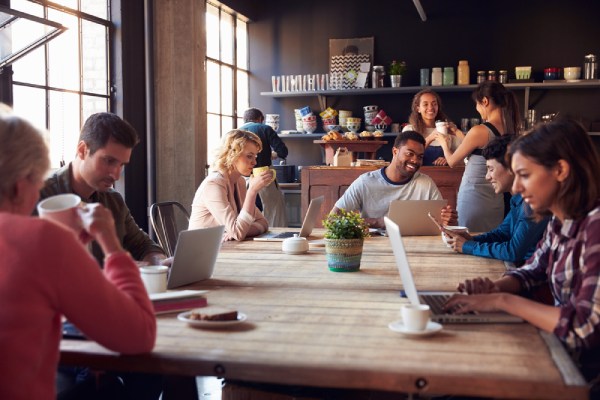 The rules and regulations of operating a coffee shop
Next in our guide on how to start a coffee shop is checking out the regulations in force.
If you decide you'd like to serve food to accompany your coffee, there are several requirements you'll need to satisfy around health and safety.
Before starting your coffee shop, you'll have to register the premises with your local authority's environmental health service at least 28 days before you start trading.
It's important to note that this process doesn't cost any money. It simply involves allowing a local official to visit your premises (although you won't be warned when) to check out the space you'll be using to prepare food and ensure it's safe and hygienic.
After each inspection, you'll receive a Food Hygiene Rating which, depending on your location, you may need to display in public view. To register for a visit from your local authority, check out the UK Government website.
It's likely you'll also want to play a bit of music to set the right atmosphere for your coffee shop. If so, you'll need to apply for a music license when starting your coffee shop.
You can obtain one from the PLS PRS, with the price set depending on the size and needs of your business.
2. Pick the concept for your coffee shop
Market research is also an opportunity to think about the concept of your coffee shop. Here, you'll have to decide whether you'd like to start a coffee shop that's independent or join an established franchise, such as Starbucks or Costa.
Joining a coffee shop franchise allows you to benefit from a whole host of advantages (including having already dedicated customers and established relationships with coffee suppliers), but will also come at a cost in the loss of autonomy.
Whether you decide to decide to join a franchise or start a coffee shop independently, you'll have to consider one other factor: the type of coffee shop you want to open. Do you want to offer a quick takeaway service for customers on the go or looking to provide a cosy space where customers can chill out for a few hours?
Your location, target market and closeby competition will determine which path you choose.
It'll also impact how to want to style your coffee shop, the type of furniture you need and how you market your business, so make sure you factor in the costs required while making this decision.
Whatever you decide, just bear in mind that it will have a significant influence on the potential profitability and location of your coffee shop. So make sure it's one that aligns with your own personal and professional ambitions.
3. Scope out the right location for your coffee shop
The location is a key component of success when deciding to start a coffee shop. Having a heavy influx of customers will ensure a decent turnover, while a deserted coffee shop is at risk of closing its doors prematurely.
There are two options available to you here when starting your coffee shop:
Choose premises in the city centre:
You'll benefit from high visibility and a large footfall but at the cost of sky-high rent and close proximity to competitors.
Set up in a residential area:
Although decreasing the scope of your customer base, you'll be able to target local residents whilst benefiting from lower rent and less competition than in the city centre.
To help you make your decision, we recommend that you use the results of your market research. Remember: your location must be in perfect harmony with your concept.
4. Choose the legal form to start a coffee shop
The next step in our guide on how to open a coffee shop is choosing the legal structure of your business. Choosing your coffee shop's legal form is a vital step as it will impact:
How much your business is taxed
Your taxation at a personal level
Your responsibility for the company's debts in the event of bankruptcy
To help you make your choice, you can find more detailed information on the different legal forms available to you on the gov.uk guide for UK business owners and SBA guide for those of you based in the US.
5. Add up the start-up costs for a coffee shop
Creating and operating a coffee shop requires substantial investment. To build the most accurate financial forecast possible, you'll need to think about the equipment needed to start a coffee shop, such as:
Renovation work needed for the premises
Furniture: tables, chairs, shop counters, and possibly outdoor furniture
Equipment: coffee machines, crockery, a dishwasher, tills and card machines
Marketing cots: sign for the front of the shop and the cost of setting up a website
Stock: coffee, tea, paper towels, takeaway cups, and food items
6. Create the recruitment plan for your coffee shop
As far as your recruitment plan is concerned, the number of people you decide to hire will depend on the size of your coffee shop.
You'll need, of course, at least one trained barista, as well as one or two-floor staff to take orders and serve food and drinks to customers.
Ideally, you'll hire people with a background and clear interest in coffee and hospitality, so they can talk extensively with customers about the range of coffees on offer and share their passion for it.
You'll also need someone to run the marketing and do the admin when starting your coffee shop. Between organising payroll, keeping track of the stock, bookkeeping, and reaching out to customers - there's a lot to be done in this area.
To balance the load, you may decide to delegate part of the work to an accounting firm or marketing agency.
If you do go down this path, contact several professionals for quotes. Ensure you estimate these expenses as accurately as possible and pick the best deal for you.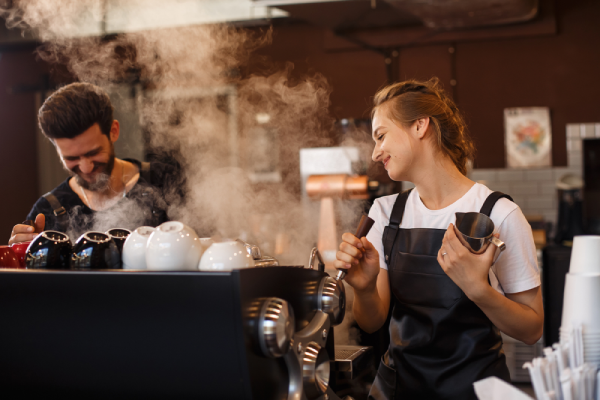 7. Set out the marketing plan for a coffee shop
As with any business, the art of attracting customers all comes down to a carefully devised marketing plan. This plan will list all the marketing actions you'd like to implement to acquire your customers and, in a second step, to build customer loyalty.
So consider first the actions that will allow you to make your coffee shop known and create hype around its opening, whether it's a paid ad in the local newspaper or a provocative social media campaign.
You'll have to think about ways to build customer loyalty when starting your coffee shop.
Creating a loyalty card scheme is a great way to turn one-time customers into regulars, and creating a website showcases the different types of coffee you have on offer, as well as any promotions on that week.
You could also consider setting up a click and collect system, whereby customers can order online and pick up a cup of coffee or snack in-store. This sort of scheme would work well amongst nearby office workers or students.
A newsletter is another great way to keep in touch with your customers. Update them on the latest news involving your suppliers and the process behind how your coffee is sourced.
The costs of these actions vary and some might be more successful at attracting customers than others, so before you start a coffee shop, take some time to test different marketing actions out and focus on the ones that prove to be the most effective.
8. Write the business plan for a coffee shop
Now we've come to the stage within our guide on how to start a coffee shop where we must tackle the coffee shop business plan.
The business plan is made up of two major components:
A financial forecast that aims to highlight the expected profitability of the business and the initial financing requirement.
A written part that presents, in detail, your project, the team, your business strategy, and your medium-term objectives.
The business plan is the document with which you will try to secure financing from your bank or potential investors, so you need to make it impeccable.
If you are not used to writing business plans, a good solution would be to use our online business plan software.
There are several advantages to using specialized software:
You are guided through the writing process by detailed instructions and examples for each part of the plan.
You can be inspired by already written business plan templates
You can easily make your financial forecast by letting the software take care of the financial aspects for you.
You get a professional document, formatted and ready to be sent to your bank.
If you are interested in this type of solution, you can try our software for free by signing up to The Business Plan Shop today.
9. Secure funding for a coffee shop
As we've seen above, the investment needed to start a coffee shop will be significant. Luckily for you, however, several funding solutions exist. These include:
Trying to obtain a loan from a bank or credit institution
Approaching private investors: your family and friends or angel investors
Launching a crowdfunding campaign (also a good way to get people talking about you)
Seeking state aid for business creators: in the form of a grant or low-interest loan
Useful links to start a coffee shop
Now you know everything there is to know about how to open a coffee shop. We hope you found this article useful.
If you have any questions or queries at all please do not hesitate to contact our team.
Also on The Business Plan Shop
Know someone who'd like to open a coffee shop and might be interested in this article? Share it with them!