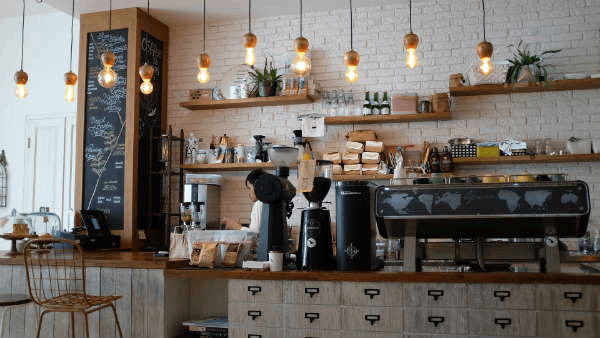 With world coffee consumption having doubled in the last 20 years, the demand for coffee, in its many wonderful forms, has never been so great. This growing appreciation of coffee has certainly made the coffee shop market an alluring area for many entrepreneurs.
But as with any start-up, preparation is key when it comes to turning your dream venture into a reality.
Whether it's from a legal, administrative or financial standpoint, the path to opening a coffee shop can quickly become quite the obstacle course.
To help you along the way, we've put together a series of guides to open a coffee shop to help you lift your business off the ground smoothly.
How to open a coffee shop, step by step
Setting up a coffee shop requires you to ask yourself several questions before its launch.
That's why in the first of our guides to open a coffee shop, we give you an overview of the steps involved in setting up your business. From carrying out market research to creating a marketing plan and writing the all-important business plan, gather all the insider information in our guide to start a coffee shop here.
Carrying out market research for a coffee shop
One out of every two businesses fail to make the five-year mark, and competition is fierce in the hospitality business.
That's why, before putting any money into your project, you need to undertake a thorough market analysis for your potential coffee shop.
Your market research will enable you to verify whether there's commercial potential for your coffee shop in the area you're considering, thus reducing the risks involved in setting up the project.
To better understand the steps involved in conducting thorough market research, read our guide on how to carry out market research for a coffee shop.
Writing the business plan for a coffee shop
A very important step in opening your coffee shop will be, of course, developing your business plan. This will enable you to present your idea to potential investors and convince them that the business can be profitable.
Often considered a roadmap, a business plan is a document in which an entrepreneur lays out the details for their project, the objectives they have for their business, and the steps they'll need to take to ensure it's a success.
To help you structure your plan and understand the sections that make up a perfect business plan, we have written this guide explaining how to write the business plan for a coffee shop.
How to successfully take over a coffee shop
It's common knowledge that there are countless coffee shops. With this in mind, you could consider the possibility of buying over an already established coffee shop and setting out your own vision for it.
To find out more about this process, you can read our guide that tells you everything you need to know about how to take over a coffee shop.
Tips for enhancing the profitability of a coffee shop
Competition in the coffee shop market is tough, so having a few cash-generating tricks up your sleeve will go a long way in helping you stay profitable.
To learn more, cast your eyes upon our guide that explains how to optimize the profitability of a coffee shop.
We hope these guides to open a coffee shop are useful in providing you with all the need-to-know information before launching your business. If you have any questions or queries at all, please don't hesitate to get in touch with our team.

Also on The Business Plan Shop
Know someone who's considering launching their own coffee shop? Share these practical guides to open a coffee shop with the click of a mouse!