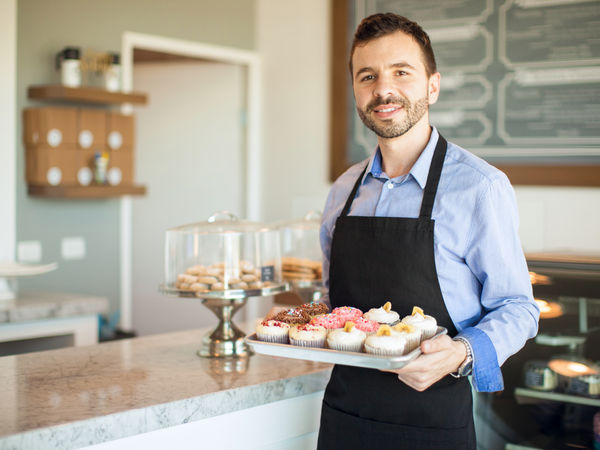 Writing a business plan is an important step in the process of setting up and running a successful cupcake shop.
Whether you're starting up or looking to grow your existing business, a well-crafted plan can help ensure that your goals are met.
Luckily for you, this in-depth guide will cover everything you need to know about writing a business plan for a cupcake shop.
We'll explain why it's important to write one and what information should be included in it. Plus, we'll share with you some useful tools that can help make the process easier and faster.
Ready? Let's get started!
Why write a business plan for a cupcake shop?
There are several reasons to write a cupcake shop business plan. Below, we cover some of the most important ones!
To draw up a roadmap
Writing a business plan for a cupcake shop is an essential step in the process of starting or expanding any small business. It forces entrepreneurs to think ahead and set objectives that will guide them over the next 3 to 5 years.
This kind of strategic planning is just as important for existing businesses that are already up and running, as it helps them stay focused on their goals and track their progress.
A well-crafted business plan can help cupcake shops stay profitable by ensuring they make smart decisions about pricing, marketing, product development, staffing needs and more.
By taking the time to create a thorough business plan from the outset, you can minimize risks and maximize your chances of success in the competitive world of baking.
To compare financials
It also enables you to regularly compare your financial performance to what was planned and recalibrate your financial forecasts accordingly.
This helps ensure that your business stays on track with your original plans and lets you make adjustments in order to maximize profitability and growth.
By taking this proactive approach, you'll be better prepared for any potential obstacles you may face along the way and will likely have greater success in achieving your long-term goals.
To raise funding
Whether you are a startup or an existing business, writing a cupcake shop business plan is essential when looking for financing from banks.
Banks will use it to evaluate your ability to repay the loan and ensure that you have considered all aspects of running a cupcake shop.
As a result, assurance is provided to the lender that they will be paid back on time and with interest.
Investors want to be sure that their investment will yield a good return and so they will look closely at the projections of growth, profitability and cash generation presented in the business plan.
It also provides evidence that you understand the industry and market trends well whilst outlining the fact that you intend to manage your finances responsibly.
Now that you know why it's important to create a business plan for a cupcake shop, let's take a closer look at what information is needed in order to create one
Information needed to create a business plan for a cupcake shop
Writing a cupcake shop business plan requires research so that you can project sales, investments and cost accurately in your financial forecast.
In this section, we cover three key pieces of information you should gather before drafting your plan!
Carrying out market research for a cupcake shop
Before writing a business plan for a cupcake shop, it is important to carry out market research. This will provide valuable insights into the potential customer base and help you accurately forecast revenues.
It can also give you an understanding of your competitors, enabling you to develop strategies that differentiate your product or service from those of others in the area.
Additionally, market research can reveal trends in consumer tastes and preferences which can inform decisions about menu items and pricing.
All these factors combined will ensure that your business plan reflects reality as much as possible.
Developing the marketing plan for a cupcake shop
Budgeting, sales and marketing expenses is all essential before creating a cupcake shop business plan.
A comprehensive marketing plan helps ensure that the right amount of resources is allocated to marketing activities.
This plan should provide an accurate prediction of how much needs to be spent on promotions, advertising, public relations and other initiatives in order to hit your sales objectives.
The staffing and equipment needs of a cupcake shop
When starting a cupcake shop, it is important to have a clear plan for recruitment and budgeting in order to ensure the success of the business.
It is essential to create a realistic financial forecast by considering all investments and expenses associated with running the shop.
This includes costs of hiring staff, purchasing ingredients, renting or buying a storefront or kitchen, and any other costs related to the operation of the business.
By understanding these expenses ahead of time, entrepreneurs can create a clear budget for their cupcake shop.
Although thorough financial planning may seem tedious at first, it is essential for the success of any business venture.
Now that you have all the necessary information to create a business plan for your cupcake shop, it is time to move on to creating a financial forecast. A financial forecast will help you determine how much capital you need and predict future profits and expenses.
It will also help you evaluate the viability of your venture and identify potential risks associated with starting up a cupcake shop.
What goes into your cupcake shop's financial forecast?
Creating a financial forecast for a cupcake shop involves producing the following key financial tables:
Profit and loss statement (P&L),
Balance sheet,
Cash flow statement,
Sources and uses table.
Let's take a closer look at each of them.
The projected P&L statement
A forecasted profit and loss statement involves projecting expected costs and revenues over a certain period (usually 3 or 5 years) to determine whether or not your business idea is profitable.
Revenues are the money coming in from cupcake sales, while expenses are the money going out to produce those cupcakes (both direct and indirect).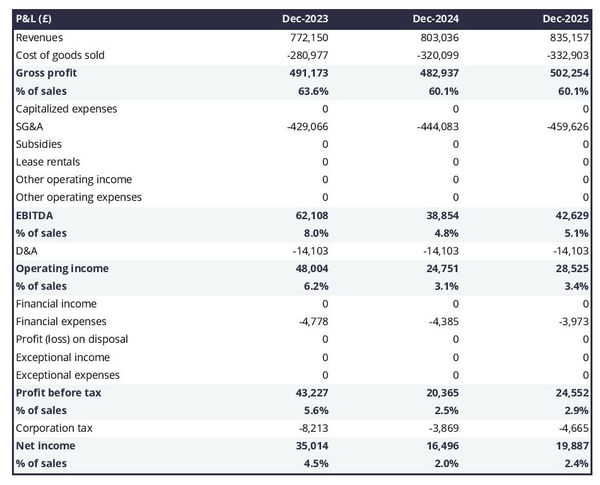 Expected costs may include overheads such as rent, insurance and marketing.
Projected P&L statements can help a cupcake shop identify opportunities for growth and areas where they need to cut costs to maximize their profits.
By having an accurate and up-to-date projected P&L statement, you'll be able to make informed decisions that will help your business's long-term success.
The projected balance sheet of your cupcake shop
A cupcake shop balance sheet provides a quick snapshot of your business's financial health at a given point in time.
A balance sheet typically consists of two columns, one for assets and one for liabilities. This allows you to easily compare your current financial situation in terms of what it owns (assets) and what it owes (liabilities).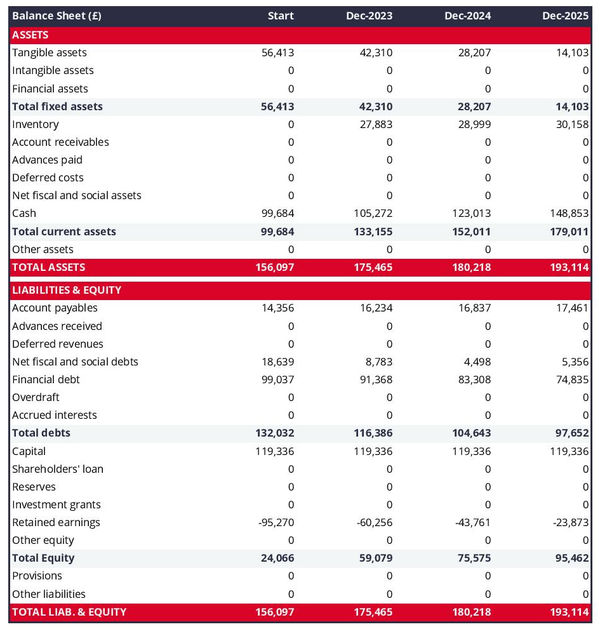 Lenders use it to determine whether or not your business has the ability to repay debts as they fall due based on key liquidity and solvability ratios.
Similarly, investors use it to decide whether your financial position is strong enough for them to generate a good return compared to other projects on the market.
Looking at your balance sheet is a great way to gain insight into the financial performance of your cupcake shop and identify areas that need improvement.
By understanding your balance sheet, you'll be able to make informed decisions about how to better manage your business.
The projected cash flow statement
A cash flow statement is a tool used to plan the money coming in and going out of a cupcake shop.
It helps you figure out how much money you will have at the end of each month. This can be useful because it lets you know if your shop has enough money to cover all its expenses, like cupcake ingredients, workers' wages, rent, utilities and more.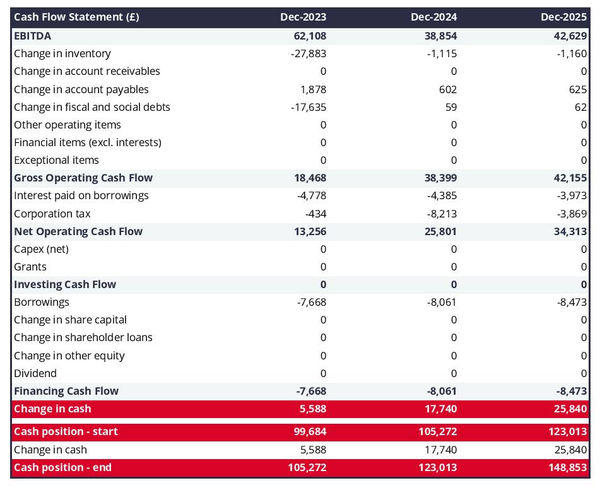 The cash flow statement also shows when you make more money than usual so that you can save up for special occasions or future purchases. Having this information in advance can help keep your cupcake business on track!
The initial financing plan
An initial financing plan, also called a sources and uses table, is a helpful tool when starting a cupcake shop.
It shows where money is coming from and how it will be used. For example, you might need to buy ingredients for the cupcakes, rent space for the shop and hire people to help bake them.
Your sources of money could come from investors or your own savings. The uses table will show how much money needs to be spent on each item.

Now that we have discussed the financial forecast for your cupcake shop business plan, it is important to provide the context contained in the written part of your plan.
This will help readers understand and judge whether or not the financial forecast is relevant. Let's take a look at what should be included in this section.
The written part of a cupcake shop business plan
The written part of a cupcake shop business plan is composed of 7 main sections:
The executive summary
The presentation of the company
The products and services section
The market research analysis
The strategy section
The operations section
The financial plan
Creating a successful cupcake shop business plan requires careful consideration of all the different components.
Let's go through each section in more detail!
1. The executive summary
The executive summary section in your cupcake shop business plan should provide an overview of the business, the target market, and key financials.
Begin by outlining what your business does and the products that it provides. You should also state any goals that you have and explain briefly how you plan to achieve them.
You should then provide an overview of the target market, including its size and demographics, customer needs and consumption habits, competition, and any other factors that might influence demand.
Finally, provide information regarding key financials for the first three years. Investors or lenders will also expect to see the amount of funding that you are requesting from them.
2. The presentation of the company
When writing the presentation section of your business plan, it is important to include information on the structure and ownership of the business.
This means outlining who owns the cupcake shop and what kind of legal structure it has (such as sole proprietorship or LLC).
It is also important to include details about the shop's location, such as its address, how accessible it is to customers, and what kind of foot traffic it receives. For example, you might have decided to set up your cupcake shop inside a busy train station to maximize visibility.
Finally, this section should also introduce your management team, outlining their qualifications and experience in running a cupcake shop. This will help investors recognize that you have the right people in place to make your dream a reality.
All of this information should be clearly outlined and easy for potential partners or investors to grasp. By having all the necessary facts about your business laid out clearly, you can ensure that potential partners have a comprehensive understanding of what you are proposing.
3. The products and services section
When writing the products and services section of your cupcake shop business plan, you should include a detailed list of the types of cupcakes you offer.
This should explain the different flavors you have, cupcake sizes, additional toppings available, and any other options that make your product unique.
Additionally, you need to explain how these items will be made available for customers (such as in-store pickup or delivery services).
It is also important to articulate what separates their cupcakes from others on the market so potential investors can see why it is worth investing in this particular venture.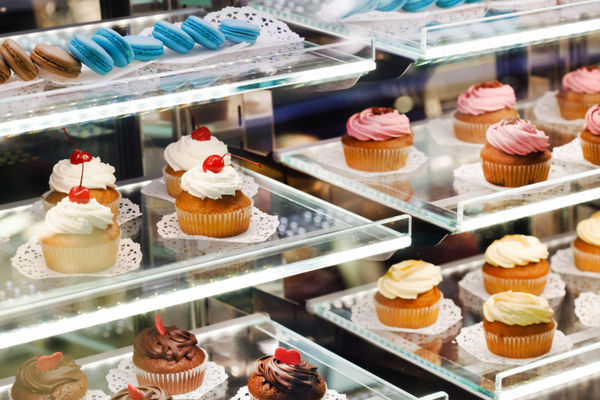 4. The market analysis
In this section, you should start by giving a detailed overview of both the local and national markets. Give insights into how they have performed in the past, any trends and how the future might look like.
It's also important to include vital information about the demographics and segmentation of your target customers.
Do this by summarizing who makes up your customer base (their profile in terms of age, gender, income etc.), what they are looking for, and how they can be reached.
Additionally, information on any potential competitors and barriers to entry will help to paint a picture of the current landscape so that investors or banks can understand if this venture has potential.
For a cupcake shop, direct competitors might be other cupcake shops in the area. Indirect competitors might include bakeries, cafes or even catering companies that offer a variety of cupcakes in bulk supply.
Lastly, details regarding regulation must also be included in order to demonstrate compliance with applicable laws.
5. The strategy section
The strategy section of a cupcake shop business plan is an important part of convincing potential investors or lenders that the business has a clear vision and direction for success.
This section should include information about the competitive edge, pricing strategies, marketing plans, milestones, and risks and mitigants associated with the venture.
For example, when it comes to competitive edge, it will be important to outline how the brand stands out from other similar businesses in terms of product quality (better raw materials such as flour or sugar for example) or customer service.
Additionally, the pricing strategy should address whether prices are set at market rate or slightly lower in order to draw more customers.
The marketing plan could involve advertising on social media platforms as well as traditional methods such as flyers or mailers. If you have a website or blog, it's best to mention this as well as both can help increase the number of customers who visit your cupcake shop.
Milestones should include both short-term goals such as increasing sales by 10% within six months and long-term objectives like expanding into two new locations over five years.
Finally, risks and mitigants must be addressed so that investors can understand how these issues may affect their return on investment and what measures are being taken to mitigate them.
6. The operations section
The operations section of a cupcake shop business plan serves as an essential tool for outlining recruitment, resources and processes that will help ensure the success of the business.
In order to secure financing from a bank or investor, it is important to provide detailed information about the staffing team, opening hours, key assets and intellectual property, as well as any suppliers the shop plans to work with.
When writing about staffing, you should clearly outline the roles of each staff member, as well as a recruitment plan that lists how and when you intend to hire your team.
The business plan should also include information about opening hours. This includes details about when your cupcake store will be open, any changes in operating hours based on seasonality, or holiday closures.
Next, it is important to list the key assets and intellectual property that the business needs in order to operate. This could include things like baking equipment, ingredients, IT systems and software, customer service approaches and more.
Finally, you should also include a list of suppliers with whom you plan to work in order to obtain your ingredients and other products. You might have chosen to work with a particular supplier because you have previous history with them. If this is the case, you should mention it in your business plan.
By providing detailed information on the operations of your cupcake shop in a business plan, you can show potential investors that you have a solid foundation for success.
With an effective staffing team, opening hours and key assets and intellectual property, as well as reliable suppliers, you can create an operational structure that will allow your business to thrive.
7. The presentation of the financial plan
The financial plan section of the guide is where you should include the financial forecast that we talked about earlier.
Now that we have a better understanding of the content and structure of a cupcake shop business plan, let's look at some of the tools available to help you create it.
What tool should I use to write my cupcake shop business plan?
In this section, we will review three solutions for creating a business plan for your cupcake shop: using Word and Excel, hiring a consultant to write the business plan, and utilizing an online business plan software.
Create your cupcake shop's business plan using Word or Excel
Creating a cupcake shop business plan using Word or Excel has both pros and cons. On the one hand, using either of these two programs is cheap and easy to learn.
However, creating an accurate financial forecast with Excel can be difficult for a business owner without expertise in accounting and financial modeling. This is because there are likely to be multiple tabs spanning hundreds of rows, increasing the likelihood of errors. As a result investors and lenders might not trust the accuracy of your forecast.
Writing a cupcake shop business plan using Word means starting from scratch and formatting the document yourself once written - a process that can be quite tedious.
Ultimately, it's up to the business owner to decide which program is right for them and whether they have the expertise or resources needed to make Excel work.
Hire a consultant to write your cupcake shop's business plan
Outsourcing your cupcake shop business plan to a consultant or accountant can be a viable option, but it also presents certain drawbacks.
On the plus side, consultants are experienced in writing business plans and accountants are adept at creating financial forecasts without errors. Furthermore, hiring a consultant can save you time and allow you to focus on the day-to-day operations of your business.
However, accountants often lack the industry expertise to accurately forecast sales and hiring consultants or accountants can be an expensive proposition which may require additional investments.
You probably need to budget at least £1.5k ($2.0k) for a complete business plan, more if you need to make changes after the initial version (which happens frequently after the initial meetings with lenders).
For these reasons, outsourcing the cupcake shop plan to a consultant or accountant should be considered carefully, weighing both the advantages and disadvantages of hiring outside help.
Ultimately, it may be the right decision for some businesses, while others may find it beneficial to write their own business plan using an online software.
Use an online business plan software for your cupcake shop's business plan
Another alternative is to use online business plan software. There are several advantages to using specialized software:
You are guided through the writing process by detailed instructions and examples for each part of the plan
You can be inspired by already written business plan templates
You can easily make your financial forecast by letting the software take care of the financial calculations for you without errors
You get a professional document, formatted and ready to be sent to your bank
The software will enable you to easily track your actual financial performance against your forecast and update your forecast as time goes by
If you're interested in using this type of solution, you can try our software for free by signing up here.
We hope that this article has helped you to better understand how to write the business plan for a cupcake shop. If you still have questions, do not hesitate to contact us.
Also on The Business Plan Shop
Know someone in the cupcake industry? Share this article with them!