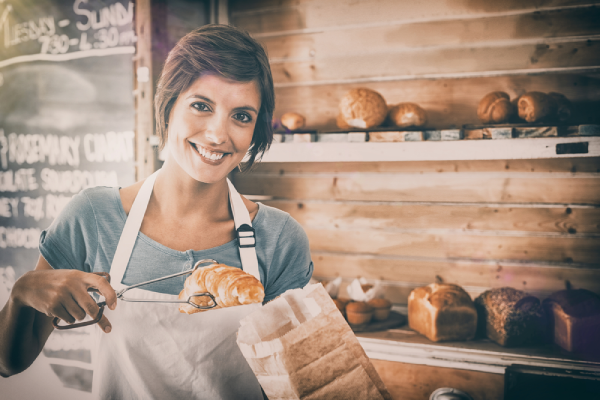 Bread, in its various, wonderful forms, remains a staple in the diets of many. If you feel passionate about providing happiness through the medium of food, opening a bakery could be a pretty fulfilling (and lucrative) idea.
With the nation's demand for bread staying consistently high, the bakery market is a safe one to enter - but that's not to say you shouldn't weigh up the pros and cons of setting up a bakery before you get started.
To help you do this, you'll need to create a business plan for your bakery. Not sure how to go about drafting up a business plan? No worries at all, simply read our guide below to make your bakery business plan a reality...
Why do you need a bakery business plan?
Did you know that 60% of all new businesses in the UK are likely to cease trading within their first three years? Durham City Incubator believes that a "lack of business planning" is the number one reason for the failure rate being so high.
Writing out a business plan is, therefore, essential for a new bakery.
A business plan allows you to identify the level of initial financing that is required. It also helps you:
Detect any potential cash flow problems
Estimate how much profit your business is likely to make, within its first three to five years of trading
Obtain financing from the bank - Small Biz Trends concludes that you are twice as likely to secure funding if you have a business plan
Set business benchmarks
Business plan by bakery type
Depending on your budget, location and skill set, you could choose to open one of several types of bakeries.
The beauty is that, regardless of which bakery concept you go for, the structure of your business plan will remain the same.
So, what concept should my business plan take up?
Well, with a global turnover of US$331.37 billion (£247 billion / €289.54 billion), according to Expert Market Research, the bakery market is booming. From artisan bakeries to chain bakeries (such as Greggs and Gails) and more industrial bakeries, there's room for many different entrants on the market.
For a real chance of success, however, you need to make it clear from the outset what your concept will be.
Would you like to open a small, independent bakery that specialises solely in bread, or identify with an already existing chain that offers a wider range of treats such as croissants and pastries?
These are simple questions, but they will determine the direction your bakery takes and how it operates in the long run, but also how you will put it together in your bakery's business plan.
The location in which you intend to set up shop will strongly influence the type of bakery you'd like to set up.
Consumers' preference for bread varies across different areas - so it's important to get to know your local clientele and what they're after - whether they have a real penchant for sourdough or prefer classic French baguettes.
Things to keep in mind when writing your bakery's business plan
Regardless of which type of bakery you'd like to set up, you'll need to carry out market research. This will help you develop an understanding of the needs of your target market, as well as the current state of the industry.
Your success will be highly dependent on the location you choose. If you're situated in a rural area, it might be an idea to strike up a partnership with the local supermarket to supply them with some of your stock. In more built-up areas, proximity to a busy shopping street is key.
It's also important to think carefully about whether you'd like to be associated with an established bakery chain.
Belonging to a franchise will allow you to benefit from operational support as well as an already dedicated clientele, both of which will greatly reduce the risk of your business.
You can also choose to take over a bakery to make it easier and already have an established clientele.
Also, remember that you won't be on a regular 9-5 schedule. Weekends are the most profitable time of the week for bakeries, as well as holidays and during school breaks - so make sure to factor this in when writing up your recruitment plan.
This rhythm will also have repercussions on your supply and inventory management to take into consideration in your bakery's business plan.
Because the raw materials of your bakery are perishable, you'll have to stock up on products more regularly than a grocery shop may. So take these costs into account when creating your financial forecast.
How to write the business plan for a bakery: the financial forecast
The financial forecast of a bakery consists of five main tables. These tables are presented in more detail below.
The projected profit and loss statement
The profit and loss statement makes it possible to assess the company's sales growth, monitor changes in the cost structure and thus evaluate its profitability (gross margin, EBITDA, net income).
Your gross margin (sales - the cost of goods sold) must be sufficient to cover your overheads.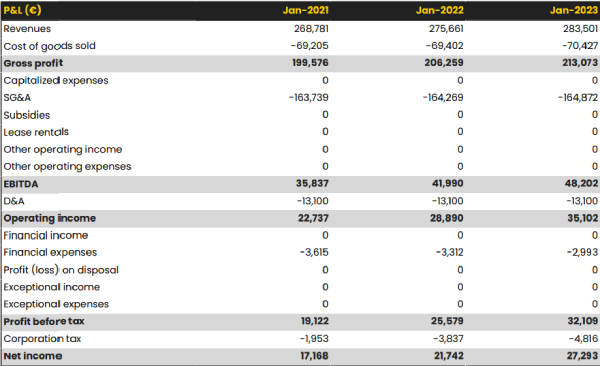 By then subtracting general expenses (administrative, commercial and payroll expenses) from the gross profit, you will obtain EBITDA.
The projected profit and loss statement is not sufficient to understand the overall financial situation of the company. It's best to analyse it in conjunction with other tables in the financial forecast.
Forecasted cash flow statement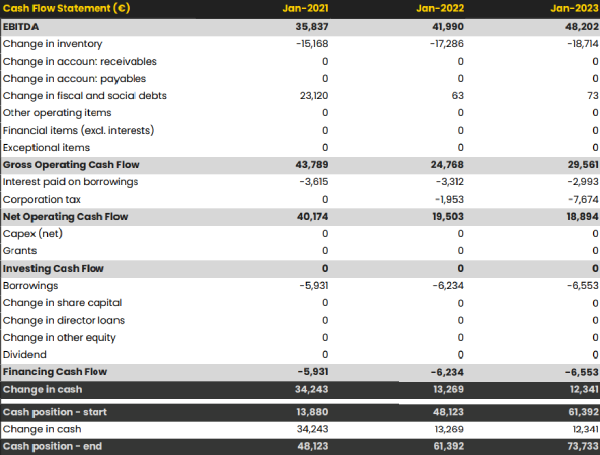 With this chart, you'll be able to understand how cash is consumed and generated within the business.
This statement will allow you to realise whether or not you require external financing (as a result of insufficient cash flow).
Forecasted balance sheet
This table provides a view of the company's assets at the end of the year.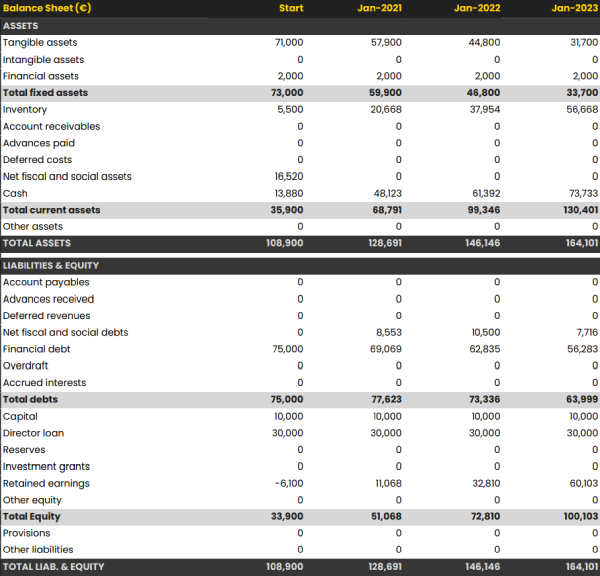 The forecasted balance sheet is made up of two parts: assets and liabilities. The assets represent the company's resources, while liabilities correspond to the company's debts.
From a financial point of view, this table makes it possible to evaluate the financial structure of your business, i.e. the breakdown between the company's equity and financial debts.
It, therefore, allows you to verify whether or not debt levels are reasonable and evaluate the company's liquidity, i.e. its capacity to honour its short-term commercial, tax and financial liabilities).
Initial financing plan
The initial financing plan shows how the company's initial investment is financed.
This table is also useful for estimating the distribution of risk at the beginning of the activity between the shareholders and the lenders.
There are two sides to this table:
Sources (capital contributions, loans etc.), i.e. the money available to the business
Uses (raw materials, start-up costs, etc.) i.e. how this money is used at the launch of the business
Break-even point calculation table
This table will allow you to assess the volume of baked goods that you need to sell to reach your break-even point.
The break-even point is reached when the margin generated on the company's variable costs is sufficient to cover fixed costs.
The written part of your bakery business plan
The written part of your business plan is as important as your financial forecast. It meticulously highlights each section of the business and aims to convince banks or financial institutions that your venture is feasible.
This section will also be an opportunity to contextualize the assumptions made in the financial forecast section - allowing you to explain them in greater detail.
The essential written parts of the business plan include:
The executive summary
This section provides a brief overview of the entire business plan, illustrating both the purpose of the company and its key goals.
The aim is to outline the key details, in the hope of persuading the reader to want to know more.
The company summary
In this part, you should aim to present the administrative details of the company including:
The number of partners
The legal structure
Percentage ownership
Head office
Where the premises are located
Products and services
You should aim to describe the baked goods that you wish to sell in more detail while explaining how your store will be competitive in the market (unique selling points such as plant-based alternatives, etc.).
Market research
Use this section to show that there is a gap in the market for your goods or services. It should also include analysis of the local market, any trends, competition and regulations in the area.
Mention why you have a unique selling point over other bakeries and how your skillset helps you in this regard.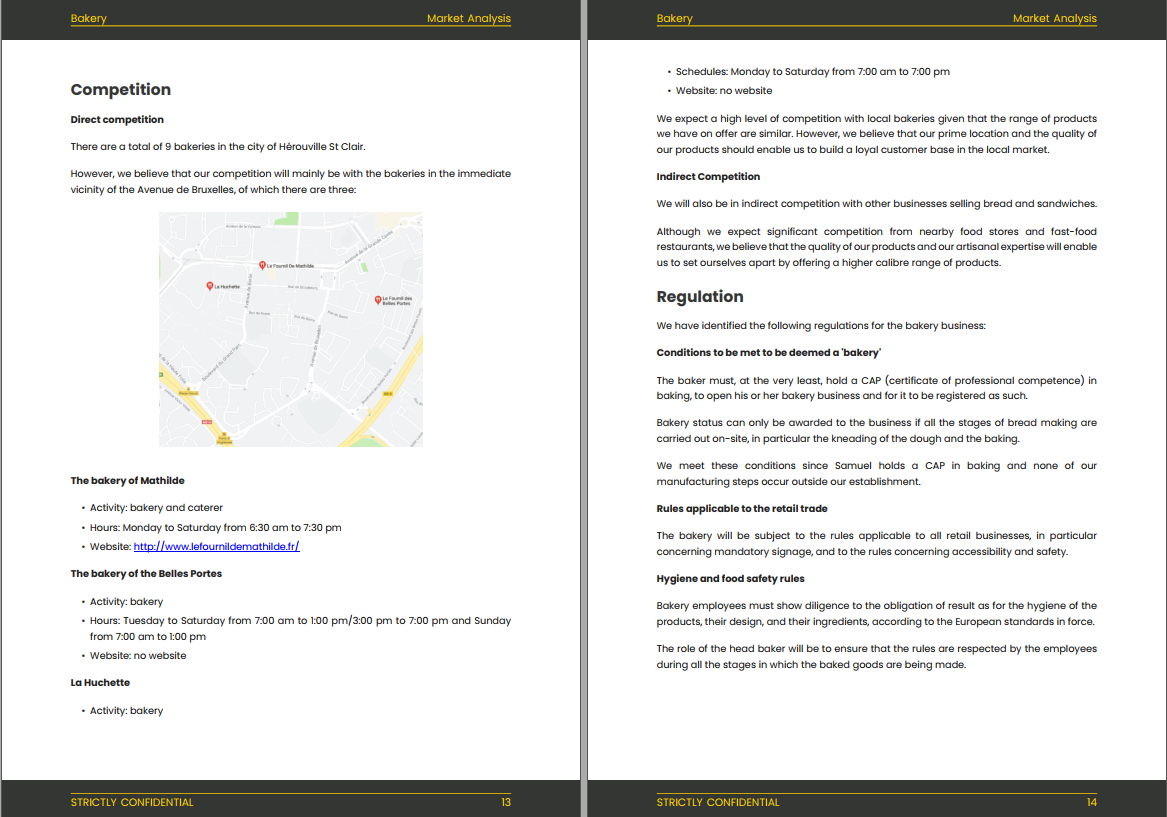 Strategy
The next step in our guide on how to write the business plan for a bakery involves a strategic outlook.
Inform the reader about how each of your baked goods will be priced. For example, how might prices vary based on takeaway/home delivery? Are there any deals to be had during the morning (hot drink + croissant)?
You should also present your marketing strategy in details (including your use of social media, digital advertising, flyers, etc.).
List any potential risks to your bakery and how you plan to address them, such as getting fire insurance cover and installing an alarm.
Operations
Here you will highlight the organization of the company.
This should include the opening hours of the business, the staff (directors and employees), any key assets that you plan to hold, and the suppliers that you might be working with.
It's important to mention what suppliers you'll be using to source your raw materials or finished goods from. You might have few or many suppliers, depending on your concept.
Also, think about the payment terms that you might obtain with them. Are you a new business? If so, you may need to pay upfront.
Financial plan of the bakery
In this section, you will present your financial forecast and explain the assumptions made in your calculations.
Two key tips for preparing a bakery business plan:
Possible initial investments
We recommend factoring in the fact that bakery equipment is relatively expensive - for example, a specialised oven is likely to be one of the most expensive items.
The only way around this is if your premise has an oven pre-fitted into it.
Explain any business jargon used in detail
This is so that the reader does not get confused with new vocabulary in the bakery industry.
Most customers will likely be unfamiliar with specific bakery terminology.
For example, lesser-known pastries such as financiers and cannelés should have brief descriptions below them.
This way the customer understands what they're looking at from the start.
Mistakes to avoid when writing a bakery business plan
Keep these two points in mind:
Be careful to manage your stock:
There is a clear trade-off between holding too much stock and too little stock.
Surplus stock could mean that you have to throw away items regularly because of their perishable element.
Insufficient stock could mean that you do not maximise your sales potential.
Volatility in raw material prices
Whether it's milk or sugar, its important to understand that prices can fluctuate depending on external factors such as dry summers (milk) or poor harvests (sugar).
What tool should I use to write my bakery business plan?
If you're not used to writing business plans, another good solution would be to use our online business plan software.
There are several advantages to using specialized software:
You are guided through the writing process by detailed instructions and examples for each part of the plan.
You can be inspired by already written business plan templates
You can easily create your financial forecast by letting the software take care of the financial aspects for you.
You get a professional document, formatted and ready to be sent to your bank.
If you are interested in this type of solution, you can try our software for free by signing up to The Business Plan Shop today.
Business plan template for a bakery
A bakery business plan template will give you a better understanding of how to frame your own business plan, as well as what investors are looking for.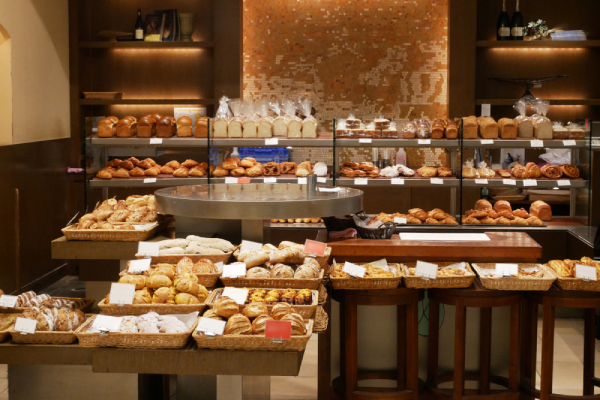 That's it for now, we hope this article has helped you better understand how to write a bakery business plan.
If you have any questions related to setting up your business, please do not hesitate to contact us.
Also on The Business Plan Shop