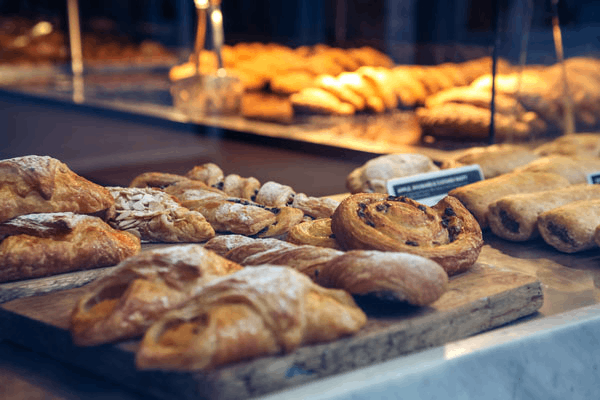 If you're a self-proclaimed bread lover, you may have decided to take your enthusiasm one step further by opting to take over a bakery.
Buying an already established business, in many ways, is a fair bit easier than starting a business from scratch - but it's not without its challenges. That's why we recommend that before rushing head-first into the take over of the bakery, you take some time to get to know the business you'd like to take over - by weighing up its strengths and weaknesses.
You should also think about how your own skills align with the role you're signing yourself up for (do you enjoy 5 am starts and pride yourself on your extensive bread vocabulary?), as well as whether you have the financing needed to make your project come to fruition.
That's why we've created the guide below, to take you through the key points that need to be addressed when taking over a bakery.

Follow our 10-step process to start your entrepreneurial adventure on the right foot!
1. Check that the bakery premises fit your plans
Examing the lease agreement of the existing property is, undoubtedly, one of the most important tasks involved in taking over a business. Focus on the following three points:
The duration of the lease
The rent
Conditions attached to the lease regarding renovation work
If these elements look okay to you (or you have the opportunity to renegotiate them), then you're ready to go and check out the premises themselves.
The first step here is to assess whether the size of the space is sufficient to meet your expectations for the business. An effective way to do this is by imagining the space in an operating context - is it big enough to hold a lot of customers? If not, is it possible to rearrange the layout to create more space? Or is it possible to expand by buying an adjoining room?
The structural state of the premises is the next thing you'll need to look at. If significant renovation work (including the replacement of floors, windows, and doors) is needed to ensure it meets your standards, you'll have to factor these costs into your financial forecast - or use them as leverage to negotiate a lower rent price.
Finally, you'll need to check that the bakery space you're investing in also meets the safety standards imposed by law (in terms of the building design, alarm system, evacuation plan, etc.)
If not, you'll have to plan out the amount of building work required to ensure that it does (and possibly reduce your offer accordingly).
You can find out more about these standards by visiting the HSE's website if you are based in the UK or osha.gov for US businesses.

2. Study the location and your competition
No business take over is complete without a thorough assessment of its location and nearby competitors.
To do so, analyse the following factors:
Is the bakery located in a busy street?
Is it in a shopping district or a residential area?
Is the bakery visible from afar?
Is it easily accessible, via public transportation or nearby parking?
Finally, carry out an in-depth analysis of other businesses within the area. Are those located on the same street heaving with customers, or do they stay empty for hours at a time? Familiarise yourself with the general activity of the area by walking around at off-peak hours, as well as evenings and, of course, on weekends to understand when it's at its most lively. Don't hesitate to get in touch with other local business owners, too, to get a feel for what's going on in the area.
Next, you should make a list of every bakery or shop nearby that sells bread or baked goods - so you can set yourself apart from them by offering customers something they aren't.
You should also look up whether there's any upcoming industrial work due to impact the operation of the area. Building work can be detrimental to businesses, as it blocks off certain roads and areas. Noises such as drilling can also deter people from visiting certain places. Similarly, a change to road structure could also have a significant impact on the level of traffic on your road.
It's important to bear in mind, however, that if the urban planning project is beneficial for the neighbourhood, it'll also benefit you in the long-term. So weigh up the pros and cons of such a situation carefully.
3. Assess the quality of existing equipment
Examining the quality of a business's existing equipment is an essential part of taking over a bakery. Indeed, if you don't like what you see after carrying out this assessment then you may decide it's not worth taking over the bakery at all, or you may want to re-negotiate the selling price.
First, check that the equipment is working efficiently. When doing so, ask the owner for the receipts for each piece of equipment, so you can keep tabs on when there were bought, what model they are, and check whether their guarantees are still valid. Make sure you also check whether any equipment has been taken in for repair and if so, what work was done to it and when.
Bread ovens, dough-makers, and refrigerated display cases are particularly expensive. If you feel that the bakery's existing ones might need replacing, you could factor these costs in when negotiating the sale of the bakery with its owner.
4. Get to know the bakery's clientele
Taking over a bakery also means getting to know its current customers, whether they be students, young couples, families, or business clientele.
An analysis of the type of clientele will enable you to infer what the bakery's peak hours are or the average spend per head. Using this precious information, you'll be able to build a realistic financial forecast and set up a solid marketing strategy to retain customers (and attract new ones).
You'll also need to know if the customer base is made up of regular customers or people who just pop in once in a blue moon and whether they're satisfied with the baked goods on offer.
Most importantly, you'll need to know why they're happy or not so you know what to change and what to keep - a customer might love your French baguettes but hate the fact that you don't open until 9 am, for example.
Try to also decipher which products are less in demand, and therefore, making losses. Since you're running a food business, unsold products have to be chucked out as they're no longer fresh enough to be sold, and this waste will add up when it comes to costs. You should then follow this with a complete analysis of the baked goods on offer - to understand your best and worst sellers.
Ask the bakery's owner if it sells any specialised baked goods. If the occasional customer is willing to cross the city every now and then to try one of its famous blueberry financiers, for example, it might be best to keep it on the menu. You could perhaps even reassure customers when you take over the bakery that the recipe hasn't changed.
Your analysis of the baked goods on offer will also tell you what your stock requirements are, particularly whether or not you need to stock a large number of ingredients.
You should also look at the cost of the products and their profit margin. Once you've assessed every one of these elements, you can then decide whether you'd like to extend the range of products on offer or scale back.
5. Take stock of the bakery's current suppliers
Now it's time to check out the suppliers. Find out:
Who they are
What commercial terms have been negotiated with them
What the frequency of delivery is
Once you know the answers to these questions, you can choose to continue the same relationship with them or try to re-negotiate terms so they align more with the way you want to operate the business.
6. Evaluate the staff to take over a bakery
Taking over a bakery also means getting to know the existing staff and their skills.
It's essential to build a strong relationship with the head baker or pastry chef, so you can check in on whether they feel satisfied in their current position or have any opinions on the management of the bakery.
It's also very important to review how the front-of-house team operates. Maintaining strong lines of communication between management and staff is essential to the smooth running of a bakery, so let your team know that your office is an open door when it comes to discussing issues or concerns about the organization or other staff members.
7. Examine the financial performance of the bakery
Investigating a bakery's previous financial performance is probably the most important step of any business takeover. Doing so will allow you to evaluate its profitability and cash generation capacity to help you create your business plan.
First, you'll have to carry out an in-depth analysis of how its sales have evolved over the last three years, both in volume (an increase or decrease in the quantities of products sold) and in value (whether product prices have changed). Ask yourself whether the turnover is increasing or decreasing, what the causes of this trajectory are, and how you predict it may change in the coming years.
You'll also need to take a look at the gross margin and EBITDA margin, by verifying whether they've increased or decreased and, most importantly, whether they're stable. Take note of the sources of these changes and whether it's possible to improve the margin if needs be. It's also important to check that the EBITDA generates sufficient enough profit to grow the business and enable you to pay back your loans.
You must also take a look at:
whether the bakery has a positive operating cash flow and if it's sufficient to maintain and replace equipment
the weight of the working capital requirement (WCR): can you free-up cash by changing the procurement policy?
your payroll system: how many people are employed? Have there been any recent hirings? Are costs under control?
8. Write the business plan and secure funding
The next step in taking over a bakery is putting together a business plan to ensure that your venture can be profitable and secure funding.
The business plan of a bakery is made up of two major components:
A financial forecast that aims to highlight the expected profitability of the business and the initial financing requirement.
A written part that presents, in detail, your project, the team, your business strategy, and your medium-term objectives.
The business plan is the document with which you will try to secure financing from your bank or potential investors, so you need to make it impeccable.
If you are not used to writing business plans, a good solution would be to use online business plan software.
There are several advantages to using specialized software:
You are guided through the writing process by detailed instructions and examples for each part of the plan.
You can be inspired by already written business plan templates
You can easily make your financial forecast by letting the software take care of the financial aspects for you.
You get a professional document, formatted and ready to be sent to your bank.
If you are interested in this type of solution, you can try our software for free by signing up here.
To learn more about the best sources of funding to help you launch your business, read our guide on how to secure funding to open a bakery.
9. Check why the owner is selling
There are many reasons for wanting to sell your business, particularly for those within the bakery industry - whether it's retirement or a desire to choose a career with less anti-social working hours.
It's important, however, to make sure that the current owners' motivations for selling the establishment are genuine, and not just due to the fact that they suspect the profitability of the bakery may decline.
If you do feel doubtful about the current owner's intentions, don't hesitate to include price adjustment clauses in the sale contract - in the event of a major and unexpected change in the bakery's performance after the takeover.
10. Understand the terms of the bakery take over
The contract to taking over a bakery must meet a set of extremely precise criteria to be valid. It is essential to discuss the terms with a lawyer to fully understand them.
Taking over a bakery means staying informed and mastering each step of the transfer, so don't hesitate to get in touch for advice in order to obtain complete control of your project.
Now that we're at the end of our guide, we hope you have a better idea of how to embark on your journey of taking over a bakery with confidence. If you have any questions at all, please don't hesitate to get in touch with our team.
Also on The Business Plan Shop
Know someone who would be interested in this article? Share it with them in just one click!