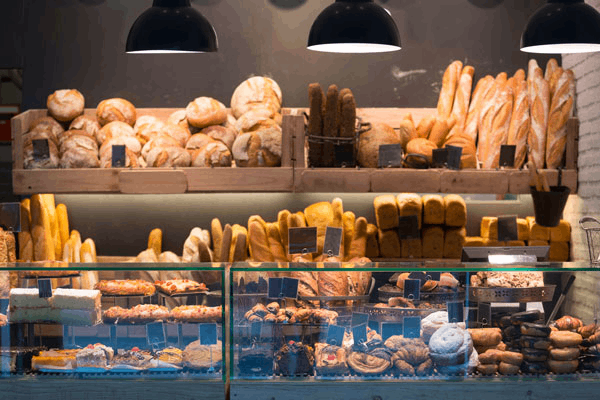 Baguettes are practically synonymous with French culture - to the extent that French people are the envy of bread-lovers worldwide.
If you're passionate about baking (and know your way around a rolling pin) then you might be seriously considering the possibility of opening your very own bakery.
If you don't know where to start, you've come to the right place. In this guide, we've included all the steps involved (from market research to securing funding and writing your business plan) in turning your dream project into a reality.
Carrying out market research for a bakery
The first step is to conduct market research for your bakery to verify that there is sufficient demand in the area.
To do so, you need to gather data on:
The characteristics of your future clientele: will they be people living in the area or people working nearby? Based on this, what will the peak hours be? What will the most popular products be? And what do you expect in terms of frequency of purchase and average basket value?
The bakeries already located nearby: what types of bread do they offer? Do they also offer pastries or sandwiches? Are customers satisfied with the current range of products?
Trends in the sector: how are buying habits and behaviour changing? Is there a trend toward independent bakeries or franchises? Are large food stores a danger to artisan bakeries?
Opening an independent or franchised bakery
Once your market research has been carried out, you'll have to define the positioning of your future bakery, including:
What type of store will you open: will it be a traditional or industrial bakery? Who will be its target customers and what will be its concept?
What type of products will you offer: only freshly baked loaves, or will you also offer pastries and sandwiches?
And above all, would you like to open an independent bakery or to join a chain?
The answer to these questions will, of course, depend on your own level of expertise and your personal ambitions. They'll have a significant influence on the potential profitability and choice of location for opening your bakery, so it's important to consider them in the early stages of your bakery's development.
Opening a bakery by joining a franchise allows you to benefit from a whole host of advantages (including having already dedicated customers and established relationships with suppliers), but will also come at a cost in the loss of autonomy. So if you're keen to set up a bakery that thrives on creativity then we recommend that you steer clear of the franchising sphere.
This is not the only option you have to open your bakery, and you can also have a look at our guide to take over a bakery and find out more about it.
Scoping out the location to open your bakery
The location of your bakery will have a massive impact on its level of success - as it will determine how many customers come in and out of your store. To choose the best location possible, it's important to consider several criteria to open a bakery.
The first is to take into account the footfall of an area and how busy it is. Indeed, a store located in a popular street will ensure you are easily seen by those driving or walking by. A lively downtown street would be ideal, but you can also look at the possibility of being situated within a residential area, an industrial area with offices, a shopping centre, or even near a train station.
The second point you must consider is whether your bakery's location aligns with the concept you've set out for it. If you choose to open your bakery near a train station or office district, for example, you'll need to offer takeaway lunch items such as sandwiches. If you're located in the city centre, between a butcher and a big supermarket, however, you might benefit more from emphasising your cake and pastry selection.
Also bear in mind that a bakery requires a large surface area as the bread needs to be made in-house. The larger your location, of course, the higher the rent or purchase price will be - so you'll have to factor in these costs when creating your financial forecast. You could also think about taking over a bakery if that sounds more interesting to you.
What is the legal structure for opening a bakery?
The next step in opening up a bakery is choosing the legal structure of your business. Choosing your bakery's legal form is a vital step as it will impact:
How much your business is taxed
Your taxation at a personal level
Your responsibility for the company's debts in the event of bankruptcy
To help you make your choice, you can find more detailed information on the different legal forms available to you on the gov.uk guide for UK business owners and SBA guide for those of you based in the US.
The equipment and staffing requirements to open a bakery
Once you have chosen the concept of your bakery, settled on a location, and figured out its legal structure, it's time to think about the equipment and people needed to open and run the business efficiently.
The equipment needed to open a bakery
Opening a bakery requires significant investments, including:
equipment for kneading and baking
equipment for selling products to customers, such as cash registers and card machines
room layout with a display counter, decorative feature such as paintings, and fire safety equipment
initial stock of food raw materials
marketing investments such as a storefront sign and website
The staff needed for a bakery
To establish an accurate financial forecast for your bakery, you will also need to assess your staffing needs.
If you're not a professional baker yourself, you'll need to hire someone with professional training in baking who can act as a head pastry chef.
You will also need to hire a few people for the front-of-house, ideally with a background and clear interest in food sales. How many members of staff you need for each role will depend on the size of your bakery and its opening hours.
Ancillary services to be taken into account when opening a bakery
Setting up a bakery also implies having recourse to additional services, such as insurance, water, electricity, maintenance, etc.
You may also want to outsource shop maintenance to a cleaning company or delegate part of the administrative work to an accounting firm. To ensure you estimate these expenses as accurately as possible, get in touch with several professionals and ask them for quotes.
Setting out the marketing plan for a bakery
Once you've determined your equipment and staffing needs, it's time to develop a strong marketing strategy to help you attract and retain customers.
Countless marketing options are available, so it's up to you to choose which actions are best suited to your business.
Street marketing can be an effective marketing tool for local businesses, as passing out flyers in the street will quickly introduce you to the people who work and live in the area.
Also, consider announcing the opening of your bakery in the local newspaper and getting a listing on Google Maps.
Implementing a promotion and loyalty system can also be a great way to (you guessed it) build customer loyalty. You could incentivize customers to keep coming back by offering 1 free croissant for every 10 purchased, for example.
Writing the business plan of a bakery
Once all of the above steps have been completed, it's time to draft up the business plan for your bakery.
The business plan is made up of two major components:
A financial forecast that aims to highlight the expected profitability of the business and the initial financing requirement.
A written part that presents, in detail, your project, the team, your business strategy, and your medium-term objectives.
The business plan is the document with which you will try to secure financing from your bank or potential investors, so you need to make it impeccable.
If you are not used to writing business plans, a good solution would be to use online business plan software.
There are several advantages to using specialized software:
You are guided through the writing process by detailed instructions and examples for each part of the plan.
You can be inspired by already written business plan templates
You can easily make your financial forecast by letting the software take care of the financial aspects for you.
You get a professional document, formatted and ready to be sent to your bank.
If you are interested in this type of solution, you can try our software for free by signing up here.
Securing funding to launch your bakery
Opening a bakery requires significant investment, the exact amount will depend on your location and how big you want your bakery to be.
There are many ways to raise the capital required to launch your dream bakery.
First of all, it's highly recommended that you make a personal contribution to the company's equity, by dipping into your savings.
You can then turn to banks and credit institutions to obtain a loan to finance part of the start-up costs.
Finally, also think about state aid for business creators. This may enable you to benefit from a low-interest or interest-free loan, for example. You can also have a look at our guide to secure funding for a bakery and find out more
Now you know all the steps involved in opening up your very own bakery. We hope you found this article useful if you have any questions or queries at all please do not hesitate to contact our team.
Also on The Business Plan Shop