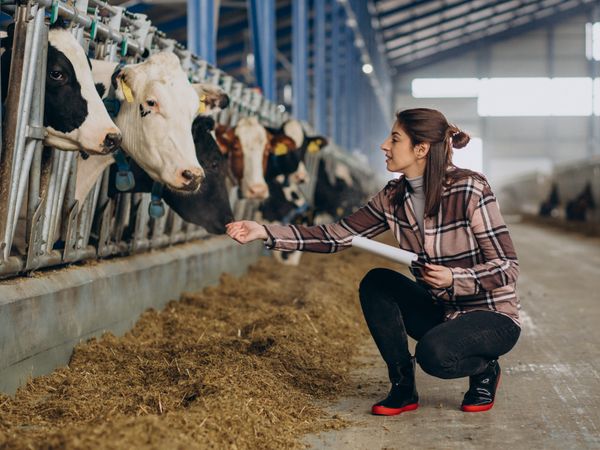 Are you an aspiring cattle farmer looking to start up a business, or an existing one looking to expand and become more profitable? If so, then writing a business plan for your cattle farm is essential.
A well-crafted business plan can help you identify potential opportunities and risks associated with running a cattle farm, as well as guide you on how best to manage the operations of the farm.
In this in-depth guide, we'll explore why it's important to write a business plan for your cattle farm, what information is required to create one, what should be included in the document itself, and which tools are available that can make the process easier.
Let's get started!
Why write a business plan for a cattle farm?
To draw up a roadmap
A business plan for a cattle farm helps you define your objectives and set goals for the next 3-5 years, which can be incredibly useful for achieving success in the long run.
The writing process of a business plan requires careful consideration of all aspects of running your cattle farm, from financial management to sales & marketing strategies and operational procedures.
Having these clear objectives laid out ahead of time will help ensure that your cattle farming venture runs smoothly and achieves its desired outcomes.
To compare financials and track progress
One of the main benefits of writing a business plan for a cattle farm is to be able to regularly compare your actual financial performance against what you planned in your forecast, and make adjustments where needed.
This enables you to maintain visibility on your future cash flows and make informed decisions about investments to grow your farm.
To secure funding
If you want to receive capital from investors or banks, you must have a comprehensive cattle farm business plan.
Financiers will be looking closely at your venture's growth prospects, profitability, and cash flow to estimate the possible returns on their investment.
Now that you know why it's important to write a business plan for a cattle farm, let's look at the information needed to create one.
What information is needed to create a business plan for a cattle farm?
Carrying out market research for a cattle farm
Conducting market research is an essential step before creating a business plan for a cattle farm. Market research can help you to estimate revenues and provide insights into potential areas of growth or decline.
When you embark on market research of your cattle business, you seek to answer the following questions:
Is the cattle industry growing?
What segments (processed milk products, beef processing and packaging, breeding services, and cowhide sale) of the market are most attractive?
Who is the competition?
How long does it take from calving to sales?
What is the best time for breeding?
What are sales and profit margins like?
What are the major trends in the cattle industry? For example, consumers are more interested in organic-bred cattle than those bred using hormones, steroids, and antibiotics.
This information will help you create and communicate in your business plan the strategies that will give your farm the best chance for success.
Developing the marketing plan for a cattle farm
Creating a sales & marketing plan for your cattle farm is the next step.
Having a concrete action plan in place will be necessary to create an accurate budget for sales and marketing expenses in your business plan, and to ensure that you have sufficient resources to deliver your sales forecast.
The staffing and equipment needs of a cattle farm
Before starting a cattle farm business plan, it is also key to take into consideration the investments and recruitment plan.
This will ensure that all necessary costs are accounted for and that sufficient capital is available to launch or grow the venture.
Some of the costs you must be aware of includes:
Land purchase
Fencing the land
Land preparation
Water source or supplies
Tools and equipment costs
Cattle shelter
Cattle purchases
Payroll
Licenses and permits
Insurance
Once you have gathered all the necessary information to create the business plan for your cattle farm, it is time to start building the financial forecast.
What goes in the financial forecast for a cattle farm?
The financial forecast of a cattle farm's business plan will include important information like the Profit and Loss (P&L) statement, balance sheet, cash flow statement, and sources and uses table.
Let's have a look at each table in a bit more detail.
The projected P&L statement
The projected P&L statement of a cattle farm business plan shows how much revenues it is expected to generate, how sales will evolve and how profitable it can be in the future.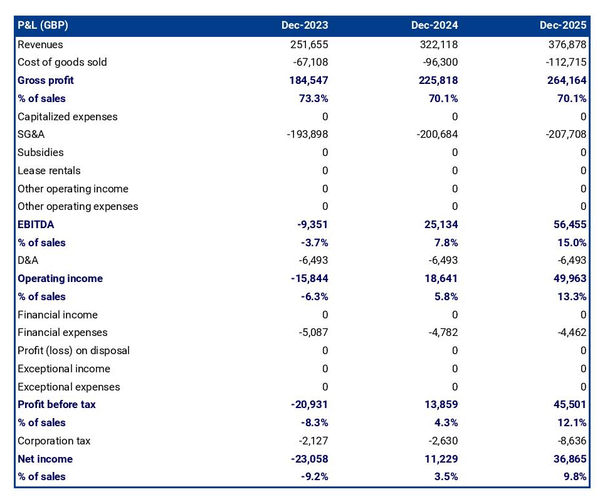 The projected balance sheet of your cattle farm
The balance sheet of a cattle farm is an essential financial statement that provides a snapshot of the farm's financial position at any given time.
It records the assets, liabilities, and equity of the farm and serves as a valuable tool for owners, investors, and lenders to understand the overall financial health of the venture.
Assets are what a business owns and uses to make money. Examples of assets for a cattle farm include:
Farmland
Buildings
Machinery and equipment
Cattles
Liabilities on the other hand are what the business owes, they include things like:
Loans
Accounts payable (money owed to suppliers)
Tax payables
When total liabilities are deducted from total assets, what is left is the owner's equity which represents the net worth of the business for the owners.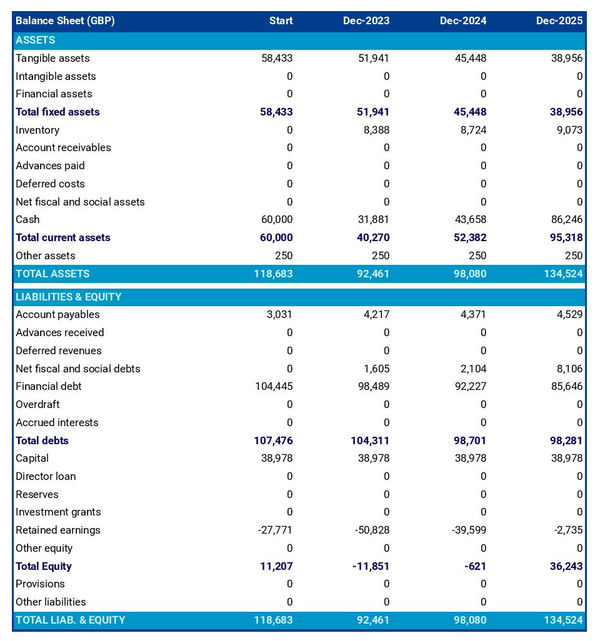 The projected cash flow statement
A projected cash flow statement for a cattle farm is a financial document that shows how much cash the farm will generate and spend in the future.
All transactions that involve the inflow and outflow of cash from a business are recorded in the cash flow statement.
This statement makes it easy for financiers to understand how much money your business produces (or will produce) and how much cash it will need for smooth operations.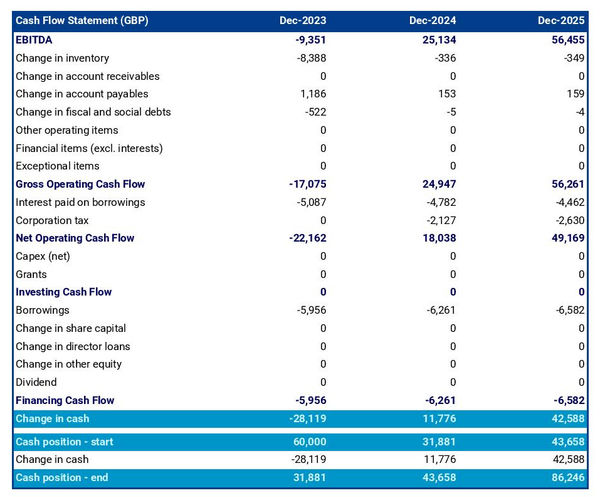 The initial financing plan
An initial financing plan is important when writing a cattle farm business plan. It is also called sources and uses table.
This table helps you figure out how much money you will need to start your farm, where it will come from, and what it will be used for.
Having this information all in one place makes it easier to plan your finances and prepare for the future of your business.

A solid financial forecast is the foundation for any successful cattle farm business plan. But to understand how relevant this financial data is, it's essential to provide context within the written part of the plan.
What goes in the written part of a cattle farm business plan?
The written part of a cattle farm business plan consists of 7 main sections:
The executive summary
The presentation of the company
The products and services section
The market analysis
The strategy section
The operations section
The financial plan
The executive summary
The executive summary section of your cattle farm's business plan should be a one-page (two-page maximum) summary presented in such a way that will convince investors and banks to read the rest of the plan.
The executive summary of your cattle farm business plan should begin with an overview of the farm itself, including key points such as the purpose of the business, its legal structure, its management team, and any pertinent information about the geographic area in which it operates.
After this should come a quick market overview highlighting who the farm sells to and who it competes with.
Then you should include key financials such as forecasted sales, growth, and profit, as well as expected cash flow projections and capital requirements.
The presentation of the company
This section of your business plan should include details about the ownership and legal structure of your cattle farm, your farm's location, and information about the management team.
When writing about the legal structure, you should include information about the legal entity that owns the farm, such as whether it is a sole proprietorship, limited liability company, partnership, or other type of legal ownership.
You should also list the shareholders (people with a stake in the business) and the percentage of ownership each one holds.
The location section should provide an overview of the geographical area where the farm is located, with information about nearby cities and towns, access to major roads and highways, availability of water sources, climate considerations, and any other factors that could influence the success of the farm.
Then you should continue with the presentation of the management team which provides an in-depth look at who is running the farm's day-to-day operations, including information about each individual's experience, education, and qualifications for their specific roles on the farm.
The products and services section
When writing the products and services section of your business plan for a cattle farm, it is important to clearly describe what breed of cattle (lisrace lumberjack, bos taurus, Angus cattle, etc.) you will raise and any other related services or products that you may offer.
This should include information about the size and quality of the herd, as well as any specialized breeds or special care practices used in raising them.
It is also important to outline any additional sources of income such as selling hay, feed, or providing agricultural consulting services.
Additionally, outlining plans for expansion into new markets could help convince investors that this is an enterprise with growth potential.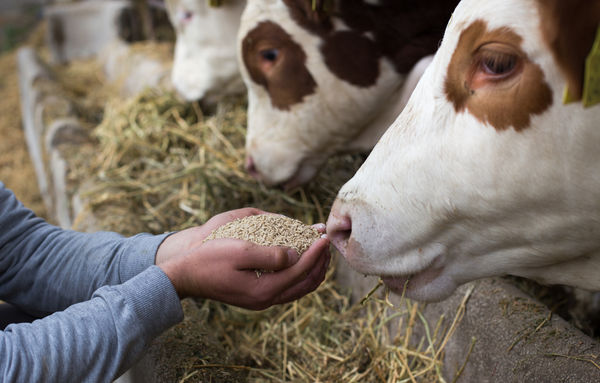 The market analysis
When presenting the conclusion of your market analysis in your cattle farm business plan, you should touch on demographic and segmentation information, your target market and competitors, and details about any barriers to entry and relevant regulations that you must comply with.
The demographic and segmentation section should include information about the different customer segments on the market and their purchasing habits for each of the main categories of products and services.
The target market section then zooms in on the segments you intend to serve and why your products and services match what customers are looking for.
Then you should explain who your main competitors are, and how your products and services compare to theirs.
You should also consider any potential barriers that can impede entry into the market (such as a limited availability of farm land for example) and relevant regulations that must be adhered to for compliance purposes.
The strategy section
In the strategy section of your cattle farm's business plan, you should explain your competitive advantage, price strategy, marketing plan, milestones, and risks and mitigants.
To demonstrate the financial viability of your farm, you must be able to clearly explain what your competitive advantage is - i.e. how you intend to compete in an already crowded marketplace.
In addition, you should include details of your pricing strategy and show that it is profitable for you and attractive for customers.
Then comes your sales and marketing plan which outlines how you will reach your target markets, followed by any important and realistic milestones which are achievable within specified time frames.
Finally, you must detail any potential risks associated with your farm and possible solutions or mitigations for these risks.
The operations section
The operations section of your cattle business plan should provide an overview of the functions and activities of your cattle farm.
It should cover information such as the staffing team, roles of staff members, recruitment plan, operating hours, key assets, and intellectual property needed to operate the farm.
A cattle farm may have the following type of staff on its payroll:
Farm manager
Butcher
Slaughterer
Veterinarian
Farmhand
For example, if you plan on hiring a veterinary technician or farm manager, explain their experience requirements and how they will contribute to the operation of your business.
You should also include your schedule and operating hours to give investors an idea of what a typical business day for your farm looks like, as well as information on the main assets and intellectual property that the business requires to operate.
These assets include any resources such as land, buildings, equipment or technology essential for running the farm. If you plan on leasing or buying any of these assets, provide details about the timelines and costs involved.
Lastly, the operations section should include information about the suppliers that you plan to work with. Be sure to provide details such as the cost of goods, delivery times and any other relevant commercial terms.
This will give investors a better understanding of how you plan on running your farming operation.
The financial plan
The financial plan section of the cattle farm business plan will include the financial forecast (balance sheet, P&L and cash flow statements, and the sources and uses table) that we talked about earlier.
Now that you have a clear understanding of the content of your cattle farm business plan, it's time to look at the tools available for creating one.
What tool should I use to write my cattle farm's business plan?
In this section, we will look at three options for writing a detailed business plan for your cattle farm: writing it yourself with Word and Excel, hiring a consultant to do it, and using online business plan software.
Create your cattle farm's business plan using Word or Excel
Creating a cattle farm business plan with Word or Excel is a possible option but usually not the best one.
On the plus side, both programs are relatively inexpensive. However, there are some significant drawbacks to using these programs to create a business plan.
Excel isn't an easy tool to use, especially when it comes to creating financial forecasts without making mistakes.
As a result, it will be hard for financiers to trust the accuracy and validity of your numbers, and, therefore, using Excel isn't recommended unless you are well versed into the art of accounting and finance.
Drafting the written part with Word also suffers from severe flaws. You start from scratch with no instructions to aid you, forcing you to think long and hard before filling up the pages. It is also time-consuming and tedious to format your business plan with Word.
Hire a business plan writer to draft your cattle farm's business plan
Outsourcing the business plan for a cattle farm to a consultant can be a viable solution as they are used to writing such plans. But this solution also comes with certain disadvantages.
Business plan writers may lack the livestock industry expertise needed to anticipate sales and cost accurately, forcing them to rely on your assumptions.
Hiring consultants to write a business plan is also expensive (budget a minimum of $2,000 or £1,500), with additional fees if the business plan needs to be updated after the initial version has been produced.
Finally, hiring a consultant gives you less control over the result than writing it yourself and your vision for the farm's future may not be adequately presented in the business plan.
Use an online business plan software for your cattle farm's business plan
Another alternative is to use online business plan software.
There are several advantages to using specialised software to write a cattle farm's business plan:
You are guided through the writing process by detailed instructions and examples for each part of the plan
You can be inspired by already written business plan templates
You can easily make your financial forecast by letting the software take care of the financial calculations for you, without error
You get a professional document, formatted and ready to be sent to your bank
You can easily update your financial forecast and track it against actual financial performance to see where the farm stands
If you're interested in using this type of solution, you can try our software for free by signing up here.
We hope that this article has helped you to better understand how to write the business plan for a cattle farm. Do not hesitate to contact us if you still have questions.
Also on The Business Plan Shop
Know someone in the farming industry? Share this article with them!