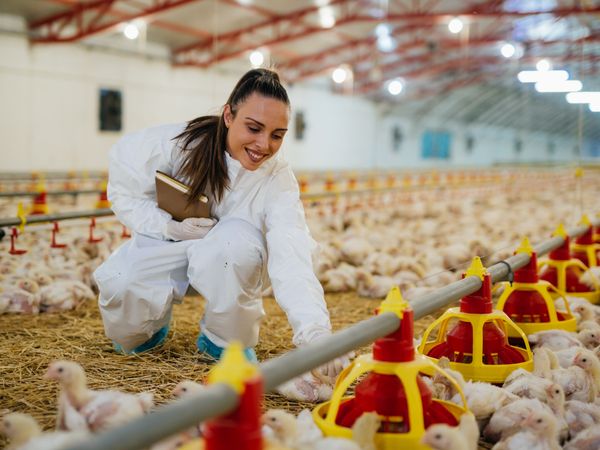 Writing a business plan for a poultry farm can be an intimidating task, but with the right pointers it doesn't have to be.
This guide is designed to provide aspiring and existing poultry farmers with the information they need to create a comprehensive and effective business plan that covers all of their bases.
Whether you are starting up or looking to grow your current operation, this guide will walk you through the steps necessary to write a successful business plan for your poultry farm.
We'll cover why writing a business plan is necessary, what information is needed, what should be included in your business plan, and which tools can help make the process easier.
With this guide as your roadmap, you'll have everything you need to create an effective and comprehensive business plan for your poultry farm!
Why write a business plan for a poultry farm?
Writing a business plan for your poultry farm is an essential exercise because of the following reasons:
A business plan acts as a roadmap for your business
A business plan is indispensable if you want to secure financing
A business plan helps you keep track of the progress of your poultry business
A business plan as the roadmap for your poultry business
A good business plan will clarify how your business should move forward, what steps are necessary to ensure success, and how best to use the available resources.
It also helps identify potential risks before they become problems that might detract you from meeting your business goals.
A business plan helps you to secure financing for your poultry company
Writing a poultry farm business plan is essential if you need to raise capital to start or expand, as investors and banks will use your business plan to determine if an investment in your poultry farm can generate a good return on their investment. They want to see healthy growth, profitability and cash generation outlined in your business plan.
Financiers look at your revenue projections, costs, assets, liabilities, and cashflows to make informed decisions about investing in your business. If the figures in your business plan are not persuasive, your hope of securing financing may become a distant memory.
Therefore, your poultry business plan must be comprehensive and convincing enough to get the attention of investors and banks.
Tracking the progress of your poultry business
A well-thought-out poultry business plan allows you to evaluate your financial performance to your initial objectives: this enables you to identify any discrepancies between your expectations and reality so that corrective measures can be taken.
For example, if the operating expenses of your poultry business go up 5% more than what is in your business plan: you could make adjustments to correct the situation.
You may also define goals and targets for the next 3 to 5 years and use your business plan to track your progress.
Now that we've covered why it's vital, let's look at the information you need to construct a business plan for a poultry farm.
What information is needed to create a business plan for a poultry farm?
Carrying out market research for a poultry farm
Carrying out market research before writing a business plan for a poultry farm is crucial to forecasting revenues and devising an effective strategy.
Market research offers insightful information on the state of the sector, including competitor analyses, consumer preferences, and trends that could influence upcoming sales.
You should seek to answer critical questions like:
How has the poultry sector fared in recent years?
Who is the competition? What is my competitive edge?
Which market segments - production, processing, and breeding - are the most lucrative?
What are pricing and profit margins like?
What have been the upcoming trends in consumer behaviour in the poultry sector?
How long does it take from breeding to bird sales?
Is the poultry sector highly seasonal? Putting into consideration festive periods.
Knowing these details will allow you to make informed decisions when creating your poultry business plan and ensure your goals are realistic and achievable.
Developing the marketing plan for a poultry farm
Before writing a poultry business plan, you must develop a comprehensive marketing plan. This will account for the budget allocated towards sales and marketing activities such as advertising, promotion, and pricing strategies.
Your marketing plan should also outline strategies you will use to sell your products/services to your target customers and any measures put in place to track progress.
The staffing and equipment needs of a poultry farm
It is critical to consider all necessary investments, such as staffing and equipment requirements, and any potential overhead costs.
For a startup entrepreneur in the poultry business sector, some of the initial costs required to bring the idea to life may include:
Cost of renting land
Construction costs
Cost of buying the birds
Feeding
Vaccination
Hiring a veterinary doctor
Labour costs
Equipment costs
Once you have gathered the information needed to create a business plan for a poultry farm, it is time to take the next step and make a financial forecast. This will help you determine how much money you need to invest in your farm and what kind of returns can be expected from your investments.
What is the financial forecast for a poultry farm?
The financial forecast for a poultry farm includes the Profit and Loss (P&L) statement, balance sheet, and cash flow statement.
The projected P&L statement
A projected P&L statement for a poultry business plan provides an estimate of how much money the farm may make in the near future (3-5 years).
It tells investors and banks if your business is expected to be profitable and by how much it is anticipated to grow. This information helps your financiers decide if they want to finance your poultry farm.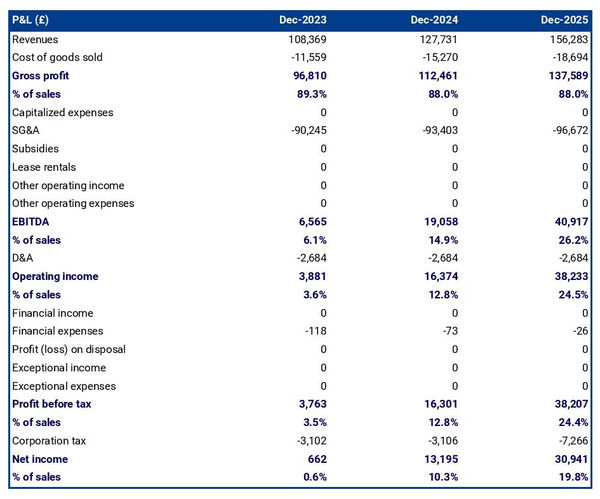 The projected balance sheet of your poultry farm
The balance sheet for a poultry business plan is an essential financial statement that helps to examine a company's present financial situation.
It provides a snapshot of all the assets a business owns, such as cash, inventory, equipment, buildings, and property; as well as all of its liabilities like loans and accounts payable (an account that tracks credit purchases).
This information assists lenders and investors in understanding how the poultry farm is spending its finances and evaluating your company's ability to pay its long-term debt (solvency) and short-term debt (liquidity).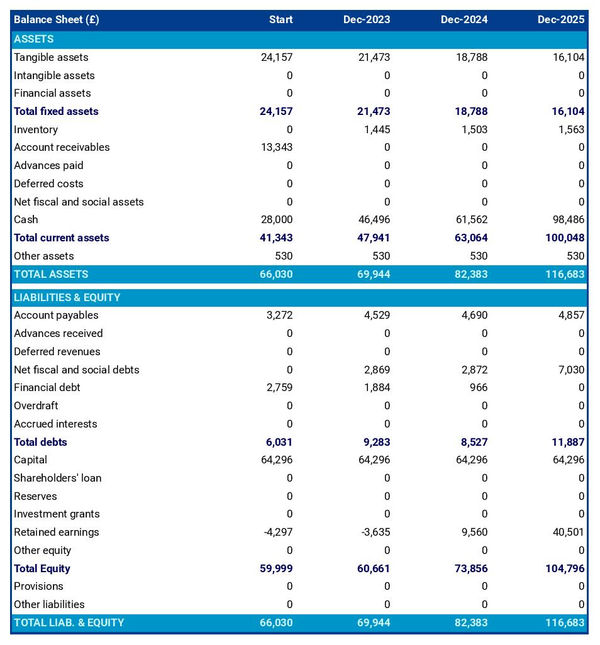 The projected cash flow statement
A cash flow statement for a poultry business plan shows how much money comes in and goes out of the farm during the period under observation.
A projected cash flow statement helps you plan and ensure that you have enough cash to operate the farm. In addition, Investors are interested in seeing how their cash will be used to grow your business.
The initial financing plan
An initial financing plan helps you keep track of the money needed to start a poultry farm. It shows how much money you need and where it should come from. The initial financing plan is also called the sources and uses table.
The table shows all the different sources of funds, like loans or investments, and how they will be used for expenses such as buying equipment.
A trustworthy financial forecast is a necessary component of any business plan for a poultry farm, but it is not the only piece of information needed.

To get a holistic view of your business, readers will also need to understand the context behind the numbers - and that comes from the written part of your poultry farm business plan, which we are going to be looking at next.
The written part of a poultry farm business plan
The written part of a poultry business plan is composed of seven main sections:
The executive summary
The presentation of the company
The products and services section
The market analysis
The strategy section
The operations section
The financial plan
The executive summary
The executive summary section of your poultry business plan should give an overview of the other six sections of the business plan (above) and should cover the following:
A thorough overview of the poultry business
Your goals and objectives
Your business strategy
The target market
The organisational structure of your business
Key financials and funding requirements
The executive summary section of your business plan should grab the attention of readers and encourage them to read the rest of the business plan
The presentation of the company
When writing this section of your business plan, you should cover the structure and ownership of the farm, its location, and its management team.
The legal structure of the farm, such as whether it is a sole proprietorship, partnership, corporation, etc., as well as any ownership details, such as who owns what stake in the business and how that might influence decision-making, should be clearly described.
Next, information regarding the poultry farm's location must be presented to give readers a better understanding of its potential customer base. Providing location data, such as the street address and nearby cities and transport infrastructure will give potential investors an idea of how accessible the farm is for customers.
Lastly, a description of the management team and each individual's qualifications and experience in operating a poultry farm should be included.
Through this information, potential investors will be able to assess the level of expertise and experience that exists within the team.
The products and services section
For potential investors and lenders, the products and services component of your poultry farm's business plan is critical.
It should provide detailed information on what types of poultry (chicken, duck, turkey, etc.) your farm will be raising, how many birds it plans to produce, how much land and equipment is needed to run the operations and any other relevant details about production capacities.
This section should also include an analysis of the market for your products or services to demonstrate that there is enough demand for your business to be profitable.
This includes researching competitors' prices and marketing strategies, understanding customer needs, identifying areas where there may be untapped potential markets, and developing a strategy to differentiate yourself from the competition.
Additionally, this section should discuss any long-term goals or objectives related to product development or expansion into new markets that may help increase profitability over time.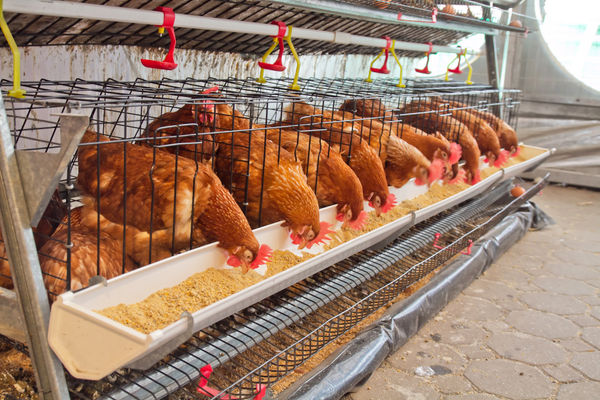 The market analysis
When writing the market analysis section of your poultry business plan, it is vital to include information about demographics and segmentation, target markets, barriers to entry and competition.
Demographics and segmentation should focus on the characteristics of the different customer segments in your target market. This information demonstrates to lenders and investors that there is demand for what you offer, that demand is sufficient, and that you have a reasonable grasp of the market.
Additionally, including information about your target market in your business plan ensures that the products and services your business offers are in line with market demands.
Finally, the competition analysis, when effectively presented, shows how viable your target market is and how well-positioned you are to compete.
The strategy section
When writing the strategy section of your poultry farm business plan, it is essential to include information on your competitive edge, pricing strategy, sales and marketing plan, milestones and risks and mitigants (how you will reduce risks).
The competitive edge should explain why customers would choose your poultry farm over other businesses offering similar services, and discuss factors such as location, quality of product or customer service standards.
Also, the pricing strategy should detail how you intend to price products for maximum profitability while remaining competitive within the market.
It may also be useful to explain your sales and marketing strategy, which should describe how you intend to reach your potential customers and raise brand awareness through various channels, such as social media and print advertising.
Furthermore, milestones that demonstrate to investors that you have defined growth and development objectives should also be mentioned.
Lastly, describing potential risks with mitigations shows that you are aware of potential difficulties and have strategies in place to deal with them.
Presenting this information clearly in a business plan helps demonstrate that you have thoroughly considered all aspects of running your poultry farm successfully before launching operations.
The operations section
The operations section of your poultry farm business plan should include detailed information about your staffing team, roles of staff members, and recruitment plan. It is also vital to list the specific positions that need to be filled, including those necessary for daily operations and those needed for administrative tasks.
This section of the business plan should also include:
The operating hours and any shifts or required rotations.
The essential resources and intellectual property the company needs to run, such as permits and licenses.
Information about which suppliers you plan to partner with, what kind of services they will provide and their commercial terms.
When you provide investors with a comprehensive overview of the operations of your poultry farm, they will be better informed about how the business is expected to run and can make an educated decision about whether or not to invest in it.
The presentation of the financial plan
In the financial plan section, you should talk about the financial forecast that we talked about earlier in this guide.
This section is crucial because it contains all the facts necessary to demonstrate how much cash you will require and the costs associated with operating a poultry farm.
Now that you know what to include in a poultry farm business plan, it's time to discuss the tools and resources that can be used to create one.
What tool should I use to write my poultry farm's business plan?
The three main options for drafting a business plan for a poultry farm are: using Word and Excel, paying a consultant to write the plan, or using online business plan software.
Create your poultry farm's business plan using Word or Excel
Creating a poultry farm business plan using Word or Excel might look like a cheap solution, but these programs have their challenges.
For Word:
You start from a blank screen with no guided instructions
It can't be used to construct a financial forecast
For Excel:
You have to be an expert in financial modelling to come up with an accurate forecast
It takes a long time to create a complete forecast with Excel
Even if you successfully employ Word and Excel to create your company strategy, the problem of trust still exists. Will investors trust the outcome of your forecasts? That brings us to the next point.
Hire a consultant to write your poultry farm's business plan
Outsourcing a poultry farm business plan to a consultant or accountant is a viable option that can provide you with useful assistance while developing your business plan.
Consultants are often experienced in writing business plans and accountants can create accurate financial forecasts.
The only drawbacks to this solution are:
Hiring a consultant or an accountant is expensive. The bare minimum for hiring a consultant is usually $2,000 (£1,500), excluding any additional changes required after the first version.
An accountant will only help with the financial forecast section of your plan (you'd have to hire a consultant separately).
There is the risk of them not understanding the poultry industry adequately to make recommendations or make a strong case to your financiers.
This leaves us with the third option.
Writing the business plan for a poultry farm yourself with an online business plan software
You might want to take matters into your own hands and write your poultry business plan using online business plan software. After all, nobody understands and is more passionate about your business than you do.
Some of the advantages of using an online business plan software are:
It makes creating a financial forecast that will wow investors a breeze
You don't have to start from a blank screen (like in Word) and step-by-step instructions are provided for you for each section
Helps you to confidently create your plan without worrying that you left out a crucial part
Detail outline ensures that everything is covered
Ensures that your plan follows the structure that investors and lenders expect
You save time with the clear instructions provided
Relevant examples are provided
No knowledge of accounting required
You don't have to be a financial modelling expert
No confusing Excel formulas
A professional business plan template is provided, in which you could replace the texts and numbers with your business details to make it your own.
If you're interested in using this type of solution, you can try our software for free by signing up here.
We hope that this article has helped you to better understand how to write the business plan for a poultry farm. If you still have questions, do not hesitate to contact us.
Also on The Business Plan Shop
Know someone in the poultry farm industry? Share this article with them!