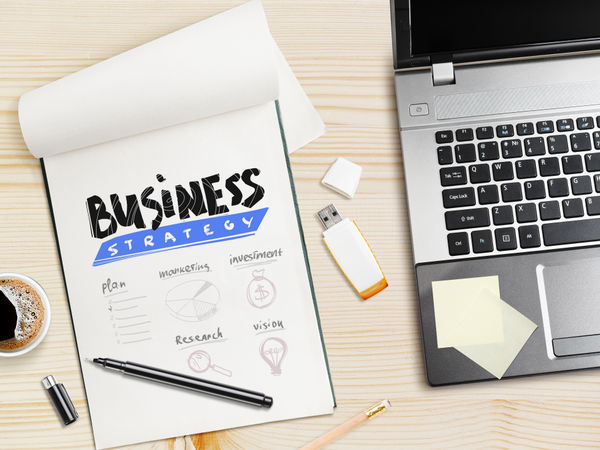 The marketing and sales section forms the cornerstone of any business plan. It details your approach to reach and sell to your target audience. Whilst some entrepreneurs believe that this section should predominantly be about advertising, it covers a lot more than that.
Without adequate knowledge of the information required, writing this section can be challenging. This guide covers that aspect and also talks about the overall objective of this section and how long it should be amongst other things.
After reading our guide, you'll be well on your way to drafting a comprehensive strategy section that can help you secure financing from lenders and investors.
Ready? Let's get started!
What is the objective of the marketing and sales strategy section in your business plan?
The sales and marketing section follows both the market analysis and the pricing subsections. Its main objective is to communicate to readers that you have a well-defined go-to-market strategy that will help you reach and sell to your target customers. 
A compelling sales and marketing section can help you convey how you plan to capture your target market's attention and generate sales as well as build competence with investors and lenders. 
When writing this section, you need to show that you plan on using effective distribution and communication channels.  
Distribution channels are what you use to sell your goods or services. Online or physical stores, or door-to-door sales, for example.
Communication channels are what you use to promote your brand to target customers. This can include ads or flyers for example.
What information should I include in the marketing and sales strategy section of my business plan?
We have discussed that your business plan's marketing and sales section should be well-structured and presentable. 
When writing this section, all businesses should provide a rationale for their distribution and communication channels by elaborating on the following factors: 
Reach 
Here, you need to talk about why you think your chosen channels will help you reach your target market. 
For example:
Younger audiences might be more receptive to messaging and marketing initiative on social media, while other demographics might prefer traditional media like TV or radio.
Selling through national retailers might give you immediate scale - though being at a lower margin than through a network of owned stores
The best channels for your business will depend on the type of products or services you sell and the tarket customer segments you identified in your market analysis.
Cost and margin
In this section, you need to emphasize why the channels you have chosen will be cost-effective and share details pertaining to the budget allocation. 
For example, cold calling small businesses might be a cheaper way of selling your services than using advertising.
Competition 
To address this factor, you need to provide details about how and why your chosen channels will help you gain a competitive advantage.
A competitive advantage refers to a unique attribute, quality, or strategy that allows your business to outperform its competitors and achieve superior performance in its industry or market. It's what sets your company apart and gives it a strong position in the marketplace. 
For example, a hybrid network of owned and franchised stores might enable you to quickly achieve national coverage and greater brand recognition than your competitors.
Implementation 
Here, you need to provide details about who (from your sales and marketing team) will be responsible for actioning these channels and a timeline pertaining to key goals and objectives for each.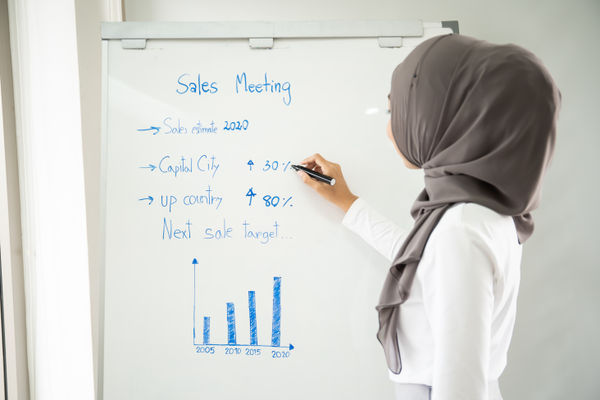 Key performance indicators (KPIs) 
Lastly, you also need to provide details about the KPIs you will use to measure the effectiveness of the distribution and communication channels. 
For distribution channels, this could include:
Sales
Gross profit margin
Return on investment
Etc.
For communication channels, this could include:
Brand recognition
Number of website or in-store visitors
Etc.
It's important to understand that the factors stated above (reach, cost, competition, implementation and KPIs) may be applicable to all industries. However, the details used for each factor must be tailored to the industry and customer profiles targeted by your own business. 
With that understanding, let's look at what information should be included in this section for different industries. 
Agriculture
Agricultural businesses usually sell either to farmers (equipment, services, etc.), to consumers (food) and retailers (food, raw materials, equipment, etc.), or to food manufacturers.
With that in mind, your marketing plan should ideally provide details about how you plan to communicate in order to reach these customers. For example, you might decide to invest in a couple bilboards with directions to your farm if you sale directly to consumers.
As for the sales strategy, you need to discuss your approach to distribution and inventory management (especially for fresh produce). For example, selling to food manufacturers might give you a greater scale at the cost of a lower margin and a dependency on a small number of customers.
Construction
Construction businesses usually sell either to households or other construction businesses and builders (subcontractors).
Your marketing strategy might include actions such as highlighting past projects to showcase customer satisfaction on your website and brochures, to attend industry events to promote your know-how, or to invest in a branded fleet of vehicles.
When providing details about your sales strategy, you need to explain how you'll bid on projects, provide estimates, and effectively manage client expectations. 
Hospitality
The hospitality industry is one that's heavily based on customer demand around your location(s) and meeting patrons' expectations to generate positive word of mouth.
Your marketing plan might revolve around using local advertising and food bloggers to increase awareness, and a loyalty program to increase repeat visits.  
Your sales strategy might be centered around: leveraging online booking platforms to fill the restaurant outside of peak hours, marketplaces to drive takeaway sales, and staff training to promote higher margin items on your menu.
Manufacturing
For manufacturers, your marketing and sales section will depend on whether you plan to manufacture your own products or produce them for other brands. It's important to understand that both these are entirely different target customers with varying requirements. 
If you plan on manufacturing for other brands, you need to showcase your manufacturing capabilities, quality standards, and ability to fulfill orders. You can also provide details about your production process and ability to meet tight deadlines. 
If you plan to manufacture your own products, you must detail how you plan to attract competent distributors or set up your own distribution network. To do this, you can provide details about the uniqueness of your product and how it adds value to the end customer. 
Retail
The sales and marketing plans of retailers will most likely revolve around customer acquisition, repeat purchases, and enhancing the shopping experience. You could provide details about visual merchandising, store layout, online presence, and loyalty programs.
You could also mention store locations, pricing strategies, and promotions.
Services
The way services are marketed and sold vary greatly depending on the type of service, the type of customers (businesses vs. consumers), the contract duration and the price point (which will influence the length of the sales cycle).
The sales and marketing plan of a hairdresser might be close to the one put in place by a retailer or other types of high street businesses.
Inversely the sales and marketing plan of a high end business consulting firm might include lead generation efforts through content marketing, networking, cold calling, and targeted advertising.
How long should the sales and marketing plan of your business plan be?
The ideal length for the sales and marketing plan depends upon several factors, such as the reader's familiarity with the industry you operate in and the size of your business.
The sales and marketing section of a grocery shop may not require much information as foot trafic around the location will be the primary lever. 
However, a business-to-business (B2B) company that provides software for human resources might be more complex and require further details.
In general, one or two paragraphs per action planned or lever mobilised is enough, though a complex industry or larger business may require to communicate more information. However, you can use visuals and graphics to help reduce the length and make complex concepts easier to understand.
Example of a sales and marketing section in a business plan 
Below is an example of how the sales and marketing section of your business plan might look like.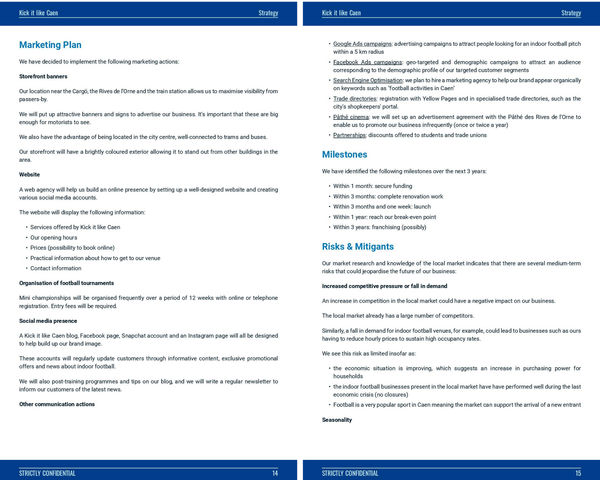 This example was taken from one of our business plan templates.
What tools can you use to write your business plan?
In this part, we will review three solutions for writing a professional business plan:
Using Word and Excel
Hiring a consultant to write your business plan
Utilizing an online business plan software
Create your business plan using Word and Excel
Creating a business plan using Word and Excel is old fashion, error prone, and (very) time consuming.
First of all, using Excel to create your financial forecast is only feasible if you have a degree in accounting and experience in financial modelling, because lenders are unlikely to trust the accuracy of your financial forecast otherwise.
Secondly, using Word means starting from scratch and formatting the document yourself once written - a process that is quite tedious. There are also no instructions or examples to guide you through each section making the overall process much longer than it needs to be.
Thirdly, for a business plan to be really useful it needs to be tracked against the company's actual financial performance and regularly updated which is a very manual process if you are using Excel.
Hire a consultant to write your business plan
This is a good option if you have the budget for it - from experience you need to budget at least £1.5k ($2.0k) for a complete business plan, more if you need to make changes after the initial version (which happens frequently after the initial meetings with lenders).
Consultants are experienced in writing business plans and most of them adept at creating financial forecasts without errors. Furthermore, hiring a consultant can save you time and allow you to focus on the day-to-day operations of your business.
Use an online business plan software for your business plan
Another alternative is to use online business plan software.
There are several advantages to using specialized software:
You are guided through the writing process by detailed instructions and examples for each part of the plan
You can be inspired by already written business plan templates
You can easily make your financial forecast by letting the software take care of the financial calculations for you without errors
You get a professional document, formatted and ready to be sent to your bank
The software will enable you to easily track your actual financial performance against your forecast and update your forecast as time goes by
If you're interested in using this type of solution, you can try our software for free by signing up here.
Also on The Business Plan Shop
Do you know anyone struggling to craft the marketing and sales part of their business plan? Share this article and help them out.