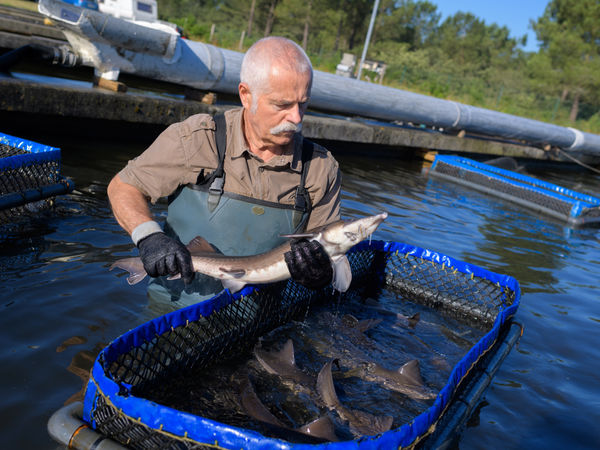 Do you have a business idea for a fish farm, or are you an existing fish farm looking to grow and expand? Writing a business plan is essential in ensuring your venture is viable and grows into a healthy business.
This guide provides an in-depth look at how to write the perfect business plan for your fish farm, from why it's important and what information it should contain to exploring the tools that can help you create one.
Why write a business plan for a fish farm?
There are several reasons to write a fish farm business plan. Below, we cover some of the most important ones.
To draw up a roadmap
Writing a business plan for a fish farm is an essential step for entrepreneurs looking to launch their venture or grow an existing one, as it helps them set objectives and goals for the next 3 to 5 years.
A well-crafted business plan allows fish farm owners like you to identify potential areas of growth or improvement while also helping them stay focused on their long-term vision.
Moreover, having clear objectives can help guide decision-making when it comes to investing capital into new projects or technologies that could be beneficial in the future.
Ultimately, writing a business plan can make all the difference between success and failure in this highly competitive industry.
To maintain visibility on future cash flows
A comprehensive fish farm business plan provides a valuable reference point to monitor the business' progress against goals and objectives.
It enables you to regularly compare your fish farm's financial performance with what was planned and to adjust your forecast accordingly to maintain visibility on your future cash flows.
This helps you stay on track towards achieving your long-term goals while allowing you to quickly identify areas where you may need additional resources or expertise.
For example, you can consider adding more concrete tanks or farm personnel to increase the output.
To secure financing
Writing a fish farm business plan is a vital step for any startup or an existing business looking to secure financing.
Banks will use your business plan to assess whether your farm has the capacity and resources to repay the money they are lending to your business.
A well-crafted, organized, and thorough business plan can also help you get financing from equity investors.
Investors will want to see that an investment in your fish farm will provide them with strong returns on their capital. Thus will meticulously assess the business plan to make sure their money will be utilised effectively on your fish farm.
Your business plan should include projections for healthy growth, profitability and cash generation; all of which are key indicators of how successful your fish farming endeavour could be.
Now that we know why it's important to write a business plan for a fish farm, let's take a look at what information is needed to create one.
What information is needed to create a business plan for a fish farm?
Before you can start writing your fish farm business plan, you need to have the appropriate information to ensure your financial forecast uses credible assumptions, and so that you present the business opportunity using facts.
In this section, we cover three key pieces of information you should gather before drafting your plan.
Carrying out market research for a fish farm
Carrying out market research before writing a business plan for a fish farm is key to ensuring that the forecasted revenues are accurate.
Before you can forecast revenues, you need to form a view regarding the supply and demand for the fish species your farm will be breeding.
It's only once you have this information that you will be able to plan with confidence how much of each species to produce, at what price they will sell, and who will buy them.
Market research will help you identify potential customer needs and preferences, as well as any existing competitors in the market.
Plus, it also provides valuable insight into current trends, pricing strategies and industry regulations that may affect the success of your fish farm business.
For instance, you can survey potential customers in your intended location if they can pay a premium for sustainably farmed fish.
Gathering this information will also allow you to clearly and factually explain the business opportunity for your fish farm in the market analysis section of your business plan which we will detail later in this guide.
Developing the sales & marketing plan for a fish farm
To create an accurate financial forecast for your fish farm business plan you need a well-defined budget for sales and marketing expenditures. Therefore, you need to have a clear go-to-market strategy in place before you can start drafting the plan.
The first step in creating an effective marketing plan is to identify and define your target market.
For instance, your fish farm can increase revenue streams, such as bulk fish sales to shops or restaurants and retail fish sales to customers. Additionally, you can also offer water management, pond equipment, and maintenance services.
Allowing consumers to rent a spot to fish for the day can also be another source of revenues for your fish farm.
Additionally, it's important to research competitors in the industry and look for areas of opportunity where you can differentiate yourself and stand out.
The staffing and equipment needs of a fish farm
Thinking about the sizable human resources, facilities and equipment needed for your fish farm is a key requirement before writing a business plan.
You will need to establish how much resources are allocated to staff salaries, the recruitment plans (hiring process), and any other operational expenses.
Additionally, you need to assess what investments the farm itself requires (hatchery building, concrete tanks, POS) and the cost required for each.
Once you have gathered all the information needed to create the business plan for your fish farm, you can start creating the financial forecast which we will discuss below.
What goes in the financial forecast for a fish farm?
The financial forecast for a fish farm includes four key components:
The Profit and Loss (P&L) statement shows all the money earned and spent by the fish farm.
The balance sheet lists all of the assets, liabilities and equity of the business.
The cash flow statement tracks money moving in and out of business.
Lastly, a sources & uses table explains where the funding for the project is coming from and how the funds will be used.
The projected P&L statement
The projected P&L statement for a fish farm tells us about how much money the fish farm anticipates making and how much it's expected to grow in future. It helps us know if running a fish farm is a good idea or not.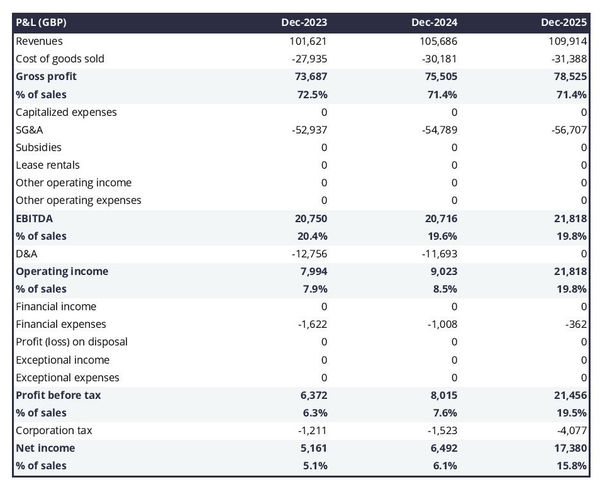 The projected balance sheet of your fish farm
The balance sheet shows the assets owned, liabilities, and net worth of your fish farm at a given point in time.
The balance sheet also allows stakeholders such as lenders, investors, or the business owner to gauge the solvency and liquidity of the farm.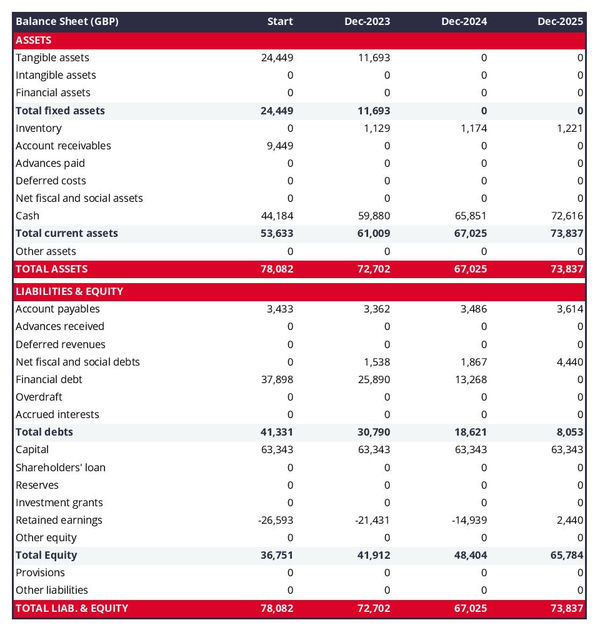 The projected cash flow statement
A projected cash flow statement for a fish farm shows how much money the farm expects to make and spend.
The cash flow statement enables you to assess if your fish farm has enough cash to meet current and future financial commitments or if it needs to raise additional capital from outside sources.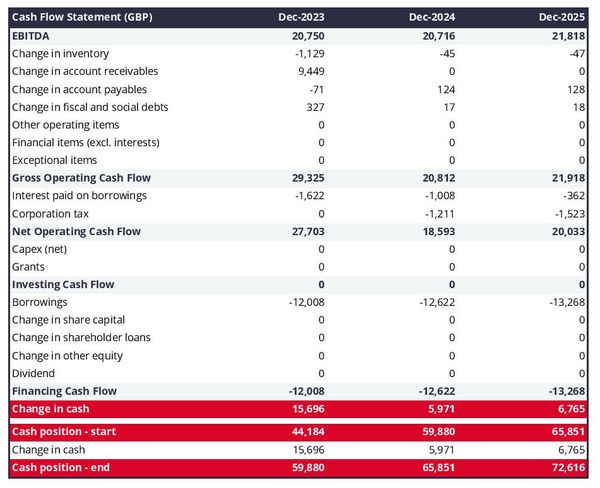 The initial financing plan
The initial financing plan (also called the source and uses table) shows how much financing is needed at the start of the business plan, where it will come from, and what it will be used for.

Now that we understand what the financial forecast looks like, let's take a look at what should be included in the written presentation of your fish farm business plan.
What goes in the written part of a fish farm business plan?
The written part of a fish farm plan is composed of 7 main sections:
The executive summary
The presentation of the company
The products and services section
The market research analysis
The strategy section
The operations section
The financial plan
Below, we go over each section in more detail.
1. The executive summary
The executive summary of a fish farm business plan should provide an overview of the business, market, and key financials.
When writing an executive summary, start by introducing the company and its mission. Give a brief overview of the market for fish farming, including current trends in your target market and industry in general.
Explain the key financials, such as startup costs and projected profitability over the next three to five years, so that investors and banks can understand what their money is going into.
Lastly, ensure you state how much financing you are trying to secure from banks or investors.
2. The presentation of the company
When it comes to the presentation of the company in a fish farm's business plan, three important parts must be addressed: structure and ownership, location, and management team.
The structure and ownership section should include details such as the legal form of the business entity (i.e. LLC or sole proprietorship), who the owners are, and how much each person owns and has invested.
This section should also include a presentation of the location and farm's facilities. When presenting on this topic, take into consideration factors such as access to transportation, local regulations and environmental concerns.
Finally, the management team of your fish farm should also be fully described here, including the owners, farm managers, and other important individuals who will be in charge of running the farm.
List an overview of the qualifications and experience related to fish farming as this is important to the stakeholders.
Potential investors and stakeholders should be confident that the business is being run by experienced professionals with the right expertise and resources to succeed.
3. The products and services section
The products and services section should provide detailed information about the type of fish being raised, how they will be raised, and what value-added products or services can be offered to customers.
This section should also include any unique features that may set this particular fish farming operation apart from others in the area.
For example, you can say you intend to use cutting-edge technology to monitor water quality or automate feeding to help boost the quality of fish.
It's crucial for banks and investors to have a clear understanding of the nature of the product or service they're considering, enabling them to make informed decisions
Therefore, business owners need to provide as much detail as possible when discussing their products and services in the business plan.
For instance, include any specialized techniques or processes used to raise specific types of fish or produce other value-added items such as smoked salmon or canned trout.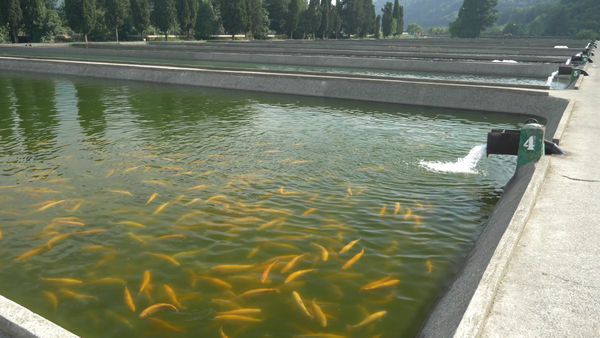 4. The market research analysis
In this section of your fish farm business plan, it is essential to include information about demographics and segmentation, target market, competition, barriers at entry and regulation.
This will give potential investors or banks an idea of how successful launching this business could be and that you understand the industry you are entering or already operating in.
Demographics and segmentation should provide details on the types of customers who would be interested in purchasing from the fish farm.
It should also explain what segments need to be targeted such as restaurants, retailers, food manufacturers, etc. This will help you maximize profits by focusing on customers with higher spending power or larger demand for the fish.
Furthermore, it is important to understand which competitors exist in the local area as well as any national players that may have an impact on sales.
Knowing these details can help identify areas where there are gaps in service that your fish farm can fill.
Lastly, understanding any regulatory requirements associated with operating a fish farm can ensure compliance with all applicable laws and regulations while making it about existing businesses as well.
5. The strategy section
When writing the strategy section of a business plan for their fish farm, a business owner should include information about competitive edge, pricing strategy, marketing plan, milestones and risks and mitigants.
A competitive edge is essential for any fish farm as it will help them stand out from competitors in the same industry.
For instance, you could indicate any discounts or promotions campaigns you have. Pricing strategy should also outline how the farm will remain profitable while attracting new customers by offering competitive prices.
Furthermore, a marketing plan needs to be outlined which details how you intend to keep existing customers and how to reach your target customers through various channels such as social media or promotional events, or reaching out to grocers and local restaurants.
Additionally, milestones should also be identified that mark major achievements in the coming years so that progress can easily be monitored by potential investors/banks.
Finally, risks and mitigants need to be discussed - this will allow investors/banks to understand what kind of risks are involved with investing in your fish farm but more importantly what measures have been taken (or can potentially take) to mitigate those risks if they occur.
6. The operations section
The operation section of a fish farm business plan should include information about the staffing team, their roles and the recruitment plan.
This includes how many staff members are needed, what their roles are, and how they will be recruited.
It is also important to include details about operating hours, as well as any key assets and intellectual property that the business needs to operate.
Finally, the business plan should provide details about any suppliers that the fish farm plans to work with.
By including this information in the operations section of a business plan, potential investors or lenders will be able to gain an understanding of how the fish farm intends to operate.
7. The presentation of the financial plan
The financial plan section is where you will present the financial forecast we mentioned earlier in this guide.
Once you have an understanding of the content that should be included in a fish farm business plan, it's time to look at the tools available for creating one.
What tool should I use to write my fish farm's business plan?
In this section, we will review three solutions for creating an effective business plan for a fish farm: using Word and Excel, hiring a consultant, and using online business planning software.
Create your fish farm's business plan using Word or Excel
Using Word or Excel to create a fish farm business plan has both advantages and disadvantages.
On the plus side, using these applications is cost-effective, as they typically come pre-loaded with most computers or devices.
However, there may be better choices than Excel for a fish farm owner as it is requires a proficient understanding of accounting and financial modelling to create accurate forecasts.
Additionally, a financier may not be convinced that a financial forecast created with Excel by a fish farm owner is reliable.
Lastly, using Word to write the business plan requires starting from a blank page and spending time formatting the document manually.
Hire a consultant to write your fish farm's business plan
Outsourcing the fish farm business plan to a consultant or accountant can be beneficial in some respects, as it allows for an experienced professional to craft the plan with their expertise and knowledge of the industry.
Consultants are well-versed in writing business plans, and accountants are adept at creating financial forecasts with accuracy.
However, there are some drawbacks to outsourcing the business plan that should be taken into consideration.
Outsourcing your fish farm business plan will come with a hefty price tag. You should budget a minimum of $2,000 (or £1,500) to get a business plan from a consultant. Plus, if there are revisions required after the first version of the business plan (this is often not included in the price).
Lastly, not all consultants are experts in fish farm business plans, and even if that's the case, they may not have the same level of expertise as an entrepreneur who is very familiar with their business. Accountants, in particular, may lack the industry expertise required to forecast sales accurately and challenge your assumptions.
Use an online business plan software for your fish farm's business plan
Another alternative is to use online business plan software.
There are several advantages to doing so:
You are guided through the writing process by detailed instructions and examples for each part of the plan
Already-written business plan templates can inspire you
You can easily make your financial forecast by letting the software take care of the financial calculations for you
You get a professional document, formatted and ready to be sent to your bank or investors
You can easily compare your forecast against your accounting data to make sure you are on track to deliver your plan or make adjustments if needed
If you're interested in using this type of solution, you can try our software for free by signing up here.
We hope that this article has helped you to better understand how to write the business plan for your fish farm. Do not hesitate to contact us if you still have questions!
Also on The Business Plan Shop
Know someone in the fish farming industry? Share this article with them!