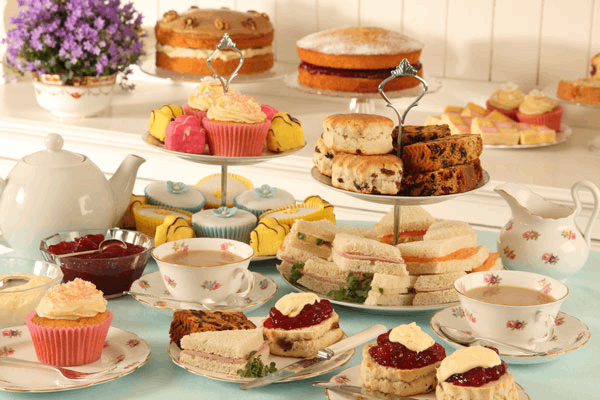 Has your love of tea and scones pushed you to open up your very own tea room, or at least consider it? Your passion will propel your business forward, for sure, but you won't get very far without answering some integral questions along the way - including the budget required to open your tea room and how profitable it's likely to be.
Whether you already own a tea room and want to improve its profitability or you're simply an aspiring tea room owner keen to give yourself the best possible shot at success, there are several ways to do so. Read on for our 6 ways to enhance the profitability of a tea room.
Tea room profitability tip #1: Limit your cost of raw materials
The first way in which you can increase the profitability of your tea room is by managing raw material expenses.
The lower your cost of production, the higher your profitability will be - so you'll need to pay special attention to how much you're paying for certain ingredients when stocking upon them.
To lower costs, carry out careful research on nearby suppliers to negotiate the best prices possible, and, if your stock room is big enough, consider buying non-perishable products in bulk.
You'll also need an efficient manufacturing process. Raw materials generally make up about 25% of the cost of a product, so when making scones or pastries, implement strict kitchen procedures to minimise your waste as much as possible.
Tea room profitability tip #2: Avoid overproduction
Throwing away unsold items is expensive, so it's important to limit overproduction as much as possible by anticipating which days of the week require more and less stock.
Your busiest weekdays and time of the year will depend on your location. A tea room located downtown won't have the same peak times or season as a tea room operating in a seaside resort, for example.
It's up to you to adjust your production according to where your tea room is based and who your customers are to enhance the profitability of your tea room.
Tea room profitability tip #3: Control payroll and overhead costs
Regulating your payroll costs is one very effective way to ensure tea room profitability. The very first thing to ensure is that you don't hire any more staff than is necessary.
For example, if you find that having just one waiter isn't enough, is it absolutely necessary to hire two? Wouldn't it make more sense to take on an extra part-time waiter over weekends when you're at full capacity?
You should also be wary not to pay your staff too much. The goal here is, of course, not to underpay your employees (besides from going against common decency), it also wouldn't make any financial sense as you would experience a high turnover rate and have to dedicate time to recruitment, but about avoiding paying salary costs that outweigh the tea room's daily revenue, which could land you in hot water.
Controlling overhead costs is another important factor in increasing tea room profitability. Utility and internet bills, as well as the overall up-keep and cleaning of the premises, are all significant items of expenditure.

To keep costs as low as possible, ask for quotes from several service providers so you can select the most pocket-friendly offers.
Tea room profitability tip #4: Find ways to attract customers during off-peak hours
Setting out a strong marketing plan is another great way to increase tea room profitability. The aim here is to develop a strategy that will enable you to optimise your fill rate and build customer loyalty.
To keep customers coming in during off-peak hours, you can organise events such as tea tastings or a monthly book club. Another idea is to set up workshops, including a vegan pastry baking demo.
To create a close relationship with customers, you can set up an online newsletter whereby you update them as to what's going on within the tea room (including any new teas or special deals on offer) and invite them to events. You could also set up a loyalty card scheme that gives any customers with more than 6 stamps a free drink.
Tea room profitability tip #5: Vamp up your menu
Switching up your menu is another key element to enhancing profitability for your team room.
Firstly, define the products that bring in the most revenue. It might make sense to set drink prices fairly low, for example, if you've observed that most customers purchase pastries (which have a much higher profit margin) once they're in the shop. If you offer a local pastry that no other tea rooms in the area have, it might also make sense to advertise that in your shop window so passers-by can see.
The second thing you can do here is to optimise the composition of your menu. This involves evaluating the margin of each product to ensure they're profitable and analysing the volumes sold. If there's one pastry in particular that sells well, then consider increasing its price and reducing the price of a less popular pastry with a high-profit margin to increase sales, or strip the less popular products from your menu altogether to limit the purchase of unnecessary ingredients.
Finally, adding a "drink and pastry" deal could be effective in raising the average spend per customer, as it can encourage those coming in to associate eating a sweet drink with their tea or coffee and therefore help with the tea room's profitability.
Tea room profitability tip #6: Create a financial forecast
To accurately assess the profitability of your tea room and gauge exactly what impact you can expect from the different adjustments you've made, you'll need to draw up a proper financial forecast.
To develop a financial forecast, you'll need to look, in detail, at each aspect of your business and allocate each one with a precise figure - how much will it cost to set up? What benefits can be expected, and by what date?
A complete financial forecast also makes it possible to check, on the one hand, whether the tea room is profitable and, on the other, whether it has enough cash to operate properly and meet its financial obligations (including loan repayments and equipment renewal). This will enable you to decipher whether your business is financially viable.
A financial forecast is fairly technical and may seem relatively difficult to construct, especially if you have never done it before and have little or no knowledge of accounting.
You can, however, simplify things for yourself by using online financial forecasting software like the one we offer.
Our tool will allow you to easily produce the entire financial forecast, including a projected income statement, cash flow statement, balance sheet, and break-even point calculation table.
All you have to do is let the software guide you through the ready-made tables in the financial forecast section, and follow the instructions given to fill in the blanks. Worried about making errors? No problem - the calculations are automated to prevent any mistakes. And if you have any questions, our support team will be happy to answer them.
You can try The Business Plan Shop software free of charge by signing up here.
Looking for inspiration as to how you should structure your business plan? You can also check out our business plan template for a tea room.

Now that our article is coming to an end, we hope it's given you a better understanding of how to enhance your tea room's profitability.
If you'd like advice on any of the points mentioned above or would like to speak to a member of our team about anything else related to optimising the profitability of a business, please don't hesitate to get in touch.
See also on The Business Plan Shop
Do you know someone who is thinking of opening their own tea room or who is already running their own business and might be interested in this article? Share it with just the click of a mouse!