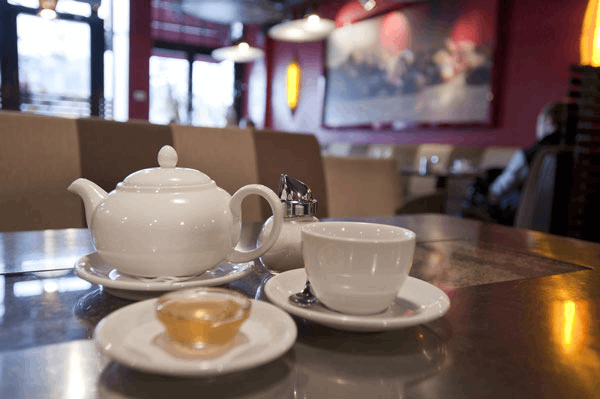 Do you love scones and clotted cream so much that you've decided to open your very own tea room? If so, you're in the right place.
In the guide below, we'll take you through everything you need to know about how to open a tea room. From carrying out market research to finding the right location and writing your business plan, read on to find out the essential steps involved in turning your entrepreneurial dream into a reality.
Carrying out market research to open a tea room
The very first step is to conduct market research for your tea room to verify that there is sufficient demand in the area you'd like to set up shop.
Carrying out market research for your tea room will enable you to not only better understand the expectations of your future customers, but also understand the most effective ways to communicate with them via your marketing plan and, finally, assess whether there's room on the market for your venture.
Besides the other nuggets of information we delve into in the bullet points below, market research should include up-to-date information on current trends in the tea room industry, an accurate profile of your potential customers (including age, gender and working status) and an in-depth analysis of your competition.
The purpose of collecting this data is to help you understand any challenges within the tea room industry that you'll have to address when you open your team room, as well as identifying the most promising market segments.
To conduct thorough market research, you'll need to answer the following questions:
What is the current state of the sector: is it growing or shrinking? What are the reasons for this?
Which concepts are working and which aren't so popular?
What challenges are currently facing tea room owners?
Franchised or independently-owned tea rooms: which are better?
On average, how many times a week or month do people visit tea rooms?
What are the peak and off-peak periods?
What is the average budget per customer?
How much of the turnover comes from take-away and on-site sales?
How much of the turnover comes from food? What about drinks?
Assessing the demand for tea rooms within your desired location
Once you've delved into the current state of the tea room market, it's time to check out the size of the market where you'd like to base your business and identify the best location to open your tea room.
To do so, ask yourself:
what the size of the local competition is
what the demographic characteristics are (age, gender, socio-professional categories, and disposable income)
what the most attractive locations in the area are (downtown, the financial district or close to a shopping centre or train station?)
Checking out the nearby competition
Now it's time to get to know your competition when you open your team room. Make sure you find out:
How many tea rooms already exist within the local market?
Where are they located?
What type of drinks do they offer?
Are they independent tea rooms or part of a chain?
How do they set their prices?
How much space do they have?
How many employees do they have?
What is their turnover?
What is their occupancy rate?
Once you've gathered this information, you should be able to determine whether the market is large enough to support the arrival of a new entrant (i.e., your tea room). You'll also be better placed to pick a popular concept when opening your tea room - given that you now know what other tea rooms are offering (or, more importantly, aren't offering), as well as locations that haven't yet been dominated by them.
Different types of tea rooms
The tea room market is divided into three main groups:
Independent tea rooms
Coffee shop chains: while chains that focus solely on tea or coffee are still rare, several branches offer a variety of hot drinks and snacks. Big players include American giant Starbucks, Costa Coffee, Caffe Nero and Mc Cafe.
Bakeries: increasingly more bakeries are selling bread, pastries and cakes, as well as offering a space to sit in, to satisfy the demand for a quick coffee and snack (or lunch option for office workers). This segment includes chains such as Greggs and Gails.
The rules and regulations of operating a tea room
There are several regulatory requirements you'll need to satisfy when opening a tea room.
When it comes to food safety, you'll have to register the premises with your local authority's environmental health service at least 28 days before you start trading.
It's important to note that this process doesn't cost any money. It simply involves allowing a local official to visit your premises to check out the space you'll be using to prepare food and ensure it's safe and hygienic. To register for a visit from your local authority, check out the UK Government website.
It's also mandatory for new business owners to draft a plan based on the Hazard Analysis and Critical Control Point (HACCP) Principles. This plan will ensure your food is safe from biological, chemical, and physical hazards, as well as allowing you to identify potential hazards.
You'll also be required to comply with any rules established by the Food Standards Agency - a government body providing guidelines on hygiene standards, sampling, labelling, and traceability before opening your tea room.
Choosing the concept to open your tea room
Once your market research has been carried out, you'll have to ask yourself, based on the information gathered, what kind of concept you plan on choosing to open your tea room.
You have several options, including setting up a traditional tea room or creating a themed tea room, such as a bookstore, where you hold a weekly book club meeting, poetry slams or book signings with writers.
Your choice of concept will depend on the customer segment you plan on targeting. Are they older members of the community who wish to enjoy a homemade pastry in a cosy setting, or young, urban dwellers who're chasing the next trendy concept?
You'll want to consider the type of atmosphere you want to create in your tea room. From retro, kitsch decorations, to a quintessentially British setting, the options are endless.
Next, it's time to decide whether you'd like to open your own independent tea room or join an established franchise. Although maintaining your independence will guarantee you creative autonomy, it's important to at least bear in mind the advantages of joining a chain, including strong ties to suppliers, assistance in staff training, and a pre-existing base of loyal customers.
In any case, it is essential to give your tea shop its own identity so you can truly stand out from the competition.
Scoping out a location to open your tea room
The location of a business is a key component of its success. Having a heavy influx of customers will ensure a decent turnover, while a deserted tea room is at risk of closing its doors prematurely.
A location with sufficient foot traffic (such as a busy shopping street) is essential so that your tea room is readily visible to passers-by. It's also important that the entrance is easily accessible, whether by car or public transport.
You can also opt to take over an existing tea room, enabling you to benefit from an already equipped space and an established base of loyal customers.
Choosing the legal structure of your tea room
The next step in opening up a tea room is choosing the legal structure of your business. Choosing your tea room's legal form is a vital step as it will impact:
How much your business is taxed
Your taxation at a personal level
Your responsibility for the company's debts in the event of bankruptcy
To help you make your choice, you can find more detailed information on the different legal forms available to you on the gov.uk guide for UK business owners and SBA guide for those of you based in the US.
The equipment and staffing requirements to open a tea room
Once you have decided on the concept for your tea room, its location and legal status, it's time to consider the initial investments required to open a tea room.
In terms of equipment, you'll need (among other things) tables and chairs to facilitate customers, crockery and tableware, a refrigerated display counter for scones, a cold room to store them and a till or two. If you decide to sell fresh pastries as well as teas, the cost of setting up your commercial space will be higher because you'll need additional equipment.
Kitting your space out in accordance with your chosen concept can be another important expense. The success of a tea room depends not only on the quality of the teas and pastries but also its overall ambience - so make sure you recruit friendly, qualified and efficient staff that can bond with customers over a mutual love of tea.
Opening a tea room also means having recourse to additional services, such as insurance, water, electricity, maintenance, etc.
You may also want to outsource shop maintenance to a cleaning company or delegate part of the administrative work to an accounting firm. To ensure you estimate these expenses as accurately as possible, get in touch with several professionals and ask them for quotes.
Setting out the marketing plan for a tea room
Creating a solid marketing plan to open your tea room is essential in making its name known to your local community and building customer loyalty.
In this section, you'll need to list the marketing actions you wish to implement (such as setting up a website or paying for a billboard ad) and how much each one costs. Make sure you don't neglect the power of free social media platforms such as Facebook and Instagram, as their impact is becoming increasingly important in the foodservice industry.
Writing the business plan for a tea room
Once all of the above steps have been completed, it's time to draft up the business plan to open your tea room.
The business plan is made up of two major components:
A financial forecast that aims to highlight the expected profitability of the business and the initial financing requirement.
A written part that presents, in detail, your project, the team, your business strategy, and your medium-term objectives.
The business plan is the document with which you will try to secure financing from your bank or potential investors, so you need to make it impeccable.
If you are not used to writing business plans, a good solution would be to use online business plan software.
There are several advantages to using specialized software:
You are guided through the writing process by detailed instructions and examples for each part of the plan.
You can be inspired by already written business plan templates
You can easily make your financial forecast by letting the software take care of the financial aspects for you.
You get a professional document, formatted and ready to be sent to your bank.
If you are interested in this type of solution, you can try our software for free by signing up here.
Securing funding to open a tea room
As soon as the business plan for your tea room has been written, the final step is to secure funding for it.
From state aid to bank loans and even crowdfunding, several funding options are at your disposal. To find out more about them, check out our guide on how to open a tea room with no money.
Some useful links for opening a tea room
Now you know everything there is to know about how to open a tea room. We hope you found this article useful. If you have any questions or queries at all please do not hesitate to contact our team.
Know someone who'd like to open a tea room and might be interested in this article? Share it with them!
See also on The Business Plan Shop: