How to write the business plan for a hotshot trucking company
Are you a startup looking to see if your business idea is viable and raise financing to get it off the ground? Or an existing hotshot trucking company looking to grow, raise financing or improve your profitability? If so, this guide is for you.
In this in-depth guide, we will discuss why writing a business plan for a hotshot trucking company is important, what information is needed to write one and what it should contain.
We will also provide some helpful tools that can be used when writing your hotshot trucking company's business plan. So let's get started!
Why write a business plan for a hotshot trucking company?
There are several reasons to write a hotshot trucking business plan. Below, we cover some of the most important ones!
To draw up a roadmap
Writing a business plan for a hotshot trucking company is essential to the success of your venture.
It forces you to think strategically and sets objectives for the next 3-5 years, providing a roadmap that can be used to measure progress.
A well-crafted business plan can help identify key areas where improvements are needed and provide clarity on what needs to be done for the company's vision to become reality.
With an organized plan in place, it becomes possible for hotshot trucking companies to track their performance over time and make necessary adjustments accordingly.
To get and maintain visibility on future financial performance
It also provides you with an opportunity to regularly compare your financial performance against what was initially planned and make necessary adjustments for the future.
This means that your business can stay on track financially while making changes as needed based on changing market conditions or other factors that may impact profitability and cash flows.
A good business plan will provide an invaluable roadmap for any hotshot trucking firm looking to expand operations and grow into a successful enterprise.
To secure financing
Before you can even begin to seek financing from an equity investor, you need to have a business plan that outlines your goals and strategies for the future of your business.
Your business plan should demonstrate potential for healthy growth, profitability, and cash generation to convince potential investors that their investment will be worthwhile.
Investors will also use your financial forecast to calculate key ratios and metrics such as return on equity.
Let's now focus on what data is required in order to create a comprehensive business plan for your hotshot trucking operation.
Information needed to create a business plan for a hotshot trucking company
Writing a hotshot trucking business plan requires research so that you can project sales, investments and cost accurately in your financial forecast.
In this section, we cover three key pieces of information you should gather before you can start drafting your plan.
Carrying out market research for a hotshot trucking company
Carrying out market research is an essential step when writing a business plan for a hotshot trucking company.
Market research helps to identify the needs of potential customers and allows you to accurately forecast your revenues.
By understanding the current market trends, hotshot truckers like you can create strategies that will help them gain an edge over competitors and maximize revenues.
This can also provide insights into how to price services competitively as well as what types of sales and marketing initiatives are most effective in reaching target audiences.
Developing the sales and marketing plan for a hotshot trucking company
Creating an effective sales and marketing plan for a hotshot trucking company is a critical component of the business plan, as it will lay out how much money and human resources needs to be allocated towards these activities.
To ensure that all financial forecasts are accurate, the budget for these efforts must be properly calculated and accounted for.
The staffing and equipment needs of a hotshot trucking company
Creating a realistic financial forecast requires a thorough understanding of all the investments needed to build and operate the company.
It is vital to assess the associated staffing costs of running a hotshot trucking company, such as employee salaries, wages and health benefits. Also, think about the equipment needed (vehicles, office, etc.).
Proper planning can help ensure that the business is set up for success in the long term.
Now that we have the information needed to create a business plan for a hotshot trucking company, it is time to start building an accurate financial forecast.
How to build a financial forecast for a hotshot trucking company?
A financial forecast is used to estimate how much money your hotshot trucking company will make over time.
This requires looking at key factors such as start-up costs, expenses, revenue projections, and more.
With this in mind, let's take a look at what goes into making an accurate financial forecast for your hotshot trucking company.
The projected P&L statement
A projected P&L statement for a hotshot trucking company is a plan that shows how much money the company might make and how much it will grow in the future.
It helps stakeholders understand how successful the company could be.
The projected balance sheet of your hotshot trucking company
A balance sheet shows what your business owns (assets), what it owes (liabilities), and what has been invested by the owners (equity).
Looking at a hotshot trucking balance sheet enables investors, lenders, and business owners assess the capital structure of the business.
One key aspect of this analysis is achieved by calculating key liquidity (short-term) and solvability (long-term) ratios to understand if the company can pay its debts as they fall due.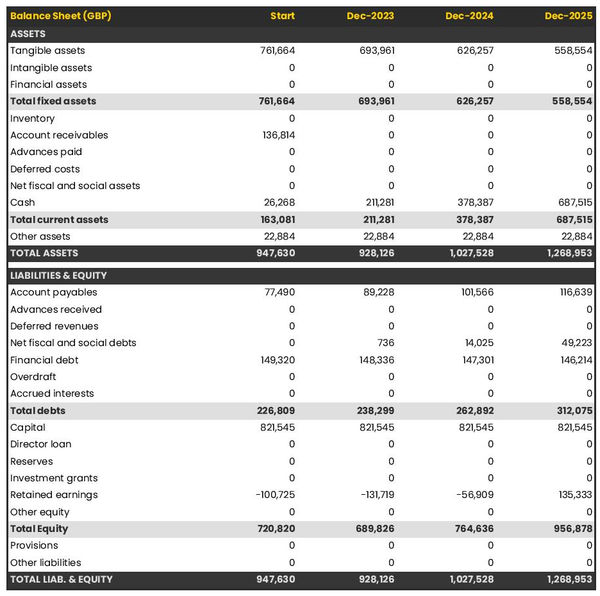 The projected cash flow statement
A projected cash flow statement is a document used to plan out how much cash a hotshot trucking company will generate (inflows) and spend over a certain period (outflows).
This document shows the expected cash flows from the operations, investments and other financial activities of the trucking company.
Having this information can help you decide how much money your business needs to save for future expenses or investments, as well as anticipate potential cash shortfalls.
The initial financing plan
The initial financing plan (also called the sources and uses table) shows the sums that the trucking company needs to start and how they will be used.
It is important to have this so that you know how much capital is needed to deliver the business plan and what it will be used for.

Now that you have a better understanding of the financial forecast for your hotshot trucking company, it's time to dive into the written part of your business plan.
This section will provide the context and information needed to assess if the financial forecast is accurate and relevant.
The written part of a hotshot trucking business plan
This guide will provide an in-depth look into the seven key components of a successful hotshot trucking company business plan, covering everything from the executive summary to the financial plan!
1. The executive summary
The executive summary of the hotshot trucking company plan should provide an overview of the business, the market in which it is operating, and its key financials.
The business overview usually includes a description of the services provided by the company, its goals, and how it intends to achieve them.
This is followed by a market overview which explains what the target market for the company is, and who its key competitors are.
Then come the key financials part where you should outline any investments needed to fund operations and expected returns from these investments, in terms of revenue, EBITDA and profitability.
Finally, you should include a clear statement of what the company is seeking from the reader of the business plan.
2. The presentation of the company
The company section of a hotshot trucking business plan includes the following parts: structure and ownership, location, and management team.
The structure & ownership must be addressed in detail, it is crucial to explain who owns the business, how it is organized from a legal standpoint, and who may be a partner or investor.
The location is also important for a hotshot trucking business. You should include detailed information about the physical location(s) of your operations, and explain what your serviceable area is.
Lastly, the management team should be identified in detail to ensure that the business has qualified individuals who can make sound decisions for its future. A brief overview of the team's experience and qualifications will demonstrate their competence and provide confidence to potential investors.
3. The products and services section
When writing the products and services section of a business plan for a hotshot trucking company, it is important to include detailed information about the types of transportation services offered.
Be sure to clearly outline all the different types of goods and materials that can be transported, such as hazardous materials, oversize loads, and refrigerated items for example.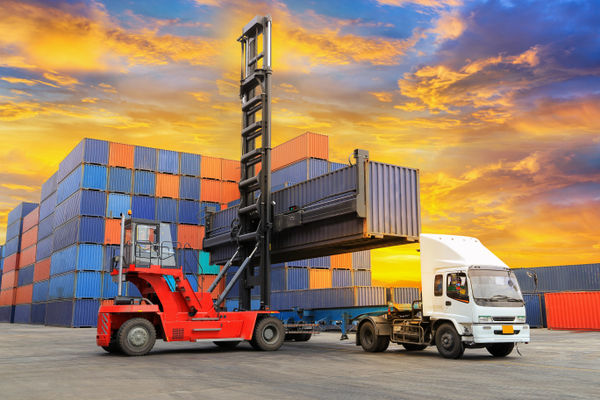 4. The market analysis
When presenting the conclusion of your market analysis in a business plan, you should include several key elements. These include demographics and segmentation, target market, competition, barriers to entry, and regulation.
The demographics and segmentation section explains all of the points listed in the market overview of the executive summary in greater detail, whilst also adding further statistics and facts.
Regarding the target market, it is important to include information about who the target customers are. This should include details on the industries, the size of the businesses, etc.
For the competition section, you should state the number of hotshot trucking businesses in the local area and other indirect competitors who might compromise your business' market share. Explain how you plan to differentiate yourself from these and offer something that they cannot.
Additionally, a description of any potential regulations or entry barriers that may affect the industry should be included to demonstrate an understanding of the sector.
5. The strategy section
When crafting the strategy section for a hotshot trucking business plan, it is important to focus on five key elements:
Competitive advantage
Pricing
Marketing plan
Milestones
Risks and mitigants
The competitive edge part should focus on what makes your hotshot trucking service unique in comparison to competitors. It could be speed, affordability, or customer service offerings that sets you apart from other companies.
The pricing strategy section should explain how you set your prices taking into consideration both customers needs and willingness to pay, and profitability targets.
The sales and marketing plan will explain how you intend to reach potential customers and capture market share.
The milestones section should establish clear goals so that progress can be measured over time and goals adjusted accordingly. You might decide that your hotshot trucking company needs to reach its break-even level of output within 12 months of launching.
Finally, potential risks associated with your business plan should also be addressed to identify any possible threats and develop strategies to mitigate those risks if they arise.
6. The operations section
The operations section of your hotshot trucking business plan should include a personnel plan and information about key assets and suppliers.
The staffing team should include a breakdown of the key personnel and job functions required to manage the business.
It should also provide details on how these roles will be filled, including an overview of the recruitment process (for example, through the use of a marketing agency), salary information, and a timeline for hiring staff.
Explain how your hotshot trucking company operates, and if emergency or urgent services are available (out-of-hours for example).
The business plan should also include a list of the key assets necessary to operate the business such as vehicles and equipment.
Finally, the operations section should provide an overview of the suppliers and vendors with whom the company plans to do business. This should include information such as terms of payment, services offered, and contact information.
By providing detailed and accurate information about the operations structure and activities of your hotshot trucking company in a comprehensive business plan, investors will be more likely to view the business favourably and invest in its success.
7. The presentation of the financial plan
Now that you have a better understanding of what needs to be included in a hotshot trucking company business plan, it's time to talk about the tools and resources available for creating one.
What tool should I use to write my hotshot trucking company's business plan?
With the right tools and resources at your disposal, you can make sure that your business plan is comprehensive, organized, and well-written.
In this section, we will review three solutions for creating a business plan for a hotshot trucking company: using Word and Excel, hiring a consultant to write the plan, and using online business plan software.
Create your hotshot trucking company's business plan using Word or Excel
Using Excel and Word to create a hotshot trucking business plan has both advantages and disadvantages.
The primary advantage of using these programs is that they are inexpensive when compared to other business planning solutions.
However, it is difficult for business owners to create an accurate financial forecast on Excel without making mistakes unless they are an expert in accounting and financial modelling.
Once your plan is complete, you'll also need to format the Word document, which can be long and tedious.
Overall, while Excel and Word are inexpensive, they may not be the best solution for creating a hotshot trucking company business plan due to their potential inaccuracies, difficulty in updating data, and long formatting times.
Hire a consultant to write your hotshot trucking company's business plan
Outsourcing to a consultant or accountant can be an attractive solution for those who of you don't have the time or knowledge to create a plan themselves.
Consultants are experienced in writing business plans and accountants are good at creating accurate financial forecasts. This can help entrepreneurs save time and ensure that their plans are accurate and professional.
However, entrepreneurs may not have as much control over the final product when they outsource it versus if they had written it themselves.
It's also quite expensive to hire either of the profiles, with fees generally starting at around £1.5k (US$2.0k) for a complete business plan, more if you need to make changes after the initial version (which happens frequently after the initial meetings with lenders).
Use an online business plan software for your hotshot trucking company's business plan
If you're not used to writing business plans, another good solution would be to use our online business plan software.
There are several advantages to using specialized software:
You are guided through the writing process by detailed instructions and examples for each part of the plan
You can be inspired by already-written business plan templates
You can easily make your financial forecast by letting the software take care of the financial calculations for you
You get a professional document, formatted and ready to be sent to your bank
You can easily compare your forecast against your accounting data to make sure you are on track to deliver your plan, or make adjustments if needed
If you are interested in this type of solution, you can try our software for free by signing up to The Business Plan Shop today.
We hope that this article has helped you to better understand how to write the business plan for your hotshot trucking company. Do not hesitate to contact us if you still have questions!
Also on The Business Plan Shop
Know someone in the hotshot trucking industry? Share this article with them!