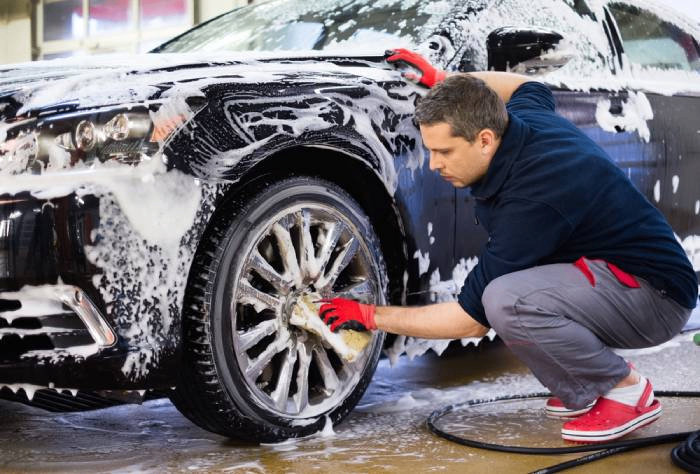 If you've long been interested in cars and keeping them in tip-top condition, you may have decided to open your very own car wash business.
Before diving headfirst into launching your car wash, however, you're gonna need a solid business plan.
To help you through this process, we've written the guide below to offer our top tips to help you write your car wash business plan.
Why write a business plan for a car wash?
The business plan for a car wash enables an entrepreneur to examine their business in detail, evaluate the amount of funding needed to get it up and running and assess its expected profitability.
It also serves as a roadmap for the business' first three years of operation. As your car wash business moves through its first throes of operation, you can use the business plan to track whether it's flourishing as it should, by comparing the figures estimated in your initial forecasts.
A car wash business plan will also be specifically requested by any bank or investor you decide to approach, so drafting one up is a mandatory step when it comes to securing financing.
So what does a car wash business plan look like? In a simplified way, it consists of two main parts:
A financial forecast highlighting the expected financial performance over the next 3 years and the potential for profitability
A written part that presents, in detail, your project, the team, your business strategy, and your medium-term objectives.
Information needed to create a business plan for a car wash
Carrying out market research for a car wash
Conducting market research for a car wash will be the very first step of creating your business.
Market research has three objectives:
To enable you to verify whether there's an unmet demand in the area you'd like to set up your car wash
To help you come up with a strong business concept to meet this demand
To assist you in the collection of data required to estimate your car wash's sales potential
With the population growing more environmentally conscious, car wash's are evolving - with an increasing number of waterless car washes in the UK.
There is still, however, a strong presence of car washes that use rollers and pressure jets. The challenge for you is to choose a concept that meets the desires of your target customers.
Thanks to market research, you'll be able to understand not only what your customers need, but also how often they go to a car wash and their favourite type of washing solution.
For this, you'll have to ask yourself a number of questions:
How many times do your customers, on average, wash their car per year?
Who prefers which type of wash: roller, hand wash or pressure washer?
What is the average budget per customer?
By answering these questions as you go along, you'll be able to make a compelling case that there's space on the market for your car wash. You should also consider analysing trends within the car wash industry to get a grasp on the different types of services you can offer customers.
Next, you need to check out the competition around you (who they are, what services they offer and how much they're making), and get in touch with car wash owners in the area to get a ballpark figure of the number of customers they welcome each year.
When it comes to the car wash business, leave no stone unturned. If you want to convince the investor reading your business plan that your car wash is worth pumping money into, your market research needs to be precise and detailed.
Developing the marketing plan for a car wash
Once the market research has been carried out, it's time to focus on your marketing strategy.
First, take a look at the communication methods used by your competition to attract and retain customers, whether that includes disrupting the local radio's airwaves with a jingle about their services or posting about car wash discounts on their Instagram feed.
Doing so will give you a better idea of what strategy you can adopt to promote your car wash. Even if your location is your biggest asset, you'll still need to establish a few marketing actions to turn these circumstantial customers into regulars.
Advertising online or in your local newspaper, creating loyalty cards or coming up with promotional offers are all excellent ways to do so. The most important thing, as far as the car wash business plan is concerned, is that you have a clear idea of how much money you can afford to spend on each action, as well as what you can expect back in terms of sales.
The staffing and equipment needs of a car wash
Last but not least, before writing the business business plan for your car wash you'll need to take note of the staffing requirements, as well as the equipment needed to get it up and running.
Both of these factors will depend on the concept you choose. If you decide to launch an automatic car wash with rollers, for example, you'll be able to operate without paying for on-site employees, but will have significant investments when it comes to equipment and renovation work.
Adversely, opening a car wash that offers only hand washing will require very little investment but have pretty hefty staffing requirements.
What is the financial forecast for a car wash?
Establishing the financial forecast is an integral step in the development of your car wash's business plan.
It is composed of 4 main tables, highlighting different financial aspects of the company:
Projected P&L statement
Projected balance sheet
Projected cash flow statement
Initial financing plan
The projected P&L statement
The profit and loss statement, which starts with the turnover, allows you to evaluate the growth, evolution of your car wash's cost structure, and its expected profitability over the coming years.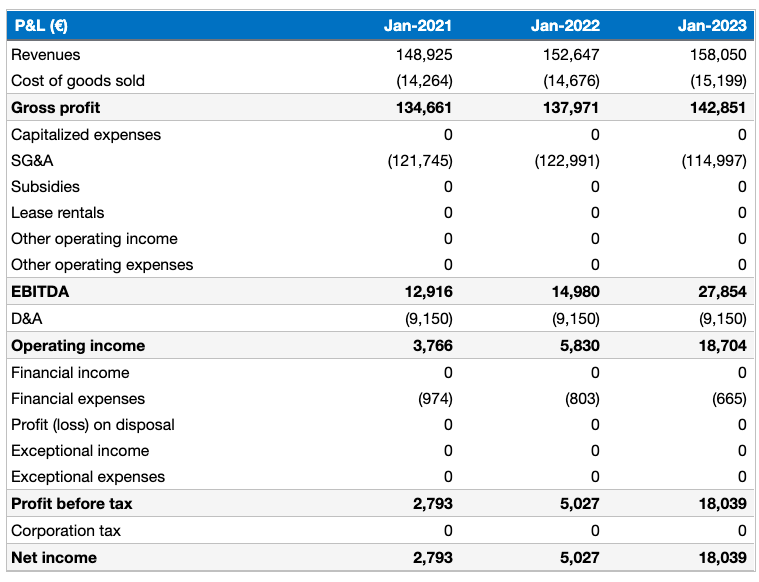 The projected balance sheet of your car wash
This table shows the value of the company's assets at a given time, and, in particular, the value of the assets (what the company owns) and liabilities (what the company owes to suppliers, lenders, etc).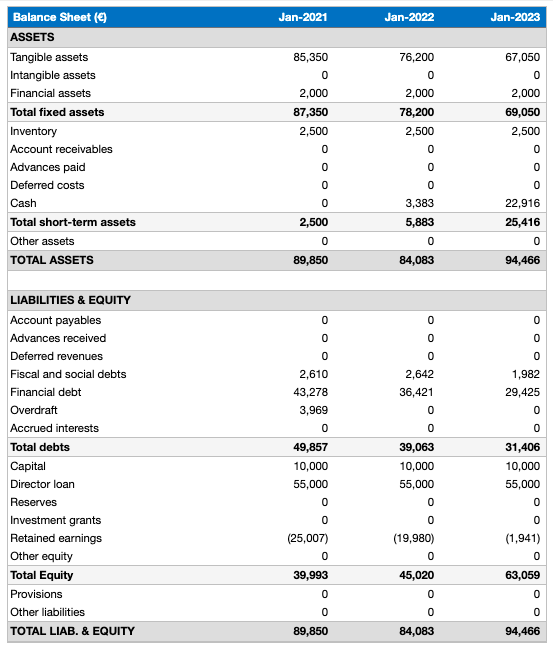 The projected cash flow statement
With the help of a projected cash flow statement, you will see how much cash is generated by your car wash, where it comes from, and how it is used, whether it's to repay its loans or regularly renew equipment.
You'll also be able to see if you have enough cash to fulfil these obligations, or even if you might soon have enough cash to expand your business by opening more car washes.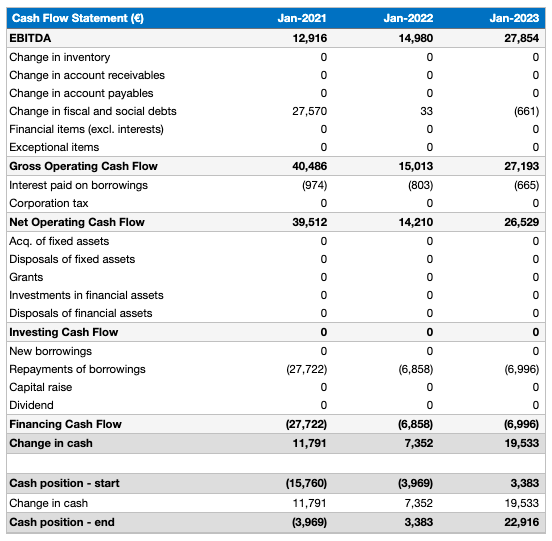 The initial financing plan
This section of your car wash's financial forecast gives your bank or investor a quick overview of the resources needed to launch your business and their costs - as well as the personal contribution you plan to make.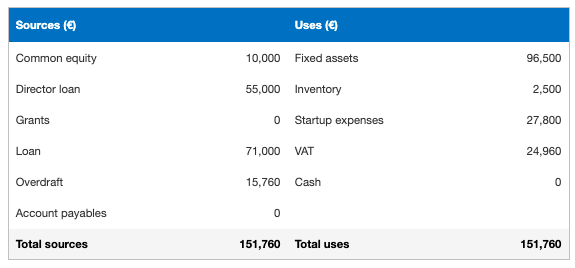 The editorial part of a car wash business plan
Once the financial forecast of your car wash has been set up, you have the opportunity to put these figures and estimations into context by delving into the written part of your car wash business plan.
The editorial section of your business plan is just as important as the financial forecast because it presents each aspect of the business in detail and proves to investors that you've thought carefully about the risks associated with it.
It's broken down into 6 sections, which we have summarised below:
The executive summary
Think of this section as the equivalent of a cover letter for your car wash business plan. The aim here is to introduce your project to investors in as engaging and concise a manner as possible, encouraging them to read on and learn more about your exciting venture.
Company
This part contains all the administrative information about your company, including the business partner's and their roles, the legal status of the company and its location.
Products and services
Whether you've decided to set up an automatic car wash bay or decided to go for hand washing, you'll use this section to explain the services offered by your car wash.
Market research
It's within this section of your car wash business plan that you'll present the results of the market research we mentioned at the beginning of this article. The objective here is to demonstrate, through knowledge of the national and local market, that there is indeed a viable business opportunity for a new car wash in the area you've chosen.
Strategy
In this part, you'll reveal three key plans:
Your sales strategy - the prices you'll set
Your marketing strategy - the actions you'll take to attract customers and build customer loyalty
Your risk management strategy - how you'll minimise the risks related to your business
Operations
In this section, you will give the reader an idea of the day-to-day operation of your car wash, including your opening hours, members of staff (if any) and the suppliers used, as well as how often you'll renew the stock.
The financial plan
Like we said, numbers need context. In this section, you'll illustrate the various financial tables and the assumptions you've made for them.
What tool should I use to write my car wash business plan?
Writing a business plan for a car wash can get pretty complicated, especially if you've never done it before. There are, however, several options at your disposal to help you draft one up:
Create your car wash business plan using Word or Excel
Using Excel and Word to create your car wash business plan is the cheapest solution, but not the most efficient.
While these software programs can be useful, they require that the user has good computer skills and a solid background in accounting to avoid mistakes.
Hire a consultant to write your car wash's business plan
Hiring a chartered accountant or consultant to take care of the financial part of your business is a good way to avoid errors.
However, the fees are generally quite expensive: budget around £1.5k ($2.0k) for a complete business plan, more if you need to make changes after the initial version (which happens frequently after the initial meetings with lenders).
If you decide to hire a consultant or accountant, remember to check what's included in the service - are they developing a complete business plan or just doing the financial forecast? And are you will to pay extra for them to make changes, if necessary?
Use an online business plan software for your car wash's business plan
Another alternative is to use online business plan software. There are several advantages to using specialised software:
You are guided through the writing process by detailed instructions and examples for each part of the plan
You can be inspired by already written business plan templates
You can easily make your financial forecast by letting the software take care of the financial calculations for you
You get a professional document, formatted and ready to be sent to your bank.
If you're interested in using this type of solution, you can try our software for free by signing up here.
We hope that this article has helped you to better understand how to write the business plan for a car wash. If you still have questions, do not hesitate to contact us for any questions related to the creation of a car wash.

Also on The Business Plan Shop
Know someone who'd like to open a car wash? Share this article with the click of a mouse!