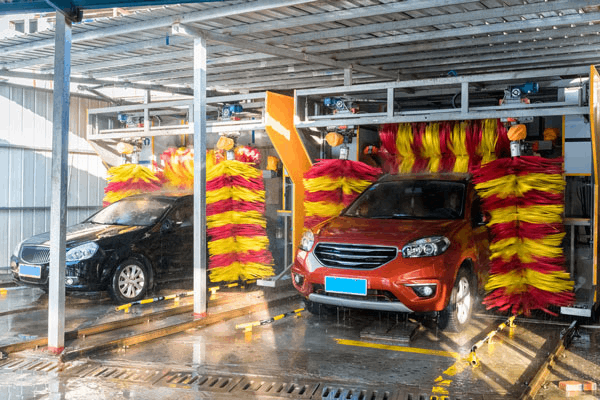 Do you love cars, and have long dreamt of opening your very own car wash business? You probably have a lot of questions in mind, including how to create a functioning car cleaning business and the different steps involved in developing its structure.
If that's the case, then you're in the right place. To help you along the way, we've created the guide below. From conducting market research to writing your business plan, here's everything you need to know about how to open a car wash destined for success.
Conducting market research to open a car wash
Before diving headfirst into opening a car wash, it's essential to carry out research on the car wash market.
The objective of market research is to enable you to verify that your business can be commercially viable. This research will also go some way in helping you better understand the expectations of your future customers and develop your future marketing strategy.
In this case, your market research should include gathering data on the hottest trends in the car wash sector, your competition (aka car washes located close by), and familiarising yourself with the needs and desires of your potential customers.
An overview of the car wash industry
Market research for a car wash must always begin with a thorough investigation of consumer habits and current industry trends.
The purpose of this section is to help you understand what challenges you'll need to address and identify the most promising areas of the market to hone in on.
In particular, ask yourself the following questions:
Is the sector currently growing or shrinking, and why?
What are the challenges currently facing those within the car industry?
Which concepts work best - for example, automatic, manual, or waterless washing?
Who visits car washes - taxi drivers, bus drivers or individuals?
How many times a year on average do people visit a car wash?
What are the peak and off-peak periods?
On average, how much do customers spend per car wash service?
What is the turnover of the car wash sector?
Assessing demand in the area where your car wash is located
Once you've gained a better understanding of the sector, it's time to check out the commercial potential of the area in which you'd like to open your car wash.
The goal here is to assess the size of the local market and identify potential locations for your car wash.
You should ask yourself:
How many drivers live or work in the area?
What are the town or city's most attractive locations - shopping centres, car garages, or office areas?
Checking out the competition in your area
Now you need to get to know the car washes already established on the market. Find out:
How many car washes are already present
Where they're located
Whether they're independent shops or affiliated with an established chain
What their pricing policies are
Whether they offer other services (such as car maintenance)
What their turnover is
Once these questions have been answered, you can decide whether the market is large enough to support the arrival of a new player. You'll also be able to determine the best locations for opening a new car wash and get a good idea of which concepts work or not.
The UK car wash market
Keeping cars clean is a big business in the UK, with the car wash industry worth an estimated £1 billion each year.
The industry has, however, come under fire in recent years. This is due to concerns raised by the Environmental Audit Committee regarding the exploitation of workers, cleaning agents causing chemical burns to workers and untreated wash water having toxic effects on animal and plant life.
In response to these concerns, the industry announced a new code of practice in which car wash firms must sign up to a set of employee and chemical-handling standards, and motorists are encouraged to look out for business' that bear a Responsible Car Wash Scheme logo.
On the environmental side, some car wash chains (including Dropless and Wash Doctors) use eco-friendly chemicals, as well as a service whereby they clean customer's cars for them from the comfort of their very own homes.
This is compounded by a rise of waterless car wash businesses that specialise in smart, eco-friendly car cleaning technology.
A customer's choice of car wash depends, first and foremost, on its proximity. According to Media PME, the second criterion is the price.
Open your car wash with the right concept
Once your market research has been carried out, the next step to open a car wash is to develop your concept. This could be anything from offering a general car washing service for local residents or deciding to specialise in car cleaning for company car fleets or even industrial trucks.
You could also toy with the idea of setting up a deep clean service for car interiors or providing a discounted top-up service to encourage customers to come back. Then you need to decide your method for washing, whether it be waterless, roller or high pressure.
Not only must the services you offer align with your target customer's wishes and top trends within the market, but you should also ensure you're setting yourself apart from the competition in some way. You could do so by developing an app or website that allows mobile bookings or selling professional cleaning products like windshield washer.
Should I go independent or join a franchise?
When deciding the type of structure you want your business to take, you can go with one of two options: opening your own independent car wash business or joining an established car wash chain.
Joining an existing franchise is an interesting alternative on many levels. First of all, you will be able to rely on the skills and know-how of an already established brand. Of course, in return, you will have to pay royalties and you will certainly lose part of your independence, but the long-term benefits will more than likely cancel out these losses.
If your market research has allowed you to identify a gap in the market, such as a lack of cleaning services for soft-top cars, and you think offering such a service might gain you a host of new customers, it might be better to start as an independent business.
It is up to you to weigh up the pros and cons of opening either an independent or franchised car wash by carefully considering the advantages and disadvantages.
Finding the right location to open your car wash
As with any other business, the location of your car wash is crucial. A good location will guarantee a heavy influx of customers and, subsequently, a hefty turnover.
Even if your services are top quality and your prices are competitive, a bad location will severely limit the number of visitors you welcome. Bear in mind that proximity is the number one priority for motorists when selecting their ideal car wash.
So ensure that whichever area you choose, it's busy. This means moving away from more residential parts to commercial or business areas - where most of your customers are likely to be based.
Also, ensure you avoid setting up shop in an area where there's already a lot of competition.
Deciding the legal form for your car wash
Every new business must be defined by legal form. Much more than a simple administrative formality, this is an essential step for anyone starting a business.
Indeed, the legal form of your business will have a direct impact on the finances of the owners, i.e. whether they're self-employed or employees, as well as how much the business is taxed.
To help you make your choice, you can find more detailed information on the different legal statuses available to you on the gov.uk guide for UK business owners. For those based in the US, check out the SBA guide.
The staff and equipment requirements to open a car wash
Listing the equipment and staff needs for the opening and, subsequently, the proper functioning of your car wash is the next key step. This estimate will serve as the basis for your financial forecast, which is essential in assessing the viability of your business before it's launched.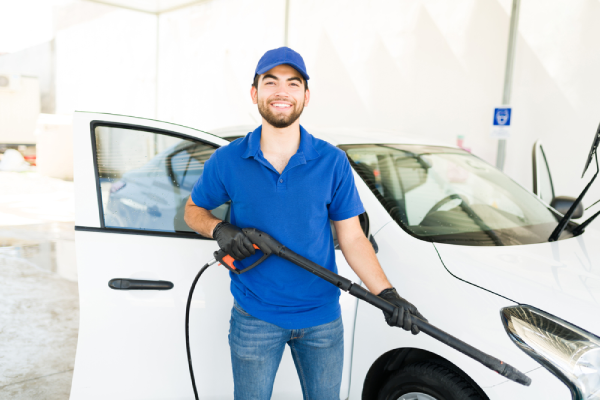 Investments needed to launch a car wash
When launching a car wash, you can decide to either take over an existing car wash business or acquire a site in which you'll have to build your car wash. The latter means having to carry out renovation work to install the car wash station, as well as the equipment needed (such as a high-pressure jet and rollers) and a wastewater recycling system.
Don't forget to also consider the purchase of maintenance products such as windshield washer, sponges, and cleaning products. Although individually these items aren't too expensive, the cost of frequently replacing them will certainly add up.
Recruiting staff for a car wash
The low staffing requirement is a major advantage of setting up a car wash business.
To ensure you're providing the best possible quality of service, it's important you hire at least one or two people - especially those with experience in car maintenance so they can run weekly checks on the equipment.
If you decide to offer a cleaning service for car interiors or hand washing, this will of course mean needing to hire a few more staff members, the number of which will depend on the size of your car wash.
Additional services required to open a car wash
When putting together your financial forecast, make sure to include all the outsourced services you need - including the cost of insuring your business.
You might also want to hire a professional accounting firm to manage your accounts, or a management company to take care of your administrative duties. As well as this, you might decide to enlist the help of a marketing agency to advertise the launch of your car wash.
Remember to ask for quotes from several professionals for all of these services, to ensure you get the best service in terms of value for money.

Setting out the marketing plan for a car wash
Offering a good service at a decent price will not be enough to attract and retain customers. You may be the best at cleaning cars, but if people don't know about your business, you'll eventually be out of business altogether.
That's why, before you've even opening your car wash business, setting out a marketing plan is essential. Your marketing plan will identify all the actions taken to get your name out there and ensure your customers come back for more.
You could start by handing out flyers in the street. This is a great way to introduce your business to your local community, as well as highlighting the services and products you offer.
Then it's time to think about how you can gain regular customers. Car wash services are infrequent - so the success of your business depends on them coming back. One way to build customer loyalty is by offering a membership card with benefits.
You could also look at setting up special business rates for taxi drivers, car rental companies or driving schools to ensure they stick with you and only you when it comes to cleaning their car.
Creating a website is an effective way of communicating special offers and updates to your customers - as well as your opening hours and the services you offer. Getting referenced on Google Maps and local city map apps is also a must.
These are only a few ideas, so it's up to identify the most promising options. Balance the cost and expected results of each action to determine which ones are likely to be the most effective.

The business plan of a car wash
Once you have completed all of the steps detailed above, you can then start putting together the business plan for your car wash.
Writing a business plan is an essential step to verify that your venture is financially viable and therefore worthy of funding.
The business plan is made up of two main sections:
A financial forecast that aims to highlight the expected profitability of the project and the initial financing required.
A written part that presents, in detail, your project, the team, your business strategy, and your medium-term objectives.
The business plan is the document with which you will try to secure funding from your bank or potential investors. So you need to make it impeccable.
If you are not used to writing business plans, a good solution would be to use online business plan software.
There are several advantages to using specialized business planning software:
You are guided through the writing process by detailed instructions and examples for each part of the plan.
You can be inspired by already written business plan templates
You can easily make your financial forecast by letting the software take care of the financial aspects for you.
You get a professional document, formatted and ready to be sent to your bank.
If you are interested in this type of solution, you can try our software for free by clicking here.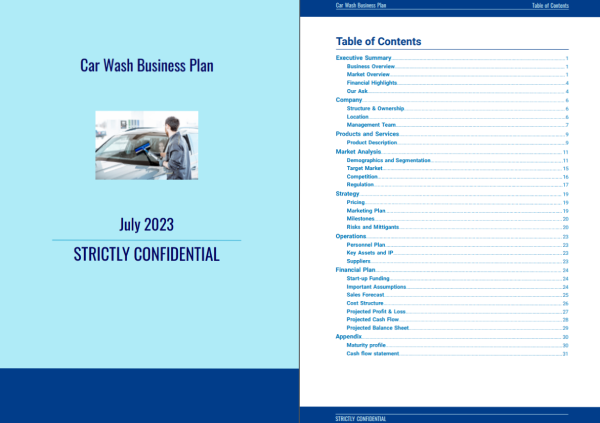 Securing funding to launch a car wash
Opening a car wash business requires a substantial financial investment (according to Point Franchise, in and around £25,000 in fact)
There are multiple sources of financing that can be used to finance the opening of your car wash, which you can also combine if necessary.
First of all, ask yourself how much of your own money you can devote to this project. Contributing equity (even if the contribution is modest) is essential to convincing investors and banks to support your venture.
You can then turn to the banks to request help in financing some of the investments. Before committing yourself to one bank, do some research and compare offers to ensure you choose the best deal for you.
Another solution is to approach private investors, your relatives, or business angels in your area, and enable them to invest in your company.
Finally, don't neglect state aid available to startups. Whether it comes from the State or local authorities, you may be able to benefit from interest-free loans, tax credits, etc.
Useful links to open a car wash
Now that our article is coming to an end, we hope it has given you a better understanding of how to open a car wash. If after reading this, you still have a few questions about starting or taking over a business, please do not hesitate to contact us.
Also on The Business Plan Shop
Has this article made you think of someone you know who wants to open their own car wash? Share it with just the click of a mouse!