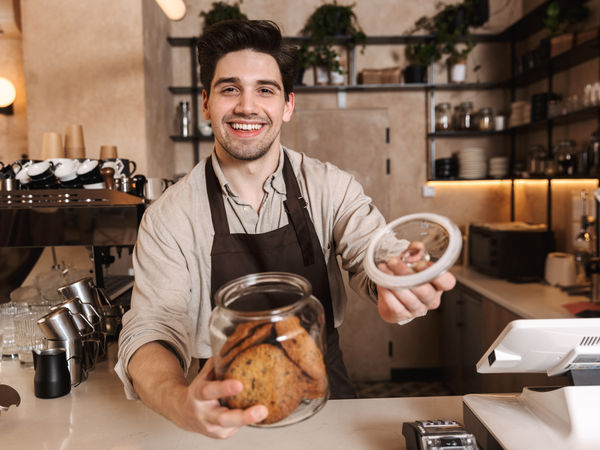 Writing a business plan for a cookie shop can be a daunting task, especially for those just starting out. But with the right guidance and resources, it doesn't have to be!
This in-depth guide is designed to help entrepreneurs create comprehensive business plans that will give them the best chance of success in this highly competitive industry, regardless of their experience level.
We'll discuss why writing a business plan is important, what information is needed to write one, what it should contain and look like and finally some tools that can help make writing your cookie shop business plan easier.
Ready? Let's get started!
Why write a business plan for a cookie shop?
There are several reasons to write a cookie shop business plan. Below, we cover some of the most important ones!
To draw up a roadmap
Writing a business plan for a cookie shop is an important step in setting up and growing your own business.
Not only does it give you an opportunity to think through the details of how you want to run and grow your store, but it also forces you to set objectives and goals for the next three to five years.
This can be beneficial both for startups that are just "getting off the ground" and existing cookie shops that have been in business for some time.
By taking the time to create a comprehensive plan, you'll be able to ensure that your business is heading in the right direction and making decisions based on your long-term vision.
To keep an eye on future cash flows
Writing a business plan for a cookie shop requires that you develop a realistic financial forecast for the years to come.
By regularly comparing your actual financial performance to what was planned in your business plan, you'll be able to check if your business is on track to achieve its fiancial objectives, and recalibrate your financial forecasts as needed.
Keeping your forecast up to date ensures that you maintain visibility on your cookie shop's future cash flows and potential financing requirements.
To raise funding
Whether you are a startup or an existing business, writing a cookie shop business plan is essential when looking for financing from banks or investors.
Banks will use it to evaluate your borrowing capacity and ability to repay the loan.
Similarly, investors will want to be sure that their investment will yield a good return, and so will also look closely at the projections of growth, profitability and cash generation presented in the business plan.
Now that we know why it's important to write a business plan for a cookie shop, let's look at the information needed to create one.
Information needed to create a business plan for a cookie shop
Writing a cookie shop business plan requires research so that you can project sales, investments and cost accurately in your financial forecast.
In this section, we cover three key pieces of information you should gather before drafting your plan!
Carrying out market research for a cookie shop
Conducting market research before drafting a business plan for a cookie shop is essential to assess the levels of demand and competition in the local market, and find a differentiated market positioning.
Market research will provide valuable insights into customer needs, market demand, competitors and business trends that need to be factored into the business plan to make it more strategic and effective.
It also helps you identify potential areas of opportunity that could give your cookie shop an advantage over its rivals.
By gathering data on these areas in advance, you'll be able to ensure that your business plan reflects realistic expectations and objectives.
Developing the marketing plan for a cookie shop
In order to have a comprehensive business plan, it is essential to create a thorough marketing plan for a cookie shop that includes an accurate budget for sales and marketing expenditures.
A thorough marketing plan helps ensure that the right amount of resources is allocated to marketing activities.
This plan should provide an accurate prediction of how much needs to be spent on promotions, advertising, public relations and other initiatives in order to hit your sales objectives.
The staffing and equipment needs of a cookie shop
Before beginning to write a business plan for a cookie shop, it is essential to accurately assess and budget for the recruitment of staff and any investments required.
A cookie shop may need to invest in several pieces of equipment and hire staff depending on the size and type of operation. For example, a commercial kitchen may require ovens, mixers, baking sheets, cooling racks, storage containers, display cases, and more.
In addition, staffing costs may include salaries for bakers and other employees as well as benefits and payroll taxes. Other costs may include ingredients, packaging supplies, marketing materials, cleaning supplies, uniforms for staff, and insurance.
By understanding these expenses ahead of time, you'll be able to create a clear budget for your cookie shop.
Now that we have gathered the necessary information to create a business plan for a cookie shop, it is time to move on to the important step of creating a financial forecast.
What goes into your cookie shop financial forecast?
A cookie shop financial forecast includes four important parts:
The profit and loss statement shows how much money your business is making or losing.
The balance sheet shows what your business owns and owes.
The cash flow statement keeps track of money that comes in and goes out of your shop.
Your sources and uses table helps you figure out where to get money to start your business and how to use it once you have it.
The projected P&L statement
Your cookie shop's projected profit and loss statement predicts how much profit the shop will make in the future.
It helps you realise how much money you can expect to make from your store, and how much it might grow.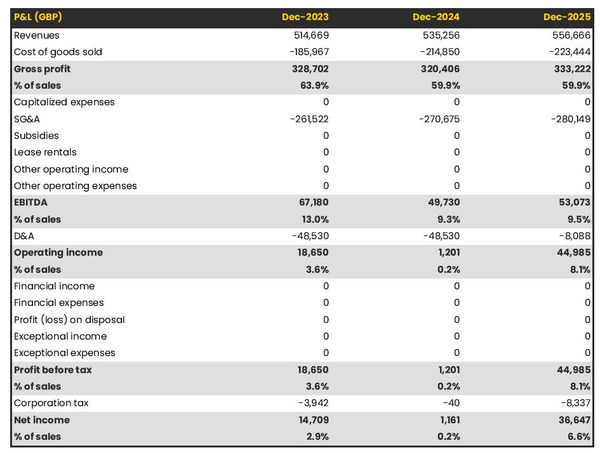 The projected balance sheet of your cookie shop
A balance sheet provides a snapshot of your business's assets, liabilities and equity at any given point in time.
Assets

include items such as cash, inventory, and equipment that the cookie shop owns.

Liabilities

are debts or obligations to creditors, vendors, or other lenders.

Equity

is a proxy for the value of the owner's stake in the business.
By looking at the balance sheet, lenders and investors can assess a cookie shop's solvability and liquidity.
Solvability measures your business's ability to pay off its debts, while liquidity indicates how well it can fund day-to-day operations.
Lenders will use this information to decide how risky it is to loan money to your business, whilst investors will gauge whether your financial position is strong enough.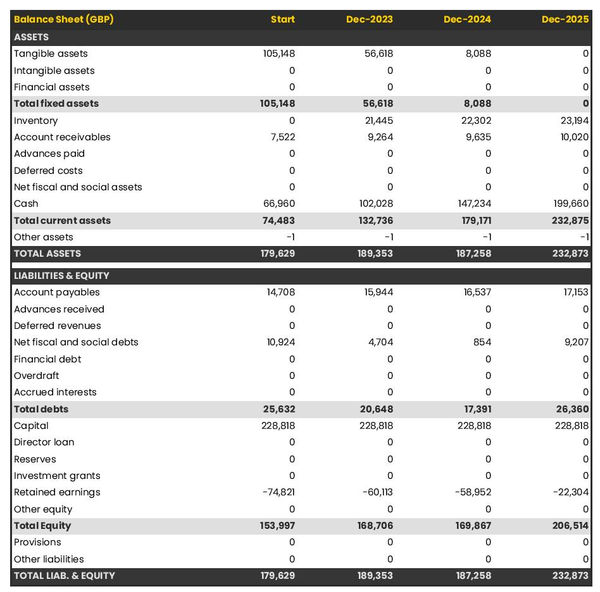 The projected cash flow statement
Your cookie shop's projected cash flow statement shows how much cash is coming in and going out of the business.
It's important to have one because it helps you know if your business is sufficiently capitalized or if it needs additional financing, and help you plan expansion when you have excess cash that can be invested to grow the business.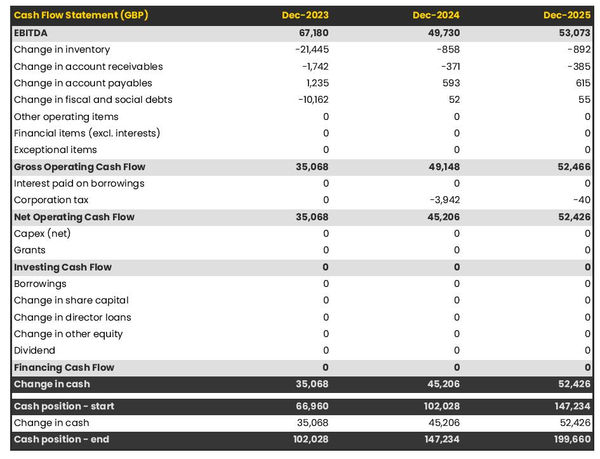 The initial financing plan
An initial financing plan, also known as a sources and uses table, gives an overview of the items that need to be financed and where the money is coming from.
For example, when starting a cookie shop you might need money for the initial inventory and equipment.
Your business could get this money from your own investment (equity) or by borrowing from a bank. The uses table then shows how the money received will be used.
Having an initial financing plan is important because it helps make sure that all of the costs associated with starting a new business are taken care of before moving forward with any other plans.

Once your financial forecast is in place, it is important to provide the reader of your cookie shop business plan with the context and reasoning that justifies your numbers.
That is the role of the written part of your plan which we will now see in more details.
The written part of a cookie shop business plan
The written part of a cookie shop plan is composed of 7 sections:
The executive summary
The presentation of the company
The products and services section
The market research analysis
The strategy section
The operations section
The financial plan
Let's take a look at each section in more detail!
1. The executive summary
The executive summary section should provide an overview of the business, market, and key financials associated with the proposed store.
The purpose of this section is to give the reader a comprehensive understanding of the proposed concept and business model.
Start by outlining what products your business sells (cookies), where it is based, and who the owners and management team are..
Next, you should provide a brief summary of both the national and local markets mentioning their size, demographics, customer needs, competition and any other factors that might influence demand.
Then present a highlight of your key financials, so that the reader can get an idea of the size and expected profitability and cash generation.
Finally, your executive summary should include your ask: how much money you're seeking and what lenders or investors will receive in return for their investment.
By providing a clear picture of the business and its value proposition, this can help to convince stakeholders to read further.
2. The presentation of the company
The presentation of the company should start with the presentation of the legal structure and ownership. You should explain what legal form is being used, and detail who owns what percentage of the company and what their specific roles are.
Then you should explain where your cookie shop is located and why the location is relevant given the customer profiles targeted by your business. For example, you might have chosen to set up your cookie shop inside a busy shopping center to benefit from a high volume of foot traffic.
The management team should also be featured prominently in the business plan, including each person's experience and qualifications for their respective roles.
Not only does this demonstrate your commitment to hiring a hard-working and knowledgeable staff, but it also shows investors that the cookie shop will be well-run and efficient.
Be sure to include any relevant awards, certifications, or other accolades your management team has earned in the past. This information can help boost investor confidence in your plan.
3. The products and services section
When writing the products and services section of a business plan for a cookie shop, it is important to provide potential investors or banks with an accurate representation of what the business has to offer.
This includes not only the types of cookies that will be baked but also any additional services offered.
For example, if your cookie shop offers custom orders for special occasions such as birthdays or weddings, this should be included in the description of products and services.
It is also important to note whether these custom orders require advance ordering or can be made on demand.
Additionally, you should list any other items that may be sold alongside your cookies such as coffee drinks and ice cream treats.
Finally, mention any delivery options available so customers can enjoy their purchases at home if they choose to do so.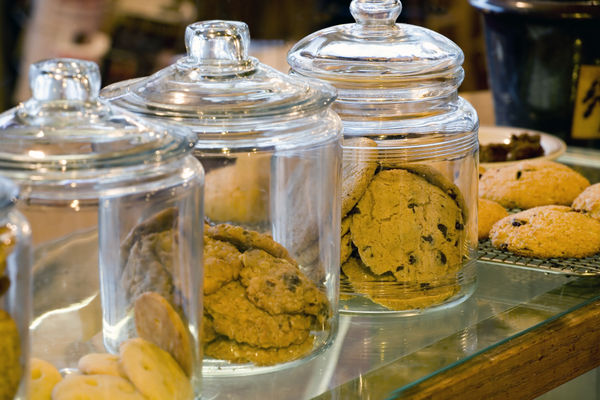 4. The market analysis
When writing the market analysis section of your business plan, you should cover: demographics and segmentation, target market, competition, barriers to entry and regulation.
The demographics and segmentation subsection provides an overview of different customer profiles, their expectations and purchasing habits with regards to cookies.
Then comes the target market subsection where you will explain who your ideal customer is and how your products and services match their consumption habits and expectations.
The following part should zoom on your local competitors: who they are, where they are based and how you will differentiate yourself from them.
Finally your market analysis should finish by explaining any legal or regulatory requirements related to running a cookie shop.
5. The strategy section
When writing the strategy section of a business plan for a cookie shop, it is important to include an overview of the competitive edge that will set your shop apart from other cookie businesses.
This could be anything from unique recipes and flavors to special packaging or delivery options.
You should also discuss pricing strategies, such as how you plan to price your cookies compared to competitors and any discounts or promotions you might offer.
Additionally, it's essential to create a detailed marketing plan outlining how you will reach potential customers and promote your products.
This should include details on what platforms and channels you'll use, who will manage them, what type of content will be shared, etc.
For example, you might utilize social media such as Instagram to help grow your business's brand image. The ability to share photos and videos on such platforms could help bring your business to life.
It's also important to identify milestones with dates that can help measure progress towards achieving goals along the way.
Finally, don't forget about the risks associated with opening a cookie shop and ways in which those risks can be mitigated through careful planning and preparation beforehand.
All of these elements are essential when creating a successful business plan for any venture, especially one involving cookies!
6. The operations section
The operations section of a cookie shop business plan should provide detailed information about staffing, opening hours, assets and intellectual property, and suppliers.
Regarding staffing, the business plan should include the number of staff members needed to run the shop and the roles they will serve.
It should also include a recruitment plan that outlines how staff members will be hired and trained.
Opening hours should include the start and end times for a typical day of operation, as well as any variations in opening hours from week to week or season to season.
The business plan should also clearly list any key assets or intellectual property needed to operate the shop, such as recipes, equipment, and licenses.
Finally, the business plan should include a list of suppliers that will be used to source ingredients and other materials needed for the shop's operations.
The business owner should provide contact information for each supplier and any additional details necessary to understand their relationship with the cookie shop.
7. The presentation of the financial plan
This is where you will present the financial projections we discussed earlier in this guide.
Now that you have a better idea of what a cookie shop business plan looks like, let's have a look at the tools and services you can use to create yours.
What tool should I use to write my cookie shop business plan?
In this section, we'll be reviewing three solutions for creating a cookie shop business plan: using Word and Excel, hiring a consultant to write it, or utilizing an online business plan software.
Create your cookie shop business plan using Word or Excel
Using Word or Excel to create a cookie shop business plan can be a potential solution, but it is perhaps not the best.
The primary benefit of using these programs is that they are inexpensive and relatively easy to access.
However, there are numerous drawbacks. First of all, creating an error-free financial forecast on Excel requires significant knowledge in accounting and financial modelling.
Investors and lenders are unlikely to trust a cookie shop financial forecast created in Excel by someone who doesn't hold a degree in accounting or finance.
As a result, using Excel to create your forecast is only viable if you hold such a degree.
Then, when it comes to writing the actual plan, using Word means starting from scratch, without instructions or examples, and spending time formatting the document once written which are both inefficient and time consuming.
Overall, while Word or Excel may be viable options for creating a cookie shop business plan for some business owners, there are better solutions.
Hire a consultant to write your cookie shop business plan
Outsourcing a cookie shop's business plan to a consultant can be beneficial because they are experts in writing business plans and creating accurate financial forecasts.
However, there are some drawbacks that should not be overlooked. Hiring a consultant to write your business plan is expensive: budget at least £1.5k ($2.0k) for a complete business plan, more if you need to make changes after the initial version (which happens frequently after the first meetings with lenders).
Ultimately, it may be the right decision for some businesses, while others may find it beneficial to write their own business plan using an online software.
Use an online business plan software for your cookie shop business plan
Another alternative is to use online business plan software.
There are several advantages to using specialized software:
You are guided through the writing process by detailed instructions and examples for each part of the plan
You can be inspired by already written business plan templates
You can easily make your financial forecast by letting the software take care of the financial calculations for you without errors
You get a professional document, formatted and ready to be sent to your bank
The software will enable you to easily track your actual financial performance against your forecast and update your forecast as time goes by
If you're interested in using this type of solution, you can try our software for free by signing up here.
We hope that this article has helped you to better understand how to write the business plan for a cookie shop. If you still have questions, do not hesitate to contact us.
Also on The Business Plan Shop
Know someone in the cookie industry? Share this article with them!