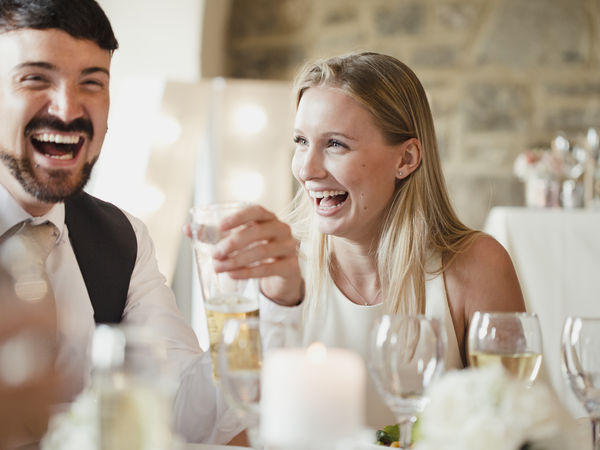 Writing a business plan for a wedding venue can be an intimidating task, especially for those just starting out. But with the right guidance and resources, it doesn't have to be!
Whether you're just starting out or have an existing wedding venue, this in-depth guide will help you write an effective business plan that outlines the steps needed to achieve your goals.
It covers why writing a business plan for a wedding venue is important, what information should be included, what it should look like and which tools can be used to make the process easier.
With this comprehensive guide as your roadmap, you'll know exactly how to get started on creating the perfect business plan for your wedding venue.
Why write a business plan for a wedding venue?
There are several reasons to write a wedding venue business plan. Below, we cover some of the most important ones!
To draw up a roadmap
As a wedding venue business owner, writing a business plan is an important step in setting objectives for the next 3 to 5 years. This process can be used by both new startups and existing wedding venues which are already established.
A well written business plan will provide clarity on the goals you want to achieve and how they might be accomplished. It will also help identify any risks or potential challenges that might arise during the course of your business operations.
With this information, you can create strategies and plans to minimize these risks (informed decision-making) while still achieving your desired outcomes.
To compare financials
Starting a business is a daunting task, and it's even more challenging to ensure that the venture remains profitable. Writing a business plan can be an invaluable tool for entrepreneurs as they navigate this process.
Whether you are looking to open or run an existing wedding venue, keeping an eye on your future cash flows should be at the forefront of your mind.
A well-crafted business plan will enable you to regularly compare your business actual financial performance against what was planned in the forecast of your plan, and to recalibrate your forecast in order to maintain visibility on future cash flows and potential funding requirements.
To secure financing
Whether you are a startup or an established business, writing a wedding venue business plan is essential when seeking financing from a bank.
Banks use the information contained in the plan to assess your ability to repay the loan and decide whether they will extend credit to your business.
Investors who are considering investing in your wedding venue need to be sure that the investment will generate a good return on their money.
Therefore, they will analyze your business plan and look for signs of healthy growth, profitability, and cash generation. A compelling business plan will help you convince them of the potential success of the venture and secure their funding.
Now that we have discussed why it is important to create a business plan for a wedding venue, let's move on to the information needed to create one.
Information needed to create a business plan for a wedding venue
Writing a wedding venue business plan requires research so that you can project sales, investments and cost accurately in your financial forecast.
In this section, we cover three key pieces of information you should gather before drafting your plan!
Carrying out market research for a wedding venue
When creating a business plan for a wedding venue, it is essential to carry out market research to accurately forecast revenues.
Market research helps you understand the current trends in the industry and identify what type of services are in demand among customers.
It also allows you to gain insight into your competitors and identify any potential opportunities or threats that may arise.
Furthermore, by understanding customer needs, you can create tailored services that will help differentiate your business from others and attract more customers.
With this information, you can make informed decisions about how best to run your wedding venue business and maximize profits.
Developing the marketing plan for a wedding venue
When creating a business plan for a wedding venue, it is important to include a detailed budget for sales and marketing expenditure in the financial forecast.
This budget must account for all costs associated with advertising, promotional activities, and any other related expenses necessary to ensure proper marketing of the venue.
Doing so will ensure that the financial forecast is accurate and reflects all necessary costs associated with the business.
With a comprehensive budget and marketing plan in place, the success of your wedding venue will be much more likely.
The staffing and equipment needs of a wedding venue
It is also important to consider the recruitments and investments required before you start writing your wedding venue business plan, as this will also be needed when creating your financial forecast.
You will need to identify all the investments required such as the tables and chairs, decorations, cleaning supplies, etc.
Additionally, thinking about a recruitment plan will ensure you have the right staff members to run the business and a clear idea of the costs involved (salary, cost of recruitment and training, etc.).
Once you have gathered all the information needed to create a business plan for a wedding venue, it is time to move on to creating a detailed financial forecast. Let's see what this involves.
How do I build a financial forecast for a wedding venue?
A financial forecast is used to estimate how much money your wedding venue will make over time.
This requires looking at key factors such as start-up costs, expenses, revenue projections, and more.
With this in mind, let's take a look at what goes into the financial forecast of your wedding venue.
The projected P&L statement
The projected P&L statement of a wedding venue shows how much income it will generate and how profitable it will be in the future.
This helps us understand the growth and success of the business.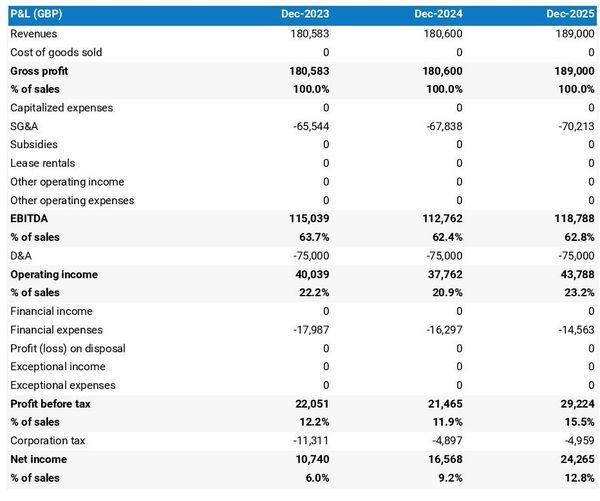 The projected balance sheet of your wedding venue
A wedding venue balance sheet is a financial document that outlines the assets and liabilities of the business.
It provides an up-to-date snapshot of the wedding venue's financial health and can be used to inform lenders, investors, or the business owner about how their money is being managed.
The balance sheet includes items like cash, assets such as the buildings of your venue, tables and chairs, accounts receivables (money owed to the wedding venue), liabilities like taxes or loans that need to be paid off, and owners' equity.
It also serves as a good indicator of solvability and liquidity (the ability to cover short-term debt obligations with available cash or other liquid assets).
By regularly monitoring your balance sheet, you can better manage risks and make sure that your wedding venue is sufficiently capitalized.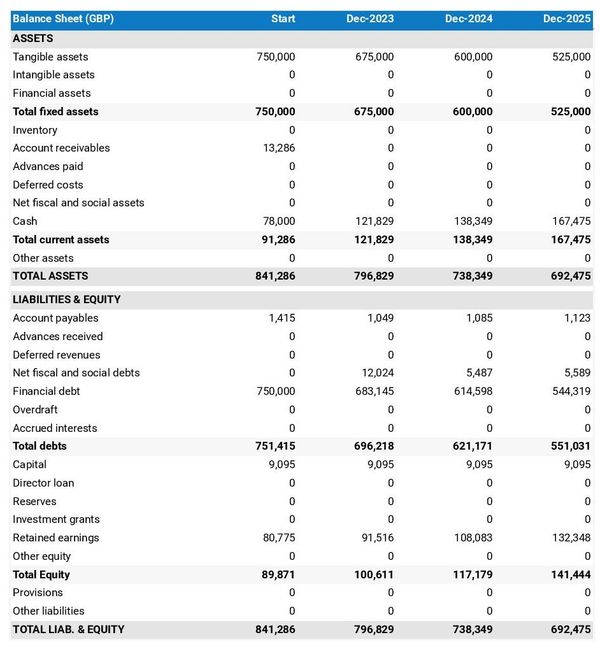 The projected cash flow statement
A wedding venue cash flow statement is a document that shows the amount of money coming in and going out.
It can help you understand how much money you will have to pay for things like staff salaries, rent, supplies, and other costs associated with running the venue.
Having an accurate cash flow statement can also help you plan for any additional costs that may arise as your business grows.
This helps you plan ahead and budget outflows so that you can ensure that your business always has enough cash.
Knowing this information helps you decide when to invest and purchase additional venues, or when to seek financing to avoid cash shortfalls.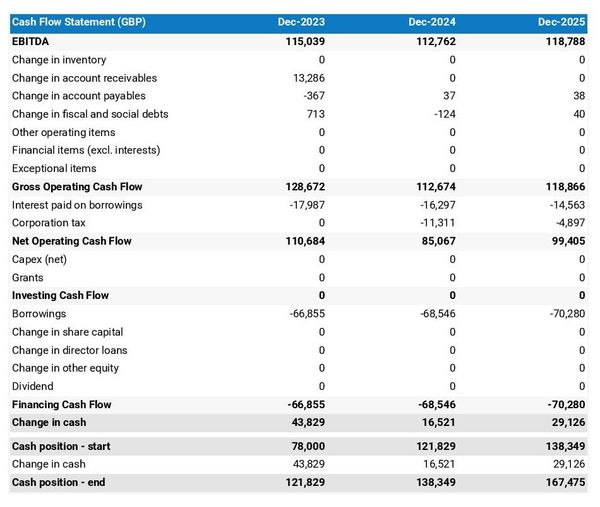 The initial financing plan
An initial financing plan (sometimes called a sources and uses table) is used when starting a wedding venue. It can help you decide what money you need, where to get the money from, and how it will be spent. A sources and uses table helps make sure that you have enough money for all the things your business needs without spending too much or too little.
It also helps you figure out if there are any costs that could be eliminated or reduced so you can save some money. Having an initial financing plan is important because it allows you to plan ahead and make sure everything runs smoothly before your wedding venue opens.

Now that we have a clear financial forecast for the wedding venue business plan, it's time to dive into the written portion of the plan. This is an essential part of any business plan because it provides context and justification for all of our financial forecasts.
In this section, we will discuss in detail what makes our wedding venue unique and how we intend to market ourselves to potential customers. By understanding this information, readers can make an informed decision on whether or not they should invest in our venture.
The written part of a wedding venue business plan
The written part of a wedding venue plan is composed of the 7 main sections:
The executive summary
The presentation of the company
The products and services section
The market research analysis
The strategy section
The operations section
The financial plan
Let's take a look at each section in more detail!
1. The executive summary
The executive summary section should begin by providing an overview of your business, including its mission, services, and goals.
When writing the market overview, it is essential to explore the total size of your local market, observe any trends that could affect growth and understand how your wedding venue will distinguish itself within this competitive landscape.
The key financials and ask sections will state the expected revenues, profitability metrics and the value of the loan or equity investment requested (if you are writing the business plan to seek financing).
By including all of this information in a concise, clear format, potential investors and other stakeholders will have an easier time understanding the plan.
2. The presentation of the company
The presentation of the company in a wedding venue business plan should include detailed information about the structure and ownership of the venue.
This could include information such as who owns the venue, how it is structured (e.g., as a sole proprietorship, LLC, etc.), and any relevant details about financing or other legal matters.
When writing about location, it is important to cover physical features like the size of the venue, number of rooms and any attractive characteristics (e.g., outdoor spaces, special views, easy access), and any other pertinent information about the area.
Finally, the presentation should include a detailed overview of the management team for the venue. State how much experience staff have in event planning and hospitality as well as any relevant qualifications and certifications.
3. The products and services section
When writing the products and services section of a wedding venue's business plan, it is important to provide an accurate description of the range of offerings that will be available for customers.
This should include not only what types of weddings are offered but also any additional services or amenities that may be provided.
The products and services section should explain exactly what type of events can be hosted at the venue as well as any special features or added extras that make it stand out from other venues in the area.
For example, if there are options for outdoor ceremonies, packages with catering included, or unique decorations included with packages, these details should be outlined.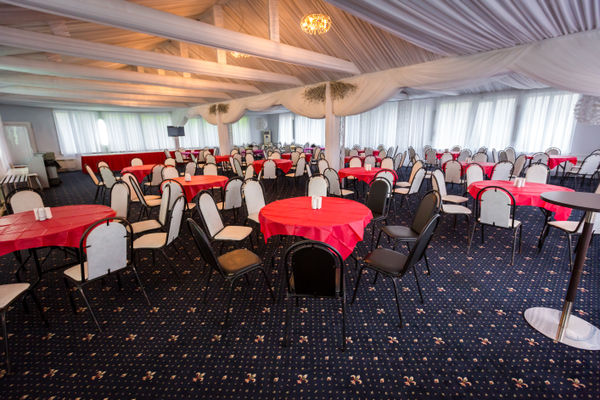 4. The market analysis
When presenting the conclusion of your market analysis in a business plan, you should include important information about demographics and segmentation, target market, competition, barriers to entry and any regulations that may apply.
Demographics are essential in order to understand who is likely to be interested in booking wedding venue slots. Segmenting this demographic can provide further insight into what types of weddings customers prefer.
Additionally, it's important to understand who else is operating in the area – both direct competitors (other wedding venues) as well as other businesses offering similar services (event halls, resorts, etc.) – so that strategies can be developed for gaining an edge over them.
Knowing any existing barriers at entry and applicable regulations will also assist with informing decision-making when it comes to investing in the business.
5. The strategy section
When writing the strategy section of your wedding venue business plan, you should include information about your competitive edge, pricing strategy, marketing plan, milestones and risks and mitigations.
This information is critical for potential investors or banks to understand how the business will be successful in its market. A comprehensive explanation of each element can help demonstrate that the company has thought through all aspects of their plan.
The competitive edge should explain why customers would choose this particular wedding venue over other options available in the area (higher quality buffets, bigger capacity, etc.). It could include factors such as unique features or services offered by the venue that make it stand out from competitors.
The marketing plan should detail how you will attract and retain potential customers with cost-effective tactics that will bring in bookings. You may decide to advertise your business on search engines by targeting keywords such as "wedding venues near me" or "affordable wedding venues".
It is also important to note any partnerships with vendors such as florists and caterers who may offer discounts to clients when booking with them.
Milestones should be established to track progress towards meeting goals over time. Risks need to be identified and mitigated as much as possible so they don't derail the success of the venture.
6. The operations section
The operations section in a wedding venue must be thoroughly outlined in the business plan to help secure financing from a bank or investor.
The staffing team should form the bulk of this section and include details about roles, qualifications, recruitment plan, and expected remuneration for each staff member.
Additionally, it is important to note any key assets that are integral for the running of the venue and any intellectual property that may be unique to your business.
You should list your business schedule in terms of days that weddings can be hosted and both starting and ending times (unless you offer multiple-day weddings).
Outline what suppliers you plan to work with and include information such as contact information, services provided, and payment terms.
Furthermore, if the wedding venue plans to offer any services or products that are not provided by its suppliers, it should be noted.
7. The presentation of the financial plan
This is where you will present the financial forecast that we talked about earlier in this guide.
Now that you have a better understanding of what should be included in the content of your wedding venue business plan, it's time to look at the tools that can help you create one.
What tool should I use to write my wedding venue's business plan?
In this section, we will review three solutions for creating a wedding venue business plan: using Word and Excel, hiring a consultant to write the plan, and utilizing an online business plan software.
Create your wedding venue's business plan using Word or Excel
Using Excel and Word to create a business plan for a wedding venue is a potential solution, but perhaps not the best.
Using these programs is relatively cheap but, there are some major drawbacks that should be considered before deciding to go with this option.
The main issue, is that creating an error-free financial forecast on Excel requires accounting or financial modeling experience.
As a result, unless you have a degree in finance or accounting, a bank or an investor is likely to question the accuracy of your wedding venue's forecast created on Excel.
Hire a consultant to write your wedding venue's business plan
Outsourcing your wedding venue business plan to a consultant is another potential solution.
Consultants are experienced in creating business plans and at making accurate financial forecasts without errors.
The main drawback of this solution is the cost, hiring one can be pretty expensive: budget at least £1.5k ($2.0k) for a complete business plan, more if you need to make changes after the initial version (which happens frequently after the initial meetings with lenders and investors).
Ultimately, the decision of whether or not to outsource a wedding venue business plan should depend on your knowledge and expertise in the specific industry, your budget, and how much control you are willing to give up.
Use an online business plan software for your wedding venue's business plan
Another alternative is to use online business plan software.
There are several advantages to using specialised software:
You are guided through the writing process by detailed instructions and examples for each part of the plan
You can be inspired by already written business plan templates
You can easily make your financial forecast by letting the software take care of the financial calculations for you
You get a professional document, formatted and ready to be sent to your bank
You can easily track your actual financial performance against your forecast, and software makes it easy to keep the plan up to date
If you're interested in using this type of solution, you can try our software for free by signing up here.
In conclusion, writing a wedding venue business plan is an important first step to ensure the success of your business. It will help you define and focus on your goals, identify potential problems before they arise, and create strategies for addressing them.
With this guide in hand, you should now have all the information necessary to develop a comprehensive business plan that outlines how you intend to achieve success with your wedding venue.
As long as you keep these tips in mind when creating it, your plan can be instrumental in helping your vision become reality.
Also on The Business Plan Shop
Know someone in the wedding industry? Share this article with them!