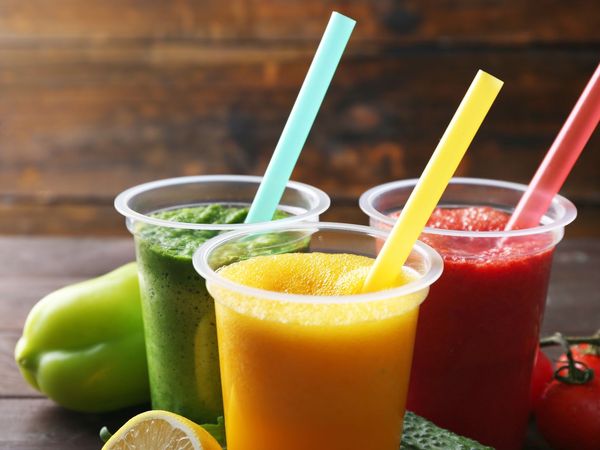 Writing a business plan for a juice bar is an important step in the process of setting up and running a successful juice bar.
Whether you're starting up or looking to grow your existing business, a well-crafted plan can help ensure that your goals are met.
Luckily for you, this in-depth guide will provide you with all the information necessary!
It covers why it's important to write a business plan, what information is needed, what it should contain and look like, as well as which tools can be used effectively when creating one.
Why write a business plan for a juice bar?
There are several reasons to write a juice bar business plan. Below, we cover some of the most important ones!
To set a clear roadmap
A juice bar business plan helps entrepreneurs set objectives and goals to be achieved within the next 3 to 5 years.
In order to set these goals, a roadmap that outlines how you intend to operate, including details about your products, marketing strategies and financial projections must be drawn up.
By taking the time to create a comprehensive plan that outlines where you want your juice bar business to be in three or five years' time, you can ensure that you have all the necessary steps laid out so that it can become a reality. 
To get clarity on your financial performance
A carefully crafted business plan also provides you with an accurate financial forecast which you can compare your progress against on a regular basis.
This is key to ensuring that your juice bar remains a viable, sufficiently capitalised, and profitable business.
To secure financing
Whether you're just getting started or already have an established business, having a well-written plan increases your chances of securing financing from banks and other investors.
This is because it provides evidence that you understand the industry and market trends well whilst outlining the fact that you intend to manage your finances responsibly. 
As a result, assurance is provided to the lender that they will be paid back on time and with interest.
Now that you know why it's important to create a business plan for a juice bar, let's look at the information needed to create one.
What data is needed to create a business plan for a juice bar?
Writing a juice bar business plan requires research so that you can project sales, investments and cost accurately in your financial forecast.
In this section, we cover three key pieces of information you should gather before drafting your plan!
Carrying out market research for a juice bar
Carrying out market research before writing a business plan for a juice bar is essential.
It helps assess demand, understand customer needs and wants, and supply. realise the level of competition in the local market.
With this information, you can create realistic sales projections that will enable you to make informed decisions about how much capital you need to launch your venture and what pricing strategies to use.
Additionally, market research can provide valuable insights into potential marketing channels which could be used to reach customers more effectively.
Developing the marketing plan for a juice bar
Budgeting, sales and marketing expenses is all essential before creating a juice bar business plan.
A comprehensive marketing plan helps ensure that the right amount of resources is allocated to marketing activities.
This plan should provide an accurate prediction of how much needs to be spent on promotions, advertising, public relations and other initiatives in order to hit your sales objectives.
The staffing and equipment needs of a juice bar
Creating a juice bar business plan requires careful consideration of the recruitment plan and investments needed to make it successful.
Initial costs as well as future investments and recruitments all need to be taken into account so that you can create realistic financial forecast.
How do I create a financial forecast for a juice bar?
A juice bar financial forecast includes four key components:
The profit and loss statement, which shows how much money you made or lost
The balance sheet, which shows what you own and owe
The cash flow statement, which shows money coming in and out of your business
The sources and uses table, which explains where your initial funding is coming from
Let's have a look at these in more detail.
The projected P&L statement
Your projected profit and loss statement of your juice bar shows its expected profitability and growth. 
It tells you how much revenues the juice bar will make from sales, the cost of those goods sold and operating expenses such as rent and wages.
This information is useful for making decisions about how to manage the business in order to achieve its desired level of profitability.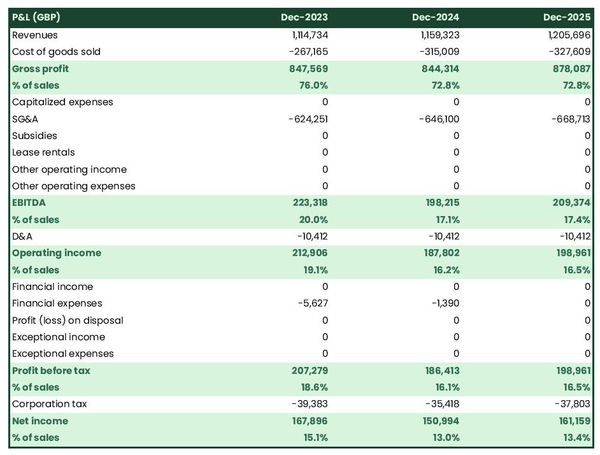 The projected balance sheet of your juice bar
The balance sheet shows the juice bar company's overall financial position at a specific point in time. It contains a comprehensive listing of all assets owned by the business and liabilities owed, including both current and long-term obligations.
By looking at the balance sheet, lenders, investors, and the business owner can gain a better understanding of the company's financial health.
Lenders and investors can then determine whether the juice bar is able to handle its current debts and if it has sufficient liquid assets to cover any unexpected expenditures.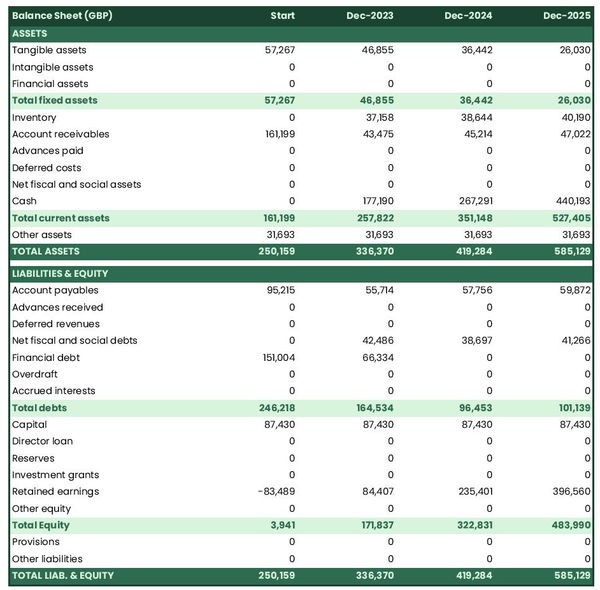 The cash flow forecast
A juice bar cash flow forecast helps you understand your business's cash inflows and outflows.
Having a cash flow statement can help make sure that your business runs smoothly and generates enough cash to stay open!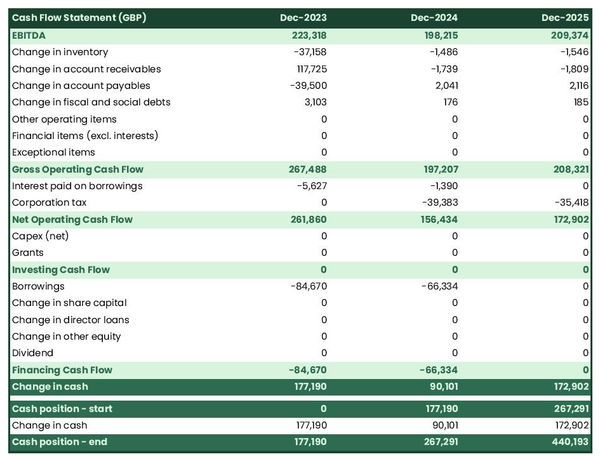 The initial financing plan
An initial financing plan, also called a sources and uses table, is a document that helps when starting a juice bar. It shows where the money used to open the juice bar comes from and how it will be spent.
Examples of startup costs for a juice bar could include company registration, website costs, and initial investment in fixed assets (equipment, refurbishment of premises, etc.). 

Now that we have discussed the financial forecast of your juice bar business plan, it is important to provide the context in which this information should be interpreted. This comes from the written part of your business plan, which outlines all other aspects related to the success of your venture.
In this section, we will discuss how you can craft an effective and compelling written part for a successful juice bar business plan.
The written part of a juice bar plan
The written part of a juice bar business plan is composed of 7 main sections:
The executive summary
The presentation of the company
The products and services section
The market research analysis
The strategy section
The operations section
The financial plan
It's vital that you write and present each of these sections correctly, especially if you want to secure financing for your business.
We will now cover each section in-depth, explaining what information needs to be included.
1. The executive summary
Writing the executive summary section of a juice bar business plan requires detailed research and data analysis.
The business overview should list the purpose of opening the juice bar, its location and target demographic.
For example, if the goal is to open a juice bar in a busy city, targeting clients who go for an early morning run, it would be important to include details such as the expected customer base and how the business will appeal to this demographic.
Additionally, the market overview should include data on similar juice bars in the area, competitor analysis, and overall industry trends.
It is also important to provide key financials such as startup costs, projected revenues, and expected profits.
Finally, the 'our ask' section should concisely explain how much money is sought from investors or lenders.
2. The presentation of the company
When writing a presentation for a business plan for a juice bar, it is important to focus on several key areas.
First, structure and ownership must be addressed. This would include outlining the legal entity chosen to operate the business, such as an LLC or partnership. It would also include describing the ownership breakdown, including any investors involved in the project. Additionally, the proposed location of the juice bar should be discussed.
This means providing a description of the surrounding area, as well as any available amenities and services that would be beneficial for customers (parking spaces, transport links, etc.).
Finally, it is important to give details about the management team involved in launching and running the business. Introduce key members of the team, their backgrounds, and their qualifications (university degrees, relevant industry experience, etc.).
3. The products and services section
This section should provide an overview of the types of products and services that will be offered.
It is important to include details such as the variety of juices that will be available, any food items or snacks that may be served, and any additional services such as delivery or catering.
For example, if the juice bar plans to offer freshly squeezed fruit and vegetable juices along with smoothies made with yoghurt or ice cream, this should all be included in this section.
Additionally, if there are plans to serve salads or other light meals alongside the drinks menu then these should also be listed here. Any special equipment needed for the preparation of food items can also be mentioned in this section so that potential investors can get an idea of what resources are required for running the business successfully.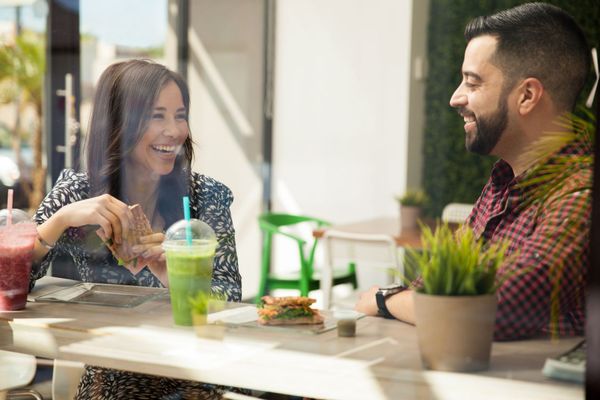 4. The market analysis
When presenting the conclusion of your market analysis in the juice bar business plan, it is important for you to include information about demographics and segmentation, target markets, competition, barriers at entry and regulation.
This will help convince potential investors or lenders that there is an opportunity to make a profit with this venture.
Demographics and segmentation provide insight into who the likely customers are. Knowing which segments are most attractive can inform decisions on pricing strategies, product offerings and marketing tactics.
You should also consider the competitive landscape by assessing what other juice bars in the area offer as well as any barriers they may have encountered when entering the market.
Finally, understanding local regulations related to food safety and sanitation is essential and you should demonstrate to the reader that you have a solid handle on this.
5. The strategy section
When writing the strategy section of your juice bar business plan, you should include competitive edge, pricing strategy, marketing plan, milestones and risks and mitigants.
It is important to provide the reader of the business plan with clear insight into how they will be able to gain an advantage over competitors in terms of product quality or price point.
Additionally, a well-defined pricing structure must be outlined so that potential investors understand that the juices are sold for more than they make to produce, as well as any discounts or promotions that may be offered.
Furthermore, it is essential for success to develop a comprehensive marketing plan which outlines how customers will become aware of the product (advertising, direct marketing, etc.) and what methods are used to drive customer retention.
Including specific milestones can help demonstrate the progress being made towards achieving goals while providing transparency on areas needing improvement.
Examples of specific milestones include launching the business in three months time and reaching a break-even level of output in 6 months time.
Risks associated with opening such a venture should also be considered along with strategies for mitigating them if possible.
6. The operations section
The operations section of a juice bar business plan should include a detailed personnel plan that outlines the roles, responsibilities and qualifications of all employees. It should also identify any personnel development plans that are in place for current and future employees (training courses to help improve productivity for example).
Additionally, the business plan should outline any key assets and intellectual property (IP) associated with the company, such as trademarks, patents and copyrights.
Finally, the plan should identify any suppliers that are necessary for the business to operate successfully, such as vendors or distributors who provide key ingredients or equipment.
7. The presentation of the financial plan
The financial plan section of the guide is where you should include the financial forecast that we talked about earlier.
Now that we have a better understanding of the content and structure of a juice bar business plan, let's look at some of the tools available to help you create it.
What tool should I use to write my juice bar business plan?
In this section, we will review three different solutions for creating a juice bar business plan: using Word and Excel, hiring a consultant to write your business plan, and using online business plan software. Let's get started!
Create your juice bar plan using Word or Excel
Using Word or Excel to create a business plan for a juice bar has both advantages and disadvantages.
On the one hand, the cost of using these applications is relatively low, making them an attractive option for those with a limited budget. Microsoft Excel can be used to create the financial forecast and Microsoft Word to draft the actual business plan.
The issue is that Excel is quite difficult to use for creating accurate financial forecasts without expert knowledge, and an investor might question the accuracy of a forecast created by an entrepreneur on Excel.
It is also time-consuming to create a financial forecast in Excel, and even more to keep it up to date or to track it against actuals.
Finally, using Word means starting from scratch and spending time formatting the document.
Hire a consultant to write your juice bar business plan
Outsourcing a juice bar business plan to a consultant or accountant is an attractive solution for many entrepreneurs who lack the time or expertise to create an effective business plan on their own.
Consultants and accountants are well-versed in writing plans, and can create financial forecasts with accuracy.
However, accountants often lack the industry expertise necessary to accurately forecast sales, and both accountants and consultants are expensive.
Use an online business plan software for your juice bar business plan
Another alternative is to use online business plan software.
There are several advantages to doing so:
You are guided through the writing process by detailed instructions and examples for each part of the plan
You can be inspired by already written business plan templates and examples
You can easily make your financial forecast by letting the software take care of the financial calculations for you
You get a professional document, formatted and ready to be sent to your bank or investors
It's easy to track your forecast against the actual financial performance of your company, and to keep your plan up to date and relevant
If you're interested in using this type of solution, you can try our software for free by signing up here.
We hope that this article has helped you to better understand how to write the business plan for your juice bar. Do not hesitate to contact us if you still have questions!
Also on The Business Plan Shop
Know someone in the juice bar business? Share this article with them!