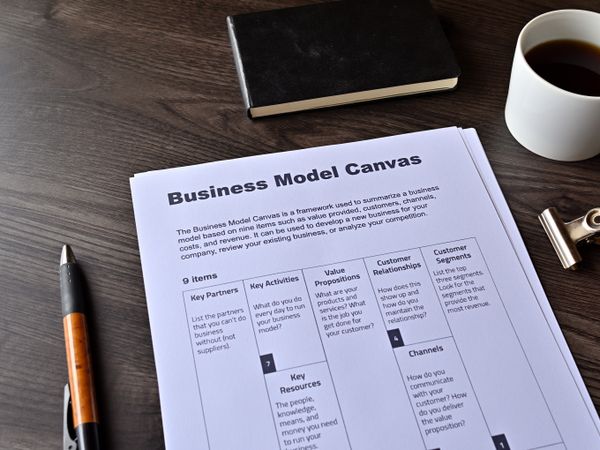 Business plans and business model canvas are two key decision making tools that entrepreneurs need to know (and use!). Despite sounding similar, however, they do differ significantly and shouldn't be confused.
This in-depth guide covers all you need to know about the two documents, including what they contain, their similarities and differences and the tools you can use to create either of them.
Ready? Let's get started!
What is a business plan?
A business plan is a document providing detailed information about your business and its objectives for the years to come (usually 3-5 years).
To keep it short and simple, a business plan consists of two parts:
A financial forecast which provides information about the expected growth and profitability of your business, your potential funding requirements, and cash flow projections.
A written part which provides the context and details needed to assess the relevance of the forecast: company overview, description of products and services, market analysis, strategy, operations, etc.
Formal business plans are usually written: to secure financing, to get buy-in from stakeholders (board members, investors, business partners) on the plan of action for the coming years, to convince suppliers to do business with the company, or to communicate the company's vision to staff members.
Financial savvy businesses regularly track their actual financial performance against the forecast included in their business plan and re-assess their progress against what was planned, and update their plans as needed.
What is the business model canvas?
In simple terms, a business model is how a company makes money, and the business model canvas is a tool to help entrepreneurs find a coherent business model for their business (or for new products or services).
A business model can be broken down into two parts:
The first part deals with what a business is about. This relates to what the business sells - and all the activities that go into creating this. That means research, designing, raw material sourcing and costs, production, and testing. 
The second part is concerned with selling what the business is about - the product or service it has invested in. These activities include everything from marketing to distribution and the sale transaction process. 
The business model canvas can be used to visualize a business model idea. It is a visual chart that includes simple, yet effective graphical illustrations that highlight every aspect of the potential business' operations.
It outlines the infrastructure, value proposition, and customers, including the target market, customer relations and marketing approach, revenue streams, and profit margins.
The business model canvas helps stakeholders brainstorm business model ideas. For example, they can come up with multiple business models and test them against each other to see which ones are viable and which ones aren't.
As a result, this tool is only useful for those looking to start a business, launch a new product, or change their business model.
Business plan vs. business model canvas: what do they have in common?
Since we've covered business goals and strategies in relation to both a business plan and a business model canvas, it stands to reason that there are at least some similarities between the two. 
In essence, both relate to the way a business functions and there is some overlap between the two. Some of the similarities between the two include:
Outlining business strategy
Both a business plan and a business model canvas outline key strategies that the business intends to use in day-to-day operations.
This includes key aspects such as how a business might create and distribute a product or service and identify corresponding revenue streams.
Decision-making tools
Since both tools help formulate some aspects of business strategy, they are useful in the decision-making process. 
With key business processes highlighted, and ultimate goals set out from the onset, decision-makers within the business have an easier time determining what their next steps should be. 
As such, these tools are used to help stakeholders make more accurate choices when tasked with making decisions. Therefore, businesses that utilise these tools are likely to have successful outcomes.
Indefinite methods
Neither a business plan nor a canvas offers any guarantees. Instead, they are tools that help test out and present your business idea to other stakeholders or managers.
Just because you've used these tools, it doesn't mean that your business idea will pan out or your forecast will go as predicted.
In all likelihood, mapping out your strategy on a business model canvas may help you realize your business idea isn't destined to be a success. 
An idea can seem good in an abstract form, but when you're forced to consider all its intricacies, you may understand it won't work. The good thing about business plans and models is that they can help you determine the viability of your idea before you go through with it.  
Business plan vs. business model canvas plan: what are the differences?
There are major key differences between business plans and business model canvasses. 
Let's take a look at them in more detail!
Different scopes
As mentioned previously, a business model canvas is a strategic tool that helps find the best busines model for a business or product/service idea.
The business plan can only be drawn once you know what business model will be used. The role of the business plan is then to show how much it will cost to launch the business or product, and how much money it could make, and what it will take in terms of concrete resources (people, equipment, etc.).
Different length
The business model canvas is meant to fit on a single piece of paper ("the canvas").
A business plan, however, goes into much more detail. You can expect a typical business plan to be somewhere between 15 to 30 pages.
Different audiences
A business model canvas can be used to bounce off ideas, iron things out, and create a definite model for the business to follow. As such, it is primarily used by the internal team, typically the business founders and others involved in starting the business (or a product team in a large organization). 
A business plan is used internaly - by the management team and the board, and sometimes shared with the wider staff - but it's not limited to this audience. It is also used with external stakeholders, like banks or investors in order to secure financing. And sometimes suppliers who need it to create their impression of the business's potential for success before getting involved. 
One-off vs. recurring use
Typically, business model canvases are used prior to starting a business or when a change is needed to the existing business model. 
It is a tool used to visually represent the business idea before it comes to fruition. This means that the idea can be tested practically to decide whether it is viable or not.
Business plans go further, rather than being simple one-off go/no-go decision making tools, business plans are used continously and maintained up to date.
One key concern is knowing whether or not the company is on track to deliver what it planned in its business plan. To do so, managers compare the actual financials to what was planned in the forecast. And then re-plan if needed.
Business plans are also used to make key operational decisions. For example: should you hire a team of marketers or outsource to an agency? To make an informed decision, entrepreneurs can model both scenarios and decide based on the most promissing forecast.
Similarly, business plan are used to anticipate key risks. For example: what happens if sales are 20% below expectations?
As you can see business plan are fairly different from canvasses.
What tools can you use to write a business plan?
In this section, we will review three solutions for writing a professional business plan:
Using Word and Excel
Hiring a consultant to write your business plan 
Utilizing an online business plan software
Create your business plan using Word or Excel
Writing a business plan using Word and Excel is not the best option.
First of all, this option is only recommended if you have a degree in finance or accounting and expertise in financial modelling. You are likely to make mistakes otherwise, and as a result banks or investors are unlikely to trust the accuracy of your financial forecast.
Using Word to draft the plan also means starting from scratch and formatting the document yourself once written - a process that is quite tedious. There are also no instructions or examples to guide you through what to write in each section.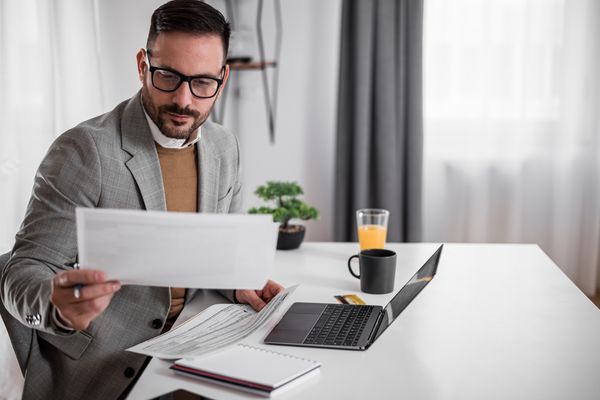 Hire a consultant to write your business plan
This option is only feasible if you have the required finances - you probably need to budget at least £1.5k ($2.0k) for a complete business plan, more if you need to make changes after the initial version (which happens frequently after the initial meetings with lenders).
Despite the expensive price tag that comes with it, outsourcing your business plan to a consultant can be a good idea. Consultants are experienced in writing business plans and adept at creating financial forecasts without errors. Furthermore, outsourcing to a consultant saves you time and allows you to focus on the day-to-day operations of your business.
Use an online business plan software for your business plan
Another alternative is to use online business plan software.
There are several advantages to using specialized software:
You are guided through the writing process by detailed instructions and examples for each part of the plan
You can be inspired by already written business plan templates
You can easily make your financial forecast by letting the software take care of the financial calculations for you without errors
You get a professional document, formatted and ready to be sent to your bank
The software will enable you to easily track your actual financial performance against your forecast and update your forecast as time goes by
If you're interested in using this type of solution, you can try our software for free by signing up here.
What tools can you use to write a business model canvas?
To get started, you need the canvas itself which can be downloaded here.
Once you have the canvas you can either print multiple copies of it to compare alternative business models on paper, or draw it on a white board to brainstorm with your team.
We hope this guide helped you get a clear understanding of how the business model canvas differs from a business plan, and when you one or the other. Don't hesitate to contact our team if you have any questions regarding business planning.
Also on The Business Plan Shop
Know someone struggling with their business plan? Share this article and give them a nudge in the right direction!