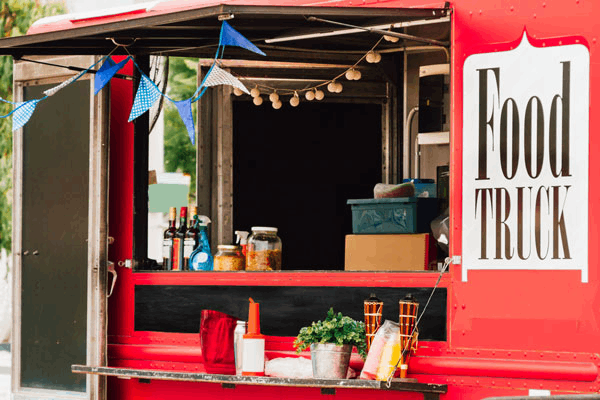 Are you passionate about street food and keen to open up your very own food truck?
It takes a lot of work, but with expert planning, you'll be well on your way to setting up a successful food truck business.
If you're not sure how to open a food truck, then you've come to the right place - as this guide will give you a low down on all the major steps involved in setting up a food truck, from practical advice on how to conduct market research, to drafting up a stellar business plan.
1. Conducting market research for a food truck
The very first step in opening a food truck is to conduct market research to verify that there's sufficient demand in the area in which you'd like to set up your business and determine the best strategy to attract customers.
Food truck industry analysis
Market research should always kick off with in-depth research into consumer habits and hot industry trends. The goal is to help you understand the challenges currently facing the fast food industry and to identify the most promising market segments before opening your food truck.
You will need to ask yourself:
What is the current state of the sector: has a push towards more sustainable practices changed the food truck game?
What fast food concepts are popular and which are struggling?
What are the main challenges faced by food truck owners today?
Who is more successful: independent food trucks or those affiliated with a franchise?
What are typical consumers' habits and expectations?
How many times on average do people buy takeaway food?
What are the peak and off-peak periods?
What is the average budget per meal and per customer?
How much of the food truck turnover is made on food and drinks respectively?
Assessing the demand at the local level
Once you have a better understanding of the food truck sector, it's time to check out the local market before opening your food truck. The aim here is to assess its size and identify the most promising areas for you to set up shop.
In particular, you should ask yourself:
What is the potential for fast food at the local level?
What are the demographic characteristics (age, gender, employment status, disposable income, etc.)?
What prominent features in the area will impact your business (e.g. is it located near the pedestrian street, shopping district, office area, train station, etc.)?
Checking out the local competition to open your food truck
You will then have to familiarize yourself with the existing restaurants and food shops in the area you wish to base your business. If you can, try and find out this information to open your food truck:

How many food trucks and traditional restaurants have already been set up in the area?
What is their catchment area?
What type of food do they sell?
Are they independent business' or affiliated with a franchise?
What are their prices?
How many employees work there?
What is their turnover?
Once you've gathered this data, you will be able to assess whether the market is large enough to support the arrival of a new player (i.e. your food truck). As well as this, competitor analysis will enable you to identify promising locations within the area and gives you an idea of what concepts could work well in relation to what your competitors are already offering.
2. Choosing the right concept to open a food truck
Whether you're offering burgers or bao buns, the most important thing when opening a food truck is to make sure that your concept is a little bit different - so you can stand out from your competitors and ensure that customers don't just stumble upon you, but come directly to you to try out the dishes on your distinct menu.
If not innovative, your concept must be at least original. If you decide to offer a classic burger and fries combo, for example, give this offering some edge by offering gluten-free burger buns, secret recipe onion rings or a wide range of cheeses to choose from.
Defining your concept also means making one integral decision: will I start my own independent food truck or join an already established chain?
Launching an independent food truck will give you more freedom in allowing you to manage it and be as experimental with your menu as you wish. Adversely, by deciding to join a food truck chain, you can benefit from operational support from the get-go - as well as a glittering reputation from an already established chain and a base of loyal customers.
3. Scoping out the perfect location(s)
Next up in our guide on how to open a food truck is scoping out your ideal location. Where your food truck is based will have a massive impact on its level of success - as it will determine how many customers you greet on a daily basis.
You can set up a food truck in either a public or private area.
While a public space can attract a large influx of customers, it places constraints on the food truck owner in terms of authorisation and licence. There's no doubt that being situated on the side of a busy road or on a popular pedestrianised street is an attractive option, whilst a spot beside a major tourist attraction or food market would bring a steady flow of tourists.
Setting up on a private road, such as a supermarket car park, student campus or office car park could guarantee a relatively high number of regular customers, whilst only requiring that you get permission from the owner.
The important thing to remember is that every location, no matter where you decide to set up, will have some price attached to it (on public space, authorizations are provided for a fee) and they are only temporarily valid, creating a sense of instability as to your long-term status.
4. Choosing your food truck's legal structure
Next up in our guide on how to open a food truck is how to choose the legal structure of your business. Deciding your food truck's legal form is a vital step as it will impact:
How much your business is taxed
Your taxation at a personal level
Your responsibility for the company's debts in the event of bankruptcy
To help you make your choice, you can find more detailed information on the different legal forms available to you on the gov.uk guide for UK business owners and SBA guide for those of you based in the US.
5. Checking out the rules and regulations of operating a food truck
Keep in mind that the launch of a food truck, as for any restaurant, requires adherence to health and safety regulations.
First things first, there are several regulatory requirements you'll need to satisfy when it comes to food safety. Before opening your food truck, you'll have to register the premises with your local authority's environmental health service at least 28 days before you start trading.
It's important to note that this process doesn't cost any money when you open your food truck. It simply involves allowing a local official to visit your truck to check out the space you'll be using to prepare food and ensure it's safe and hygienic. Click here to register for a visit from your local authority.
It's also mandatory for new food truck owners to draft a plan based on the Hazard Analysis and Critical Control Point (HACCP) Principles. This plan will ensure your food is safe from biological, chemical, and physical hazards, as well as allowing you to identify potential hazards.
You'll also be required to comply with any rules established by the Food Standards Agency - a government body providing guidelines on hygiene standards, sampling, labelling, and traceability.
Due to lack of accessibility or size limitations, it will completely be prohibited trade on some streets. If a street is designated as a 'licensed' or 'consent' street, then you can apply to your local authority for permission to set up a food truck or stall. Your local authority should also be able to provide you with a list of streets that are suitable and unsuitable for trading on.
6. Identifying the equipment and staff needed to open a food truck
Next up in our guide on how to open a food truck is directing attention to the equipment and people needed to operate your food truck efficiently.
A food truck requires a fairly large amount of basic equipment, with the Nationwide Caterers Association (NCASS) estimating the price of a new food truck, with fittings and equipment, is anything between £5,000 to £50,000. To optimise your saving, you could check out Gumtree for second-hand models, too.
You'll also have to set aside money for your initial stock, costs related to registering your business and your marketing investments (including setting up a website and creating a logo).
Launching a food truck means needing a solid team of people you can rely on. You'll need to recruit customer service positions and/or chefs according to your own skills. Because working in a food truck requires frequent travel and working in a small space, however, its important to be wary of the fact that you may have to deal with a high turnover rate and frequent training of new staff.
Opening a food truck also requires you to take other services that are essential to the smooth running of your business into account, such as the services of an accountant to help with your bookkeeping and a professional insurance. Factor these costs into your financial forecast, asking for quotes from several different companies to enable you to make the most accurate estimate possible.
7. Creating a marketing plan for your food truck
To promote your food truck and build customer loyalty, you'll need a strong marketing plan.

There are many options at your disposal here, including handing out flyers on the street, setting up a website and social media profiles, paying for a billboard to be put up in your town centre or having your food truck featured on the online city and tourist guides.
The costs of these actions vary and some might be more successful at attracting customers than others, so take some time to test different marketing actions out and focus on the ones that prove to be the most effective.
8. Writing your food truck's business plan
Now we've come to the stage within our guide on how to open a food truck where we must tackle the business plan.
The business plan is made up of two major components:
A financial forecast that aims to highlight the expected profitability of the business and the initial financing requirement.
A written part that presents, in detail, your project, the team, your business strategy, and your medium-term objectives.
The business plan is the document with which you will try to secure financing from your bank or potential investors, so you need to make it impeccable.
If you are not used to writing business plans, a good solution would be to use online business plan software.
There are several advantages to using specialized software:
You are guided through the writing process by detailed instructions and examples for each part of the plan.
You can be inspired by already written business plan templates
You can easily make your financial forecast by letting the software take care of the financial aspects for you.
You get a professional document, formatted and ready to be sent to your bank.
If you are interested in this type of solution, you can try our software for free by signing up here.
Looking for inspiration as to how you should structure your business plan? You can also access our business plan template of a food truck.
9. Sourcing funding for your food truck
As we've seen above, the investment needed to open a food truck will be hefty enough. Luckily for you, however, several funding solutions exist. These include...
Trying to obtain a loan from a bank or credit institution, but be aware that obtaining a loan for business creation is not always easy.
Approaching private investors: your family and friends or angel investors
Launching a crowdfunding campaign, which is also a good way to get people talking about you.
Seeking state aid for business creators: in the form of a grant or low-interest or interest-free loan.
Now you know everything there is to know about how to open a food truck. We hope you found this article useful. If you have any questions or queries at all please do not hesitate to contact our team.
See also on The Business Plan Shop