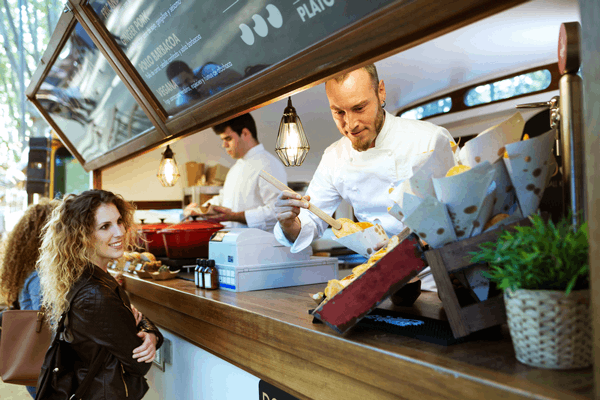 Have you decided to open a food truck? Embarking on such an entrepreneurial journey is exciting, but before you get started, you have the evaluate the turnover of your future business.
Good news: with some solid advice and the right method, estimating the turnover of your food truck isn't all that complicated.
If you're not sure where to start, don't worry. We've written the 5-step guide below to help you accurately estimate your food truck's turnover.
1. Estimate the average spend per customer
The first step in forecasting the turnover of a food truck is to estimate the average spend per customer. This usually depends, of course, on the type of food sold.
You should, therefore, use the information collected during your market research to estimate the average amount spent by each customer, including:
How many customers will opt for each dish?
How many drinks or desserts, on average, are sold with the dish?
What is the average budget of target customers?
What is the price of the dishes compared to the value of your customers' income? This is particularly important if low income workers are part of the target customer base
What is the average spend per customer observed in other food trucks selling the same type of food?
2. Evaluate the expected sales volume for your food truck turnover
To calculate the average turnover of your food truck as accurately as possible, you'll also need to estimate the expected sales volume: how many dishes will you sell at each location.
This is by far the most tricky part because you need to take into account several parameters which can be quite difficult to measure.
First of all, assess the popularity of your location by looking up the number of people who visit the place(s) where you plan to set up shop:
How many potential customers visit these sites?
Are they mainly office workers, students, tourists, or residents?
For an accurate food truck turnover estimation, count up the number of competitors in the vicinity (whether they're food trucks or traditional restaurants) and the type of cuisine they offer.
Do any of them constitute direct competition (a burger food truck like yours), indirect competition (a fast-food place like McDonald's), or a section of the foodservice industry fairly far removed from yours (like an up-scale, Italian restaurant)?
Even if the competition is very indirect, it's important to take note as it still offers your potential target customers a lunch or dinner alternative to your place.
Now it's time to consider seasonality when estimating your food truck turnover. Ask yourself:
Will you sell most dishes during the week or on weekends?
Which will be busier: lunch or dinner?
The weather is an important consideration here too. While customers may be happy to wait ten minutes for a burger on a sunny afternoon in July, they mightn't feel quite as willing on a rainy, cold day in November, so take the impact the weather may have on sales into account.
Finally, consider the time it takes to serve customers. Most sales are made during the lunchtime rush hour. If you sell sandwiches or ready-made meals, there's no doubt you'll be able to serve more customers than if you have to prepare a personalised pizza for each customer.
Once you've considered all of the parameters above, you can use them to achieve an initial estimate of your projected sales volume for your food truck turnover.
You can then repeat this practice for your various locations and lunch and dinner sittings, multiplying the total by the number of weeks your food truck operates in a year - including any holidays to ensure your calculations are as accurate as possible.
As mentioned at the beginning of this section, there will be some figures that are difficult to quantify. To limit any significant over or underestimates, try comparing your projected sales forecast with that of other food trucks that are operating in similar locations and selling the same type of food as you.
3. Forecast your food truck turnover by multiplying the average spend per customer by the estimated volume
Once you've estimated both the average price per dish and the expected sales volume, you simply multiply them to obtain the estimated sales of your food truck. Almost too easy, right?
4. Check the consistency of your sales forecast with the maximum capacity of the truck
Now that you have your projected sales figure in front of you, we suggest that you do a theoretical maximum capacity calculation to make sure you definitely haven't overestimated sales.
Although this sounds complicated, it's actually pretty simple when estimating your food truck turnover. Let's take an example to get a clear understanding of what it's all about.
Let's say you have a burger food truck that employs two people: one to cook and prepare, and the other to take orders and pick up the food.
If your food truck is equipped with a grill that can cook 4 steaks at a time, with an average cooking time of 2 minutes per steak, your maximum output is 120 steaks per hour (4 steaks x 60 minutes / 2 minutes per steak).
If you have a 4-hour slot on the site, you'll be able to cook a maximum of 480 burgers (4-hour slot x 120 steaks/hour).
If your average expenditure is £9 per person (incl. tax), then your maximum turnover on this site of 480 burgers x £9 = £4,320 (incl. tax)
Carrying out this calculation enables you to quickly check that you've not overestimated your sales by taking certain operational constraints, such as the cooking time, into account.
5. Include the sales generated by the food truck's extra services
The last point to take into account when assessing your food truck turnover is extra services offered by your food truck, including daily rentals of the food truck for special events such as weddings and birthdays.
This type of service, especially for weddings, generally compensates for the lull in business during the slightly slower summer holiday period.
You should understand by now that estimating the expected turnover of a food truck is not an exact science, but by following a few simple steps, you can significantly reduce the chance of error.
Now that our guide is coming to an end, we hope it's given you a better understanding of how to carry out one of the fundamental steps of your food truck's financial forecast: estimating its turnover.
Don't hesitate to contact us if you would like to share another tip for estimating a food truck's turnover, or if you have any questions regarding the financial forecast of a food truck.
Also on The Business Plan Shop
Know someone who'd like to set up their own food truck? Share this article with the click of a mouse!