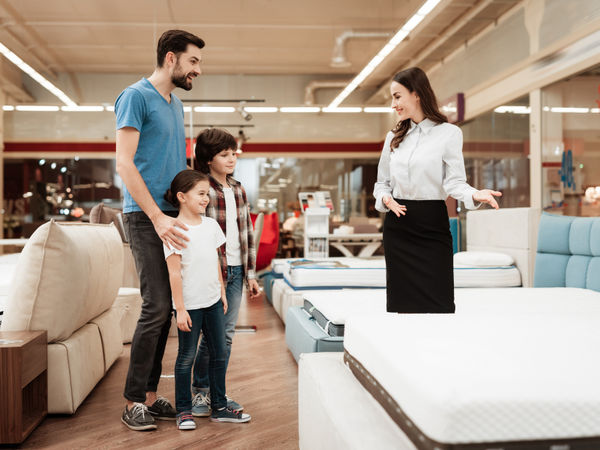 A business plan for a furniture store is an essential tool that can help entrepreneurs evaluate whether their idea is viable and decide how best to move forward with it.
Unsurprisingly, it forms the cornerstone of success for any furniture store, no matter the size or complexity.
Despite this, entrepreneurs often find writing a furniture store business plan a daunting task. But it doesn't have to be!
This in-depth guide discusses why it's important to have one, what should be included in your plan, and which tools you can use when writing it.
Ready? Let's get started!
Why write a business plan for a furniture store?
There are several reasons to write a furniture store business plan. Below, we cover some of the most important ones!
To draw up a roadmap
Writing a business plan for a furniture store is an essential part of starting or running a business. It forces entrepreneurs to look ahead and set objectives for the next 3 to 5 years.
This helps ensure that they are taking into account all aspects of their business, from financials to marketing strategies, so they can make informed decisions about how best to move forward.
For existing businesses, it also provides an opportunity to reassess current operations and adjust goals accordingly. By having a clear vision and direction in mind, entrepreneurs can better prepare themselves for whatever challenges may come their way as they strive towards success.
To keep an eye on future cash flows
The business plan for a furniture store will contain a financial forecast. Creating this is essential because it provides visibility on your future cash flows and cash position whih allows you to anticipate any cash shortfall or funding requirements.
Comparing your actual financial performance to what was planned in the forecast provides the opportunity to update your forecasts as times goes by in order to maintain visibility on your future cash flows.
To raise funding
Writing a business plan is crucial for any furniture store that wants to secure financing from a bank or investor.
Banks use your business plan to assess your store's borrowing capacity and to decide whether or not your company can afford the loan.
A comprehensive, well-written business plan will demonstrate that you understand all aspects of running a successful furniture store, including marketing strategies and financial projections.
With this information in hand, banks can make an informed decision about whether or not it makes sense to lend money to your business.
Similarly, investors will carefully review the business plan in order to decide whether or not their investment could generate a good return on their capital.
They need to see evidence of healthy growth, profitability and cash flow in the business plan of your furniture store.
Now that you know why it's important to write a business plan for your furniture store, let's look at the information needed to create such a plan.
Information needed to create a business plan for a furniture store
Writing a furniture store business plan requires research so that you can project sales, investments and cost accurately in your financial forecast.
In this section, we cover three key pieces of information you should gather before drafting your plan!
Carrying out market research for a furniture store
Market research helps you to accurately forecast revenues, giving you the data needed to make informed decisions about how best to move forward with your business.
It also allows you to identify target markets and understand their needs, enabling you to create products or services that meet those needs.
For example, you might find that customers are becoming increasingly interested in sustainable furniture, such as pieces made from recycled materials.
Additionally, modern designs with clean lines and a minimal aesthetic may be growing in popularity among your target demographic.
In short, market research provides invaluable insights into what will be necessary for a successful furniture store launch or expansion.
Developing the marketing plan for a furniture store
A comprehensive marketing plan provides insight into the budget needed for sales and marketing activities.
This budget should include expenses associated with advertising, promotions, customer outreach strategies, and any other costs related to targeting potential customers effectively.
The staffing and equipment needs of a furniture store
Before writing a furniture store business plan, it is essential to take into account the budget that needs to be allocated for recruitment and investments.
Be sure to assess what equipment and personnel are required for your store to operate smoothly, and how much it will all cost.
Once you have gathered the necessary information to create a business plan for your furniture store, it is time to start working on your financial forecast.
What goes into your furniture store's financial forecast?
The financial forecast for a furniture store must contain 4 important tables:
The profit and loss statement
The balance sheet lists
The cash flow statement
The sources & uses table
Let's have a look at each of these in a bit more details.
The projected P&L statement
The projected P&L statement for a furniture store shows how fast the store is expected to grow and how profitable the store should be in the next 3 to 5 year.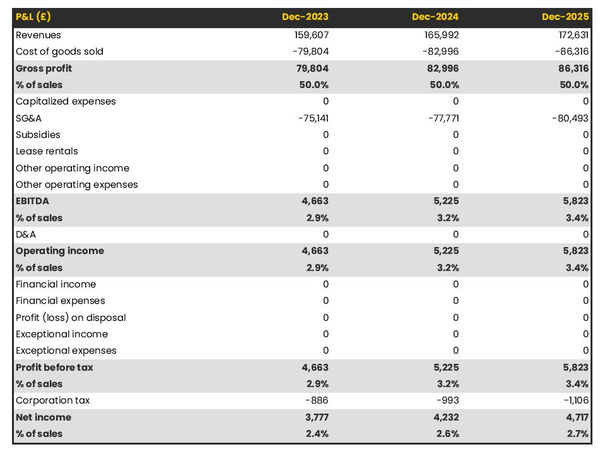 The projected balance sheet of your furniture store
Your balance sheet provides a snapshot of your business's financial health at a given point in time.
It includes three main components: assets, liabilities and equity:
Assets:

are resources owned by the store, such as cash, inventory, and accounts receivable.

Liabilities:

are debts owed to creditors and other entities, such as accounts payable and loans.

Equity:

is a proxy for the value of the owner's stake in the business.
Examining the balance sheet is important for lenders, investors, or other stakeholders who are interested in assessing your furniture store's solvency and liquidity.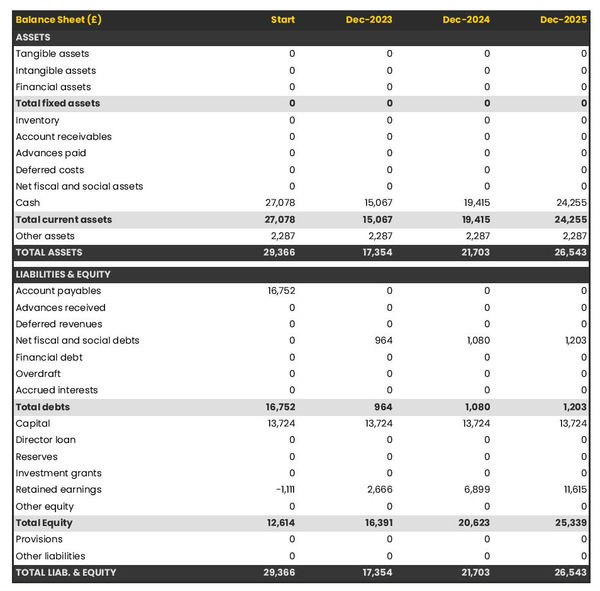 Solvency assesses whether or not your business has the capacity to repay its debt over the medium term.
Liquidity assesses whether or not your business has sufficient cash and short terms assets to repay its debt over the next 12 months.
The projected cash flow statement
Your projected cash flow statement shows how much cash the furniture store will have coming in and going out over time.
This is helpful because it helps you plan ahead and know how much money you'll have to use for growth.
It also makes it easier to spot any problems before they happen, so that you can fix it as quickly as possible (for example, a shortfall in cash can be negated by an overdraft).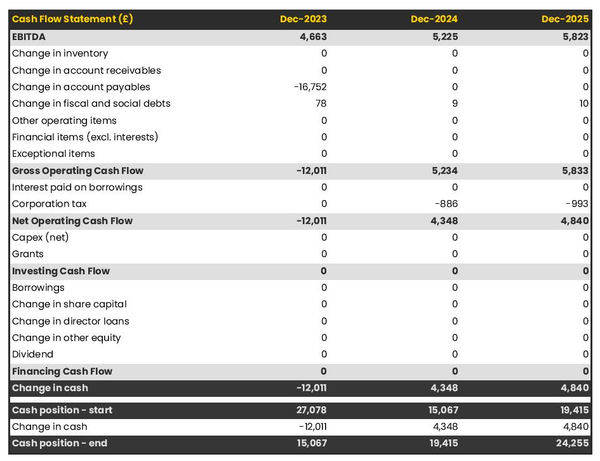 The initial financing plan
When starting a furniture store or when seeking funding, it is also useful to include an initial financing plan in your forecast.
This plan, also called a sources and uses table, gives an overview of the items that need to be financed and where the money is coming from.

Now that we have seen what goes in the financial forecast of your furniture store business plan, let's have a look at the written part of the business plan which provides the reader with the context needed to juge whether your numbers are plausible.
The written part of a furniture store business plan
The written part of a furniture store plan is composed of the 7 main sections:
The executive summary
The presentation of the company
The products and services section
The market research analysis
The strategy section
The operations section
The financial plan
We will now cover each section in-depth, explaining what information needs to be included.
1. The executive summary
The executive summary for a furniture store business plan, should provide a detailed overview of the business, market, key financials, and funding requirements.
The business overview should outline essential information such as the type of furniture being sold, the target customers, the store location and the management team.
The market overview should present a summary of the current furniture market, including trends, competition, customer preferences, and potential growth opportunities.
It is also important to provide key financials such as startup costs, projected revenues, and expected profits.
Finally, the 'our ask' section should concisely explain how much money is sought from investors or lenders.
2. The presentation of the company
The presentation of the company should start with the structure and ownership.
This would include outlining the legal entity chosen to operate the business, such as an LLC or partnership. It would also include describing the ownership breakdown, including any investors involved in the project.
Once you covered the structure, the next step is to introduce the location: you should state where the store is located - using a map of the area if possible - and the layout of the premises. Also mention available amenities and services that may be beneficial for customers (parking spaces, transport links, etc.).
Finally, you should include details about the management team. Discuss the relevant experience and qualifications of each team member as well as any other applicable information about them.
3. The products and services section
When drafting your business plan for a furniture store, it is important to include an in-depth section on the products and services being offered.
This section should be tailored to the needs of the reader - whether that is a bank or investor - as they need to understand exactly what your business will provide.
Be sure to provide in-depth descriptions of the categories of furniture pieces you intend to offer, including their materials, dimensions, colors, styles and any other features that may be relevant.
Additionally, it's important to clearly outline any special services you plan on providing such as delivery options or installation assistance.
Make sure to also mention if you are offering custom designs so that potential customers know right away what kind of flexibility they can expect from your store.
By properly outlining all these elements in your business plan's product and service section, readers will have a clear understanding of what makes your furniture store unique and how it stands out from competitors.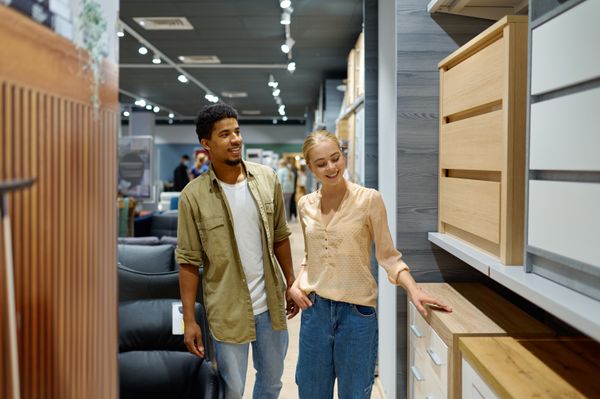 4. The market research analysis
When presenting the conclusion of your market analysis in a business plan, you should include important information about demographics and segmentation, target market, competition, barriers to entry and any regulations that may apply.
The demographics and segmentation subsection should focus on identifying and quantifying the different potential customer segments and their purchasing habits, in order to understand who is likely to be interested in purchasing furniture from you.
The target market subsection should zoom on the customer segements you intend to focus on given the positioning of your store.
For example, if you sale entry price furniture, your target market might include first-time buyers who recently bought their first property. They need furniture to outfit the new house or apartment but don't want to spend too much money on quality pieces that will last them for years.
You should also include a detailed presentation of the competitive landscape, by assessing what other furniture stores in the area offer.
Finally you should also include a presentation of the main rules applicable to your business. For example, your furniture store might be subject to local zoning regulations which set the rules for where you may and may not put furniture displays.
5. The strategy section
When writing the strategy section of a business plan for a furniture store, it is essential to include details about your competitive edge, pricing strategies, marketing plans, milestones as well as key risks and mitigants.
When presenting your competitive edge, focus on the factors that make you different from your competitors in order to demonstrate why customers might come to you instead of them.
Then you should detail your pricing strategy. There is no right or wrong pricing strategy per se as long as yours is competitive and viable with healthy margins.
After the pricing, comes the sales and marketing plan which should outline how the store will reach potential customers including advertising campaigns and promotions.
Then comes the milestones subsection where you will be able to showcase the progress you achieved so far and your targets for the years to come.
Finally, any known risks to the survival of your furniture store and proposed mitigants must be addressed in the risk and mittigants subsection.
6. The operations section
In order to present the operations of a furniture store in a business plan, it is important to include information about the staffing team, opening hours, key assets and intellectual property needed to operate, and the suppliers that will be utilized.
The staffing team should include a breakdown of the roles and responsibilities of each staff member. The number of staff members needed to be hired should also be included.
Additionally, the business plan should include a recruitment plan which details how the hiring process will take place and how long it will take.
The opening hours of the store should also be listed in the operations section of the business plan. It is important to note if there are any special hours or planned closures due to holidays or other reasons.
You should also include a list of key assets and intellectual property that the store needs in order to operate. This could include things like equipment, furniture, software, lease, and any other items needed for daily operations.
Finally, detail which suppliers you plan to utilize. It is important to include the type of products each supplier provides, as well as their cost, delivery times, and payment terms. If you've chosen a particular supplier because of past experience, be sure to mention this too.
This will give potential investors confidence in your furniture store's ability to source necessary items.
Including these details in the operations section of a furniture store business plan, it will help provide a comprehensive overview of how the store will be run and ensure that potential investors have all the necessary information to make an informed decision.
7. The presentation of the financial plan
The financial plan section of the guide is where you should include the financial forecast that we talked about earlier.
Now that we have a better understanding of the content and structure of a furniture store business plan, let's look at some of the tools available to help you create it.
What tool should I use to write my furniture store business plan?
In this section, we will review three solutions for creating a business plan for your furniture store: using Word and Excel, hiring a consultant to write the plan, or using an online business plan software.
Create your furniture store's business plan using Word or Excel
Creating a furniture store business plan using Word and Excel is an outdated solution that has more cons than pros.
The two advantages are the using these programs is relatively cheap and that Excel gives you a lot of flexibility to model you forecast.
The main issue is that you need serious knowledge of accounting and financial modelling in order to create a forecast without errors on Excel. And as a result, lenders and investors are unlikely to trust forecasts created by people that don't have a degree in finance or accounting.
Writing your business plan with Word is also inefficient: it requires you to start from a blank page and spend hours formatting the document after it is written. There are no templates, samples or examples to guide you through.
Overall, while Word or Excel may be viable options for creating a furniture store business plan for some entrepreneurs, it is by far not the best or most efficient solution.
Hire a consultant to write your furniture store's business plan
Outsourcing to a consultant is a popular solution for entrepreneurs looking to write a comprehensive business plan.
Consultants are experienced in writing business plans and can create accurate financial forecasts without errors. This means that the legibility of the plan can be trusted much more than if you were to create one yourself using Word or Excel.
However, there are some drawbacks to outsourcing the business plan. The cost of hiring a consultant is usually quite expensive: budget at least £1.5k ($2.0k) for a complete business plan, more if you need to make changes after the initial version (which happens frequently after the initial meetings with lenders).
Additionally, you'll probably have less control over the final product with this approach compared to writing it yourself. And while consultants may have expertise in the field, they may not have the same level of knowledge and understanding fo the market as you.
Overall, when deciding whether to outsource a furniture store plan to a consultant, you should weigh both sides carefully and make an informed decision based on your individual situation.
Use an online business plan software for your furniture store business plan
Another alternative is to use online business plan software.
There are several advantages to using specialized software:
You are guided through the writing process by detailed instructions and examples for each part of the plan
You can be inspired by already written business plan templates
You can easily make your financial forecast by letting the software take care of the financial calculations for you without errors
You get a professional document, formatted and ready to be sent to your bank
The software will enable you to easily track your actual financial performance against your forecast and update your forecast as time goes by
If you're interested in using this type of solution, you can try our software for free by signing up here.
We hope that this article has helped you to better understand how to write the business plan for a furniture store. If you still have questions, do not hesitate to contact us.
Also on The Business Plan Shop
Know someone in the furniture industry? Share this article with them!