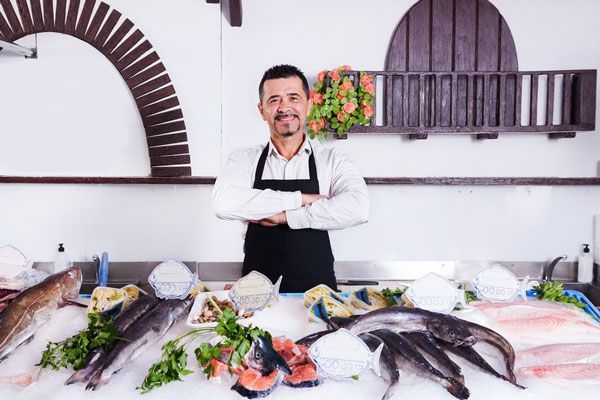 Did you know that 55% of all adults surveyed by Seafood Source admitted to wanting to consume more fish-related products?
If your tastebuds are already enticed by the thought and you want to learn more about how to open a fishmonger yourself, then look no further. Our step-by-step guide will run you through all the details - big and small.
Carrying out market research for a fishmonger
The first step in our guide on how to open a fishmonger is to conduct a market analysis to validate that there is potential for your business to prosper.
To do so, you will need to:
Analyze the evolution of the market: Is it growing? Are the number of fishmongers increasing or decreasing? What are the major trends?
Studying consumer expectations: Who is eating fish? How often? With what budget? What are the most popular dishes?
Evaluate the level of competition: Who are the competitors in the desired location? What types of products do they offer? Do their companies look healthy? Who are the indirect competitors (supermarkets, frozen food, e-commerce)? How can you differentiate yourself from your competitors?
The current state of the fishmonger market
The number of fishmongers is declining. The economic crisis is not to blame: it is a long-term phenomenon.
The fishing and aquaculture industry was worth only £446 million to the UK economy in 2019, according to reports by The House of Commons. Thus, accounting for roughly 0.02% of the UK's overall economic output and 3.44% of the total fishing, forestry and agriculture industry - a very small portion indeed.
There were only 12,000 fishers in the UK in 2019, a significant reduction from the 20,000 that were present in the mid-1990s. According to the same study, there were as few as 3,705 fishing businesses in the UK in 2020, with the vast majority of them employing less than five workers.

According to a report by Ibis World, the US fishing industry had a market size of $9.7 billion in 2021. Similarly to the UK, between 2016 and 2021, the US fishing industry declined. The annualised market size growth was -1.5% during the same period and only grew 0.8% in 2021.

This decline can be explained by several factors, including:
the lack of attractiveness of the profession among young people: The average age of workers in a sample conducted by Seafish (public body), was 42.
a lack of competitiveness against food superstores which, thanks to their mastery of supply chains, can offer diversified assortments at very competitive prices
Interestingly, despite the overall numbers declining, fishmongers still have the advantage over local supermarkets, according to Sea Food Source. Customers prefer to purchase directly from a fishmonger because they have more knowledge and charge lower prices (being further up the retail chain), in comparison to retailers. Browns Seafood says that fish markets are still proving to be very profitable and there is value in learning how to open a fishmonger shop.
Is differentiation the answer to competition?
Once your market research has been carried out, you will have to rely on the data collected to identify an axis of differentiation to competitors. That is to say, find a way to stand out and be competitive.
Several options are available to you here: For example, you could choose to set up in an area that is poorly served by other marine professionals. This might make it easier for you to build a clientele.
You could also choose to differentiate yourself by the type of products offered, since selling the same goods as your competitors will likely result in reduced revenue as customers might be shared. Conversely, you may choose to specialize in a specific category such as scallops, prepared/ready-to-eat products, or simply offer a better quality of service to customers.
Another alternative is to take over an existing fishmonger with a secured customer base and concept. The sector is particularly favourable to takeovers, so it is probably reasonable to assume that you may be able to do so at an affordable cost.
Choosing a suitable location for a fishmonger
An adapted room that can store fish in line with hygiene standards will likely need to be integrated into your business plan.
This is because fishmongers must adhere to the "freezing" rules set by the Food Standards Agency in the UK. Both the conditioning of the fish and the nature of its storage grounds will be important.
Beyond these considerations, the main choice you will have to make concerning your premises will be its location. With the advent of online retailers, the market is likely to be competitive regardless of where your fishmonger is set up.
Therefore, it is important to conduct thorough research to ensure that extra levels of competition in the form of physical stores aren't omnipresent in your location.
How to open a fishmonger: choose the legal form of your business
The next step in setting up a fishmonger is choosing the legal structure of your business. This is a vital step as it will impact:
How much your business is taxed
Your taxation at a personal level
Your responsibility for the company's debts in the event of bankruptcy
To help you make your choice, you can find more detailed information on the different legal forms available to you on the gov.uk guide for UK business owners and SBA guide for those of you based in the US.
The equipment and staffing requirements
Your business concept is coming together nicely. Now it's time to think about the type of equipment that a fishmonger requires.
The overall requirements both in terms of equipment and personel will depend on the size of your fish store and the type of services offered to customers.
At a minimum, you'll need:
Refridgerated room to store your products
Commercial premises if you opt for the fixed store, stand or truck if you opt for the itinerant trade
Specialized equipment: refrigerated stalls, cold room, scales, cash register, etc.
If you offer a delivery services, you will also need delivery trucks and drivers.
To assess the cost of equipment, it is best to ask for quotes from several professionals to compare prices and to be able to integrate the cost of each item precisely into your financial forecast.
Regarding the staff needed to operate the business, the number of people required to operate your fishmonger will mainly depends on the size of your store and its opening hours.
In addition to the commercial part, it is also helpful to anticipate the workload at an administrative level in terms of accounting, payroll and supply management. If necessary, surround yourself with an accountant to relieve you of some of the tasks.
Creating a marketing plan for a fishmonger
The next step to open a fishmonger is to develop a marketing plan. The objective here is very simple: to identify the actions that need to be taken to attract and retain customers.
Again, the strategy will depend a lot on the type of fishmonger you plan to open because the actions to be implemented for a mobile business are quite different from those to be considered for a stationary business.
In particular, you can consider the following actions:
The creation of a website highlighting: your opening hours (or points of passage if you do markets), where your fish comes from, directions to find you, etc.
An e-commerce section if you offer home delivery
Distributing leaflets to local residents to let them know a new fishmonger is in town
The implementation of a loyalty program
Advertising your store online or through the media (newspapers, radios, etc.)
As you can see the possibilities are numerous, it's up to you to evaluate the opportunity that each of them represents for your business to prioritise them.
Writing the business plan for a fishmonger
Writing a business plan is another essential step along the road to opening a fishmonger.
The business plan is the document with which you will present your business idea and try to secure financing from your bank or potential investors, so you need to make it impeccable.
If you are not used to writing business plans, a good solution would be to use online business plan software.
There are several advantages to using specialized software:
You are guided through the writing process by detailed instructions and examples for each part of the plan
You can be inspired by already written business plan templates
You can easily make your financial forecast by letting the software take care of the financial aspects for you.
You get a professional document, formatted and ready to be sent to your bank
You can easily track progress against your business plan, once you start trading, and keep your financial forecast up to date
If you are interested in this type of solution, you can try our software for free by signing up here.
How to open a fishmonger: obtain funding
Given that you should have an impressive business plan by now, the only thing left to do is to obtain sufficient financing to launch your fishmonger.
Several options are available to you here:
You could turn to private investors to strengthen your equity
Attempt to persuade a bank or credit institution to finance equipment
Launch a crowdfunding campaign to collect donations and build awareness about your products.
Alternatively, try to obtain public aid for the creation of a business: tax credits, or subsidies.
So you now know how to open a fishmonger shop. Don't hesitate to let us know if you have any questions, and above all, invite us to the opening!
Also on The Business Plan Shop:
Know someone who would like to open a fishmonger? Share this article with just one click!