How to create a financial forecast for an electrician business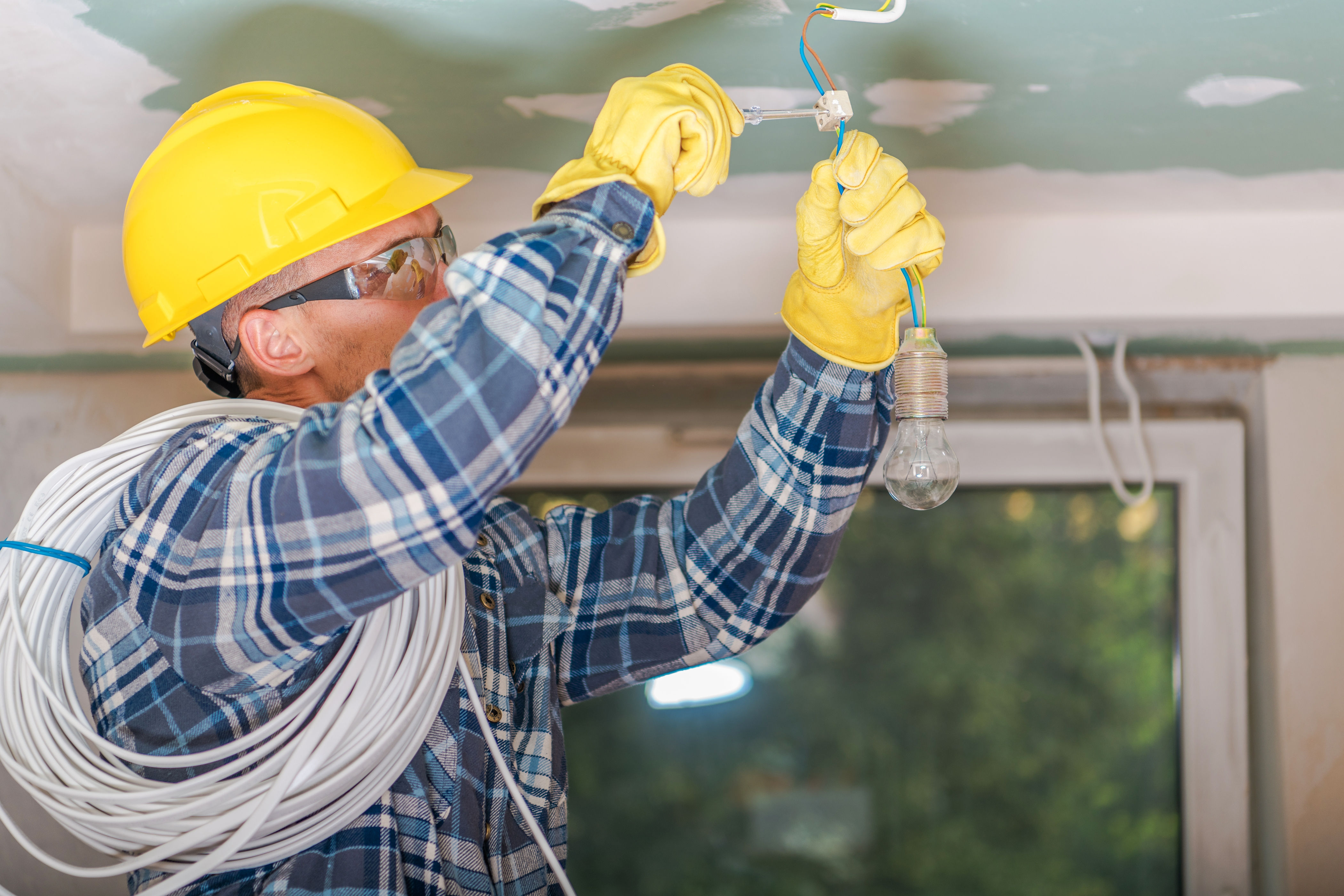 Whether you're starting, taking over or looking to grow an electrician business, developing a financial forecast is fundamental to help you succeed.
If you feel overwhelmed and are not sure how to create a financial forecast for a electrician business, then look no further. Our step-by-step guide will run you through all the details - big and small.
Why should I prepare a financial forecast for my electrical business?
The goal of a financial forecast is to project the future financial performance for a business.
Some of the benefits of financial forecasting include:
Helping you assess whether or not your business venture or idea is financially viable
Being able to anticipate cash pitfalls in advance enabling you to reduce financial risk
Being able to include your forecast in a business plan which can be used to apply for financing with banks or investors
Being able to compare your electrical business financial performance to the forecast as the year progresses to ensure you are on track to meet your goals
What information is needed to create a financial forecast for an electrician business?
Before starting to create a financial forecast for an electrician business, you must first carry out market research.
This will help you understand key trends in the sector, and assess the level of demand and competition in the local area which you will later leverage to build your sales forecast.
In particular, we recommend focusing on:
The number and type of new builds in your serviceable market (houses, offices, etc.)
The number of repairs and renovations per year in your catchment area/s
The average customer budget by type of work (emergency repairs, occasional repairs, renovations, new homes, etc.)
The type of competitior already present in the local market
In addition to the market research, you will also need to think about a sales and marketing strategy to help build a presence for your business. Think about the different methods you will use to get customers and any costs associated.
You will also have to estimate day-to-day operational costs that your electrician business is likely to occur. We recommend asking suppliers for quotes to compare prices.
Once you have gathered the required information, you can start creating your financial forecast. Let's look at what this entails.
The sales forecast of your electrical business
The first step will be to create your sales forecast.
A sales forecast is an estimate of the number of electrical jobs that you will be able to carry out within a given time (depending on far you wish to forecast) and how much revenues these jobs will generate.
To create your sales forecast, we recommend that you first estimate the company's maximum capacity. In other words, think about how many electrical jobs you could possibly do, taking into account:
How many electricians you currently employs
How long each job takes to complete on average
Travel time and administrative time
Etc.
Estimating your capacity will help set expectations and assess the maximum of sales your electrical business can generate given its current resources.
For example, if you are a one-man band working 5 days a week, and spend 1 day a week on admin (invoicing, bookkeeping, etc.), you have 4 days left to do jobs that will generate revenues.
If a job takes half a day on average including tavel time, the maximum number of jobs you can do in a week is 8 (4 days x 2 jobs per day).
If you invoice on average £200 per intervention, the maximum sales you can expect to generate is £83.2k per year (8 jobs per week x £200 per job x 52).
This capacity estimate is an optimistic maximum, because it assumes you are fully booked, and never sick nor taking days off.
To arrive at a realistic sales forecast, the next step will be to estimate how many jobs you will realistically be able to get.
This will depend on your sales and marketing plan: are you solely relying on word of mouth and people finding you on Google maps, or do you have an active strategy to get customers (networking with large construction companies which regularly outsource electrical work, ads to reach customers in need of urgent electrical repairs, etc.).
When doing this assesment, it is important to rely on both market research data and your knowledge of the local market. You will also need to take into account seasonality.
The overheads budget of your electrical company
The next step of your financial forecast will be to estimate the cost of overheads. These are the costs incurred in running the business.
Your electrician business will likely incur overhead costs such as:
Salaries
Rent (if you have premises)
Travel expenses
Bank charges
Accounting software
Taxes
Professional insurance
Vehicle leasing costs (if not brought outright)
Etc.
The quotes and price estimates you receive from your suppliers will help you estimate how much of your budget will need to be allocated to overheads.
Planned investments
The next step in our guide on how to create a financial forecast for an electrician business is to think about potential investments that you may need to make. This includes both short term and long term investment.
Examples of this could include:
Equipment required to carry out electrical jobs (big and small)
Specialised tools for complex electrical jobs
Cars or utility vans used on building sites
Protective equipement for staff operating on building sites (helmets, high visibility jackets, etc.)
Etc.
Here, you will also need to request quotes and price estimates your suppliers to create your budget, but you will also need to think how long those investments can be used before they need to be replaced.
The financing plan of your electrician business
The next step in the creation of your financial forecast for your electrical company is to think about how you might finance your business.
You will have to assess how much capital will comme from shareholders (equity) and how much can be secured through banks.
Bank loans will have to be modelled so that you can separate the interest expenses from the repayments of principal, and include all this data in your forecast.
The electrician business budget summary tables
Once you've completed the previous steps, you'll be tasked with preparing the financial tables for your financial forecast which we will now detail.
The profit and loss statement
The P&L forecast will allow you to visualize the expected turnover and profitability for the electrical business over the coming years.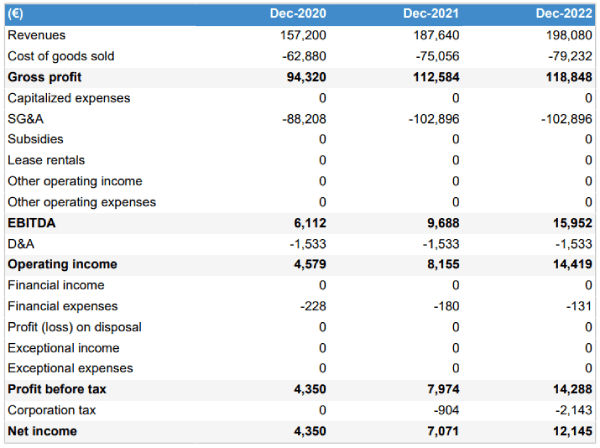 The projected balance sheet
This table allows you to visualize the company's assets at the end of the financial year. It shows on the assets side what the company owns, and on the liabilities side what it owes to its creditors and the value created for its shareholders.
The balance sheet allows you to observe the weight of the working capital (inventory + accounts receivable - accounts payable) and the financial debt in the structure.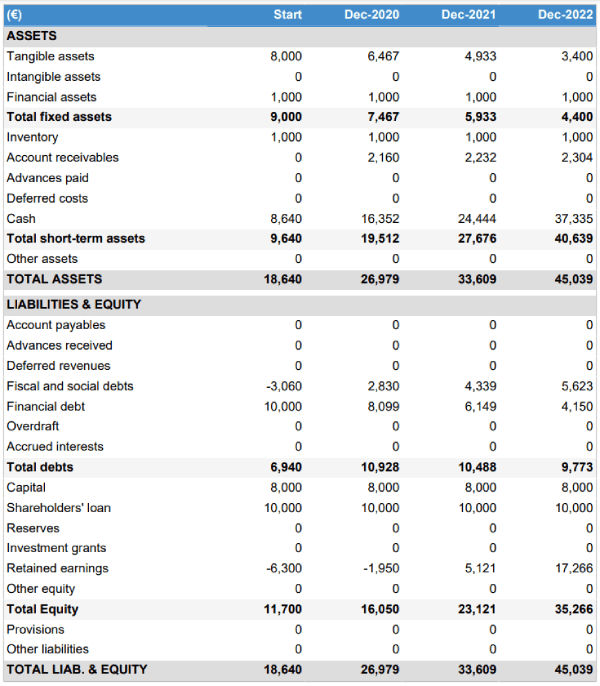 The projected cash flow statement
This chart will help you understand how the business generates and uses cash.
It will also allow you to verify that your electrician business is generating enough cash to meet its loan payments, renew its equipment, and fund growth initiatices.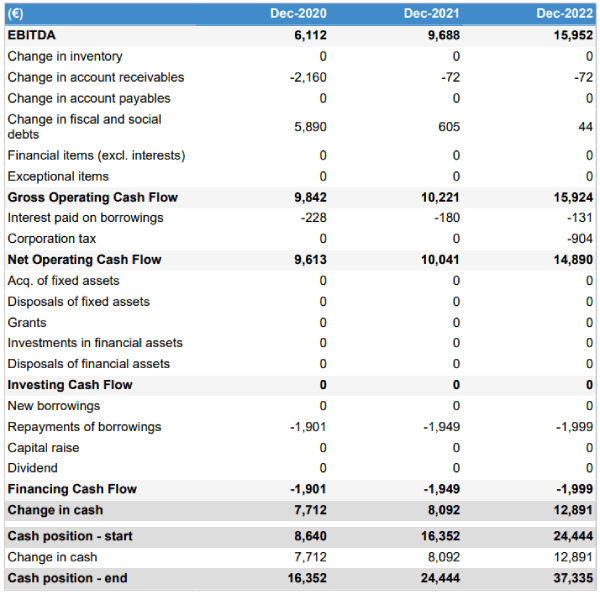 Which solution should you use to build your electrician business financial forecast?
Use Excel to create a financial forecast
Microsoft Office is relatively cheap to use, making it an attractive option when it comes to creating a financial forecast.
However, using it to create a financial forecast is difficult - especially if you don't have advanced knowledge in both accounting and financial modelling. This is because it can be very easy to make mistakes on Excel.
It is also unlikely that a financier would trust a forecast created on Excel by someone who is not a finance professional.
Use a consultant or a chartered accountant
Hiring a chartered accountant or consultant to take care of the financial part of your business plan is a good way to avoid errors. However, the fees are generally quite expensive: budget around £1.5k ($2.0k) for a complete business plan, plus more if you need to make changes after the initial version (which happens frequently after the initial meetings with lenders).
If you decide to hire a consultant or accountant, remember to check what's included in the service - will they charge you for revisions, will their spreadsheet be easy to maintain and update, etc.
Use an online forecasting software
The final option available to you is to use online financial forecasting software.
Using professional financial forecasting software offers multiple advantages:
You can easily make your financial projections, letting the software take care of the calculations without errors
You have access to complete financial forecast templates
You get a complete financial forecast ready to be sent to your bank
You can easily compare your forecast to accounting data in order to track your progress
You can create scenarios to stress test your forecast
If you are interested in this type of solution, you can try our forecasting software for free by signing up here.
Electrician financial forecast template
Still not sure what a financial forecast looks like, and want a concrete idea before you start?
The Business Plan Shop has worked hard to provide you with a ready-made business plan template for an electrician business.
With a financial forecast and a detailed business plan both included, you will be able to draw inspiration from this model to create your own. It's so much easier than starting from scratch!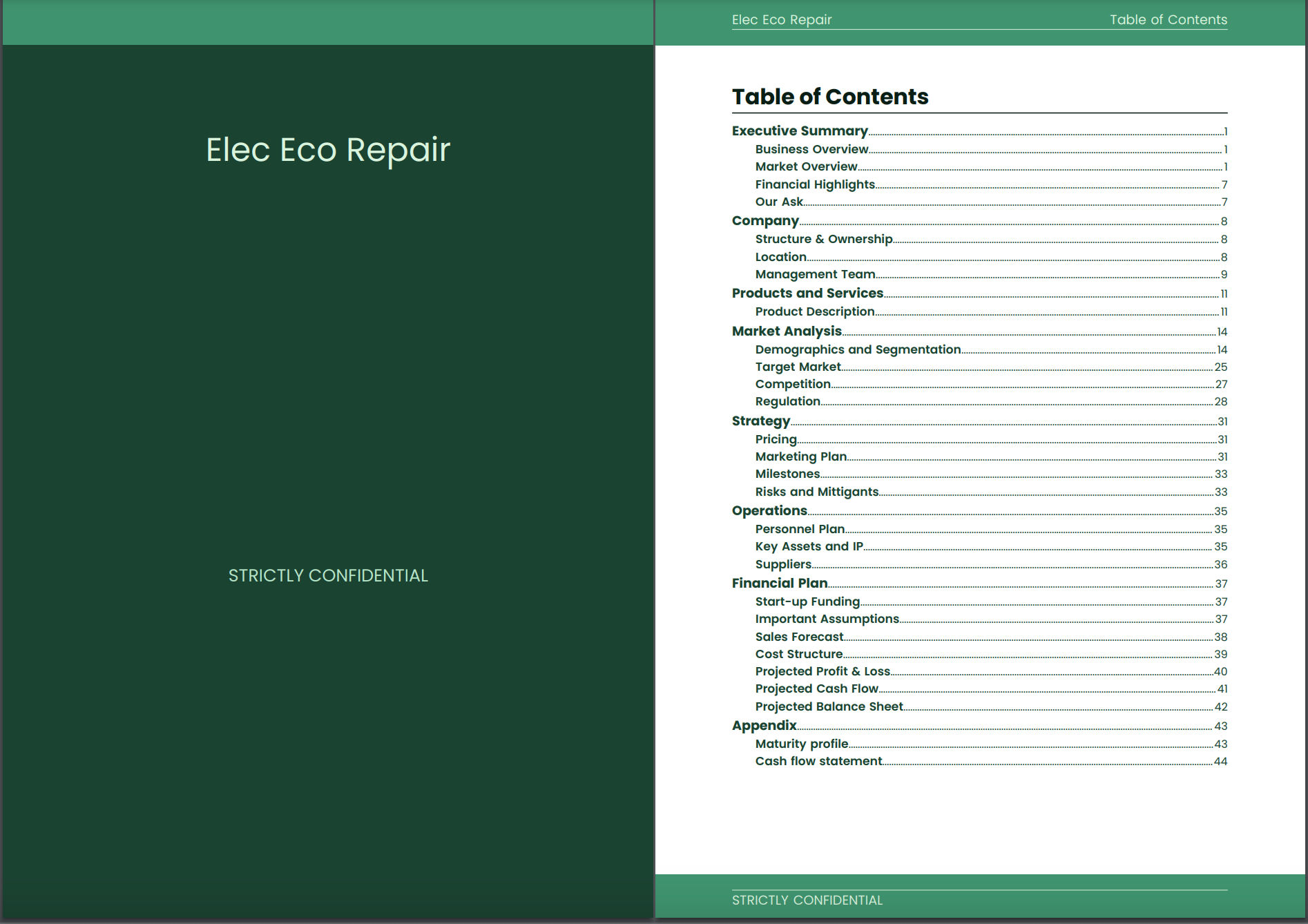 We hope this article has given you a much better understanding of how to create a financial forecast for a electrician business.
If you'd like advice on any of the points mentioned above or would like to speak to a member of our team about anything else related, please do not hesitate to get in touch!
Also on The Business Plan Shop
Know someone who would like to open an electrician business? Share this article with just one click!