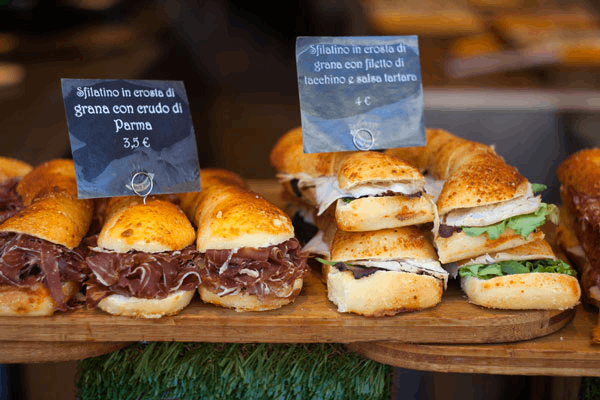 Lunchtime, as they say, is best in sandwich form. With 56% of all Brits consuming a sandwich every single day, it's no wonder why the UK deli market is worth more than £8 billion a year.
So it probably doesn't come as a shock that increasingly more entrepreneurs are keen to take up space on the sandwich scene by opening up their very own deli.
Whilst creativity, strong management skills and a thick skin are all essential attributes for running and operating a successful business, you can't neglect the importance of setting up a business plan for your deli.
Whether you decide to open a deli-cafe or a gourmet deli or one that specialises solely in Italian sandwiches, you'll need to draft up a business plan to help you track your process from start to finish. In this guide, we'll explain how you can successfully launch a deli by taking advantage of this practical tool.
Before diving headfirst into writing the business plan of a deli, let's first look at the market.
The state of the UK deli industry
With as many as 4 billion sandwiches purchased from UK or eating outlets each year, the UK deli market is booming - making it an alluring area for entrepreneurs to explore.
The success of the sandwich falls within its ability to meet the criteria of a winning lunch combination: budget-friendly and speedy.
In an era where, at the touch of a screen, we're hit with an excessive amount of food options, the sandwich, in its simplicity and efficiency, provides a safe haven for the consumer (be it office workers, busy parents or students) who feel paralysed by choice.
For those working within it, the sandwich industry opens the door to overflowing creativity. Deli owners make their own mark on the trade by using ingredients that are solely made in-store, coming up with quirky recipes or offering up wraps, bagels and hot-dogs alongside classic sandwiches.
Choose a concept and make sure your prices match up
Setting up a deli is a fairly common business venture, so you're going to need to carefully consider how you can set yourself apart from your competitors - especially when it comes to your prices. This is something to think about when putting together your business plan for a deli.
It might just so happen, however, that the current trend is to increase prices. If this is the case, ensure you introduce new products that both align with the budget of your future customers and allow you to keep up with your competitors.
Also bear in mind that your price will guide many other aspects of your business, including the marketing plan you'll set out to attract customers.
You won't advertise a plain cheese sandwich the same way you would about a French dip baguette, for example, because you'll need to use a different tone and strategy to essentially attract two separate groups of the customer for each product.
Carrying out market research for your deli's business plan
Before you begin writing the business plan for a deli, you will need to carry out market research to find out the information below:
What products should you offer to both attract customers and differentiate you from your competitors? What sort of prices will you set?
In which location will you set up your shop?
Will you open an independent deli or join an existing franchise?
How will you communicate with customers and convince them to visit your deli? Via social media, your website or street flyers?
Who will you select as your suppliers?
A deli business plan to attract investors and track your progress
To successfully launch the deli of your dreams, writing a business plan is imperative.

The business plan for a deli is a document in which you lay out the details for your project, the objectives you have for your business, and the steps you'll need to take to ensure it's a success.
Giving you a clear and overall view of your venture, the business plan for a deli will allow you to iron out any kinks, highlight its strengths, quantify the amount of money needed to bring it into fruition, and estimate its potential profitability.
Wrting your deli's business plan will force you to ask yourself the following questions:
What type of service or product will I sell? And at what price?
What are the necessary means (in terms of staff and equipment) to operate my business?
What other costs are involved? This includes factors such as rent, insurance, accounting, and maintenance
What is the business's initial funding requirement and how will it be funded?
What turnover is required to achieve the break-even point?
What is the potential profitability of your deli?
As you put together your business plan for a deli, you'll also need to consider the regulatory and legislative aspects of operating a deli, from your choice of legal structure to the current legislation around hygiene and food safety.
You can then use this document to present your business idea to banks or potential investors, who will then decide whether or not they'd like to lend the funds to help get your business off the ground.
If drafting up a business plan for a deli on your own feels a little too complicated, then you've come to the right place
Our online business plan software makes it easy for you. Designed specifically for entrepreneurs who've never written a business plan for a deli before, it will guide you step by step through the process - so you don't get lost in between the many different stages.
It will also make creating a financial forecast a breeze - leaving you with a clear, well-presented, and professional document with which you can confidently showcase your business idea to investors.
If you're still not sure, why not dip your toe and test our business plan software for free? Click here to try it out and let us know how you get on.
See also on The Business Plan Shop