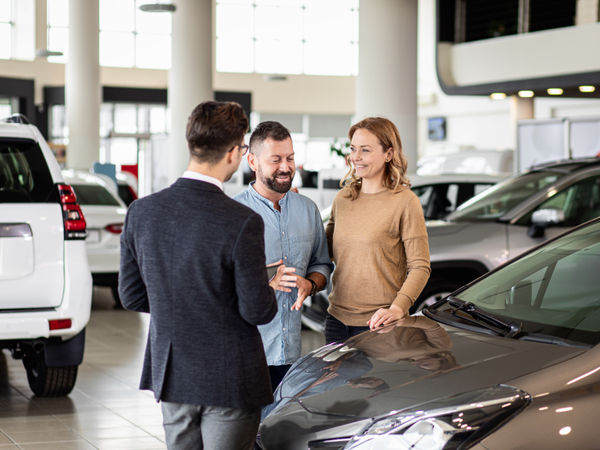 Whether you are starting up a new dealership or looking to grow and improve the profitability of an existing one, having a well-crafted and comprehensive business plan is essential.
In this guide, we will cover why it's important to write a business plan for your car dealership, what information you need to include in it, the structure and format of such plans, as well as the tools that can help you create one quickly and easily.
With these resources at hand, you'll be able to confidently start or grow your own car dealership with success!
Why write a business plan for a car dealership?
Writing a business plan for your car dealership forces you - the entrepreneur - to think critically about your objectives over the next 3 to 5 years, and create actionable plans to achieve them.
The business plan, therefore, serves as the roadmap for the expansion of your car dealership.
Once the plan is in place, you can compare your financial performance to what was planned and recalibrate your financial forecast as time goes by in order to maintain visibility on your future cash flows.
This process is crucial in helping you ensure that you know where the business is headed and have sufficient capital to fund operations and expansion.
Additionally, having a comprehensive car dealership business plan is mandatory if you need to attract potential investors (or lenders) who can provide vital capital to accelerate growth.
Investors will be looking for evidence that investing in your car dealership can generate a good return on investment. Therefore, they will want to see healthy growth, profitability and cash generation outlined clearly in the business plan.
Similarly, banks will use this document to assess whether or not you have what it takes to repay their loan and ensure that your dealership succeeds.
Now that we know why writing the business plan matters, let's have a look at the information needed to assemble it.
What information is needed to create a business plan for a car dealership?
Carrying out market research for your car dealership
Carrying out market research is an essential step prior to drafting any car dealership business plan.
It helps identify target markets and understand customer needs, and allows you to evaluate the competitive landscape and develop strategies for positioning your dealership in a way that will give it a competitive edge in the marketplace.
Having this data is key in order to accurately forecast potential revenues, and to present a compelling commercial opportunity in the written presentation of your business plan.
Developing the marketing plan of your car dealership
Creating a sales and marketing plan is another prerequisite that ensures that your financial forecast includes an accurate budget for sales and marketing expenses.
This budget should include specific details regarding costs associated with advertising, promotions, sponsorships, and incentives in order to maximize the dealership's sales.
The staff and equipment required for your car dealership
Comprehensive recruitment and investment plans also need to be outlined prior to writing your business plan as they will be needed when creating your financial forecast.
You will need to think thoroughly about how many staff members are required for the business to operate and what equipment will need to be purchased, and cost it all as accurately as possible.
Once you have gathered the necessary information for creating a business plan for your car dealership, it is time to move on to developing the financial forecast.
What goes in the financial forecast for a car dealership?
The financial forecast of a car dealership includes a Profit and Loss (P&L) statement, a Balance Sheet, a Cash Flow Statement, and Sources and Uses table.
Let's have a look at each of these financial tables in a bit more detail.
The projected P&L statement of your car dealership
The projected P&L statement for a car dealership shows how much growth and profit are expected in the years to come.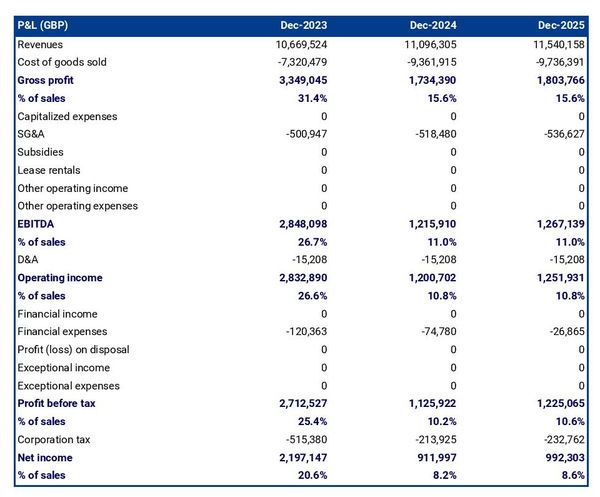 The projected balance sheet of your car dealership
The balance sheet is an important financial report that provides insight into the overall financial health of a car dealership.
It includes all assets owned by the dealership, such as cars, inventory, buildings and equipment, as well as liabilities such as accounts payable, loans and other debt.
This document gives an overview of what the company owns and owes at any given time, and how much your equity is worth.
The balance sheet is especially useful for lenders and investors, who want to understand the solvability and liquidity of the car dealership. It provides insight into how much money is available to pay creditors or invest in new projects.
For example, if there are more liabilities than assets on the balance sheet, it could signal that the business is over-leveraged or that there is a need for more capital.
On the other hand, if there are more assets than liabilities, the dealership may have enough money to invest in new projects and give lenders peace of mind.
For car dealership owners, the balance sheet can be used to identify potential risks, gauge financial performance and make plans for future growth. It provides an overall picture of the dealership's financial health and can help owners understand if their business is on track or needs to be improved.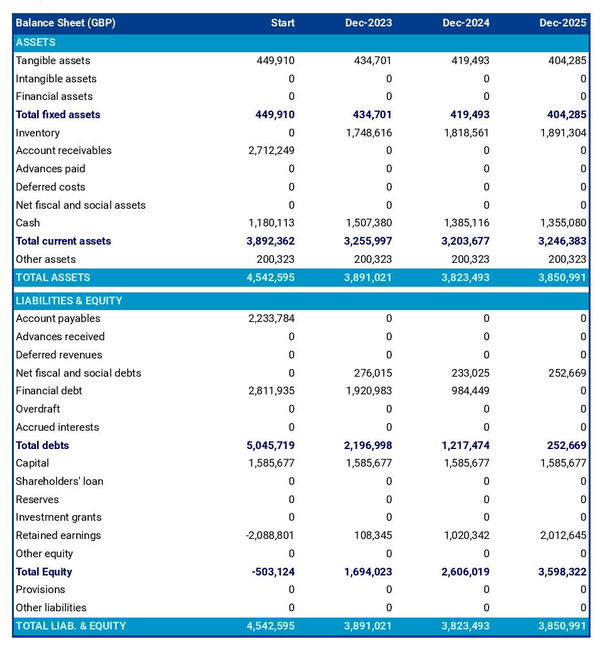 The projected cash flow statement of your car dealership
A forecasted cash flow statement for a car dealership is a document that shows how money comes in and out of the business.
It is useful because it helps people understand how much money the dealership makes and spends, which helps make decisions about financing.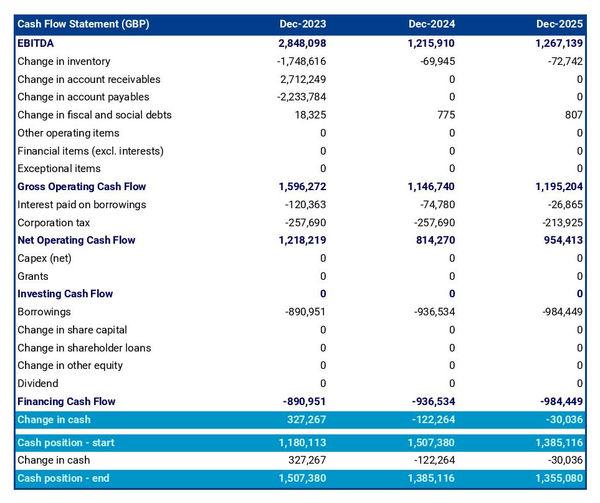 The initial financing plan
An initial financing plan is like a money map that shows where the money at the beginning of your car dealership business plan will come from and how it will be used.
It is important to have an initial financing plan when starting a car dealership so you can make sure you have enough money to cover all of your initial investments.
The plan should include information such as the total cost, who will provide the funds, what kind of loans or investments are needed, and other sources of capital such as grants or credit from suppliers.
Having this information in advance helps ensure that there are no financial surprises down the road.

Now that you have a better idea of what goes in the financial forecast for your car dealership, it is time to look at what goes in the written presentation which provides the context needed to understand how these projections were made and how they fit into the larger picture.
The written part of a car dealership plan
The written part of a car dealership plan is composed of the 7 main sections:
The executive summary
The presentation of the company
The products and services section
The market research analysis
The strategy section
The operations section
The financial plan
Let's dive into each section!
1. The executive summary
The executive summary of a car dealership plan should include the following key points: business overview, market overview, key financials, and the "ask" i.e. how much funding is required.
The business overview section should provide an overall description of the business, including its vision and objectives.
This includes information about the size of the dealership, type of vehicles sold, and any unique features the dealership may offer.
The market overview should include information about the size of the addressable market, current trends in the vehicle industry, and how the car dealership's offerings intend to meet customer demand.
Next come the key financial highlights where you will include a brief description of the dealership's financial situation and any expected future profits or losses.
Finally, the "our ask" section should include a thorough explanation as to what you are looking for from the reader of your plan. It is also important to detail how these funds will be used and what kind of return on investment can be expected.
2. The presentation of the company
The presentation of the company should start with detailed information about the structure and ownership of the company.
You should clearly explain what legal entity has been created to run the business, and who owns what percentage.
Additionally, it is important to state the exact location of the dealership, as well as give details about the management team that will be responsible for the day-to-day operations and implementation of the business plan.
3. The products and services section
When writing the products and services section of a car dealership's business plan, it is important for you - the business owner - to provide detailed information about the types of vehicles you offer, along with any additional services such as repairs or financing.
The goal of this section should be to show potential investors or lenders that customers will have access to quality cars, parts and service at competitive prices.
The type of vehicles offered by the car dealership should be clearly outlined in the business plan. This includes identifying which makes and models are available, as well as whether used cars are also sold.
It is also helpful to include information on who supplies these vehicles so investors can assess their reliability and reputation in the marketplace.
Additionally, if there are special features that make certain vehicle models stand out from competitors, those details should be included in this section as well.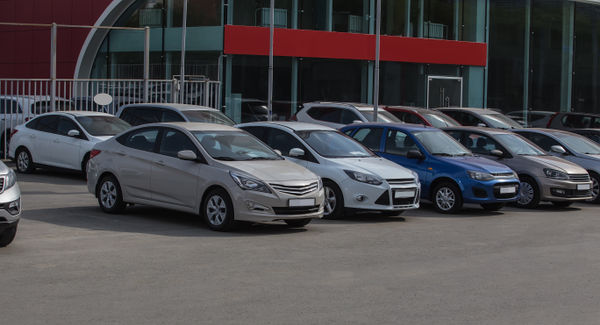 4. The market analysis
The presentation of your market analysis should include information about demographics and segmentation, target markets, competition, barriers at entry, and regulation.
This will help provide potential investors or banks with an understanding of the size of the local market and how your car dealership is best positioned to capture market share.
The demographics and segmentation section will focus on the demand side, explaining how many customers are in the local market and what their expectations and preferences are.
In the target market section you will explain who you are targeting and why your offering fits the needs of these customers.
The competition part will focus on your competitors and you will explain how and why customers will prefer your dealership over theirs.
You will then explain what barriers at entry exist on the market, if any. This could include licensing requirements with car manufacturers or an important upfront investment to enter the market.
5. The strategy section
When crafting the strategy section of your car dealership's business plan, you should focus on the following key elements in order to appeal to potential investors or lenders: competitive edge, pricing strategy, marketing plan, milestones and risks and mitigants.
Having a unique competitive edge is essential for success in any competitive industry. This could include offering special promotions or services that are not available from competitors.Or you could benefit from territorial exclusivity with a car manufacturer preventing other competitors from selling the same vehicles you offer.
A clear pricing strategy should also be outlined as well which details how prices will be set and adjusted over time based on market conditions.
Your marketing plan will then outline how customers will learn about the dealership's offerings and how customer loyalty can be maintained over time.
Finally, you should outline achievable milestones as well as strategies for dealing with potential risks or issues that may arise during operations.
Addressing these topics within the strategy section of your business plan will help demonstrate to lenders and investors your knowledge of the industry as well as show the steps you've taken to reduce risk associated with running your business.
6. The operations section
The operations section of your car dealership business plan should include detailed information about the staffing team and roles of staff members, recruitment plan, opening hours, key assets and intellectual property that the business needs to operate, as well as the suppliers it plans to work with.
When detailing the staffing team and roles of staff members, the plan should include information about the number of employees, their job titles and descriptions, as well as any qualifications needed for each position.
Additionally, it should include a recruitment plan that outlines how new staff members will be hired and onboarded into the business.
The operations section should also outline the opening hours of the dealership: when it opens and closes, as well as any special operating hours for specific services.
Furthermore, the plan should include information about key assets and property needed to run the business, such as a dealership license, customer databases, technology platforms or software licenses. Finally, it should list all of its suppliers that are critical to the running of the dealership.
By having a comprehensive operations section, the business owner can show potential lenders or investors that they have planned ahead and are well-prepared to successfully run their dealership.
7. The presentation of the financial plan
The financial plan section is where you will show the financial forecast that we talked about before.
Now that we have an understanding of the content a car dealership business plan should include, let's take a look at the tools and resources available to help us create one.
What tool should I use to write my car dealership's business plan?
In this section, we will review the different solutions for creating a business plan for your car dealership, including using Word and Excel, hiring a consultant or using an online software.
Create your car dealership's business plan using Word or Excel
Using Excel and Word to write a car dealership business plan can be an effective solution for some, but it should not be the first choice.
While Excel is cheap, creating a financial forecast without expert accounting knowledge is challenging to say the least. Creating a financial forecast on excel is often long and tedious and difficult to keep updated.
Using Word can help to create a plan from scratch, but it is time consuming as you have to start from a blank page and it requires hours of formatting the document once written.
Hire a consultant to write your car dealership's business plan
Outsourcing your car dealership business plan to a consultant or accountant is another potential solution.
Consultants are experienced in writing such plans and accountants are knowledgeable about creating financial forecasts that are accurate and free from errors though they may lack the industry expertise to forecast sales with precision.
The main drawback of outsourcing a plan though is the steep cost. Budget at least $2,000 (or £1,500) for a first iteration, more if revisions are needed after initial meetings with lenders and investors.
Overall, this is a good solution if you need your plan fast and are trying to raise a significant amount of capital.
Using a business plan software to write your car dealership business plan
Another alternative is to use online business plan software. There are several advantages to using specialized software:
You are guided through the writing process by detailed instructions and examples for each part of the plan
You can be inspired by already written business plan templates
You can easily make your financial forecast by letting the software take care of the financial calculations for you without errors
You get a professional document, formatted and ready to be sent to your bank
The software will enable you to easily track your actual financial performance against your forecast and update your forecast as time goes by
If you're interested in using this type of solution, you can try our software for free by signing up here.
We hope that this article has helped you to better understand how to write the business plan for a car dealership. If you still have questions, do not hesitate to contact us.
Also on The Business Plan Shop
Know someone in the car dealership industry? Share this article with them!