How to create a financial forecast for your jewellery shop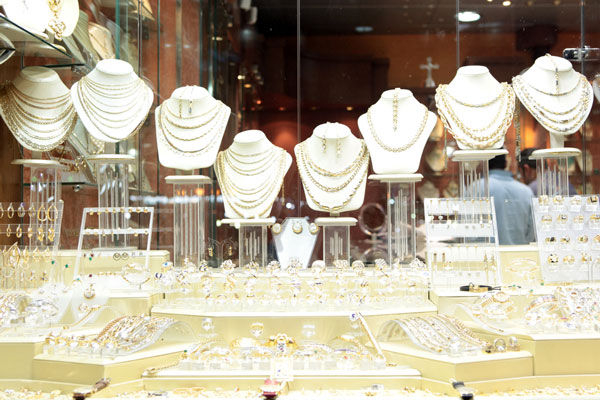 Developing a financial forecast for your jewellery shop is essential to ensure your business is and remains cash flow positive and profitable.
If you're not completely sure of the best way to go about achieving this, don't worry. Simply follow the guide below for advice on how to create an accurate financial forecast.
Why make a financial forecast for a jewellery shop?
Without a financial forecast, you have no way of knowing if your jewellery shop is likely to be profitable in the years to come, and whether or not you have sufficient cash in the bank to operate the business. In a nutshell: you're flying blind.
It's also important to remember that your jewellery shop's budget will be essential if you're applying for financing.
You can be 100% certain that a banker or investor will ask you for these numbers when presenting your project. So make sure they're set out accurately and attractively in your jewellery shop financial forecast.
What information is needed to draw up a jewellery shop's financial forecast?
You'll need the right data before you can start creating a realistic financial forecast for your jewellery shop.
First of all you will need market data to project your sales. The best proxies for this will either come from your historical trading (if you're already in business), or information gathered during the preliminary market research stage (if you're a startup):
Data on the mix of products: what categories of jewels are most often sold (ring, necklaces, etc.)?
Similar data on the mix of services (repairs, adjustments and fitings, etc.).
Data on the size of local market: how many customers are in your catchment area (this will depend mainly on your location)?
Data on your competitors: who are they, where are they located, and what type of jewellery do they sell (high end, costume jewellery, etc.)?
Even if some of this information can be found online and within industry magazines, we recommend that you also get in touch with professionals within the jewellery sector to obtain as much insider knowledge as possible.
Consider grabbing a coffee with the owner of an jewellery shop that isn't one of your direct competitors to get someone else's perspective on how the local market is doing.
The second step for your jewellery shop financial forecast is drawing up a precise list of the resources needed to keep the business running on a day-to-day basis. Between staff, utility bills, and maintaining stock, it's important to ensure these are all accounted for if you want to create a budget that's as close to reality as possible.
When putting these costs together, use historical data or ensure you view them alongside a list of quotes that you've requested from suppliers to accurately cost each item.
Your sales forecast
The best way to start your financial forecast for a jewellery shop is by setting out a sales forecast. This will give you a better idea as to the potential turnover of your jewellery shop.
To estimate it, you'll have to rely on the data collected in your market research - by evaluating the average price of each type of item you'll be offering and the number of customers you'll be expecting for each one.
Bear in mind that your turnover will be limited by your shop's capacity. So it's important to figure out exactly how many items or services you can sell in a given day given the available space, staff, and average time needed per transaction.
The overhead costs for your jewellery shop financial forecast
Overheads are the expenses needed to operate the business on a day-to-day basis, including staff and essential equipment.
For starters, do a quick calculation to find out how many members of staff you'll need to run the store. This will give you an idea of how much money you'll have to put aside for wages - making sure you include the manager's within your estimate, too.
Then it's time to look at your utility and insurance bills, consulting your list of estimated quotes from suppliers whilst doing so to ensure your calculations are as accurate as possible in your jewellery shop financial forecast.
Investments required for your jewellery shop
There's no getting away from it, several investments will need to be made in setting up your jewellery shop.
As with overheads, we recommend listing all the equipment needed to launch your business (from a till for sales staff, to furniture and stock), using quotes provided by suppliers to create accurate estimates.
Tables that compose the financial forecast for your jewellery shop
Once you've created your forecast, it will be presented within the three tables below.
The profit & loss statement
This table gives you a clear picture of your jewellery store' expected growth over the first three to five years, and whether it's likely to be profitable or not.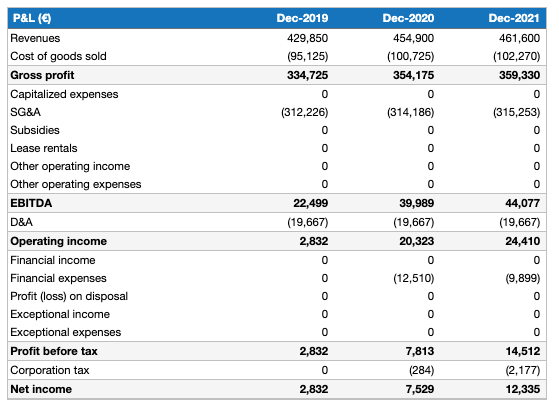 The projected balance sheet
Thanks to the projected balance sheet, you're able to observe the value of your business's assets at the end of each year. The assets section of the table lists everything the company owns, while the liabilities side gives an overview of its debts.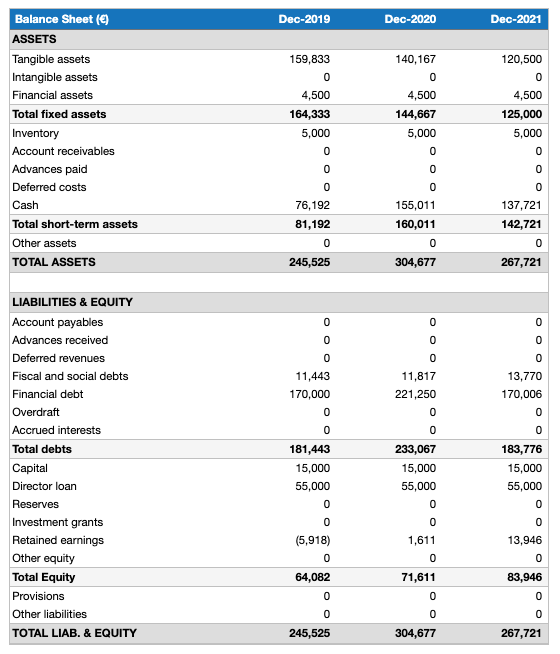 The projected cash flow statement
The third table will give you a detailed breakdown of the cash generated and spent by your jewellery shop and will help ensure that you have sufficient cash flow to repay any loans and keep your store in good condition.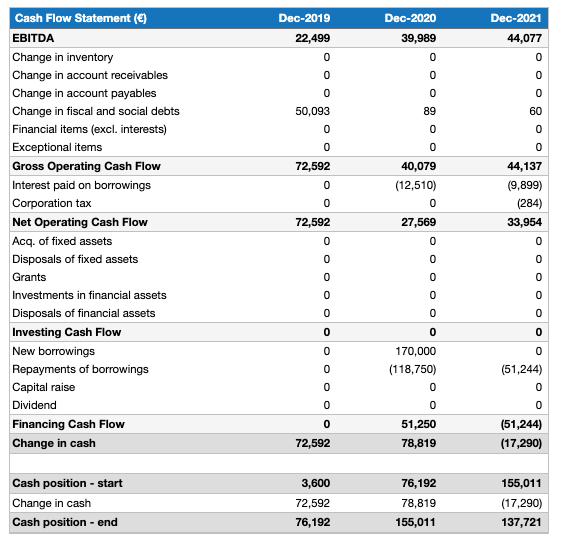 Which tool should you use to create a financial forecast for your jewellery shop?
By this stage, you're surely wondering what the best way is to set up the financial forecast for your jewellery shop.
So that's why we're presenting three solutions below, along with their advantages and disadvantages.
1. Using a spreadsheet
If you have a solid background in accounting or advanced knowledge of financial modelling, using spreadsheet software like Excel or Google Sheets is a cheap solution for creating a financial forecast.
However, using a spreadsheet can become a pretty time-consuming task, and, if you aren't used to using Excel for financial modeling, can't protect you from possible (and quite frankly, inevitable) calculation errors.
2. Calling on a consultant or a chartered accountant
Enlisting the help of a consultant or accountant will let you obtain accurate figures from a professional point of view for your jewellery shop financial forecast.
The downside of this solution is its cost, however, as obtaining a simple financial forecast over three years (including a balance sheet, income statement, and cash flow statement) is likely to set you back around £700 or $1,000.
If you opt for this solution, make sure the accountant has prior knowledge of the jewellery industry, so that they can challenge your figures and offer insights.
3. Using an online forecasting software
You can also choose to use online forecasting software to help you with your financial forecast.
There are several advantages to using specialized software to create a financial forecast
You can easily make your financial projections, letting the software take care of the calculations
You have access to complete financial forecast templates
You get a complete financial forecast ready to be sent to your bank (or investors)
You can easily track your actuals against your forecast to ensure that you are on track to deliver what was planned, and easily update your forecast if needed
If you are interested in this type of solution, you can try our software for free by signing up here.
You can also check out our jewellery shop business plan template for more information!
We hope that this article helped you to see more clearly what needs to be done to create your jewellery shop forecast. Don't hesitate to contact us if you have any questions!
Also on The Business Plan Shop
Do you know someone who wants to launch or grow their own jewellery shop? Share this article with them!