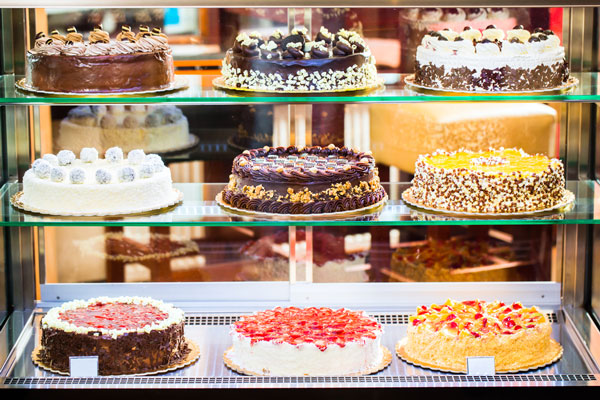 Offering everything from buttery croissants, to decadent chocolate eclairs and delicate raspberry millefeuilles, pâtisseries have been putting smiles on the faces of families, couples, and office dwellers since the earliest days of retail.
If you're a long-time fan of pastries, you might be ready to sink your teeth into them a different way - by turning this passion into your very own pâtisserie.
Opening your own business is an exciting, albeit, complicated process. So that's why you'll need a tailor-made business plan for your pâtisserie to help you set out your vision.
If the thought of creating this document feels overwhelming, don't panic. In the practical guide below, we'll explain all the steps involved in writing the business plan for your pâtisserie.
Developing your pâtisserie's business model
Research the pâtisserie market
Before deciding which type of pâtisserie you'd like to set up, you need to know your market inside-out. Carrying out market research for your pâtisserie will help you understand the needs of your target market, as well as the current state of the industry, for your pâtisserie's business plan.
With nearly 4,500 independent bakeries operating in the UK today, you're certainly not alone on the market.
With the rise in demand for customised and gluten-free baked goods, the pastry industry is constantly evolving - with the biggest names in the pâtisserie game competing in an air-tight market.
But this isn't to say you should be discouraged. These figures are matched with growing consumer demand - with the sale of artisanal pastries within the UK reaching a whopping £205 million by 2019.
The baked goods market is also still having its moment in the US, with its total of 6,000 retail bakeries and 3,000 independent bakeries generating an average of $30 billion in revenue each year.
So now that you've done your homework on the pâtisserie market, it's time to decide the concept you'd like to adopt for your store.
Choose your concept
The key consideration here is whether you'd like to open an artisan shop whereby everything is made in-store, or if you'd rather purchase your pastries from suppliers.
Whichever concept you settle on, it's important that the range of baked goods on offer are guided by the preferences of your future customers and not just your own personal taste. So make sure you do some research to decipher what products are making waves over others - for example, has there been a sudden increase in financier or macaroon sales?
You might also decide that you'd like to open a sit-in bakery where customers can lounge for a while and enjoy their pastries. If so, you'll have to factor in the cost of filling your space with chairs and tables.
Once your market study has been carried out and your choice of concept decided, you can integrate these elements into your pâtisserie's business plan.
The rules and regulations in your pâtisserie's business plan
Now that you've settled on the type of pâtisserie you'd like to set up, the next step is ensuring it operates as a legitimate business and demonstrate it in your pâtisserie's business plan.
From deciding its legal form to ensuring it meets its financial obligations and adhering to government safety standards, checking off these elements is a tedious but essential step when starting up - so as to avoid any nasty surprises in the long run.
First off, you'll need to check that the premises you're investing in also meets the safety standards imposed by law (in terms of the building design, alarm system, evacuation plan, etc.) You can find out more about these standards by visiting the HSE's website if you are based in the UK or osha.gov for US businesses.
You'll also be required to comply with any rules established by the Food Standards Agency - a government body providing guidelines on hygiene standards, sampling, labelling, and traceability.
Finally, you need to pick the legal form for your pâtisserie. Choosing your business's legal form is a vital step as it will impact:
How much your business is taxed
Your taxation at a personal level
Your responsibility for the company's debts in the event of bankruptcy
To help you make your choice, you can find more detailed information on the different legal forms available to you on the gov.uk guide for UK business owners and SBA guide for those of you based in the US.
What should my pâtisserie business plan contain?
Needless to say, drafting up the business plan of your pâtisserie is the most important step in preparing to launch your business.
A solid business plan is invaluable. It will not only guide you through the process of kick-starting your pâtisserie, but it's also the document with which you'll present your business model to potential investors in the hopes that they'll join you on your entrepreneurial journey.
This is why having a professional and reliable business plan is key. It needs to tell the person reading it everything there is to know about your business - including who you are, what you sell, who your customers and competitors are, how you plan to market your pastries and the key stages in the development of your business.
In addition to telling the back-story of your business and how it operates, your pâtisserie's business plan will also contain a financial forecast - highlighting the financing requirements of launching your business and its expected profitability.
Don't forget that your pâtisserie's business plan needs to highlight issues specific to the pastry industry, including:
Whether you'd like to position yourself on the market by offering classic pastries or more conceptual designs
The type of customers you'd like to target (are they people who want a traditional, butter croissant, or gluten-free baked goods?)
Marketing tools: how can you attract and retain new customers?
Payroll: how can you optimise your costs to keep your patisserie profitable?
Feeling lost? If you're not used to writing business plans, an excellent solution is to use online business plan software like the one we offer.
There are several advantages to using specialized software:
You are guided through the writing process by detailed instructions and examples for each part of the plan.
You can be inspired by already written business plan templates
You can easily make your financial forecast by letting the software take care of the financial aspects for you.
You get a professional document, formatted and ready to be sent to your bank.
A good way to quickly draft up the business plan of your patisserie, especially if you are afraid to make a financial forecast, is to use our software. It allows you to create your business plan while being guided by instructions and concrete examples.
Interested in finding out more? You can try our software for free by creating your account here.
Also on The Business Plan Shop