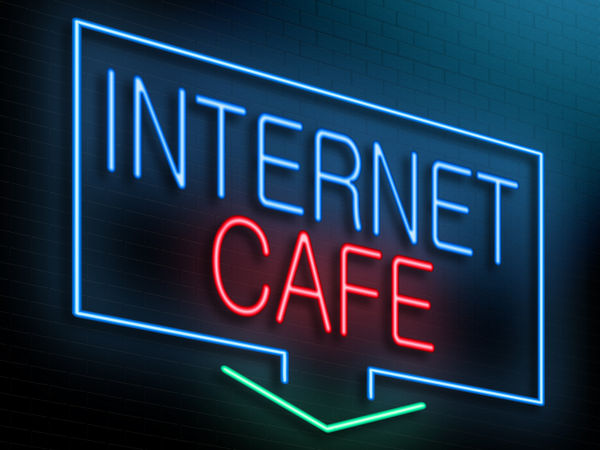 Are you looking to start an internet cafe? Or maybe you already have one and want to grow, raise financing or improve your profitability. Either way, a well-written business plan is crucial to your business' success!
This in-depth guide will detail why writing a business plan for an internet cafe is important, what information you need, what it should contain and look like, as well as the tools available to help you write your plan.
By the end of this guide, you will be ready to create a comprehensive and professional business plan for your internet cafe. Let's get started!
Why write a business plan for an internet cafe?
There are several reasons to write an internet cafe business plan. Below, we cover some of the most important ones!
To set objectives and a clear roadmap
Creating a business plan for an internet cafe is a great way to improve your chances of success as an entrepreneur.
Not only will it help you set objectives for the next 3 to 5 years, but it also forces you to take a step back and research all aspects of your proposed business thoroughly.
In essence, it helps startups realise whether or not their business idea is viable and existing internet cafes can evaluate their growth prospects based on the current economic climate, thereby giving a clear roadmap.
To compare financial forecasts and performance
Having a business plan with an up to date financial forecast allows you to regularly compare your actual performance against what was planned to recalibrate your internet cafe's financial forecasts accordingly.
This gives you visibility on your future cash flows and ensures your business remains agile and able to respond quickly when market conditions change or unexpected events arise.
To raise financing from investors and banks
Whether you are a startup or an existing business, writing an internet cafe business plan is a necessary step when looking for financing from a bank. The bank will use the plan to make sure that you can repay your loan.
A well-crafted business plan also helps equity investors and business angels understand what type of return on investment (ROI) they can expect if they invest in your internet cafe.
Having an understanding of why it is important to write a business plan for an internet cafe is the first step in creating one. Now, let's look at what information is needed to create a successful one.
Information needed to create a business plan for an internet cafe
Writing an internet cafe business plan requires research so that you can project sales, investments and cost accurately in your financial forecast.
In this section, we cover three key pieces of information you should gather before drafting your plan!
Carrying out market research for an internet cafe
Conducting market research is essential for any business venture, and this is especially true when writing a business plan for an internet cafe.
Market research allows you to accurately forecast your potential revenues and gain insights into the needs of target customers.
It also helps to identify key competitors in the area, enabling you to develop strategies that will give your business an edge over existing cafes.
In addition, it provides valuable information about trends in consumer demand and helps businesses understand what products or services they should focus on offering.
Furthermore, market research can help you determine the best location for your cafe and ensure that you are able to reach out to as many potential customers as possible.
Developing the marketing plan for an internet cafe
When developing a marketing plan for an internet cafe, it is important to include a precise budget for marketing activties in your financial forecast.
This budget should be detailed and address both customer service initiatives aimed at retaining existing customers, and promotional activities aimed at acquiring new ones.
The staffing and equipment needs of an internet cafe
It is also important to consider the recruitments and investments required before you start writing your internet cafe business plan, as this will also be needed when creating your financial forecast.
You will need to identify all the investments required such as the computers and software licences, your point of sales system, etc.
Additionally, thinking about recruitment plan will ensure you have the right staff members to run the business and a clear idea of the costs involved (salary, cost of recruitment and training, etc.).
Once you have gathered all the information needed to create a business plan for an internet cafe, it is time to move on to creating a detailed financial forecast. Let's see what this involves.
How do I build a financial forecast for an internet cafe?
An internet cafe financial forecast includes four key components:
The profit and loss statement, which shows how much money you made or lost
The balance sheet, which shows what you own and owe
The cash flow statement, which shows money coming in and out of your business
The sources and uses table, which explains where your money is coming from
Let's have a look at these in more detail.
The projected P&L statement
The projected P&L statement shows the expected profitability of your internet cafe for the next 3 or 5 years.
This also helps investors decide whether it is worth investing in your business or not. They can calculate ratios based on this data.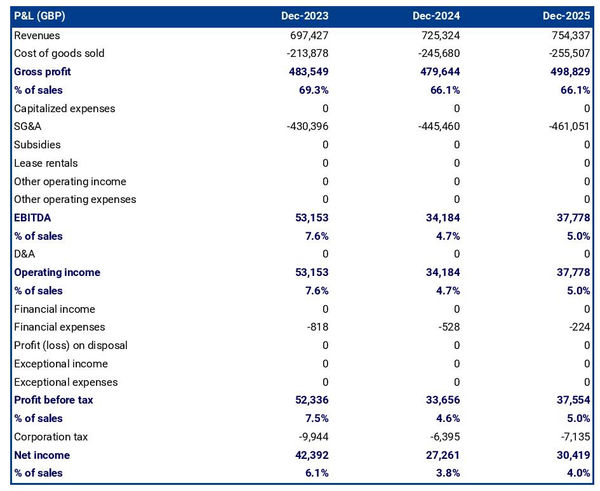 The projected balance sheet of your internet cafe
An internet cafe balance sheet shows what the cafe has (assets) and what it owes (liabilities) and how much value has been created for the owners and shareholders (equity).
This is important because lenders, investors, and especially business owners such as yourself can use this information to see if the cafe is adequately capitalised.
Your balance sheet will reveal how much short term and long term debt you cafe has and how much cash is available to honour them.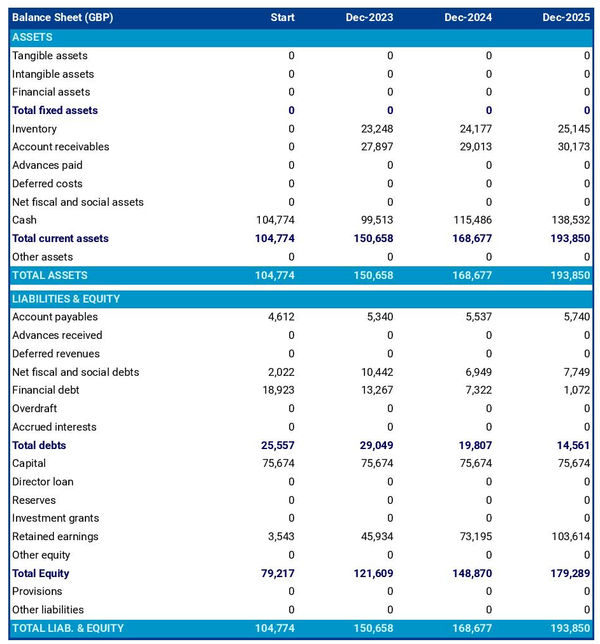 The projected cash flow statement
The cash flow statement for an internet cafe shows how much money is coming in and going out of the business.
It is useful to have one because it helps you know how much money your cafe will make over time and if any changes need to be made to keep the business afloat.
This statement also helps you plan by showing you what outgoings will come up in the future, so you can budget accordingly. This saves you from having to panic and arrange expensive overdrafts or loans at the last minute.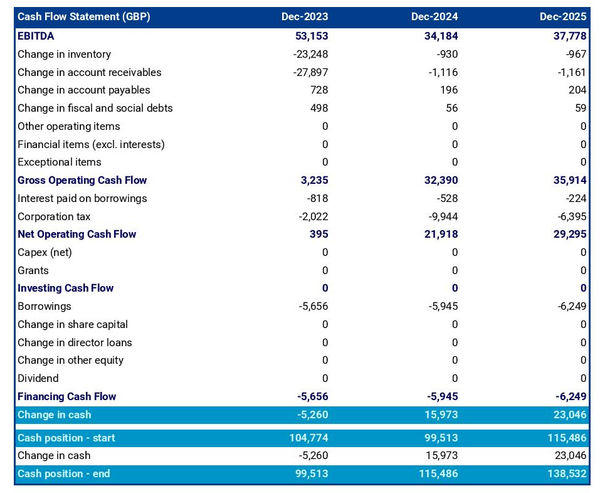 The initial financing plan
The initial financing plan also called the sources and uses table, is an important form of planning when starting an internet cafe.
It helps you figure out how much money you need to start the cafe by listing initial expenses (uses) and where that funding will arise from (sources).
Initial expenses for an internet cafe could include assets such as computers, desks and tables.

Now that we have reviewed the financial forecast for your internet cafe business plan, let's move on to discuss the written part of your plan, which is equally important as it provides the context needed to understand your numbers.
The written part of an internet cafe business plan
The written part of an internet cafe business plan usually consists of 7 comprehensive sections.
From crafting an executive summary to presenting your financials, let's have a look at each of the key sections that compose a business plan.
1. The executive summary
When writing the executive summary section it is important to provide an overview of the business, the market, and key financials.
Start with a brief introduction of the business, its name and location, how long it has been in operation, and what makes your business unique. Mention any services or products you plan to offer that separate you from the competition (for example you might offer coffee and pastries on top of the basic internet access).
Outline the size of the market for internet cafes in your local area, any current trends, and potential growth opportunities. Analyze how your business can take advantage of those opportunities to increase sales and profits.
You should also include a summary of your key financial figures such as anticipated revenues, projected profits, funding needs, and cash flows. Explain why these financial factors make financing your business a sound decision for banks or investors.
Finally, you should state the amount of funding that your business requires.
2. The presentation of the company
Outline the legal structure used for your internet cafe (limited liability company, sole trader or partnership for example). Also, mention what percentage of the business each partner owns.
Location is another important factor to consider when creating an internet cafe plan. Make sure to include information about potential customers in the area, local accessibility, and how many people will be served by the cafe.
Additionally, it is beneficial to list any potential restrictions or regulations that may impact the operation of the cafe.
Similarly, you should also include information about the management team in your presentation. Provide a brief overview of each member's responsibilities and qualifications, as well as why they are uniquely qualified to lead the company and how they met.
3. The products and services section
The products and services section of an internet cafe business plan is one of the most important components for any potential investor or lender.
This section should provide a detailed overview of the specific types of goods and services that will be offered at your internet cafe.
A clear description can help convince investors that your business has what it takes to succeed in this competitive industry.
In addition, this section should explain how these products and services will meet the needs of customers in your area.
For example, if you are planning to offer a variety of speciality coffee then you should include information about why these drinks are unique compared to other internet cafes or businesses.
If you plan on providing food items such as sandwiches or pastries, then you must detail how they will be prepared and served to give customers an enjoyable experience as this might be difficult to do in front of multiple computer screens.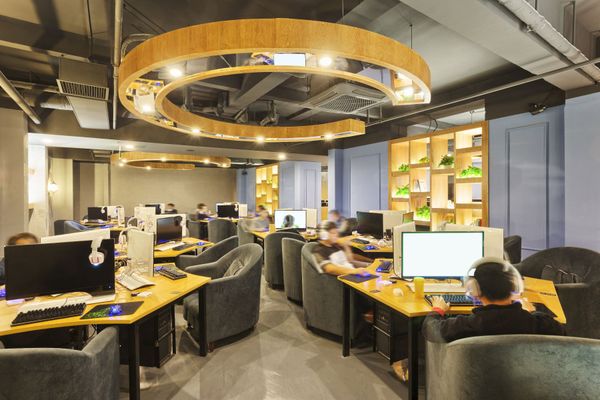 4. The market analysis
Knowing the size and demographic of the potential customer base, who your competitors are and what advantages you might have over them, what legal considerations must be taken into account, and so on will all be key elements in ensuring that an internet cafe business is a success.
Also, be sure to outline any special features or amenities that may set your cafe apart from others in the area. This could include nearby parking spaces and excellent transport links.
This data should be presented clearly and concisely to give readers the confidence that they need to proceed with any potential investment. Using charts and graphs will improve the quality of this section.
5. The strategy section
When writing the strategy section of your internet cafe business plan, you should explain your competitive edge, pricing strategy, marketing plan, milestones and risks and mitigants.
It is important to provide the reader of the business plan with clear insight into how your cafe will be able to gain an advantage over competitors in terms of service quality or price point.
Additionally, a well-defined pricing structure must be outlined so that potential investors understand where profits will come from as well as any discounts or promotions that may be offered.
For example, you could offer a free coffee to anyone using your internet cafe for two hours or more.
Furthermore, it is essential for success to develop a comprehensive marketing plan which outlines how customers will become aware of the internet cafe (flyers, search engines, email marketing, etc.).
Including specific milestones can help demonstrate the progress made so far and the goals you set for the coming years.
The strategy section should also address any foreseeable risks to the success of the business, as well as strategies for mitigating those risks.
6. The operations section
The operations section of an internet cafe business plan should include detailed information about your staffing team, their roles and responsibilities, and a recruitment plan.
It is important to include the roles that will be fulfilled by each staff member, as well as what qualifications they should possess to be suitable for the role. The recruitment plan should include details of how the staff will be sourced and trained.
The opening hours of the internet cafe should also be included in the business plan. Ensure that there are enough operational hours to cover customer demand, whilst making sure that the cafe remains profitable.
The business plan should also include details about any key assets or intellectual property that the cafe needs to operate. This might include hardware such as computers, printers and routers, software licensing agreements, and any other digital or physical property that the internet cafe needs to function.
Finally, it is important to include details about the suppliers that your business plans to work with. It should cover who they are, what services or products they provide, and the cost of their goods or services.
7. The presentation of the financial plan
This is where you will present the financial forecast that we talked about earlier in this guide.
Now that you have a good understanding of the content required for an internet cafe business plan, let's look at some of the tools available to help create it.
These tools can make the process easier and more efficient, allowing time to focus on other aspects of your business.
What tool should I use to write my internet cafe business plan?
You have three main solutions to write an internet cafe business plan:
Create your internet cafe plan using Word or Excel
Hire a consultant to write your internet cafe business plan
Use an online business plan software for your internet cafe plan
Create your internet cafe plan using Word or Excel
Using Excel and Word to create an internet cafe business plan can be a potential solution.
The main benefit of using Excel and Word to create a business plan is that it is cost-effective because both applications are widely available.
However, it can be hard for a business owner to create an accurate financial forecast without making mistakes unless they have extensive accounting and financial modelling experience. This could lead to potential investors not believing the figures of the financial forecast.
Furthermore, it can be a very long and tedious process to create a financial forecast in Excel and hard to keep the forecast up to date. Word also presents its challenges, as the document must be formatted manually once written.
Hire a consultant to write your internet cafe business plan
Outsourcing the internet cafe business plan to a consultant or accountant can be an attractive option for entrepreneurs who lack the time and expertise to craft their plans.
Consultants are accustomed to writing business plans and have the experience needed to create financial forecasts without errors.
Furthermore, they may be able to provide advice on how best to structure the business plan to appeal to investors and banks.
On the other hand, outsourcing a business plan is expensive (budget at least £1,500 or $2,000), especially if changes are needed during the process.
Additionally, most consultants aren't experts in internet cafe business planning and this can lead to issues with the actual content of the business plan.
Use an online business plan software for your internet cafe plan
Another alternative is to use online business plan software. There are several advantages to doing so.
You are guided through the writing process by detailed instructions and examples for each part of the plan
You can be inspired by already-written business plan templates and examples
You can easily make your financial forecast by letting the software take care of the financial calculations for you
You get a professional document, formatted and ready to be sent to your bank or investors
You can easily compare your forecast against your accounting data to make sure you are on track to deliver your plan, or make adjustments if needed
If you're interested in using this type of solution, you can try our software for free bysigning up here.
We hope that this article has helped you to better understand how to write the business plan for your internet cafe. Do not hesitate to contact us if you still have questions!
Also on The Business Plan Shop
Know someone in the internet cafe industry? Share this article with them!