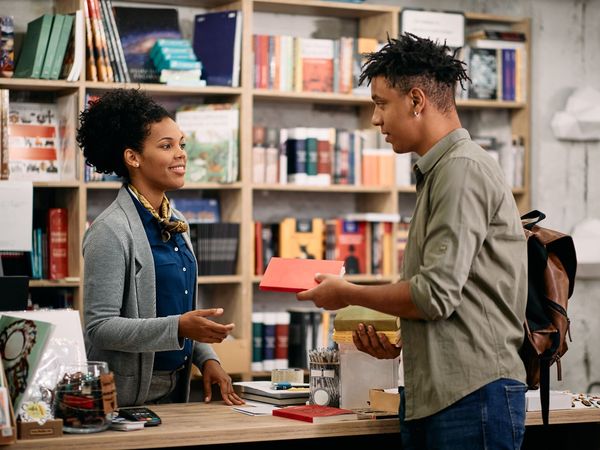 Starting or running a bookstore can be a challenging yet rewarding endeavour.
Whether you are an aspiring entrepreneur looking to break into the market or an established bookseller seeking to expand your business, having a comprehensive and well-crafted business plan is essential for success.
This guide will provide an in-depth look at what goes into creating a business plan for a bookstore, from understanding why it's important to gathering the necessary information and using the right tools.
Why write a business plan for a bookstore?
There are several reasons to write a bookstore business plan. Below, we cover some of the most important ones!
To set a clear roadmap
Writing a business plan forces you to look ahead and set realistic objectives for the next three to five years.
This planning process can be invaluable not only for startups, but also for existing bookstores which have been in operation for some time already. It provides an opportunity to review current operations and make necessary adjustments that will ensure future success.
By taking the time to consider their long-term goals, entrepreneurs like you can put themselves on track towards achieving them.
To get clarity on your cash flow
A carefully crafted business plan also provides you with an accurate financial forecast which you can compare your progress against on a regular basis.
This is key to ensuring that your bookstore remains a viable and profitable business.
To secure financing
With careful research and thoughtful preparation, you can create a comprehensive business plan that will help convince potential lenders of your viability as an entrepreneur.
Having a comprehensive business plan that demonstrates healthy growth prospects, profitability, and cash flow management is essential for convincing investors of the viability of your bookstore venture.
With this document in hand, you'll be able to show them how their investment will generate a strong return on their money over time.
Now that you know why it's important to create a business plan for a bookstore, let's look at the information needed to create one.
Information needed to create a business plan for a bookstore
Writing a bookstore business plan requires research so that you can project sales, investments and cost accurately in your financial forecast.
In this section, we cover three key pieces of information you should gather before drafting your plan!
Carrying out market research for a bookstore
Carrying out market research before writing a business plan for a bookstore is essential in order to accurately forecast expected revenues.
Market research gives insights into the needs and preferences of potential customers, which helps identify target markets and develop strategies to reach them.
It can also help uncover any potential risks that may arise, such as customer trends or competitors.
Taking the time to do thorough market research prior to creating a business plan, will ensure that all aspects are taken into consideration and provide clarity on the objectives of your store.
Developing the marketing plan for a bookstore
Creating an effective marketing plan for a bookstore is essential to create an accurate budget for sales and marketing expenditures.
This plan should include a thorough analysis of market trends and customer preferences, as well as quantifiable objectives for reaching the desired target audience.
A well-crafted marketing plan will enable the bookstore to allocate its resources towards the most efficient strategies, and ultimately result in a sound financial forecast.
The staffing and equipment needs of a bookstore
Creating a comprehensive and realistic budget for opening a bookstore is essential for writing an effective business plan. To ensure success, it is important to take into account the various resources needed when planning the recruitment process and the expenses associated with it.
This could include an analysis of the costs of hiring staff, investing in marketing campaigns, purchasing necessary equipment and materials, and more. Planning ahead and understanding the financial requirements will help you build a successful business plan for your bookstore.
Once you have all the information needed to create a business plan for a bookstore, it is then important to develop a financial forecast.
A financial forecast will help you project and understand your expected income, expenses and profits in order to make informed decisions about running your bookstore.
It is essential that this part of the process be done carefully and accurately so that you can get an accurate picture of how successful your business may be.
How do I build a financial forecast for a bookstore?
The financial forecast for a bookstore includes the profit and loss statement, balance sheet, cash flow forecast and initial financing plan.
Let's have a look at each one in more detail!
The projected P&L statement
The projected P&L statement for a bookstore shows how much money the store can make and how much it will grow in the future. It is useful because it can help us plan for the store's success.
The projected P&L statement gives us an understanding of the store's potential profit and losses over a certain period of time. This can be used to judge whether the store is doing well financially and if any changes need to be made in order to maximize profits.
It also helps us anticipate future growth, so we can plan for expansion or increased sales.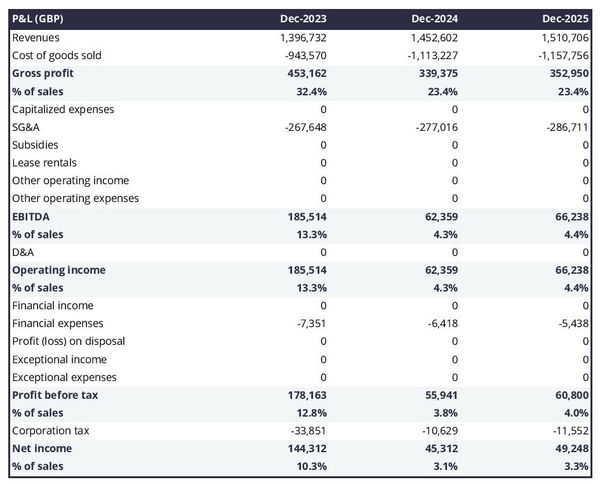 The projected balance sheet of your bookstore
The balance sheet is a snapshot of the business's current financial situation at a given point in time and shows the assets, liabilities, and equity of the business.
For a bookstore, the balance sheet will list all of the bookstore's resources, such as its cash, inventory, and accounts receivable. It will also list the debts or obligations of the business, such as accounts payable and loans. Finally, it will list the owner's equity in the business.
A balance sheet is an important tool for lenders and investors to assess a bookstore's solvability and liquidity. By looking at the balance sheet, they can see how much cash is on hand, what kind of outstanding debt there is, and what kind of return the business has achieved or may achieve in the future.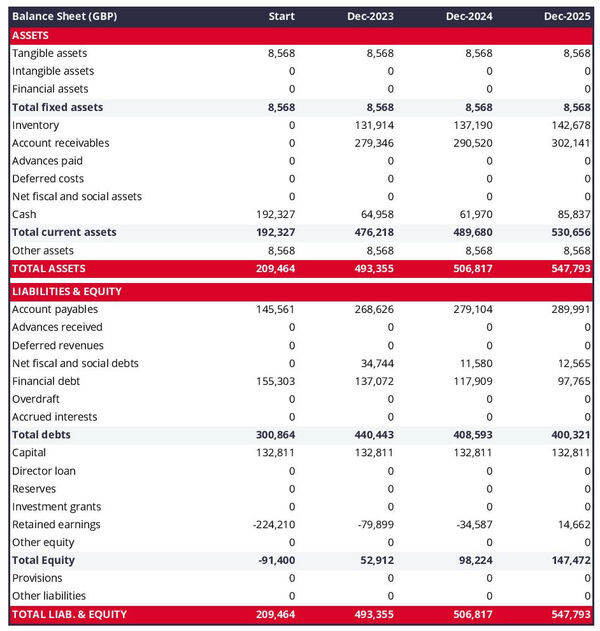 The projected cash flow statement
A projected cash flow statement for a bookstore shows how much cash your business will generate over time.
It is important to have a cash flow forecast to help figure out how much money you need to make and when. This helps you understand what your budget should be and if you are making enough money or not.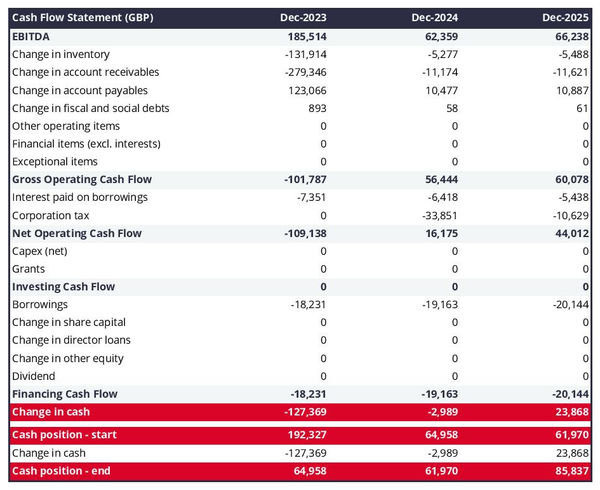 The initial financing plan
An initial financing plan (also called sources and uses table) is a plan that helps you figure out how you will pay for setting up a bookstore.
It tells you what money is coming in (the sources) and what money is going out (the uses).

Now that we have discussed our financial forecasts, it is important to understand the context of those forecasts. The written part of a business plan for a bookstore provides an in-depth look into the strategies and tactics needed to make it successful.
It also outlines how resources will be allocated towards ensuring success. Therefore, let's now explore what goes into creating a comprehensive written business plan for a bookstore.
The written part of a bookstore business plan
The written part of a bookstore business plan is composed of the 7 main sections:
The executive summary
The presentation of the company
The products and services section
The market research analysis
The strategy section
The operations section
The financial plan
Now, we will explain each section in-depth and tell you what information needs to be included.
1. The executive summary
The executive summary section for a bookstore business plan should provide a clear overview of the business, the local market, and key financials.
The business overview should include details on what type of books are being proposed in the store, the mission and main goals of the business, and any competitive advantages that it has.
The market overview should include information on the size of the addressable market, trends in book sales, and any notable competitors whilst key financials should provide an outline of expected expenses, income, and cash flow projections for the first three to five years of operation.
These elements should come together to give a clear picture of the expected profitability and viability of your bookstore.
Finally, yhe " ask" section should reveal how much funding is required from investors and how much the partners have invested into the business.
2. The presentation of the company
In this section, it is important to include detailed information about the company's structure and ownership. This should include the type of legal entity selected for the business and the list of owners and financial stakeholders.
It is also important to provide a clear description of where the store or stores are located, as well as any plans for future expansion. Finally, the management team and key staff members should be outlined in detail in order to demonstrate their experience and qualifications.
This allows potential lenders or investors to understand the company's capabilities and helps them make informed decisions about financing the business.
3. The products and services section
When writing the products and services section of a business plan for a bookstore, it is vital to provide detailed information about what types of books will be sold, how they will be sourced, and any other services that may be offered.
This section should also include an overview of the store's competitive advantages, such as its unique selection or special expertise in certain genres (bestsellers, bedtime stories or autobiographies for example).
Additionally, this section should emphasize how customers can benefit from shopping at this particular bookstore by outlining features like helpful staff members or convenient locations.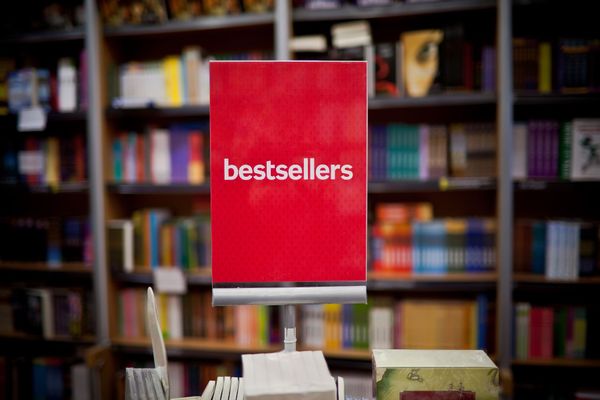 4. The market analysis
When presenting the conclusion of your market analysis in your bookstore's business plan, you should touch upon the following items: market demographics and segmentation, target market, competition, barriers at entry, and regulation.
These are all key components that will help paint a picture for potential banks or investors about the potential commercial success of the venture.
Demographics and segmentation provide insight into who is likely to read the books offered by the business. This data can help inform decisions around pricing strategies as well as marketing campaigns targeted at specific customer segments.
It is also important to understand what other competitors offer in terms of similar products so that proper differentiation can be established between offerings.
Finally, understanding any regulations related to running such a business is critical since failure to comply with local laws could lead to hefty fines or worse yet - the closure of your bookstore!
5. The strategy section
In this section, you should include details on your competitive edge, pricing strategy, marketing plan, milestones and risks and mitigants.
The competitive edge should be something that sets the business apart from other bookstores in the area. This could include having more knowledgeable staff than competitors or offering more durable books (hardback vs paperback).
The pricing structure should also be clearly outlined to show potential investors how prices will remain competitive while still allowing for healthy profits.
A detailed marketing plan is important to demonstrate an understanding of customer segments and what message they need to hear in order to purchase products from the store.
Furthermore, it's important to provide clear milestones that can be used as benchmarks for success over time – this helps investors feel assured that progress is being made towards achieving desired outcomes.
Finally, any risks associated with running a bookstore must be discussed along with strategies for mitigating those risks - this shows potential investors that the owners are aware of possible problems and have plans in place to address them if needed.
6. The operations section
When writing the operations section of a bookstore business plan, it is important to include an effective personnel plan. This should include plans for hiring, training, and supervision of staff, as well as any policies or procedures that will be put in place to ensure operational efficiency.
Additionally, it is important to outline key assets and intellectual property (IP) that the business will be based on, as well as any suppliers that the business will need in order to run effectively.
This information is critical for banks and investors who are evaluating a business plan, as it gives them an idea of the resources that are needed to make the business successful.
7. The presentation of the financial plan
The financial plan is an important part of the business plan. This is where we will talk about the money that the business needs and expects to earn in the future. We have already talked about this earlier in our guide, so make sure to include it when writing your business plan.
Now that you have a better idea of the content that should go into your bookstore business plan, let's look at some of the tools and resources available to help you create it.
What tool should I use to write my bookstore plan?
In this section, we will review three different solutions for creating a bookstore business plan: using Word or Excel, hiring a consultant to write your business plan, and using online business plan software. Let's get started!
Create your bookstore plan using Word or Excel
Using Word or Excel to create a business plan for a bookstore has both advantages and disadvantages. On the one hand, the cost of using these applications is relatively low, making them an attractive option for those with a limited budget.
Additionally, Microsoft Excel can be used to create financial forecasts, which might be necessary to secure funding from investors or banks.
On the other hand, Excel is quite difficult to use for creating accurate financial forecasts without expert knowledge, and a financier might not believe the forecast created on Excel by the bookstore owner.
It can be time-consuming to create a financial forecast in Excel and keep it up to date. Finally, using Word means starting from scratch and spending time formatting the document.
Hire a consultant to write your bookstore business plan
Outsourcing a bookstore business plan to a consultant or accountant is an attractive solution for many entrepreneurs who lack the time or expertise to create an effective business plan on their own.
On the one hand, consultants and accountants are well-versed in writing plans, and can create financial forecasts with accuracy.
However, there are several drawbacks that should be taken into consideration before making this decision. Accountants often lack the industry expertise necessary to accurately predict sales, and hiring a consultant can be expensive with potential for unexpected extra costs.
Additionally, when an entrepreneur hires a consultant to write their plan, they may find that they have less control over the final product than if they had written it themselves.
Use an online business plan software for your bookstore business plan
Another alternative is to use online business plan software. There are several advantages in doing so.
You are guided through the writing process by detailed instructions and examples for each part of the plan
You can be inspired by already written business plan templates and examples
You can easily make your financial forecast by letting the software take care of the financial calculations for you
You get a professional document, formatted and ready to be sent to your bank or investors.
You can easily compare your forecast against your accounting data to make sure you are on track to deliver your plan, or make adjustments if needed
If you're interested in using this type of solution, you can try our software for free by signing up here.
Also on The Business Plan Shop
We hope that this article has helped you to better understand how to write the business plan for your bookstore. Do not hesitate to contact us if you still have questions!
Know someone in the bookstore business? Share this article with them!