As a beauty supply store owner, having an effective business plan is essential to success.
Whether you are starting up a new business or looking to expand an existing one, writing a comprehensive and well-thought-out business plan can provide the guidance needed for future growth and profitability.
Our in-depth guide provides information on why it is important to write a business plan for your beauty supply store, what needs to be included in the plan, as well as tools that can be used to write it.
Let's get started!
Why write a business plan for a beauty supply store?
There are several reasons to write a beauty supply store business plan. Below, we cover some of the most important ones!
To draw up a roadmap
Writing a business plan is an important step in setting up or running any kind of beauty supply business.
It forces entrepreneurs to think ahead and set objectives for the next 3 to 5 years, which is invaluable both for startups and existing businesses.
A well-crafted business plan will provide clarity on what needs to be done to achieve success. Additionally, it can also be used as a tool to measure progress over time and make adjustments when necessary.
To get clarity on your cash flow
A carefully crafted business plan also provides you with an accurate financial forecast with which you can compare your progress regularly.
This is key to ensuring your beauty supply store remains a viable and profitable business.
To secure financing
Securing financing for a beauty supply store can be difficult, which is why having the right business plan is essential.
Investors will want to see that your beauty supply store has the potential for healthy growth, profitability, and cash generation before they invest their money.
A well-crafted business plan will provide them with the confidence they need to invest in your venture.
Carefully research and analyse the beauty supply industry to help build realistic financial projections based on market trends.
Now that we understand the importance of writing a business plan for a beauty supply store, let's look at what information is needed to create such a plan.
Information needed to create a business plan for a beauty supply store
Writing a beauty supply store business plan requires researching and projecting a lot of key information. In this section, we cover three key aspects that you should focus on before drafting your plan!
Carrying out market research for a beauty supply store
Carrying out market research is essential when writing a business plan for any beauty supply store.
Market research provides an understanding of the current industry trends and allows you to accurately forecast revenues for your business.
For example, you could survey possible customers in your area and find out what they would be willing to pay for skincare products. Alternatively, you could find out how much other beauty supply stores in the area are charging and base your pricing decisions on that (assuming that you are using a competitive pricing strategy).
This information can then be used to create realistic financial projections that will help secure financing from investors if needed.
Additionally, it can also provide insight into customer needs and preferences which can help inform product offerings and marketing strategies.
Ultimately, carrying out market research before writing a business plan for a beauty supply store is important to ensure success and profitability in the long run.
Developing the marketing plan for a beauty supply store
A marketing plan contains all the necessary information related to the budgeting of sales and marketing expenses, which are actions that need to be taken to reach success.
It requires research on market trends and demographics, careful consideration of budget allocations, and a strategy based on the strengths and weaknesses of the business.
Additionally, having a marketing plan helps you stay organized and focused when it comes to making necessary investments to grow your business.
You need to budget for and allocate the correct amount of investment for each part of your marketing strategy (promotional spending, advertising, etc.).
The staffing and equipment needs of a beauty supply store
Thinking about the equipment and human resources required to deliver your beauty suply store's business plan is a key prerequisite before you can start drafting the document.
You will need to determine how much resources need to be allocated towards recruitment plans (hiring process), staff salaries and other operational costs.
You will also need to assess what investments are required for the store itself (furniture, POS system, etc.) and how much capital these will require.
Once you have the information needed to create a business plan for a beauty supply store, you can start building your financial forecast.
How do I build a financial forecast for a beauty supply store?
A financial forecast will help determine how much money you need to start and operate your business and how long it will take before it begins turning a profit.
It can also provide insight into any potential risks or investments that may be necessary to ensure success.
A financial forecast includes four key statements: profit and loss, balance sheet, cash flow and a sources and uses table.
The projected P&L statement
The projected P&L statement for a beauty supply store shows how much revenue and profit the store is capable of making and how successful it might be in the future.
Investors will look at this before deciding on whether to invest money or not. They would like to see a reasonable return on their investment within a given period.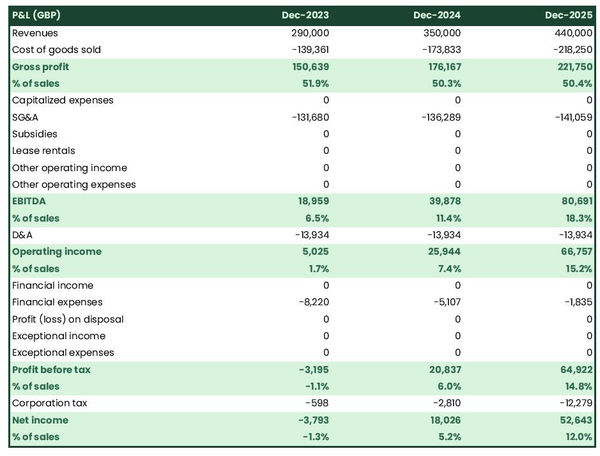 The projected balance sheet of your beauty supply store
The balance sheet for a beauty supply store is a financial document that shows the total value of an entity's assets and liabilities at a given point in time.
This provides a snapshot of the business's financial health and is useful for lenders, investors, and business owners who want to assess the solvency and liquidity of the store.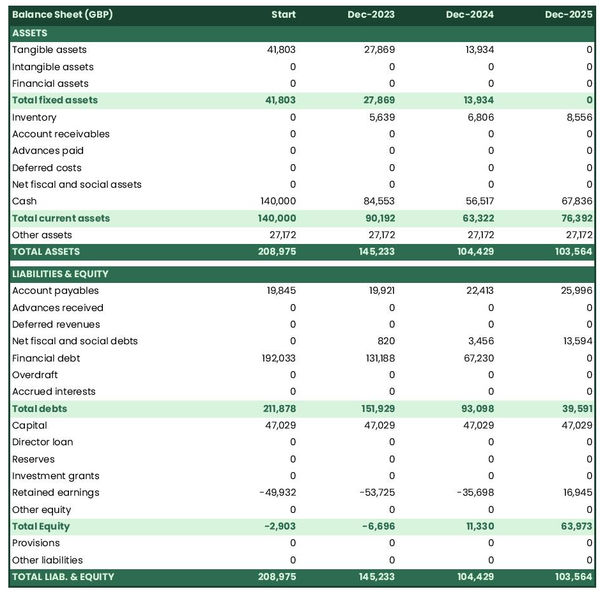 The projected cash flow statement
A cash flow statement for a beauty supply store is used to show how much cash the business is generating or consuming.
It shows the amount of money coming into the store and going out, like when you buy supplies or pay staff wages.
Having this information helps you to make sure that your business has enough cash to keep running and can help you anticipate potential seasonal cash shortfalls.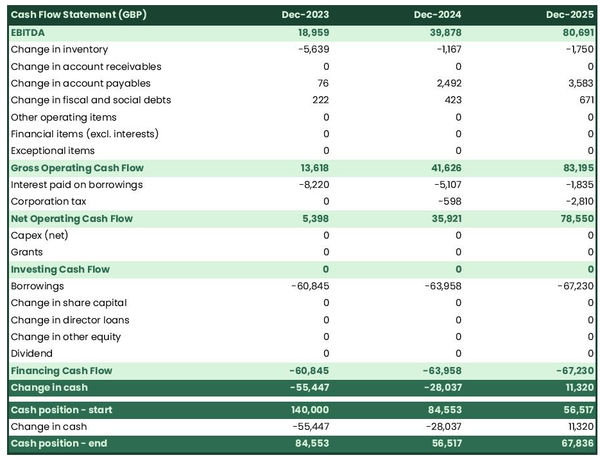 The initial financing plan
The initial financing plan (also called a sources and uses table) is an important tool when starting a beauty supply store.
It shows where the money needed to set up the store will come from (sources) and how it will be allocated (uses).
Having this plan helps you understand what costs are involved in setting up the store, so you can make sure that everything is taken care of before launching.

Once the financial forecast of a beauty supply store business plan is reviewed and understood, it is time to focus on the written part of the plan.
The written part of a beauty supply store business plan
The written part of a beauty supply store plan is composed of 7 sections.
We cover each section in detail below.
1. The executive summary
The executive summary of a beauty supply store plan should start with a business overview providing essential information about the type of store, its ownership structure, and any unique products or services that it offers.
Next comes the market overview, which should provide an overview of industry trends, as well as an understanding of the target customer demographics.
Key financials, such as startup costs and projected profits and cash flows should also be included in the executive summary.
Finally, the executive summary should lay out the ask, which is essentially why this business plan will be beneficial and what the business is looking for from potential investors.
2. The presentation of the company
This section should provide important information about the business's legal entity and ownership structure, such as whether the store is a corporation, limited liability company, or sole proprietorship. Also, mention what percentage of the business each partner owns.
This section should also provide detailed information about where the beauty supply store will be located. This includes a description of the physical location and an overview of the catchment area.
The presentation of the company should also include details about the store's management team, such as the owners, managers, and key personnel who will be responsible for running the business. Provide an overview of their qualifications and experience related to the beauty supply store's operations.
3. The products and services section
When writing the products and services section you should provide an accurate description of what your business sells.
For example, do you sell makeup, hair care supplies, nail polish or skincare items? Do you also offer styling services such as haircuts or colour treatments?
Are there any specialities that set your business apart from other stores in the area?
It's important to provide a comprehensive list so that readers can get an idea of what customers should expect.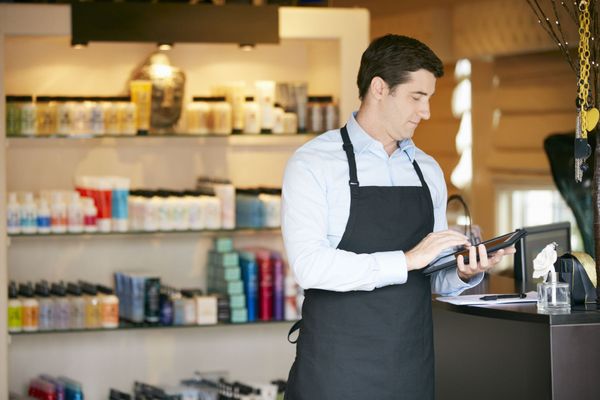 4. The market analysis
In this section of your beauty supply store's business plan, you should include detailed information about demographics and segmentation, target market, competition, barriers to entry, and regulation.
This will help demonstrate to potential investors or banks that you understand the industry you are entering.
Demographics and segmentation provide insight into who is buying beauty supplies and why. It can also give clues as to which types of products might be most successful in certain areas based on the population's preferences.
Knowing one's target market helps ensure that marketing efforts are focused on those most likely to purchase from the store. For example, your beauty supply store could target women aged between 25 and 44.
Additionally, you need to understand both existing competition as well as possibly new entrants into the industry so that you can better position your business against them.
Be sure to research and have in mind any regulations that affect beauty store owners as well as generic regulations that apply to all businesses.
5. The strategy section
The strategy section of a business plan for a beauty supply store should include the following subparts: pricing strategy, marketing plan, milestones, and risks and mitigants.
Outline how your products are priced whilst also mentioning any discounts or promotions that will be available. For example, you could offer 25% off in-store for first-time customers.
It is also important to include a comprehensive marketing plan that outlines the tactics the business will use to acquire and retain customers.
Additionally, milestones should be included that set out achievable goals for the store. Finally, potential risks should be identified and mitigants proposed to mitigate those risks.
6. The operations section
The operations section of a beauty supply store business plan should include comprehensive information about the staff, assets and suppliers.
You should list the roles of staff members and provide an outline of their responsibilities.
Furthermore, it is necessary to articulate a recruitment plan for identifying and hiring new personnel - you might be using a recruitment agency or a list of contacts in your network to do so.
Additionally, information about the store's opening hours as well as the key assets and intellectual property it needs to operate should be included in the business plan.
Finally, you should mention any suppliers that you plan to work with and explain why you chose that supplier. This should include any competitive advantages that the supplier may bring to the store and how it will add value.
7. The presentation of the financial plan
This is where you will present the financial forecast that we talked about earlier in this guide.
Now that you have a better understanding of what should be included in the content of your beauty supply stores' business plan, it's time to look at the tools that can help you create one.
What tool should I use to write my beauty supply store's business plan?
In this section, we will review three solutions for creating a business plan for your beauty supply store: using Word and Excel, hiring a consultant to write the plan, and using online business planning software.
Create your beauty supply store's business plan using Word or Excel
Using Excel and Word to write the business plan for a beauty supply store can be enticing due to the low cost of these programs.
However, Excel is not the ideal solution for creating a financial forecast. Unless the business owner has expertise in accounting and financial modelling, it can be difficult to create an accurate forecast with minimal mistakes.
Even if the forecast is created correctly, a bank or investor may be sceptical of its accuracy.
Using Word to write a business plan has its own set of drawbacks. It requires starting from a blank page, meaning the business owner must spend time formatting the document once written.
Hire a consultant to write your beauty supply store's business plan
You might feel that outsourcing your beauty supply store business plan to an accountant or consultant is a good idea. They are used to writing business plans and can create sound financial forecasts without errors.
However, most accountants lack specific industry expertise to accurately forecast sales, and consultants may not have the same level of expertise as an entrepreneur who is familiar with their business.
The fees are also generally quite expensive: budget around £1,500 (US$2,000) for a complete business plan, more if you need to make changes after the initial version (which happens frequently after the initial meetings with lenders).
Use an online business plan software for your beauty supply store's business plan
Another alternative is to use online business plan software.
There are several advantages in doing so:
You are guided through the writing process by detailed instructions and examples for each part of the plan
You can be inspired by already-written business plan templates and examples
You can easily make your financial forecast by letting the software take care of the financial calculations for you
You get a professional document, formatted and ready to be sent to your bank or investors
You can easily compare your forecast against your accounting data to make sure you are on track to deliver your plan, or make adjustments if needed
If you're interested in using this type of solution, you can try our software for free by signing up here.
We hope that this article has helped you to better understand how to write the business plan for your beauty supply store. Do not hesitate to contact us if you still have questions!
Also on The Business Plan Shop
Know someone in the beauty supply store industry? Share this article with them!