This article explains how you can use the equity module.
This data enables our software to build your financial statements (balance sheet, P&L, cash flow statement), which can then be downloaded along with your business plan.
It's fast and easy to do.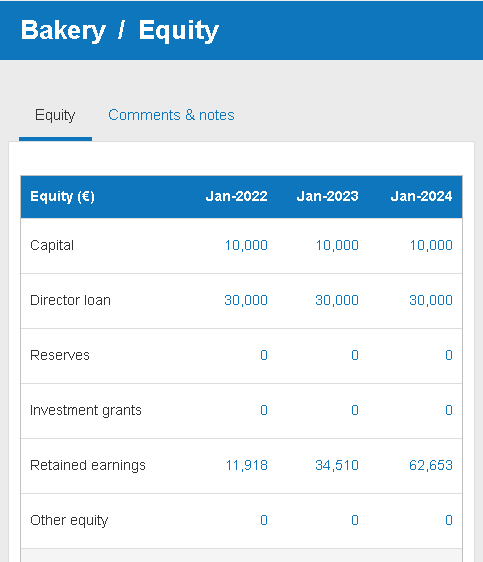 What is equity?
Equity includes the capital invested or lent by the shareholders, accrued earnings, and investment subsidies.
How does the manage equity module work?
At the centre of the module, you will find a table which shows a breakdown of your company's equity at year end.
You can view equity data for up to 5 years from when you started the business plan
You can edit your equity by using the button beneath the table.
How does the equity module impact my financial forecast?
The Business Plan Shop's Our software will use your equity data to create your forecasted financial statements (P&L, balance sheet and cash flow statement).
These statements also form part of the financial plan section of your business plan.
As soon as you edit the equity amount, the software will automatically recalculate everything to ensure that your financial forecast is up to date. It's fast and simple, meaning that your plan will always be ready to export.
When building your forecasted financial statements:
We'll use the amount entered to build your balance sheet equity
We'll also use this data to build the financing cash flow in your cash flow forecast.
Frequently Asked Questions
Can I add or edit investment grants in this module?
No, you cannot add investment grants to this module.
While its true that investment grants are visible in the equity module, these are only there as a perspective. Clicking on them will redirect you to the investments module.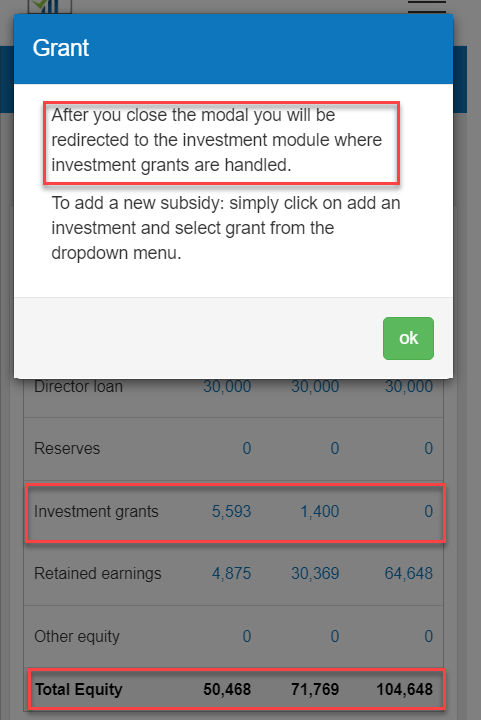 Go further with The Business Plan Shop