How do I use the business lines module?
This article explains how you can use the business lines module to create your sales forecast and manage your inventory.
This data enables our software to build your financial statements (balance sheet, P&L, cash flow statement), which can then be downloaded along with your business plan.
It's fast and easy to do.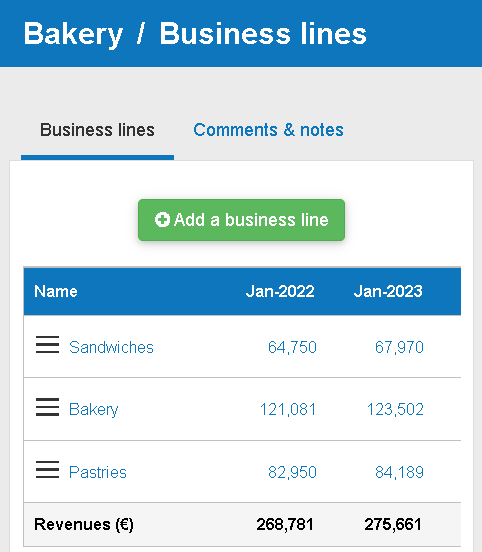 What is a business line?
A business line is a source of revenues for your business. It can be either a product or service, a category of product or services, or a division in your business.
For example:
A pub could list alcoholic beverages, non-alcoholic beverages and food as their business lines
A hotel business could list direct telephone bookings, direct website bookings, travel agency bookings, and bar revenue as their business lines
A marketing agency providing SEO services to small, medium and large businesses can use three separate business lines (one for each solution).
A pizzeria could have in-store, takkeway, and deliveries as their business lines
In The Business Plan Shop, business lines combine your sales forecasts, purchases or production costs, and inventory.
Business lines are linked to the gross profit section in your financial forecast.
Sales forecast, purchases, production costs and inventory are all part of the calculation.
Therefore, they are combined together.
How does the business lines module work?
At the centre of the module, you will find a table which details each business line and its corresponding revenues.
You can edit, copy and delete business lines by using the buttons in the table
You can reorganise business lines in the table using drag and drop
Beneath the table, you'll find a pie chart that illustrates the percentage of your total revenue generated by each business line
How does the manage business lines module impact my financial forecast?
The Business Plan Shop's software will use your business line data to create your forecasted financial statements (P&L, balance sheet and cash flow statement) and in your business plan.
Any calculation that depends on the business lines module will subsequently change in the financial forecast. For example, if you add a business line, both gross profit and net income will be updated as soon as the new data is saved.
It's simple, fast and automatic which means that your plan is always up-to-date and ready to export.
We'll also analyse your data and provide you with suggestions if we detect issues with the data entered such as impractical growth or insufficient inventory. You can view the score attributed to your forecast and read alerts here.
When building your financial statements:
We'll use your sales forecasts (and optional deferred costs settings) to build the recognized revenues in your P&L.
If you sell goods, or have direct costs when providing services, we'll use your purchases and inventories data to assess your cost of goods sold, and your gross profit.
We will then use your payment terms and optional VAT/GST settings to build your balance sheet and cash flow forecast.
What advice can you give me to get started with the business lines module?
Do a thorough market analysis first - find out details about competitors, customers and suppliers.
How much are suppliers likely to charge for raw materials? Ask them to provide cost estimates.
Are you operating in a competitive industry? If so, is it a good idea to charge prices that are slightly below that of competitors?
Is there a gap in the market? If so, what goods or services are customers looking for specifically?
We suggest that you limit the number of business lines to 5. This simplifies the model and means that the number of assumptions remain manageable.
For example, it would be impractical for restaurant owners to use a separate business line for each dish.
Instead, they could classify business lines according to the following criteria: starters, main meals, desserts, alcoholic beverages and non-alcoholic beverages.
Revenues achieved from any soft drinks would consequently be entered into the "non-alcoholic beverage" business line. Similarly, any revenue obtained from fish and chip sales would be entered into the "main meals" business line.
Frequently Asked Questions
Go further with The Business Plan Shop