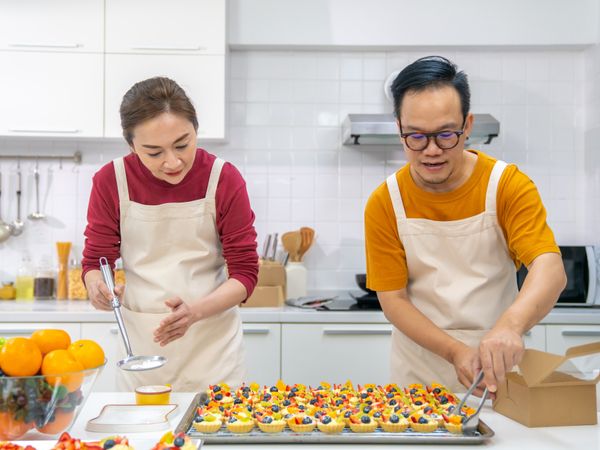 Are you a startup catering business looking to see if your idea is viable and raise financing?
Or an existing catering company looking for ways to grow, expand or improve profitability?
If so, this guide will provide the tools and insights you need to write a comprehensive business plan for your catering company.
This in-depth guide covers why you should write a business plan for your catering company; what information is necessary; what such plans typically include; and the best tools available for creating them.
With these resources, you'll be well on your way toward success as an established or aspiring caterer!
Why write a business plan for a catering company?
Creating a business plan for a catering company is an essential step in the success of any food service venture. Even if you already have an established catering business, you should regularly revise and update your plan.
A business plan is essential because:
It forces you to think about how you will grow your business
It's what financiers will look at if your goal is to get funding
It helps you keep track of your progress
Business planning and your catering business growth
Having a clear vision for where you want your business to go will help guide your decisions on how to get there.
Writing a business plan will force you to anticipate every aspect of your business - from pricing, marketing and staffing to forecasting, and financial planning - and act as your roadmap for the years to come.
Obtaining funding for your catering business
A well-crafted catering business plan is a mandatory tool when looking for funding.
The business plan details your company's aims and objectives and gives crucial information to potential lenders to make informed judgments about your catering business' borrowing capacity.
Similarly, every Investor wants to see healthy growth, profitability, and cash generation to make sure their investment in your catering company will generate a good return on investment.
Your catering business plan will provide this detailed financial information through the income statements (P&L), balance sheets, and cash flow statements, enabling investors to make an informed decision.
Keeping track of your catering business's progress
A business plan is essential if you want to track the progress of your catering business.
It's easy to set ambitious goals, but delivering on them is what really matters. Having a business plan in place, and regularly comparing your results to what was planned, keeps you honest about your capacity to execute.
Tracking your financial performance against your forecasts is especially key as it enables you to quickly identify if you are on track or not, and when needed to adjust your forecast in order to maintain visibility on your future cash flows.
Now that you understand the importance of writing a business plan for a catering company, it's time to look at what information is needed to create one.
What information is needed to create a business plan for a catering company?
Carrying out market research for a catering company
Market research (a look into consumer behaviour and economic trends) is essential before writing a business plan for a catering company.
Market research provides valuable insight into the industry and can help you to identify potential customer needs, competition, and trends in the market.
When performing market research for your catering business you could look at answering questions like:
Is the sector growing?
What are the most attractive customer segments (corporate, weddings, or social events)?
Who is the competition? Is the target market saturated?
What types of cuisine (Mexican, Italian, vegetarian, fast food, traditional, etc.) are more profitable?
What are the upcoming trends in customer habits in the catering business?
What are sales like during weekdays and weekends? Is there a high level of seasonality?
What is pricing like? And how have profit margins evolved in recent years?
With this information, you can more accurately forecast revenues (sales) and create an effective marketing strategy to give your catering company the best chance of success.
Also, it gives investors confidence in your understanding of the industry and provides evidence that you are taking steps to ensure long-term sustainability.
Developing the marketing plan for a catering company
You will also need to think about your go to market strategy - i.e. what actions will be put in place to acquire and retain customers.
Having a clear sales & marketing strategy in place will help you ensure you have the right level of staff, and budget for sales and marketing costs, to hit the sales targets set in your business plan.
The staffing and equipment needs of a catering company
Before developing your catering business plan, you should evaluate the recruitment strategy and the investments required.
Knowing how much money is needed for staffing is key to accurately anticipating the funding requirements and cost structure in the forecast of your catering company.
For example, you could consider how much it will cost you to hire:
A manager (event planner)
A supervisor
A chef
Servers
Bartenders
Dishwashers
Similarly, you should also factor in the money you will spend on equipment that is needed to start or expand your business.
Once you have collected all the necessary information to create a business plan for your catering company, the next step is to develop a financial forecast.
What goes in the financial forecast of a catering company?
The financial forecast for a catering company contains the profit and loss (P&L) or income statement, balance sheet, and cash flow statement which we will present in more detail below.
These financial tables enable the readers of your plan to assess the financial potential of your catering business, in particular its viability, borrowing capacity and potential return on investment.
The projected P&L statement
The projected P&L statement for a catering company is a financial statement that shows how much money your company is expected to make (profit) and how much it is anticipated to grow over time.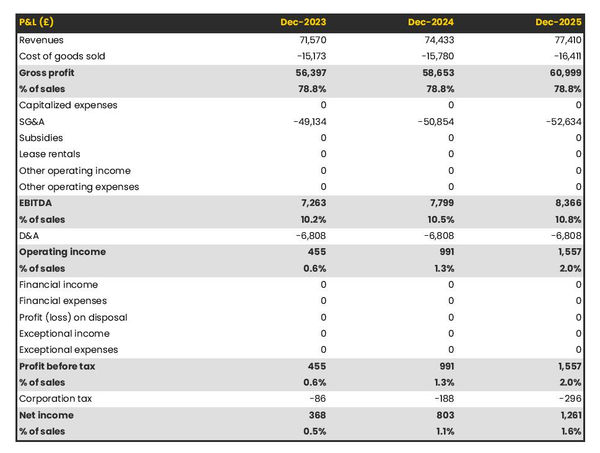 The projected balance sheet of your catering company
The balance sheet is an essential financial statement used to assess your catering company's financial position at a given time. It is a snapshot of the company's assets, liabilities, and net worth (owner's money left in the business after deducting liabilities from assets).
Equipment, inventory, accounts receivable (a record of sales made on credit), investments, and cash are samples of assets a firm may own. Loans, accounts payable (purchases the business made on credit), taxes, and wages are examples of liabilities.
Lenders, investors or business owners can get an insight into a business's financial condition when they compare what your business owes versus what it owns.
Also, a catering company's balance sheet will show whether it is solvent (the ability of the business to pay its long-term debt) or liquid (the business's ability to pay its short-term debt). This helps assess your catering business' funding requirements and borrowing capacity.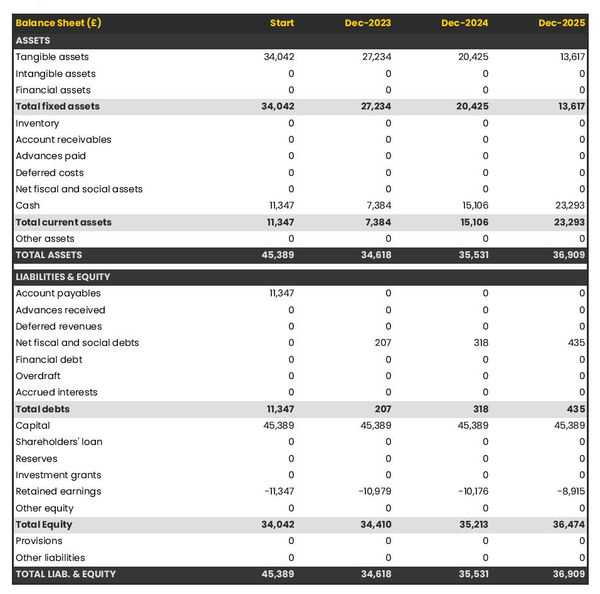 The projected cash flow statement
The cash flow forecast of your catering business helps you understand how much money is coming in and going out.
This will assist you in making informed decisions about how to expand your business and plan for the future.
Knowing your cash flow can also help you determine whether you have enough money to keep the business running or if you need additional capital.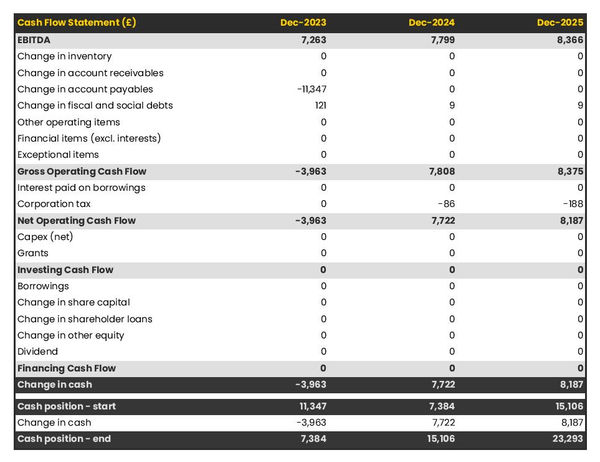 The initial financing plan
An initial financing plan shows how much money you need at the start of your catering company business plan, where it will come from, and what it will be used for.

Now that you know what you should include in your catering company's financial forecast, it's time to look at the written portion of your business plan which provides the context needed to evaluate the relevance of your financial forecast.
The written presentation of a catering company business plan
The written presentation is composed of 7 main sections:
The executive summary
The description of the business
The products and services section
The market analysis
The strategy
The operations
The financial plan
The executive summary
The executive summary of the business plan of your catering company should enable readers to quickly and easily understand who you are, what you do, and the objectives of your business plan.
The summary should include your mission and vision statement, a comprehensive overview of the catering business, its market, key financials, an overview of your plans and goals, your business strategy, your funding requirements, and the administrative structure of your business.
Presentation of the company
When preparing the description of your catering business, it is essential to consider the different parts that make up the business. First, you should explore the structure and ownership of your enterprise.
This includes information on who owns the business, how many shareholders there are, and what type of legal entity (sole proprietorship, partnership, corporation, and so on) your business operates as.
The second part to consider is the location of your business. It is crucial to explain why you have chosen a particular area or city for your catering venture, and how the local market may benefit from having your services.
Finally, you should describe the management team. Include an outline of each member's experience and certifications, and how their jobs will contribute to the catering company's success.
A good leadership team is vital for every business plan since it increases investor trust. As a result, ensuring that they are adequately highlighted can make all the difference.
The products and services section
When you are writing the products and services of the business plan for a catering business, it is important to include detailed descriptions of each product or service.
For example, in this portion of the business plan, you could state that you cater to private events, weddings, corporate groups, and so on.
Your plan's reader should have a sense of how many guests can be served for each type of event, what types of menus are available, and if any specific dietary needs can be met, as well as other significant facts.
The goal here is to ensure you adequately present all your products and services.
This information should be clear, concise and comprehensive so that potential investors or banks can get a good understanding of what exactly your catering company offers.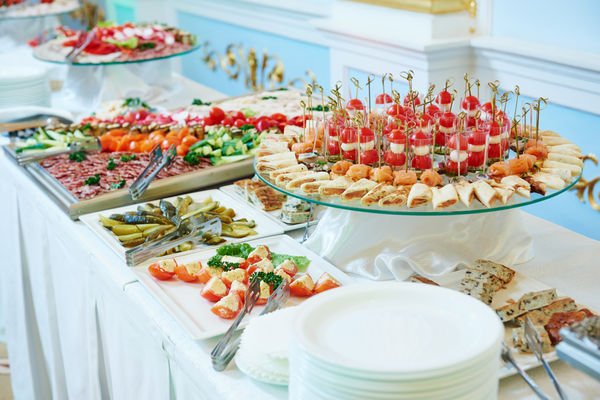 The market analysis
When presenting the conclusion of your market analysis in your catering business plan, you should include information about demographics and segmentation, target market, competition, barriers to entry, and regulation.
This will help lenders and investors understand who the company is targeting with its services, and help inform their opinion of your commercial potential.
In addition to demographic information, it's also important to provide an overview of your competition in order to show potential investors why your service stands out from others in the local market.
You should also explain any relevant regulations you must adhere to when operating.
By providing such details you will give potential lenders and investors a clear understanding of how well-positioned you are for success in this competitive industry landscape.
The strategy section
When writing the strategy section of your business plan for a catering company, you should detail your competitive advantage, pricing strategy, marketing plan, milestones and risks and mitigants (how to counter the risks).
The competitive advantage should highlight how your services are unique from other competitors in the area. This could include special cuisine options or services, such as delivery or event planning.
In addition, a pricing strategy is essential to ensure that customers are getting value for money while still making sure that profits are maximized. Pricing should be competitive yet profitable for the business, considering market trends and the customer's willingness to pay.
Moreover, a detailed marketing plan must be included which outlines how the company plans to promote its services and reach potential customers.
Plus, you should set milestones to measure the success of your business plan, and risks and mitigants identified to prepare for any potential issues that may arise.
With these elements included, your strategy section will ensure that your catering company stands out from the competition.
The operations section
This section should provide an overview of how your business is organized to achieve success and must be convincing enough to investors and banks.
The operations section of your catering business plan, you should include detailed information about your staffing team, roles and responsibilities of staff members, recruitment plans, operating hours, key assets and intellectual property needed to operate the business, and suppliers.
In terms of staffing, your business plan should detail who will be responsible for each job role, what qualifications and experience are required for each position, and how many people will fill that role.
The financial plan section
The financial plan section of the guide is where you talk about the financial forecast we talked about earlier in this guide.
By now, you should have a comprehensive understanding of the information that belongs in your catering business plan. It's time to begin assembling all the parts.
What tool should I use to write my catering company's business plan?
In this section, we'll be reviewing three solutions for creating a business plan for your catering company: using Word and Excel, hiring a consultant, or using online business plan software.
Create your catering company's business plan using Word or Excel
Using Word and Excel sounds attractive because they are cheap, but these tools are often not the best solution for you due to their limitations.
Do you have the skills to create a forecast in Excel? This is the first issue if you are going fully manual with Excel: you need to understand what you are doing, meaning that you need to have a solid background in accounting and finance to avoid making mistakes.
The second issue is trust. Even if you avoid making mistakes, will investors and lenders think you did?
Now when it comes to writing the actual business plan, Word is great but you start from a blank page, without instructions, and have to do all the formatting which takes forever.
Hire a consultant to write your catering company's business plan
Outsourcing the writing of your catering business plan to an accountant or consultant may be a viable option for you if you don't have time.
The main advantage of this approach is that consultants and accountants are used to writing business plans and financial forecasts, and thus there is less risk of errors.
However, this method also has its drawbacks:
It's expensive: it costs a minimum of $2,000 (or £1,500) to get a business plan from a consultant.
Revisions required after the first version of the plan are often not included in the price.
Unless the consultant knows your industry by heart, they are unlikely to be able to challenge your assumptions, and to be able to sell your positioning compellingly.
Accountants won't touch any part of the presentation (they only help with the forecast).
Using an online business plan software
Another alternative is to use online business plan software. There are several advantages to using specialized software:
You are guided through the writing process by detailed instructions and examples for each part of the plan
You can be inspired by already written business plan templates
You can easily make your financial forecast by letting the software take care of the financial calculations for you without errors
You get a professional document, formatted and ready to be sent to your bank
The software will enable you to easily track your actual financial performance against your forecast and update your forecast as time goes by
If you're interested in using this type of solution, you can try our software for free by signing up here.
We hope that this article has helped you to better understand how to write the business plan for a catering company. If you still have questions, do not hesitate to contact us.
Also on The Business Plan Shop
Know someone in the catering industry? Share this article with them!