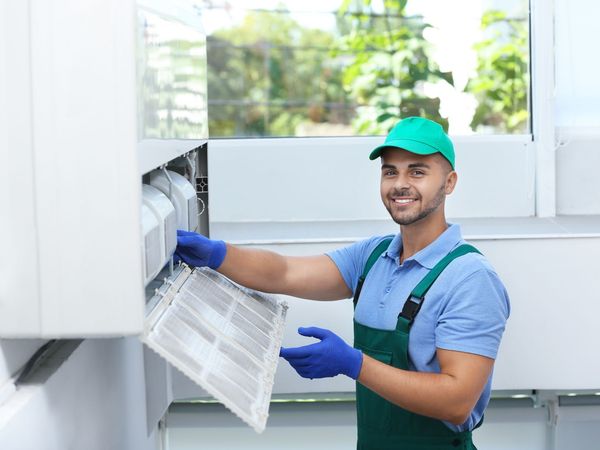 A business plan forms the cornerstone of success for any HVAC business, no matter the size or complexity.
This guide provides detailed information about how to write a business plan for an HVAC business.
We'll discuss why it's so important to have one, what elements should be included in your plan, and what tool you should use to create it.
By following this guide, you'll be able to create a comprehensive business plan that will set up your company for long-term success.
Let's get started!
Why write a business plan for an HVAC business?
There are several reasons to write an HVAC business plan. Below, we cover some of the most important ones!
To serve as a roadmap for owners and employees
By developing a sound and comprehensive business plan, an HVAC business can gain insight into the financial implications of its operations and create a roadmap for future growth.
A strategic and well-thought-out plan can help to identify short-term objectives, long-term goals, resources needed to reach those goals, market trends that could influence the industry, and potential risks and opportunities.
Additionally, having a documented plan in place can ensure that all employees understand the company's mission and vision and are on board with reaching those objectives.
To help secure financing
Creating a business plan is extremely helpful, and almost always mandatory when seeking financing options or investors.
A business plan allows potential lenders or investors to comprehend the business's objectives, value proposition, and financial projections.
Furthermore, it provides an overview of the market trends that could influence your business's performance. It also serves to clarify how resources will be allocated, how capital will be used, and what goals need to be met in order for your business to thrive.
Not only does a business plan demonstrate financial responsibility and help increase credibility with lenders or investors, but it also helps HVAC business owners like you accurately evaluate future operations and potential risks associated with running your business.
As such, it is essential for any HVAC company looking for financing or investment opportunities to have a comprehensive business plan.
To plan business expansion
Creating a business plan is also useful for HVAC companies seeking to expand their operations.
It assists business owners who are looking to expand their operations by providing insight into how they can allocate resources most effectively.
By having a well-crafted business plan in place that looks at all aspects of the business, you'll be able to make informed decisions regarding cash flow management and target markets.
To understand how much investment is required to launch the HVAC business
Writing a business plan to start an HVAC business is essential to accurately assess how much investment is needed to start the business.
A business plan provides you with detailed information about the investments needed to start your business and the business's financial projections over the next 3 to 5 years.
It, therefore, gives owners and management a roadmap on how to launch, grow and manage their business in order to maximize profits.
To increase the business's chances of success
More than 50% of all startups fail within the first 5 years and HVAC businesses are no exception to the rule.
With an effective business plan in place, HVAC businesses can increase their chances of success by understanding if their business idea is viable given the competitive structure of their local market, and how to successfully manage their finances while proactively pursuing their strategic objectives.
Information needed to create a business plan for an HVAC business
Writing an HVAC business plan requires research so that you can project sales, investments and cost accurately in your financial forecast.
In this section, we cover three key pieces of information you should gather before drafting your plan!
Carrying out market research for an HVAC business
Conducting market research before drafting a business plan for an HVAC business is essential to assess the levels of demand and competition in the local market, and find a differentiated market positioning.
Market research will provide valuable insights into customer needs, market demand, competitors and business trends that need to be factored into the business plan to make it more strategic and effective.
It also helps you identify potential areas of opportunity that could give your HVAC business an advantage over its rivals.
By taking the time to carry out market research prior to writing a business plan for an HVAC company, you will be better positioned to create realistic sales projections and craft a convincing pitch for the readers of the business plan.
Developing the marketing plan for an HVAC company
Creating a comprehensive marketing and sales plan before writing a business plan for your HVAC company is essential to ensure that your commercial goals are achievable and that you have the right strategies in place to reach them.
It will force you to think about how you will promote and sell the business's products or services, as well as which channels and tactics should be used to target potential customers.
Having an effective marketing and sales plan in place will also be instrumental to assess what resources need to be budgeted for in the financial forecast of the business plan.
Once estimated, these marketing and sales costs can be compared against the planned revenues to ensure a sufficient budget has been allocated and to identify any gaps or inconsistencies.
The staffing and equipment needs of an HVAC business
Similarly, creating a detailed recruitment plan and assessing investments required prior to writing a business plan for an HVAC business is essential to ensure the company has the right personnel and equipment needed to provide quality services to customers.
Recruiting the right staff is essential as it helps you achieve business goals, as well as maintain high customer satisfaction levels. A well-thought-out recruitment plan should include an analysis of the skills and qualifications required for each position, training requirements, compensation plans and benefits.
Startup costs for an HVAC business might include costs required to obtain the necessary certification, inventory management systems and tools.
Now that we covered the prerequisites, let's move on to the next step of creating a business plan for your HVAC business: preparing the financial forecast.
How do I create a financial forecast for an HVAC business?
A well-crafted financial forecast is essential as it enables you to project future cash flows and ensure you have adequate capital resources and funding at your disposal.
The role of the financial forecast in an HVAC company's business plan is essential for success. As proper financial planning not only helps to ensure that the company is able to adequately finance its operations but also provides a blueprint for future growth.
A thorough financial plan outlines the cost of doing business, such as startup costs, operational expenses, and the repayment of loans; it also details revenue projections and how these funds will be used to build a successful business.
Careful consideration must be given to cash flow management and investment plans in order to adequately meet short-term financial obligations and achieve long-term profitability and financial stability for your HVAC business.
Your HVAC business plan financial forecast is composed of 4 main tables, highlighting different financial aspects of the company:
Projected P&L statement
Projected balance sheet
Projected cash flow statement
Initial financing plan
Let's start by having a closer look at the projected profit and loss (P&L) statement.
The projected P&L statement
The P&L statement shows how much profit your HVAC company anticipates making and any costs that your business is likely to incur (expenses) over the next three or five years.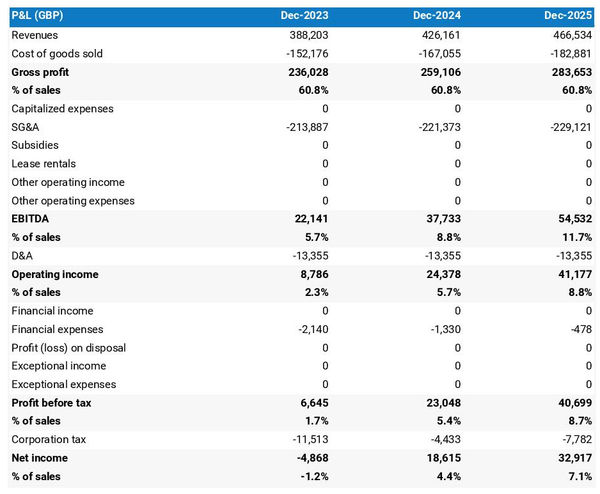 The projected balance sheet of your HVAC business
A balance sheet provides a snapshot of your business's assets, liabilities and equity at any given point in time.
Looking at your projected balance sheet is helpful to understand the financial structure and working capital requirements of the company.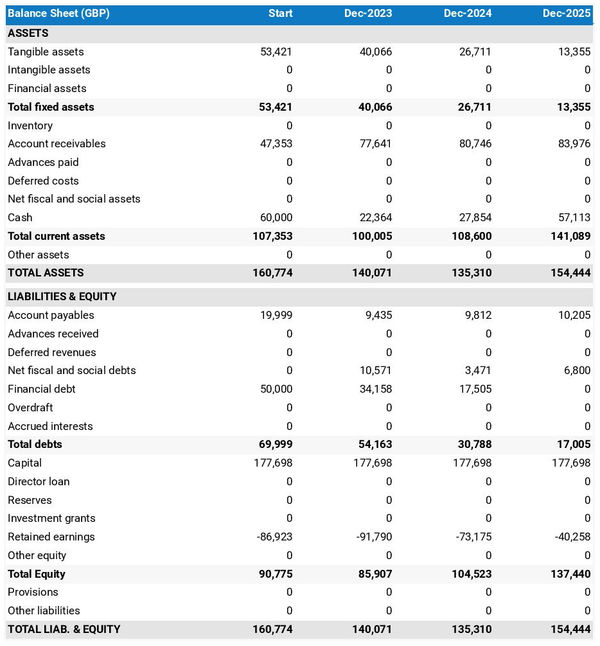 The projected cash flow statement
The projected cash flow statement of your HVAC company will tell you how much money is expected to be generated (or consumed if you have negative cash flows) over the next 3 years.
It is key to assess the financial viability and potential financing requirements for the company.
The initial financing plan
When starting an HVAC company or when seeking funding, it is also useful to include an initial financing plan in your forecast.
This plan, also called a sources and uses table, gives an overview of the items that need to be financed and where the money is coming from.

Following the financial forecast, the next section of our guide to writing an HVAC business plan will focus on the written part of the document.
The written part of an HVAC business plan
The written part of your HVAC business plan is where you will provide the reader with the context required to understand your business, its objectives and its ability to carry out the projected plan and deliver the expected financial projections.
1. The executive summary
An executive summary of an HVAC business plan should provide readers with an overview of the company's business goals and objectives.
It is important to note that an effective executive summary should be concise, yet include an in-depth description of the business.
The executive summary should focus on the central elements such as the market overview, key financials, and the "our ask" section. This should be done to ensure that readers have a clear understanding of the business and its current position.
When discussing the market overview, it is important to describe the overall size of your local market, any trends affecting potential growth and customer acquisition, and how your HVAC business will be positioned in this competitive landscape.
Additionally, it is important for investors to get an idea of key financials such as revenue projections, cash-flow forecasts, and capital requirements.
Finally, your executive summary should include your ask: how much money you're seeking and what lenders or investors will receive in return for their investment. This is a critical section of the business plan as it provides clarity on why someone would finance your HVAC business.
2. The presentation of the company
The presentation of the company in your HVAC business plan should cover four key aspects: structure and ownership, location, and management team.
The structure and ownership part should include information about the legal structure of your business (sole proprietorship, partnership, LLC) and who owns the company (list names and percentages owned by each owner).
Next comes the presentation of the location and serviceable area which state where you are located (include a physical address), any service area boundaries, and why this location is beneficial for the business.
Then comes the presentation of the management team: who runs the business (list titles/roles, and an overview of each person's qualification and relevant experience).
By providing this detailed information up front you'll give potential investors confidence that they're investing in a sound venture with experienced leadership.
3. The products and services section
When writing a business plan for an HVAC company, it is important to include a section on products and services. This section should provide the reader with enough information about what the business offers so they can make an informed decision.
In this section, you should outline all of the services your HVAC company provides, from installation and repair to maintenance and inspections.
Give details about each type of service that you offer, including any specialized knowledge or certifications that your technicians have obtained in order to provide those services.
Also describe any special equipment used during these processes and how it helps increase efficiency and quality control when providing these services.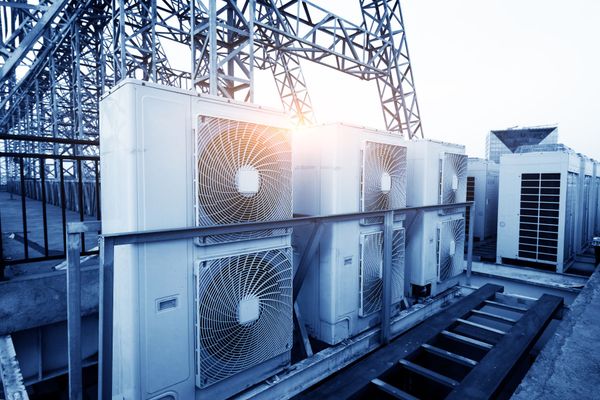 4. The market analysis
When presenting the conclusion of your market analysis in a business plan, you should include important information about demographics and segmentation, target market, competition, barriers to entry and any regulations that may apply.
It is important to identify any demographic trends that may affect demand for HVAC services as well as what segments of the population (or businesses in your area) are likely to be interested in your services.
Additionally, understanding who your competitors are and how they may respond to new entrants into the market can help you anticipate future challenges.
Furthermore, assessing any legal or regulatory requirements related to starting an HVAC business can help ensure compliance with relevant laws and regulations.
These are all important pieces of information to include in the market analysis, as they will help demonstrate that you have done the necessary due diligence and understand the industry landscape.
This will give potential investors or lenders peace of mind and make them more likely to invest in your business.
5. Strategy section
The strategy section explains your business' competitive edge, pricing strategy, marketing plan, milestones and risks and mitigants.
The competitive edge could include anything from top-quality customer service to unique offerings such as specialised fittings that would set it apart from other competitors in the market.
An accurate pricing strategy is essential to ensure the business remains profitable, while a comprehensive sales & marketing plan will provide investors with confidence that the business has an effective way of reaching customers and building recognition of its brand.
Additionally, milestones should be laid out so that it is clear how progress against objectives will be measured over time.
Finally, risks and strategies for mitigating them should be discussed to show that the business is prepared to handle any unexpected issues. Outlining risks and mitigation strategies will instil confidence in prospective investors that any issues can be handled promptly and effectively.
By including all of these elements, a business owner can create an effective strategy section for their HVAC business plan.
6. The operations section
In an HVAC business plan, the operations section should provide detailed information about the staffing team, roles of staff members, recruitment plan, opening hours, key assets and intellectual property that the business needs to operate and suppliers it plans to work with.
The staffing section should include detailed information about the roles of each staff member and how they will be managed. In addition, a recruitment plan should be laid out that outlines methods for identifying and selecting new employees, as well as training and development opportunities available to them.
In terms of opening hours, it is important to specify a regular operating schedule and any adjustments that may be made to accommodate customer needs (out-of-hours service, emergency service etc.).
Additionally, key assets such as licenses, permits and equipment should be listed in the operations section of the business plan along with the costs associated with obtaining or maintaining them.
Finally, in order to ensure quality of service delivery and competitive pricing for customers, the HVAC business plan should list the suppliers it plans to work with. This should include a description of the services they provide, along with any long-term contracts or agreements that have been negotiated.
For example, you might have a supplier that you have worked with in the past that supplies ventilation parts and accessories such as ducting, fittings and fans.
7. The presentation of the financial plan
This is where you will present the financial projections we discussed earlier in this guide.
Now that you have a better idea of what an HVAC business plan looks like, let's have a look at the tools and services you can use to create yours.
What tool should I use to write my HVAC business plan?
There are 3 main ways of putting together an HVAC business plan which we will explore below.
Creating your HVAC business plan using Word or Excel
Using Microsoft Word and Excel to create a business plan for your HVAC company is the cheapest solution, but not the most efficient.
First let's address the elephant in the room: the financial projections.
Unless you have a background in finance or accounting, there is a very strong chance that:
you will lack the skills required to create a financial forecast on Excel without making errors,
or that the reader of your business plan will assume you did make mistakes (and therefore not trust your projections)
And even if you do have experience in financial modelling, Excel is neither the fastest nor the most accurate way of creating a financial forecast.
When it comes to writing the actual business plan, Word is serviceable but you will have to start from a blank page, manually handle the formatting, and manually incorporate your forecast's tables inside the document (and keep everything updated when the number changes).
Hire a consultant to write your HVAC company business plan
Hiring a chartered accountant or consultant to take care of the financial forecast of your HVAC company business plan is a good way to avoid errors.
However, the fees are generally quite expensive: budget a minimum of £1.5k ($2.0k) for a complete business plan, more if you need to make changes after the initial version (which happens frequently after the initial meetings with lenders and investors).
If you decide to hire a consultant or accountant, remember to check what's included in the service - are they developing a complete business plan or just doing the financial forecast? And are you willing to pay extra for them to make changes, if necessary?
Use an online business plan software for your HVAC business plan
Using an online business plan software to write your HVAC company business plan can be incredibly beneficial, as it provides users with an efficient way to create a comprehensive and professional document.
There are several advantages to using specialised software:
You are guided through the writing process by detailed instructions and examples for each part of the plan
You can be inspired by already written business plan templates
You can easily make your financial forecast by letting the software take care of the financial calculations for you
You get a professional document, formatted and ready to be sent to your bank or investors.
You can easily compare your forecast against your accounting data to make sure you are on track to deliver your plan, or make adjustments if needed.
If you're interested in using this type of solution, you can try our software for free by signing up here.
We hope this article has given you a much better understanding of how to write the business plan for an HVAC business.
If you'd like advice on any of the points mentioned above or would like to speak to a member of our team about anything else related, please do not hesitate to get in touch!
Also on The Business Plan Shop:
Know someone who runs or is thinking about starting an HVAC business? Share this article with them!