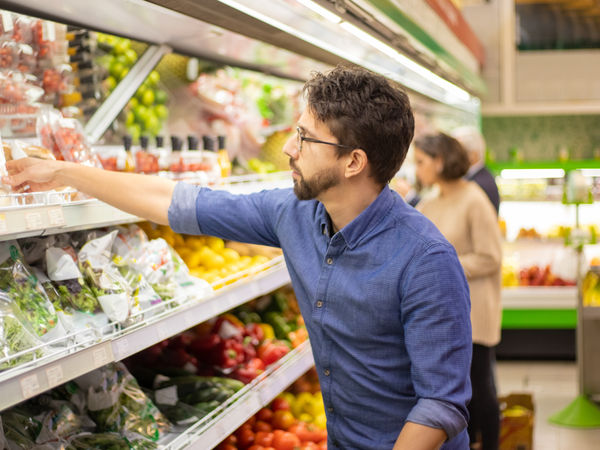 Having a well-written business plan is essential for any errand service company, whether it's just starting out or looking to grow and expand. A good business plan can help you secure financing, attract investors, and ensure that your errand service activity runs smoothly.
This guide provides an in-depth look at how to write a business plan for an errand service. We'll cover why it's important to have one, what information is needed to create one, what the finished product should look like, and which tools can be used when writing your own business plan.
Why write a business plan for an errand service company?
Writing a business plan is an essential step for any entrepreneur, regardless of whether you are starting up or have been in business for some time.
To set a clear roadmap
For those of you looking to launch an errand service, the process of writing a business plan can be especially useful as it forces you to think about your objectives over the next 3-5 years.
This can provide valuable insight into what strategies and tactics need to be implemented in order for your goals to be achieved and ensure that your errand service business remains competitive in the long term.
Additionally, established errand service busineses may benefit from revisiting their business plans periodically and updating them based on current market conditions and customer needs.
To get clarity on your cash flow
Having an up to date errand service business plan in place, also allows you to regularly compare your financial performance against what was planned and make adjustments as needed.
With this information, you can recalibrate your financial forecast so that you maintain visibility on your future cash flows and can anticipate any financing requirements in advance.
To secure financing
Whether you are a startup or an established business, writing an errand service business plan is essential when seeking financing from a bank or investor.
It's important that you take the time and effort needed to create a comprehensive and thorough business plan, as this document will be used by potential investors and lenders in making their decisions about investing in or lending money to your venture.
Banks will evaluate your business plan to determine if your errand service can be profitable and what level of debt it can afford to take.
Investors will need to see growth potential, profitability and cash flow projections in the plan so they can make informed decisions about investing in your errand service.
Now that we've established the importance of writing a business plan for an errand service, let's now look at what information is needed in order to create it.
Information needed to create a business plan for an errand service company
Writing an errand service business plan requires research so that you can project sales, investments and cost accurately in your financial forecast.
In this section, we cover three key pieces of information you should gather before drafting your plan!
Carrying out market research for an errand service
Carrying out market research before writing a business plan for an errand service is essential, as it provides invaluable insights into your target customers and the competitive landscape.
This information can be used to demonstrate the existence of a business opportunity in your plan, to forecast revenues more accurately, and make informed decisions about how best to allocate resources.
As such, carrying out market research will allow you to gain a better understanding of the industry and ensure that your business plan reflects realistic expectations for growth and profitability.
Developing the marketing plan for an errand service
Developing a marketing plan for an errand service is critical to ensure the sales projections in your forecast are realistic given the level of resources available to you.
Your marketing plan will also help when creating the budget for sales and marketing expenditure.
This budget should include both short-term and long-term planning, such as understanding how much money will be needed to advertise, create promotional materials, hire staff members, and provide customer satisfaction programs.
The staffing and equipment needs of an errand service
Similarly, before writing your errand service business plan, it is essential to take the time to think about the equipment and personnel required for the activity to operate smoothly.
These will also help you budget the appropriate level of capital and operational expenditures needed to make your financial forecast realistic.
Once you have gathered all of the information mentioned above, you can then move on to creating your financial forecast for the errand service.
What goes in the financial forecast of an errand service company?
The key outputs of the financial forecast for an errand service includes the Profit & Loss (P&L) statement, Balance Sheet, Cash Flow Statement and Sources & Uses Table.
Let's have a look at them in a bit more detail.
The projected P&L statement
The projected P&L statement for an errand service shows how much money the service will make, how fast it will grow, and if we can expect it to be and remain profitable in the future.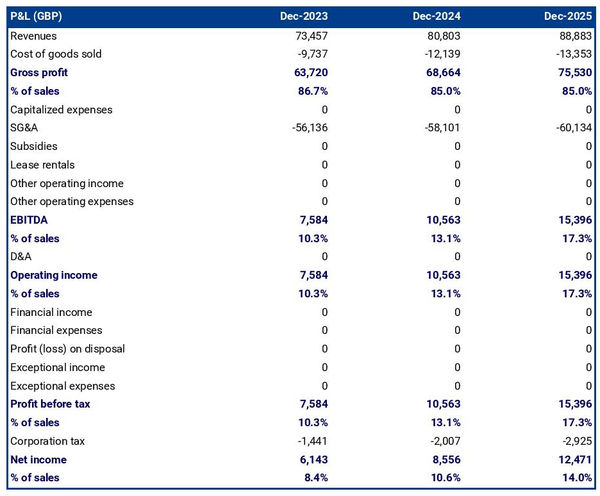 The projected balance sheet of your errand service
The balance sheet is an important financial tool for assessing the solvability (ability to repay debt over the long term) and liquidity (ability to repay debt due in the next 12 months) of an errand service activity.
This document provides a snapshot of what the business owns, or its assets, and what it owes, or its liabilities.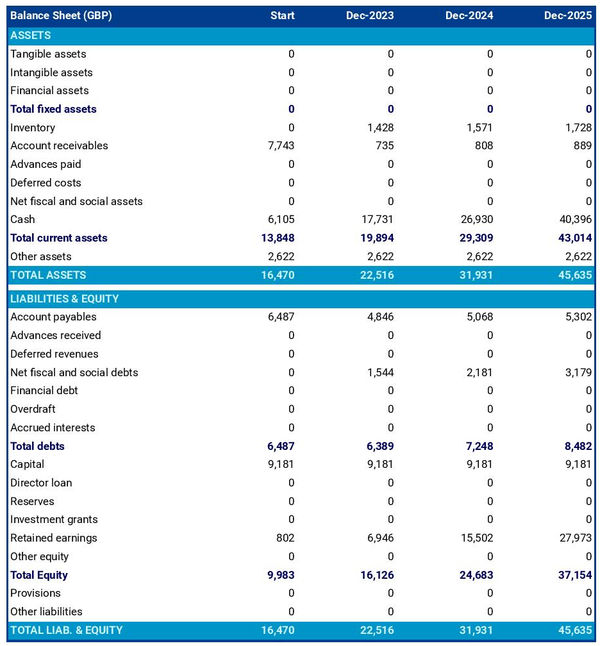 By looking at the balance sheet, lenders, investors, and business owners can get a comprehensive overview of the company's financial position at a given time. Having this information on hand allows lenders to assess the risk associated with providing a loan, and investors to help determine the potential return on investment.
For business owners like yourself, it is also important to keep an eye on your balance sheet to ensure that your business is sufficiently funded and capable of meeting its financial obligations.
The projected cash flow statement
A projected cash flow statement for an errand service shows how much cash the business is expected to generate and consume.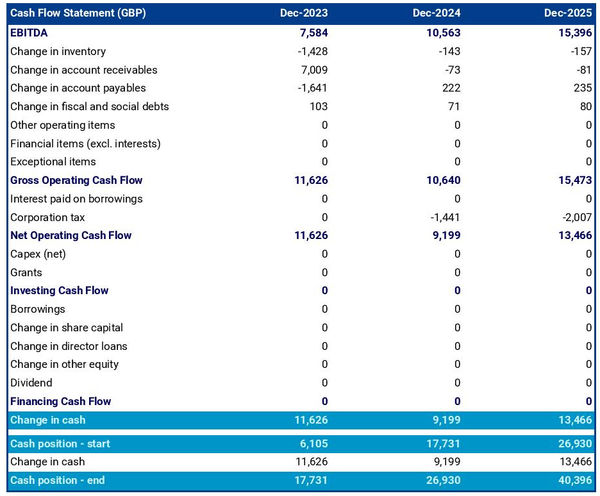 The cash flow forecast helps you plan ahead and figure out if the business will have enough money in the bank to pay its bills.
Having a projected cash flow statement can also help you decide whether or not you can afford investing in new equipment or hiring more employees.
The initial financing plan
An initial financing plan is a table that shows where money for a business comes from and how it will be used.

It is important to have an initial financing plan when starting an errand service because this allows you (and your financial partners) to know exactly how much money you need, and where that money will come from.
In order to assess whether your financial forecast is realistic and relevant, it needs to be seen within the context of the written part of your business plan. Let's take a closer look at what should be included in the written section of an errand service plan.
The written part of a errand service company plan
The written part of an errand service business plan covers seven essential sections: executive summary, presentation of the company, products and services section, market research, strategy section, operations section and financial plan section.
1. The executive summary
The executive summary of an errand service business plan should provide a concise overview of the business, its current position in the market, and its key financials.
It should include a brief description of the business's mission and objectives, with specific attention given to how it plans to achieve them.
Additionally, the summary should provide a detailed description of the market, including competitors, trends and potential opportunities.
Key financials should also be included in order to give the reader an idea of the size of the business and level of profitability.
Lastly, the executive summary should clearly state the 'ask' or goal of the plan - what is being requested of investors or lenders?
By providing a comprehensive overview of the business and what is being requested, this section should leave the reader with a clear understanding of what to expect as they dig deeper.
2. The presentation of the company
When writing the presentation of an errand service company, it is important you focus on the following parts.
The first part is the structure and ownership, which refers to the legal entity of the errand service business, its organisation structure, and ownership interests.
This should include details such as the type of business (e.g., sole proprietorship, corporation, or LLC), the names and roles of the owners and shareholders, and any additional information relevant to the legal structure.
Next is the presentation of the location, an errand service company should include a description of its primary location(s) and other important details such as proximity to other errand services, or any special features that make the company stand out and its implantation relevant.
Finally, it is important to provide information about the management team; this should include a summary of each team member's experience and qualifications relevant to running an errand service business.
Additionally, any certifications or awards held by members may be beneficial in demonstrating the company's commitment to excellence.
3. The products and services section
When writing the products and services section of an errand service business plan, it is important to be clear and concise.
This section should include a brief description of all the tasks that can be completed by your errand service, as well as any additional services you offer such as package delivery or online ordering support.
It should also explain how these services are different from other competitors in order to demonstrate why customers would choose your business over another.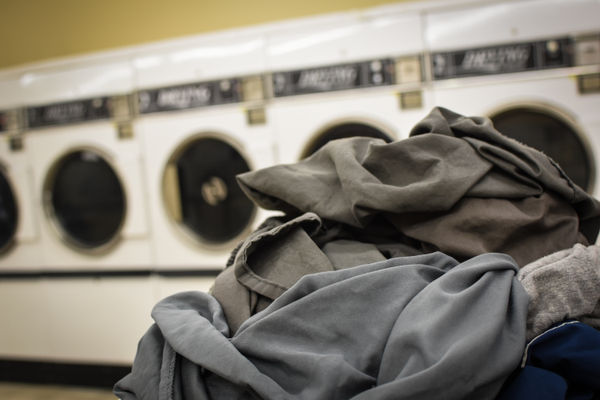 4. The market analysis
When presenting the conclusion of your market analysis in your errand service's business plan, you should include information about demographics and segmentation, target markets, competition, barriers at entry and regulation.
This is essential to demonstrate that there is a viable market for your company to any bank or investor who will be reading the business plan.
Understanding demographics and segmentation will help to identify ideal customer profiles as well as competitors in order to develop an effective marketing strategy that meets customer needs while providing a competitive edge over rivals.
Additionally, assessing barriers at entry into the market allows banks and investors to understand how difficult it may be for new entrants to steal market share from your business.
Considering regulatory factors will help demonstrate your business' compliance with all applicable laws and regulations which could otherwise lead to costly fines or other penalties if not adhered to properly.
5. The strategy section
The strategy section of an errand service business plan should include information about how the company intends to gain a competitive edge, what pricing strategies it plans to use, and details on its marketing plan.
Additionally, any milestones that have been set should be outlined along with potential risks and mitigants in order to provide a comprehensive overview of the proposed strategy.
When discussing pricing, the focus should be on how the pricing structure will balance customer satisfaction and company profitability.
The marketing plan should detail how the company will reach its target customers, what type of promotional activities should be used and the budget for doing so.
Milestones should outline the timeline for major business goals, such as launching a website or hiring additional staff.
Lastly, the risks and mitigants section should analyse potential threats to the business and explain how those can be avoided or minimised.
A comprehensive and well-thought out strategy section will give readers confidence that your business is set for success.
6. The operations section
In order to effectively present the operations of an errand service in a business plan, it is important to provide information about the staffing team, roles of staff members, and recruitment plan.
This should include details such as job titles, duties of each staff member, experience requirements, education requirements if needed, and other competencies necessary to perform the role. It should also include the number of staff members needed, salary expectations, and any benefits or incentives offered.
In addition, opening hours should be detailed. This will enable the reader to assess if the personnel plan is reasonable.
Lastly, it is important to include information about any key assets and intellectual property that the errand service business needs in order to operate. This could include licences, equipment, or software necessary for operations.
Additionally, if there are specific suppliers that the business plans to work with then this should also be clearly stated in the operations section of the business plan.
By providing this information in the operations section of a business plan, potential investors will be able to get a clear and comprehensive understanding of how an errand service will operate on a day to day basis.
7. The presentation of the financial plan
The financial plan section is where you will present the financial forecast we mentioned earlier in this guide.
Now that you know the basic components of an errand service business plan, it's time to start thinking about the tools you can use to create your plan.
What tool should I use to write my errand service business plan?
In this section, we will review three solutions for writing an effective and comprehensive business plan for your errand service: creating a business plan using Word and Excel, hiring a consultant to write it for you, and using online business plan software.
Create your errand service's business plan using Word and Excel
Creating a business plan for an errand service using Excel and Word can be a cost-effective solution, but it is not the ideal one.
Using Excel to create a financial forecast for the errand service is difficult without expert knowledge in accounting and financial modelling, making mistakes likely. The accuracy of the forecast may be questioned by potential investors or financiers.
Furthermore, it takes a long time to create such a forecast on Excel and keeping it up to date can be challenging.
Using Word to write the business plan is also laborious as formatting the document requires manual work once finished.
Overall, using Excel and Word may be a cheaper option but comes with its own challenges which may outweigh the savings. Therefore, an alternate solution may be more beneficial for creating a business plan for an errand service.
Hire a consultant to write your errand service's business plan
Outsourcing a business plan for an errand service to a consultant or accountant has both pros and cons.
On the plus side, consultants are well-versed in writing business plans, and accountants have extensive experience with creating accurate financial forecasts.
However, these professionals may not have the same level of industry knowledge as you - the entrepreneur - and they will be relying on you when it comes to forecasting sales.
Furthermore, hiring consultants or accountants is quite costly: budget at least £1.5k ($2.0k) for a complete business plan, more if you need to make changes after the initial version (which happens frequently after the initial meetings with lenders).
Use an online business plan software for your errand service's business plan
Another alternative is to use online business plan software. There are several advantages to using specialised software:
You are guided through the writing process by detailed instructions and examples for each part of the plan
You can be inspired by already written business plan templates
You can easily make your financial forecast by letting the software take care of the financial calculations for you
You get a professional document, formatted and ready to be sent to your bank
You can easily track your actual financial performance against your forecast, and software makes it easy to keep the plan up to date
If you're interested in using this type of solution, you can try our software for free by signing up here.
Also on The Business Plan Shop
We hope that this article has helped you to better understand how to write the business plan for an errand service company. If you still have questions, do not hesitate to contact us for any questions related to the creation of a errand service.
Know someone who'd like to open or grow an errand service business? Share this article with the click of a mouse!