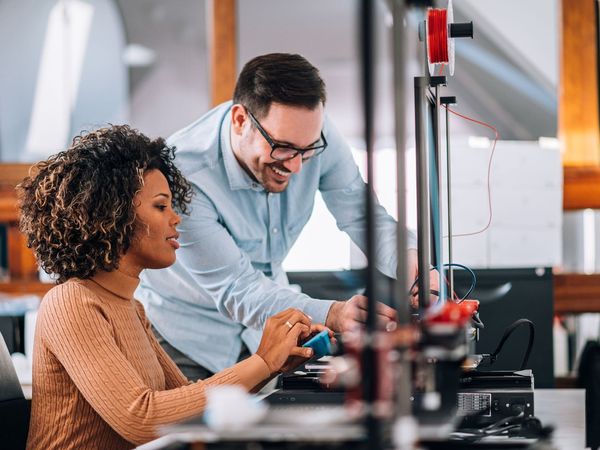 Did you know that the 3D printing & rapid prototyping services industry in the UK grew 8.3% per year, on average, between 2018 and 2023?
Running a 3D printing business can be an incredibly rewarding venture, but it is important to have the right plan in place for success. A 3D printing business plan should include information about your 3D printing services, financials and marketing strategy amongst other sections.
Writing a comprehensive 3D printing business plan will help you stay organized, and ensure that you cover all of the necessary elements to give your business the best chance of succeeding and impressing investors when raising finance.
Ready? Let's get started!
Why write a business plan for a 3D printing business?
There are several reasons to write a 3D printing business plan. Below, we cover some of the most important ones!
To serve as a roadmap for owners and employees
Writing a business plan is key to growing your 3D printing business because it forms the ideal blueprint in terms of day-to-day operations and management - detailing everything from finances and operations to marketing and sales. It also outlines your goals, strategies, and financial resources needed to succeed.
Without a business plan, it's difficult to understand what direction you should take and whether or not your 3D printing business could be successful. Your plan serves as a guide that ensures all stakeholders are on the 'same page' and that they understand the main goals of the company.
To help secure financing
A 3D printing business plan provides potential investors with information about the financial viability of your company.
This information helps potential investors make informed decisions about whether to invest in your business.
To evaluate the level of investment required
It can also be tough to determine the level of investment required to start up a 3D printing business, particularly if you lack past entrepreneurial experience.
The financial section of your business plan will provide you with an in-depth understanding of the costs and investments required to start your business.
Example of potential startup costs for a 3D printing company:
Printing equipment and materials
Security deposit for the premises
Website design
Company formation
Gaining a clear understanding of your startup and future costs (in years 1-3), helps you prepare, stay on target, and mitigate the likelihood you'll need to incur unplanned debt.
Information needed to create a business plan for a 3D printing business
Writing a 3D printing business plan requires research so that you can project sales, investments and cost accurately in your financial forecast.
In this section, we cover three key pieces of information you should gather before drafting your plan!
Carrying out market research for a 3D printing business
Knowing the size and scope of the industry you are entering, potential customers, competitors, trends in the marketplace and other related information helps shape your business plan.
This is because you gain an in-depth understanding of the current state of the 3D printing industry and can focus on areas of opportunity, whilst taking into account potential risk.
A thorough understanding of the market forms the 'backbone' of any successful business venture.
Developing the marketing plan for a 3D printing company
A marketing plan involves setting out the strategy for the growth of your business. It includes everything from getting to know your target market to acquiring and retaining customers long-term.
A well-written sales plan sets goals in terms of the number of products and services your business aims to sell each year and the forecasted revenue associated.
Your sales plan might also be dictated by specific targets such as "increase the number of 3D printing customers via online advertising by 25% in year 2".
Note that your sales plan forms part of your overall marketing strategy and both work in symphony.
The staffing and equipment needs of a 3D printing business
Before writing a business plan for a 3D printing company, it is important to consider the staffing and equipment needs of your venture. You'll need to know how many people to hire as well as the types of machinery and software needed to produce quality prints.
Understanding how much needs to be invested (upfront and to maintain the equipment) will help you accurately forecast capital expenditures. Whilst having a clear picture of recruitment needs will provide a baseline to assess the level of operating expenses required for your 3D printing business to operate day to day.
At this stage, you should have a thorough understanding of:
Market research
Marketing & sales plan
Staffing and equipment needs
The next step is to build a financial forecast for your 3D printing business.
What goes into a 3D printing business financial forecast?
A financial forecast seeks to project the company's future financial position.
There are three key parts to a financial forecast for a 3D printing business: the profit and loss statement, the balance sheet, and the cash flow statement.
In the next section, we explain what a projected profit and loss statement is and why it's useful for your 3D printing company.
The projected P&L statement
A forecasted profit and loss statement involves projecting expected costs and revenues over a certain period (usually 3 or 5 years) to determine whether or not your business idea is profitable.
Revenues are the money coming in from services or products that the company sells, while expenses are the money going out to produce those services and products.
Expected costs may include overheads such as rent, insurance and marketing.
Projected P&L statements can help a 3D printing company identify opportunities for growth and areas where they need to cut costs to maximize their profits.
By having an accurate and up-to-date projected P&L statement, companies can make informed decisions that will ensure their long-term success.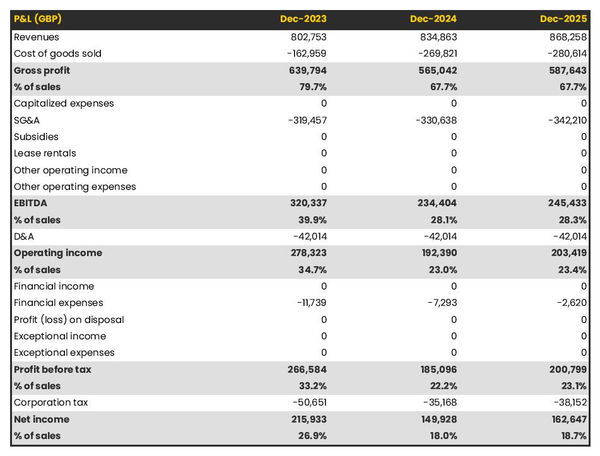 The projected balance sheet of your 3D printing business
The balance sheet for a 3D printing company is an important document that gives you a snapshot of the financial health of the company. It shows how much money the company has in assets, liabilities, and equity.
Assets

are things the company owns, such as equipment and inventory.

Liabilities

are debts that the company owes, such as loans or accounts payable.

Equity

is the difference between assets and liabilities. It is a proxy for the shareholders' value.
By looking at the balance sheet, you can get an idea of how much money the company is worth and if it owns more than it owes.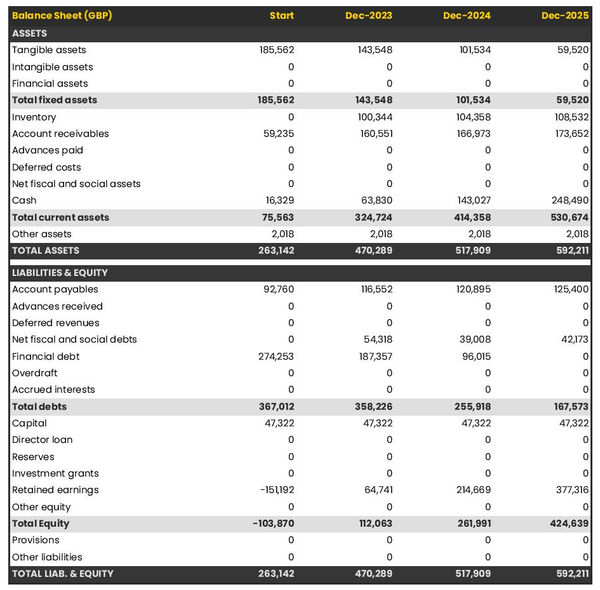 The projected cash flow statement
A projected cash flow statement details your 3D printing company's cash inflows and outflows.
It includes income from sales and expenses related to operations, any expected capital investments and cash flow from financing activities.
By predicting how much money is coming in and out of your business each month, you can make more informed decisions about how to manage your finances.
This can help ensure that you have enough cash on hand to cover expenses, as well as plan for future investments and growth.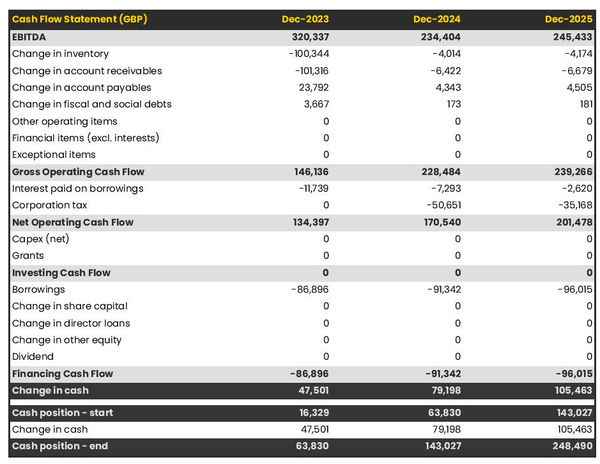 The initial financing plan
When starting a 3D printing company, you might need financing to purchase the initial printing supplies and machines. An initial financing plan, commonly referred to as a sources and uses table, helps by telling you how much money you need to start up (uses) and where the money will come from (sources).
Now that you have a better understanding of the financial aspect of a 3D printing business plan, it's time to turn our focus to the written part of your business plan.
In this section, you'll learn about how to write an effective executive summary and other key components of your business plan.
Let's take a look at what you need to include in your plan and how to best communicate your business's goals and objectives.
The written part of a 3D printing business plan
The written part of your 3D printing business plan is where you will provide the reader with the context required to understand your business, its objectives and its ability to carry out the plan and deliver the expected financial projections.
1. The executive summary
The executive summary of your 3D printing business plan should summarize your plan and communicate your vision and goals in a succinct yet comprehensive manner in order to hook the reader.
The reader must gain an understanding of:
what the business is,
what services are being offered,
who it is meant for and how the company adds value to the customer
what financial performance is expected
what is being asked of the reader
2. The presentation of the company
In this section, you should state what legal structure your 3D printing business will take up. Common legal structures in the UK include sole trader, partnership or limited liability company. You should also include the date of registration, address and total equity invested in the business.
If you have multiple shareholders in the business, it is necessary to outline the role of each shareholder, as well as the percentage of ownership they have in the business.
3. The products and services section
When writing the products and services section of a 3D printing business plan, make sure to include a detailed description of what you offer. Outline each product or service that will be offered, including any unique features or advantages.
Additionally, explain why customers should choose your 3D printing products over others. Make sure to provide information about special or differentiating offers you may have.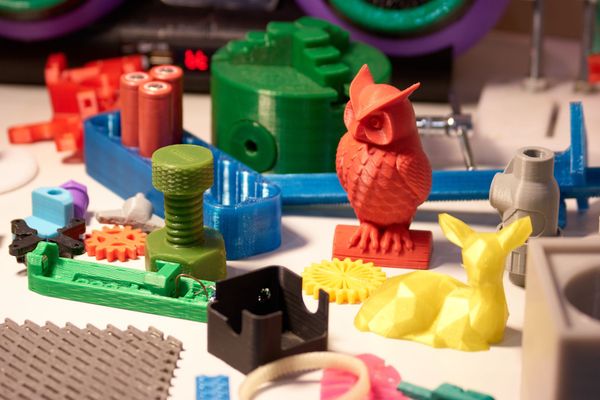 4. The market research analysis
In this section, the key is to be concise yet comprehensive. Start by summarizing the most important findings from your market research so that you can quickly give potential investors a sense of what sort of demand there may be for your services or products.
Be sure to back up your conclusion with data and facts from the research, so that you can provide a solid foundation for your argument. If there are any unanswered questions or areas of uncertainty that remain, mention those as well, but focus on detailing the most tangible results.
Finally, finish off by presenting the overall conclusions about the market opportunity for your business based on what you've learned.
5. Strategy section
A 3D printing company should present their strategy in a business plan with clear sections that outline its pricing, marketing plan, milestones, risks and mitigants.
Present your pricing strategy: state how much each 3D printing service costs and any discounts or promotions available.
Outline how the company aims to attract and retain customers in a marketing plan.
Mention key milestones and the date by which your 3D printing company hopes to achieve them. For example, your business might want to reach its break-even point within 6 months.
Explain how your company plans to manage any potential risks such as fire or water hazards.
6. The operations section
When writing the operations section of a 3D printing company business plan, it is important to include key information about the staffing team, suppliers and assets held by the business.
Outline qualifications held by staff and any experience relevant to 3D printing. Explain the responsibilities of each team member.
List all of the suppliers you plan to work with and explain why you chose each one. Reasons might include sustainability ethos or cost-effectiveness.
State any key assets that your business holds and explain how they are protected. For example, vehicles are insured by most firms.
7. The presentation of the financial plan
By definition, this section should contain your profit and loss, balance sheet and cash flow statements.
It should also provide detailed information about necessary startup costs, capital investments and any important assumptions made when building your financial forecast.
What tool should I use to write my 3D printing business plan?
There are 3 main ways of putting together a 3D printing business plan which we will explore below.
Creating your 3D printing business plan using Word or Excel
Using Microsoft Word and Excel to create a business plan for your 3D printing company is the cheapest solution, but not the most efficient.
First let's address the elephant in the room: the financial projections.
Unless you have a background in finance or accounting, there is a very strong chance that:
you will lack the skills required to create a financial forecast on Excel without making errors,
or that the reader of your business plan will assume you did make mistakes (and therefore not trust your projections).
And even if you do have experience in financial modelling, Excel is, in our modern age, by far neither the fastest nor the safest way of creating a financial forecast.
When it comes to writing the actual business plan, Word can do a decent job but you will have to start from a blank page, manually handle the formatting, and manually incorporate your financial forecast's tables inside the document (and keep everything updated when the number changes).
Hire a consultant to write your 3D printing company business plan
Hiring a chartered accountant or consultant to take care of the financial forecast of your 3D printing company business plan is a good way to avoid errors.
However, the fees are generally quite expensive: budget a minimum of £1.5k ($2.0k) for a complete business plan, more if you need to make changes after the initial version (which happens frequently after the initial meetings with lenders and investors).
If you decide to hire a consultant or accountant, remember to check what's included in the service - are they developing a complete business plan or just doing the financial forecast? And are you willing to pay extra for them to make changes, if necessary?
Use an online business plan software for your 3D printing business plan
Using an online business plan software to write your 3D printing company business plan can be incredibly beneficial, as it provides users with an efficient way to create a comprehensive and professional document.
There are several advantages to using specialised software:
You are guided through the writing process by detailed instructions and examples for each part of the plan
You can be inspired by already written business plan templates
You can easily make your financial forecast by letting the software take care of the financial calculations for you
You get a professional document, formatted and ready to be sent to your bank or investors.
If you're interested in using this type of solution, you can try our software for free by signing up here.
We hope this article has given you a much better understanding of how to write the business plan for a 3D printing business.
If you'd like advice on any of the points mentioned above or would like to speak to a member of our team about anything else related, please do not hesitate to get in touch!
Also on The Business Plan Shop:
Know someone who runs or is thinking about starting a 3D printing business? Share this article with them!